It's October, and it's time to get festive! What better way than to make a Franken-rita. Yep a green Halloween margarita rimmed with black and white margarita salt.
This fruity margarita recipe is easy enough to mix when you're just hanging with friends, but is also a spooktacular way to surprise your guests at a Halloween party.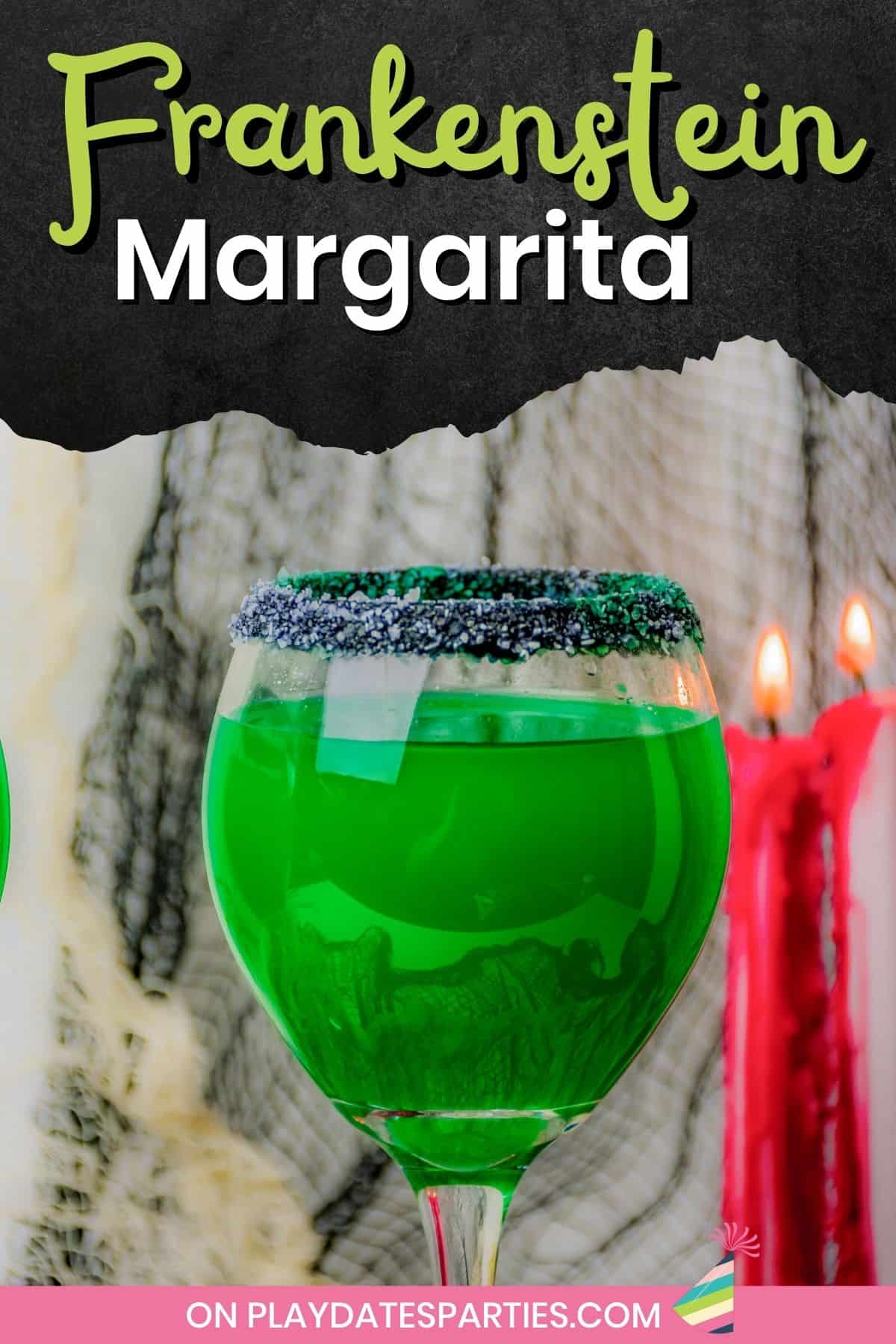 What makes this green Halloween margarita so special?
The Franken-rita's green hue is fun and unique, and is sure to impress your friends and family.
The juice gives this recipe an almost-tropical flavor, which makes it surprising twist on Halloween night.
With only 4 ingredients (not including the salted rim), it's mixes very quickly.
If you're ready to mix up a frighteningly fun drink for your Halloween, then let's get moving to the good stuff.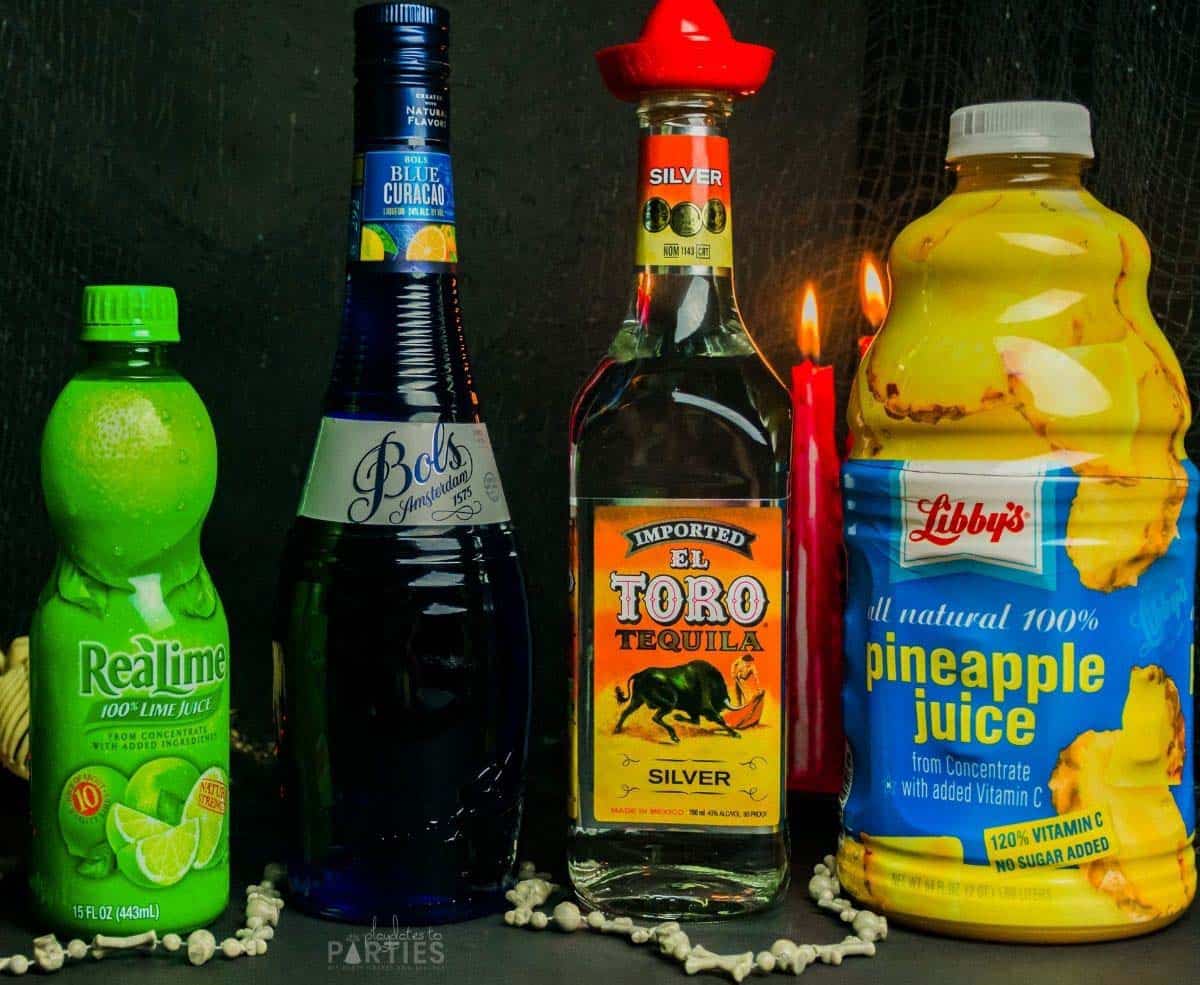 What You'll Need:
Ingredients:
Supplies:
Step-by-Step Directions:
To make things even easier for you, I created a simple photo guide below. For all measurements and a more detailed guide, check out the recipe card at the bottom of this page.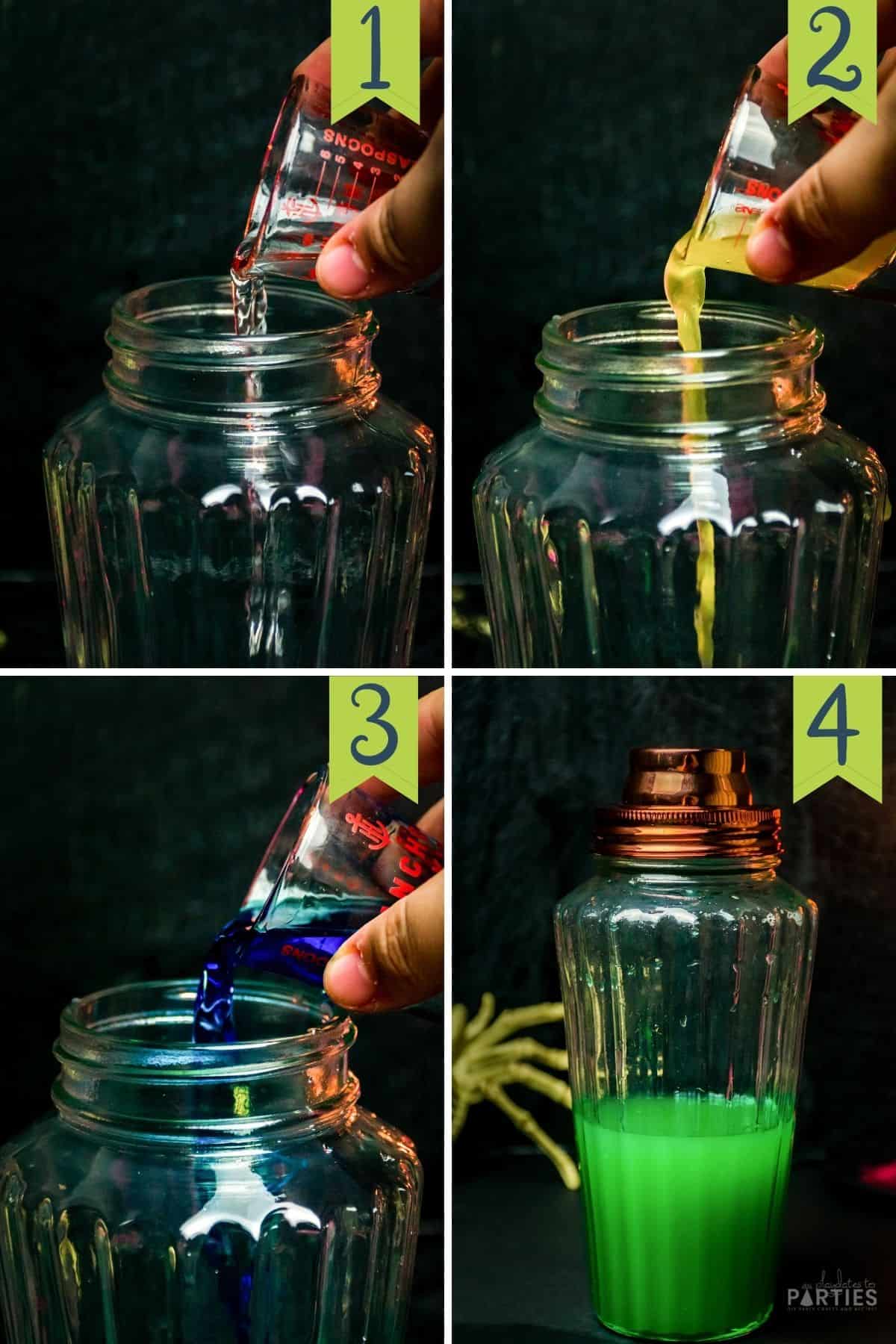 Step 1 – Rim your glass with a mixture of black and white margarita salt
Step 2 – Add ice and silver tequila into a cocktail shaker.
Step 3 – Pour in the lime juice, pineapple juice and the blue curacao.
Step 4 – Add the lid back onto the shaker and shake until combined.
Step 5 – Strain into your prepared glass.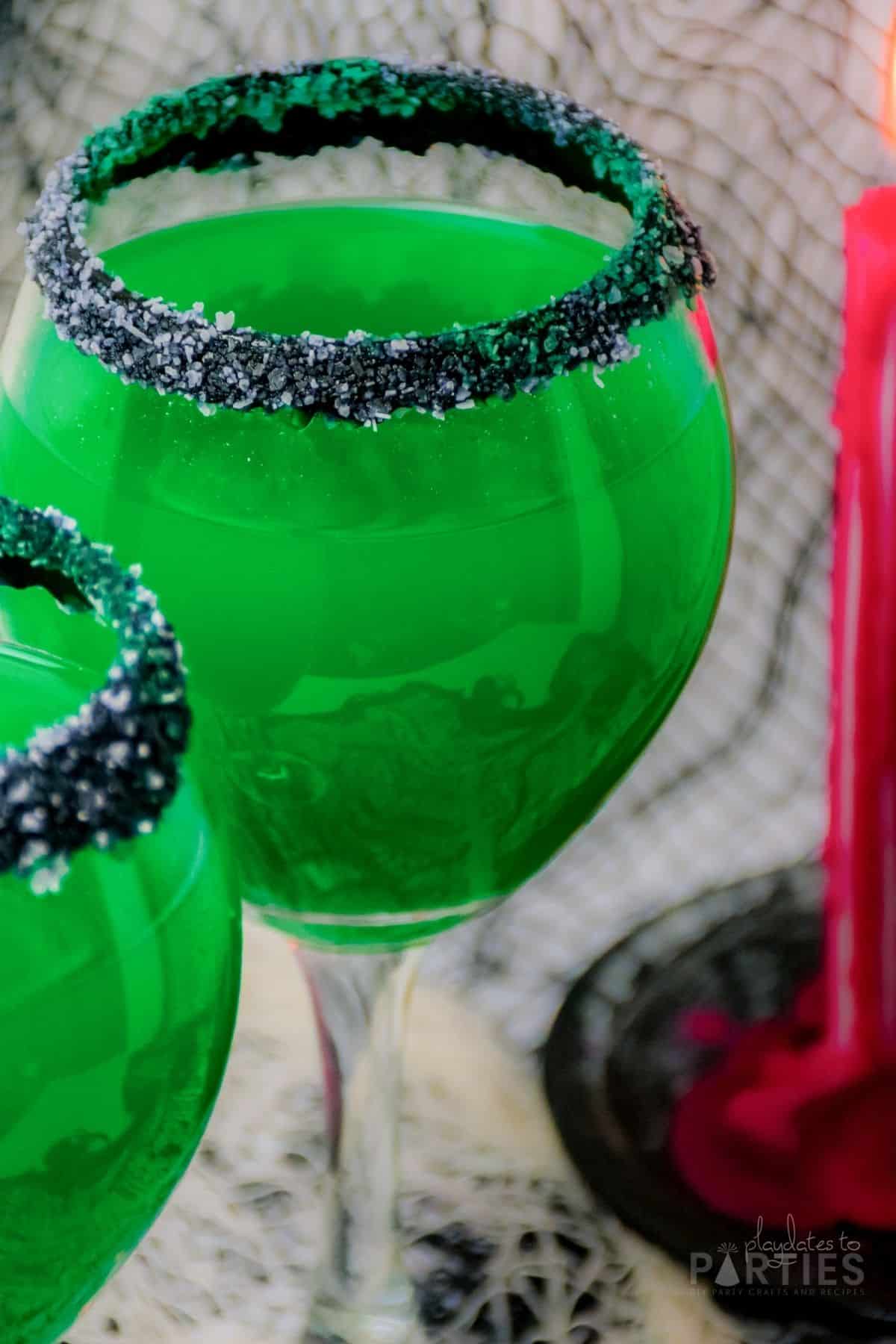 Essential Tips:
Don't skip these tips – read them before mixing to avoid any potential mistakes.
Start Slow with the Blue Curacao
Some brands of Blue Curacao have a stronger blue hue than others. As you see here, I used Bols for these photos. But I've also made the recipe with DeKeyper, which resulted in almost a teal blue instead of a bright green.
That's why I recommend you do this for your first Franken-Rita:
Measure out the full 1 ounce of blue curacao,
Add a few drops of the curacao and stir up your drink, checking on the color
Add more blue curacao until you get your desired shade of green.
Take note of how much blue curacao you used, and then use that measurement for your next drinks
If You Don't want to Buy Black Margarita Salt…
Did you know you can color your own margarita salt? Learn how to make colored margarita salt right here.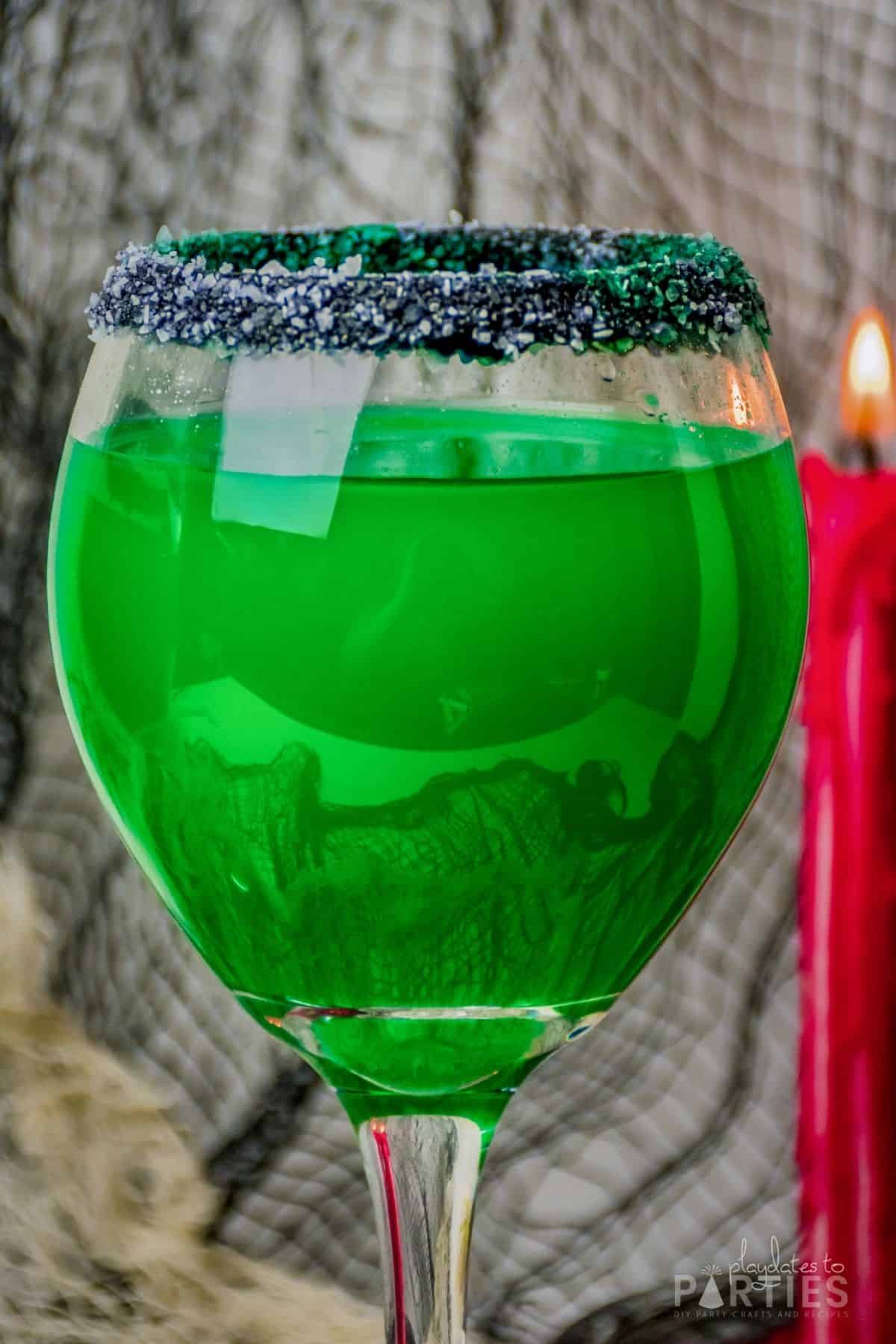 Want to avoid spending hours on end preparing food for your party? Click here to download 10 Fast and Easy Party Recipes that don't take more than 20 minutes of your time to prepare.
FAQs:
What type of glasses should I use?
You can certainly use traditional margarita glasses, but since we're mostly wine drinkers around here, I used a red wine glass with a large bowl.
You could also use something as simple as a lowball glass. The most important thing is to let everyone see that fun green hue.
What if I don't like Pineapple Juice?
If pineapple juice isn't your thing, you can use orange juice instead.
How do I make my Halloween margarita sweeter?
Some brands of pineapple juice are more tart than others. If you find that yours is too tart, you can add a little simple syrup. Never made simple syrup before? Learn how over here.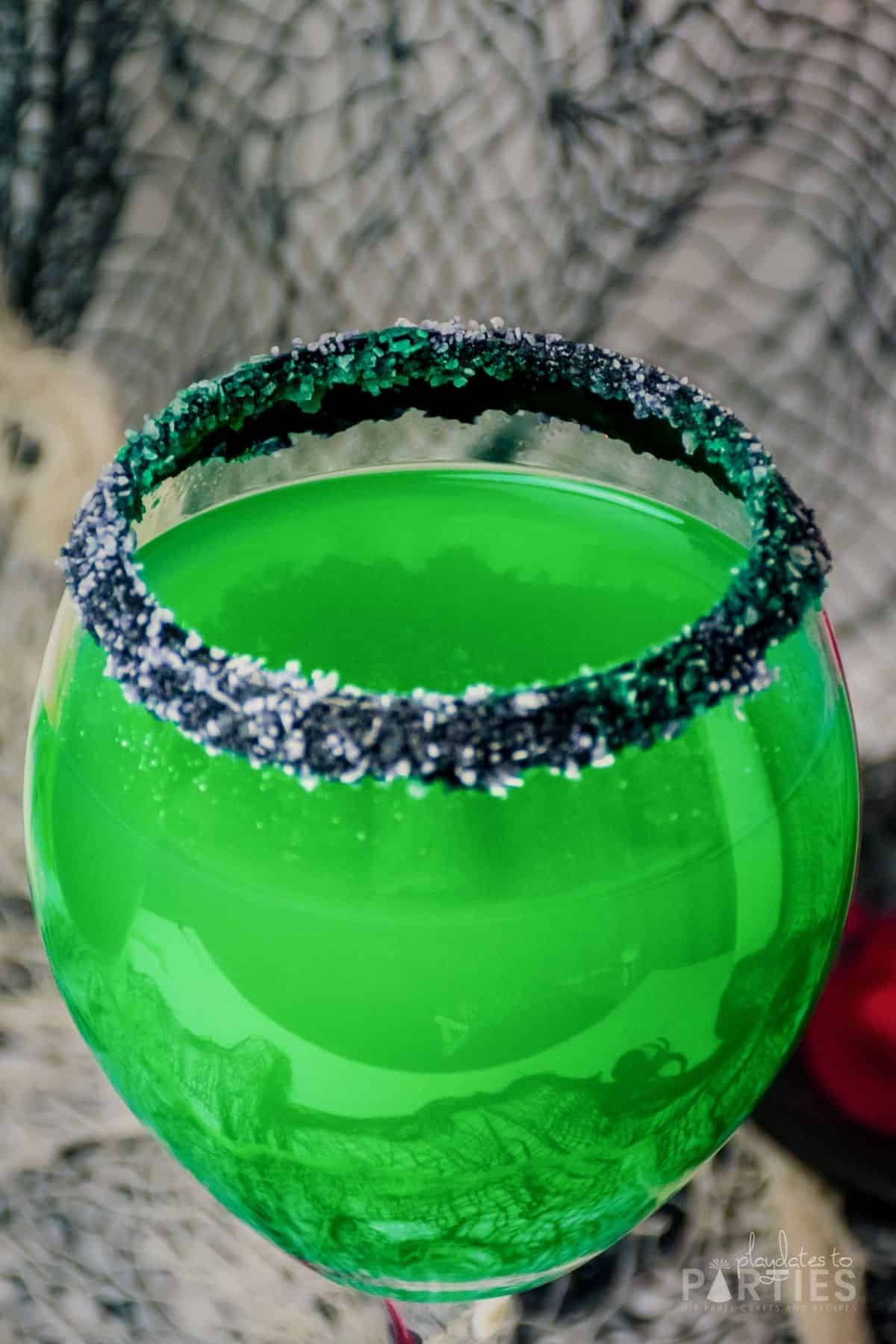 If you liked my Frankenstein Green Halloween Margarita, you're going to love these 15 spooky Halloween Cocktails. Or you can check out my other Halloween ideas right here.
Yield: 1 margarita
Franken-Rita Green Halloween Margarita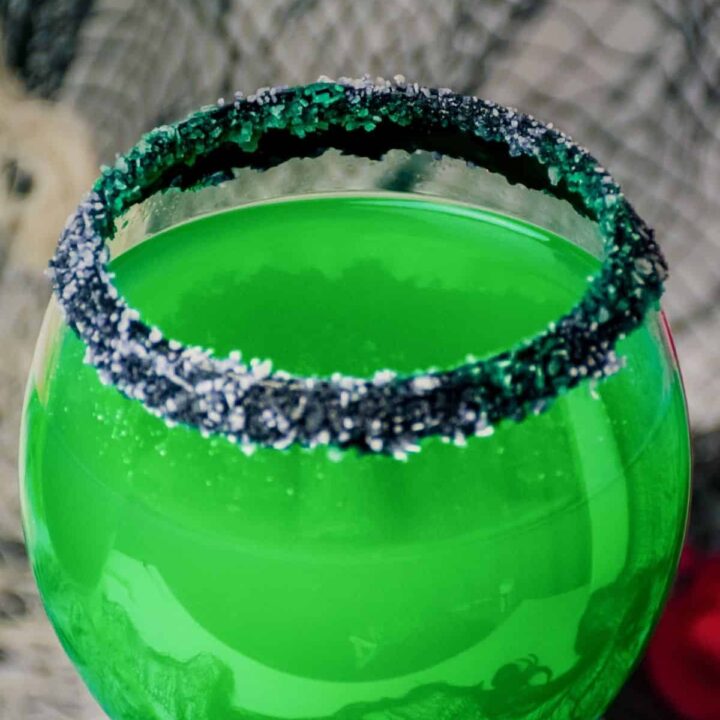 This Frankenstein inspired green Halloween margarita is frighteningly fun and sure to please your guests this October.
Ingredients
1.5 ounces Tequila
1 ounce Lime juice
2 ounces Pineapple juice
1 ounce Blue curacao
Black and white margarita salt, optional
Instructions
Lightly dampen the rim of your glass, then dip it into a mixture of black and white margaria salt to rim the glass.
Add ice and 1.5 ounces silver tequila into a cocktail shaker.
Pour in the lime juice, pineapple juice and the Blue Curacao.
Add the lid back onto the shaker and shake until combined.
Strain into your prepared glass.
Notes
Don't forget The step-by-step photos, tips and FAQ in the recipe post are there to help you if you feel stuck at any point.
Start by adding the blue curacao slowly, just until you get to your desired shade of green.
You can color your own margarita salt by using this technique here with black food coloring.
Orange juice can be substituted for pineapple juice.
If you prefer a sweeter drink, you can add a splash of simple syrup to the mixture.
Recommended Products
As an Amazon Associate and member of other affiliate programs, I earn from qualifying purchases.
---