How do you channel holiday flavor in a brownie?
You could add peppermint. It's classic, and most people love the combination of chocolate and mint. But I've got better plans for mint this year. Cranberries are another classic holiday flavor, but let's all agree that cranberries are best left as the star of any dessert instead of a companion.
Today, the answer is in eggnog. Creamy, spicy eggnog. Some people love it, some people hate it. Thank goodness I fall in the first group, because these java eggnog brownies are full of eggnog flavor!
While I don't have any shame in using a boxed brownie mix, this isn't your typical brownie method. Chocolate chips are melted on the stovetop, and added to the flour mixture. And just a little bit of coffee is added to the mix to enhance the flavor of the chocolate.
But wait! Then there's the eggnog cheesecake layer. Cream cheese is combined with eggnog, vanilla, and plenty of cinnamon and nutmeg. The final mixture is sandwiched and swirled between two rich layers of rich brownie goodness.
The best part of this recipe is that you can make the eggnog flavors as strong or as subtle as you like. For unmistakeable flavors of nutmeg and cinnamon, use a full teaspoon each of cinnamon and nutmeg. If your love for eggnog isn't so strong, I recommend using half or even quarter of the suggested spices.
No matter how noggy you make these brownies, they are sure to be full of holiday flavor!
Java Eggnog Brownies
Ingredients
Brownie Layers:
(adapted from Allrecipes)
2/3 C all purpose flour
1/4 tsp baking soda
1/2 tsp salt
2 eggs
1/2 tsp vanilla extract
1/2 C white sugar
2 T butter
2 T water
1/2 C dark chocolate chips
1 C semisweet chocolate chips
1 serving instant coffee grounds
Eggnog Swirl:
(adapted from Baked Chicago)
1 egg yolk
4 Tbsp white sugar
1/4 cup eggnog
1 teaspoon vanilla
1 teaspoon ground cinnamon
1 teaspoon ground nutmeg
16 oz cream cheese, cubed, room temperature
Directions
Preheat the oven to 350°F. Prepare a 9×9 inch square pan with criss-crossing sheets of parchment paper.
In a large bowl, whisk together the flour, baking soda, and salt. Prepare 2 eggs and 1/2 tsp vanilla extract in a small bowl. Set both bowls aside.
Combine white sugar, butter, and water in a 3 quart saucepan. Cook over medium heat until it begins to boil.
Remove mixture from heat and stir in chocolate chips until melted and smooth.
Spoon about 1/4 cup of chocolate mixture into prepared eggs and vanilla and gently combine. Add back into the main chocolate mixture. (This step helps to avoid scrambled eggs in your hot chocolate mixture.)
Stir in coffee grounds until combined.
Slowly add in the flour mixture until just combined. Spread half the batter into the prepared pan.
In the bowl of a stand mixer, beat egg yolk with a whisk until frothy. (Do this by hand – the mixer won't be able to mix one yolk by itself).  Place bowl into stand mixer and add in the sugar, vanilla, cinnamon, and nutmeg. Mix until combined.
Beat in the cream cheese, a few pieces at a time until the mixture is smooth and creamy. Layer the eggnog mixture on top of the first brownie layer.
Spoon remaining brownie batter over the cream cheese layer and spread as best you can to the edges of the pan. Use a table knife or chopstick to drag and swirl the layers together.
Bake for 25 to 40 minutes in the preheated oven, until brownies set up. Do not overbake. Cool completely in the pan before cutting into squares.
What's the wildest brownie flavor you ever tasted?
What holiday flavor would you add to a brownie recipe?
Subscribe via
Bloglovin, Facebook, and Twitter
to get more updates!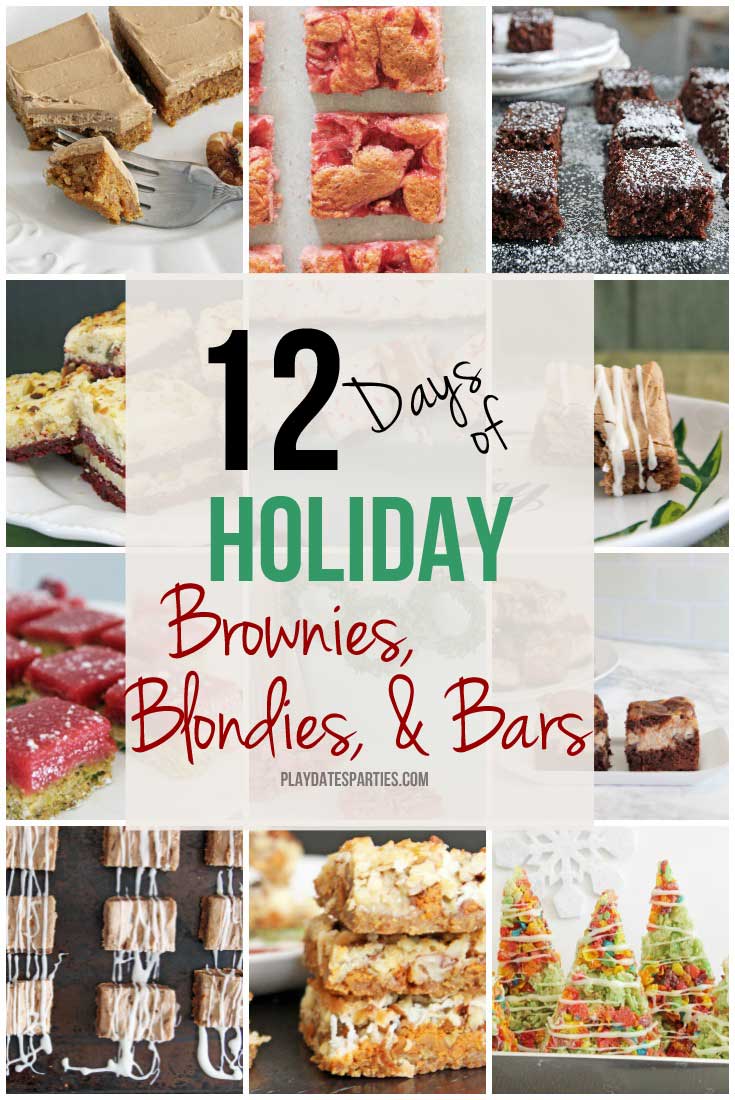 Don't miss these awesome holiday posts:
[pt_view id="cd074639f6″]