The Christmas season is a time of joy and celebration, but for many families it can also be a time of stress and chaos. If you're looking for a way to make your holiday season easier, then I have the perfect solution for you: an easy-to-use Christmas planner!
You can choose between two versions of the Christmas planner. For starters, you can grab a pared-down free Christmas planner for those who just need a little bit of help tracking to do lists and holiday party plans (available at the end of the post). But if you want to keep track of everything, and stay organized for next year, you'll love the premium planner.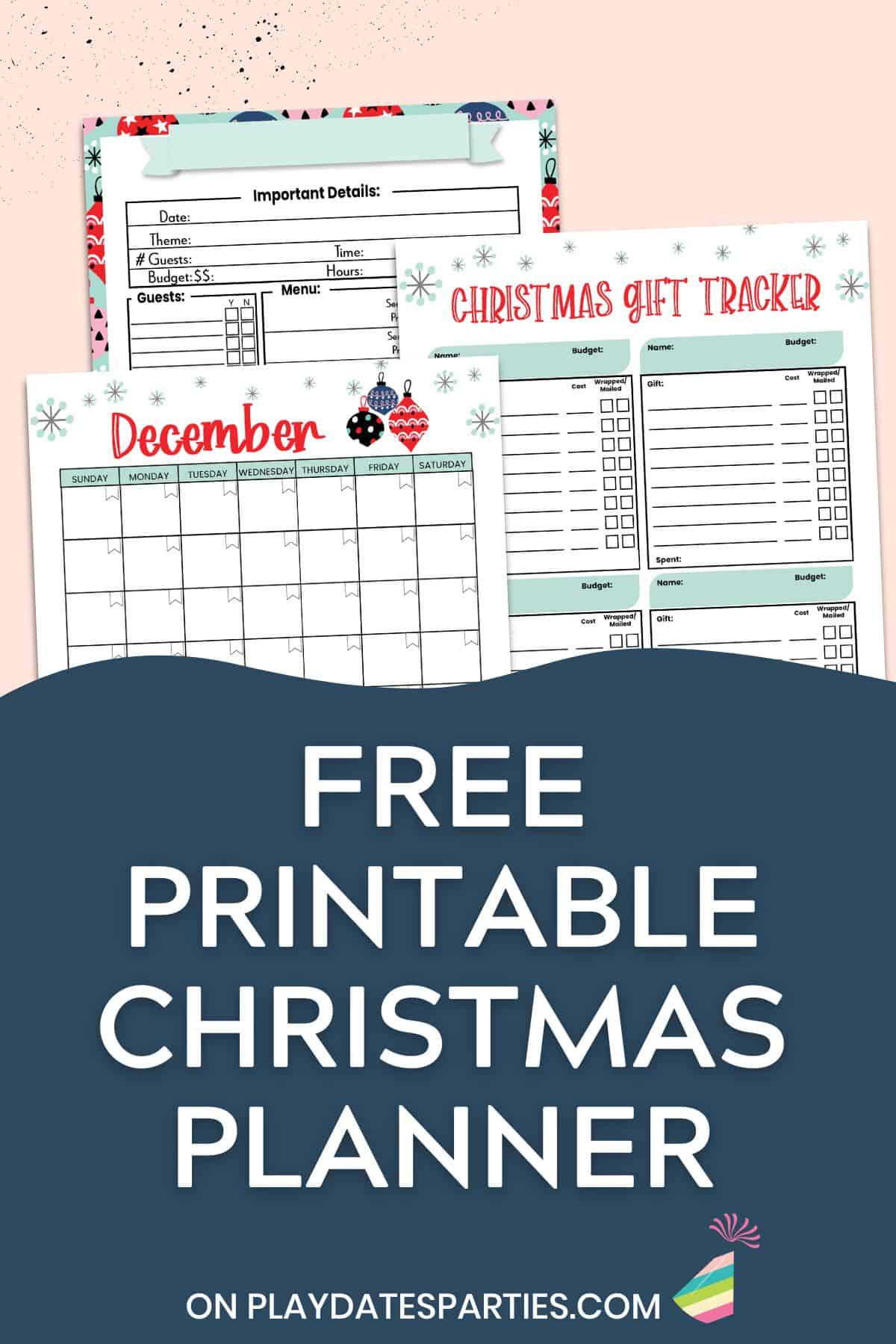 Why should you use a Christmas planner?
For one thing, it can help you stay organized and on top of all your holiday tasks. Whether you have a long list of parties and events to attend, or just need a way to keep track of gifts and obligations, a planner will help you stay on track so nothing falls through the cracks.
But perhaps even more importantly, a Christmas planner can help you enjoy the season and savor all those moments with loved ones. Instead of feeling overwhelmed by all the things you need to do, you can
Get focused on what is really important to you this holiday season,
Organize your holiday decorations so you can save time decorating next year, and
Help you follow through on actually sending those thank you cards to grandma and grandpa. (You know they'll love it.)
Three Ways to Use Your Planner
Believe it or not, you can use this same PDF file in three different ways…making it truly the perfect tool for today's busy families.
Print it Out
Most of my readers choose to print out their planner and use it as a hard copy. This means you can write in dates, appointments, schedules, and other important information by hand.
Simply print it out on your home printer, snap it into a binder, and add some dividers. Don't forget to use the color coordinated tabs to label each section, and slip the label into the binder spines.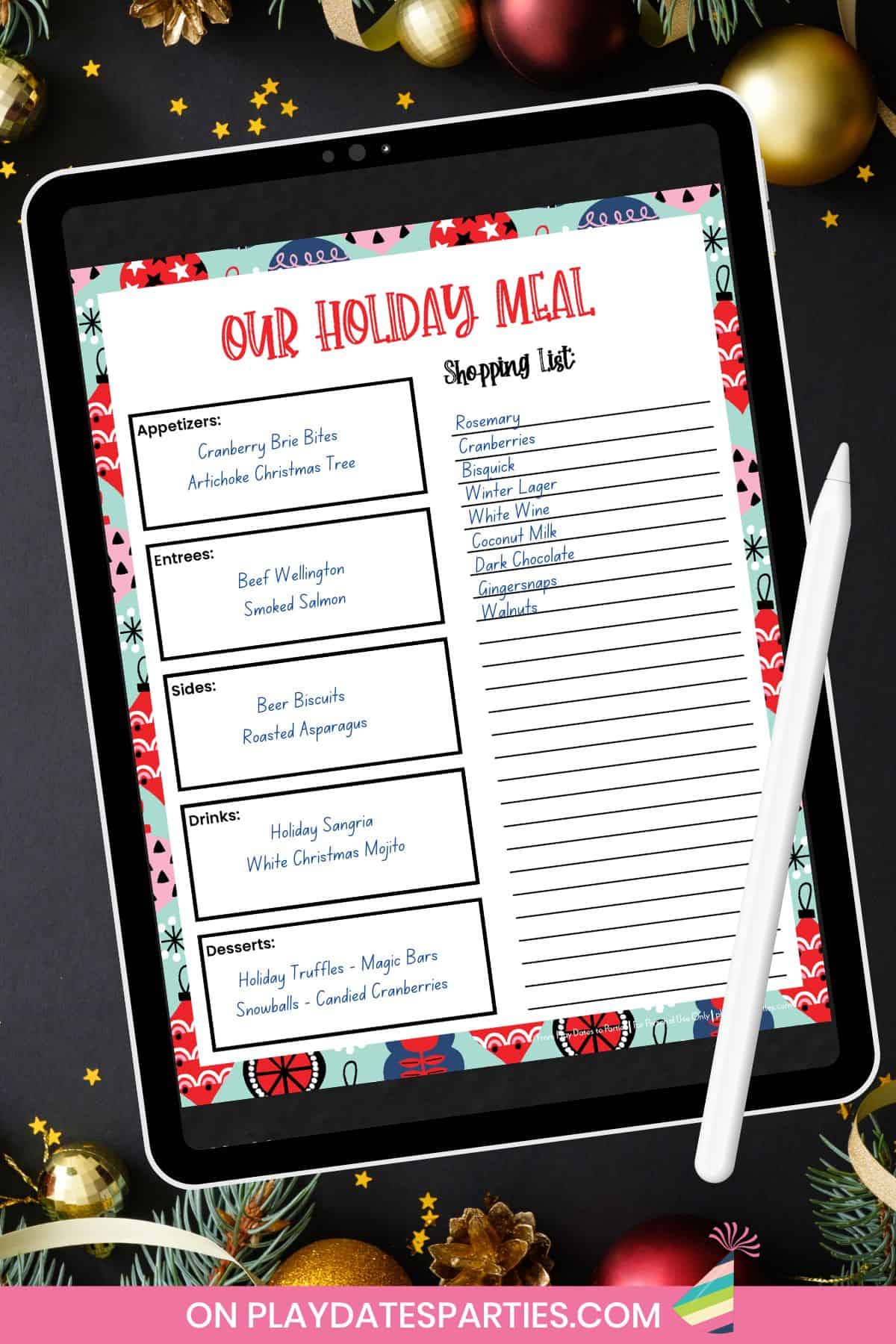 Use the Planner Digitally:
Do you:
Want to be organized, but don't want to spend all your money on printer paper and ink.
Get inspired at odd moments (like waiting for school pickup), but then completely forget what you were thinking of when you get back to your paper planner, or
Forget your paper planner at home and then buy everything you don't need when you're at the store? 🙋‍♀️
Yeah, if that's the case, you'll definitely want to check out these two digital options:
Upload it to iPad and Goodnotes
Hands down my favorite way to use planners is to upload them the files to my iPad and Goodnotes.
For those that aren't familiar with it, Goodnotes is a digital note-taking app that makes it easy to add your own notes and information right on the PDF file. I have the app on all my devices- iPad, iPhone, and MacBook. The notes sync almost automatically, which means I can literally access my planner anywhere and anytime.
Upload and Edit your planner in Adobe Reader
If you don't have apple products, or don't want to spend the money on the Goodnotes app, you can upload the file into Adobe Reader (it's free!). The PDF includes over 1,200 fillable fields, which means that almost every place you would be writing your plans in by hand, you can type it in on your phone, computer, or other device.
See? With so many options and easy ways to use these planners, there's no reason to feel overwhelmed this holiday season.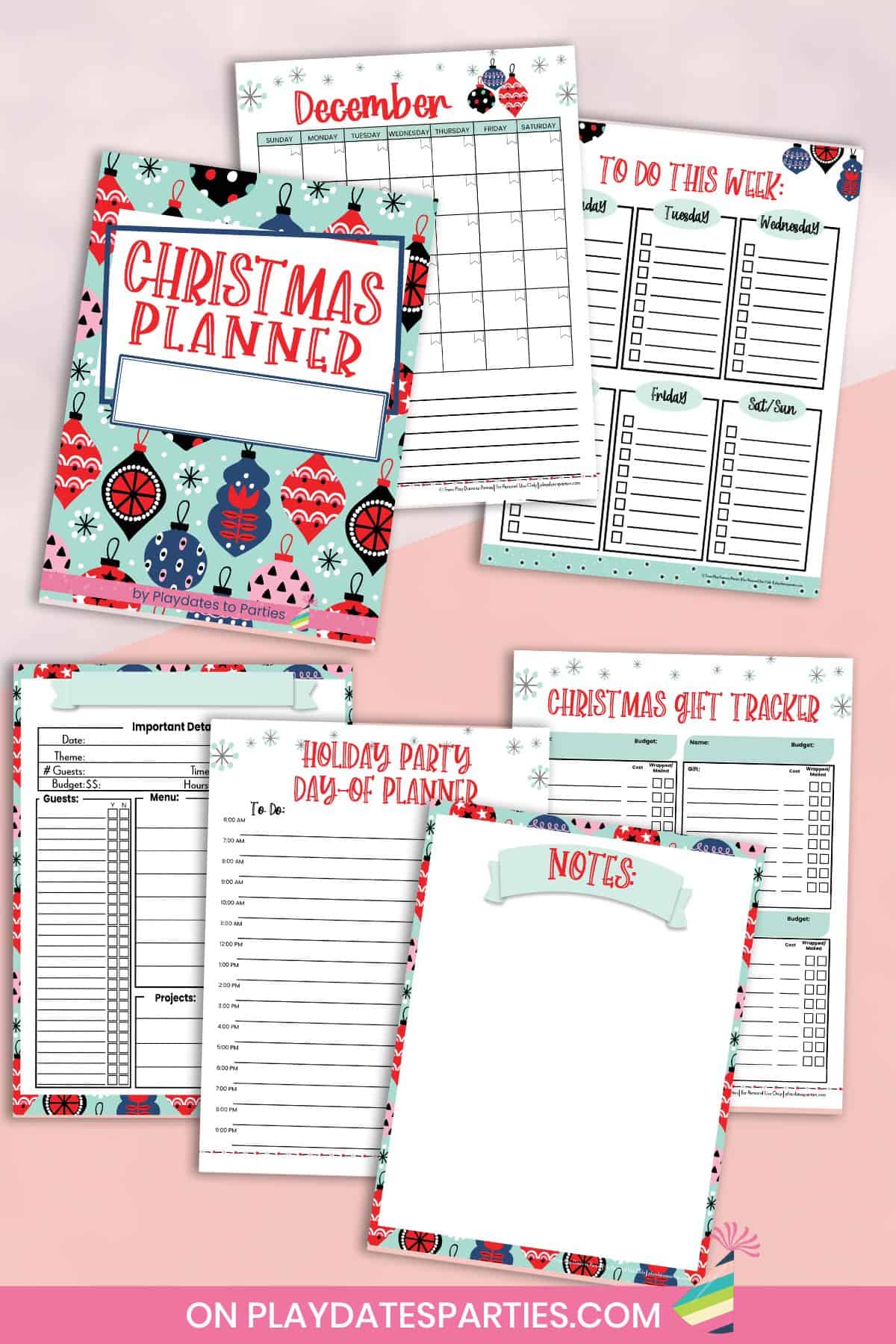 Free Christmas Planner
So, you may be wondering what the difference is between the two planners. Let's start off with what's included in the free planner:
December Calendar and To Do Lists:
It's always helpful to have a monthly calendar so you can see the most important appointments and dates all in one spot. I've also left the calendar undated, which means you can use it year after year.
To keep you truly on task, I've also included a weekly to do list, with sections for each day of the week. That way you can write down your daily tasks, and check them off as they're completed.
Christmas Gift Tracker:
Of course, a holidays planner wouldn't be complete without a Christmas gift tracker! On this page, you can track:
Who you're buying for
What gifts you plan to buy
Your gift budget
How much you've spent, and
If the gifts have been wrapped and mailed.
Christmas Party Planner:
Planning a holiday party or get-together? With the party planning snapshot page and Day of planner you can track all the details in one place. You can record the location, guest list, food and drink menus, decorations, and other details.
There's also a notes page so you can jot down things like design sketches, party themes, and anything else you might need to remember.
And that's just what we've included in the free planner!
Premium Christmas Planner
The premium Christmas planner is truly designed to help you manage every aspect of the holiday season. It includes everything in the free planner, as well as: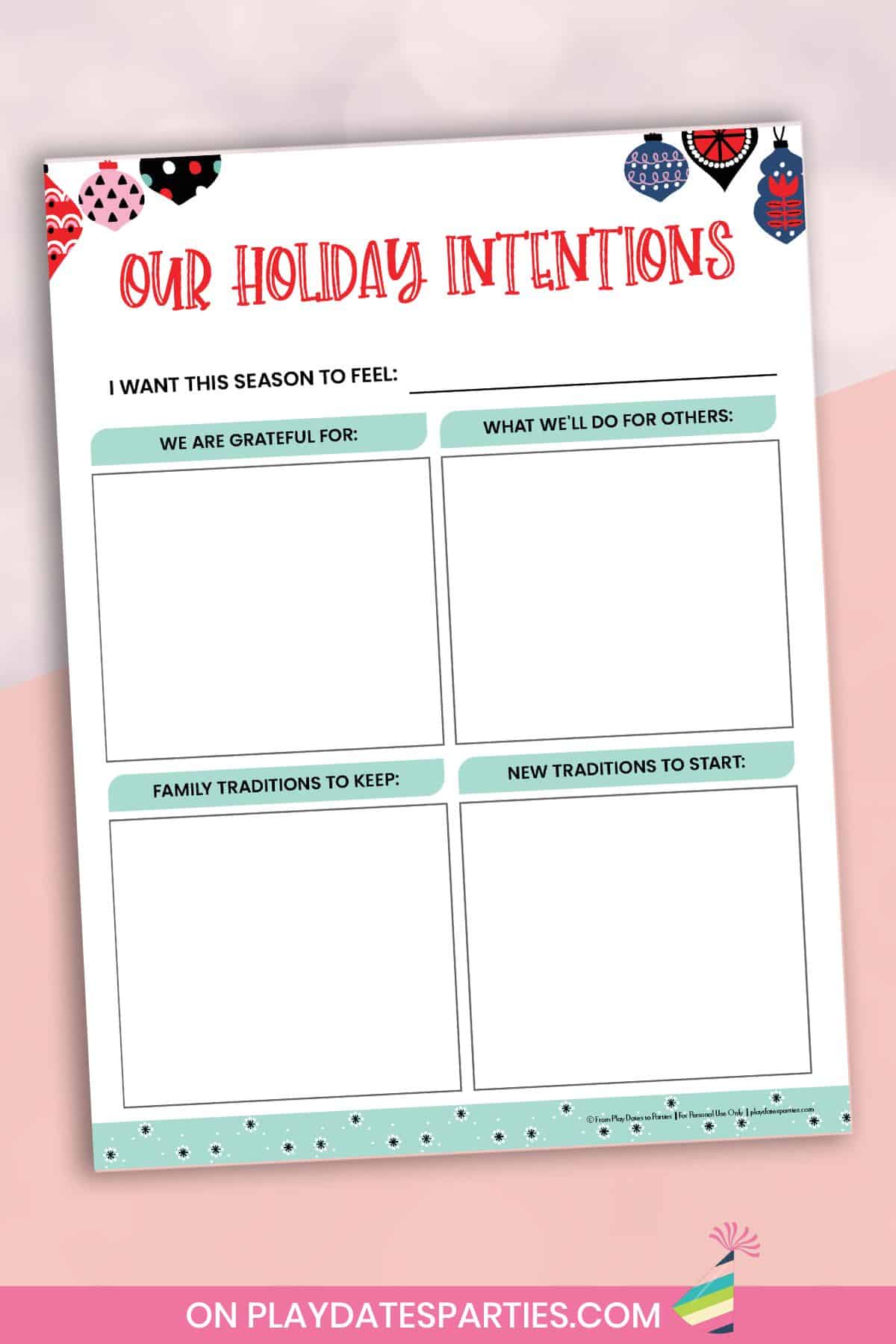 Holiday Intentions
Bring more joy to your holiday season by getting focused on what's most important. The simple prompts on this page can help you identify your values and how to incorporate them into your holiday traditions.
Whether your focus is spending time with family, giving back to others in need, or simply enjoying the spirit of the season, this page is the start to a Christmas season filled with lasting memories that foster connections with those around you.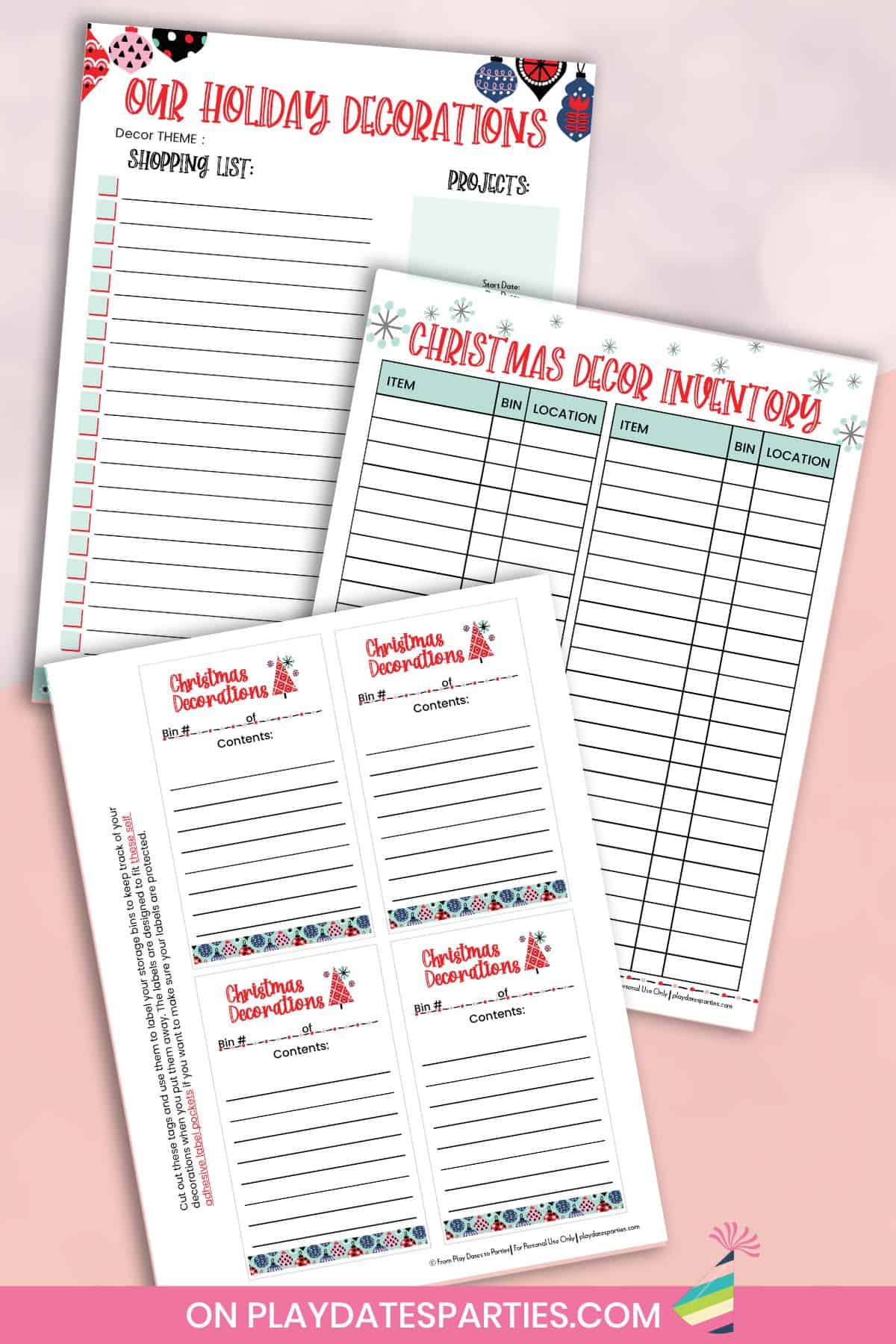 Christmas Decorations Planner and Organizers:
Enjoy decorating your home for the holidays, knowing that everything is organized and easy to find.
The Christmas decorations inventory page and bin labels will help you get your decor organized and under control, so you don't lose track of what you have or need.
If you're a crafter, the DIY decor project planner with shopping list will help you keep track of your beautiful, handmade decorations that will create a warm and inviting home for the holidays.
Gift Planners:
Stay organized, and avoid overspending with a selection of simple gift planner pages.
Start off by giving each of your kids a copy of the wish list page so you know exactly what they want. Then, use the gift tracker page to stay on budget as well and to make sure that you've got every gift purchase, wrapped, and shipped.
Have friends or family members that are impossible to buy for? With the gift ideas brainstorming sheet, you'll be guided through a selection of prompts that will help you come up with a thoughtful and meaningful gift for everyone on your list.
(Don't forget to also check out these Gifts for the Woman Who Has Everything and 9 Unique Gifts for Men that don't Need Anything.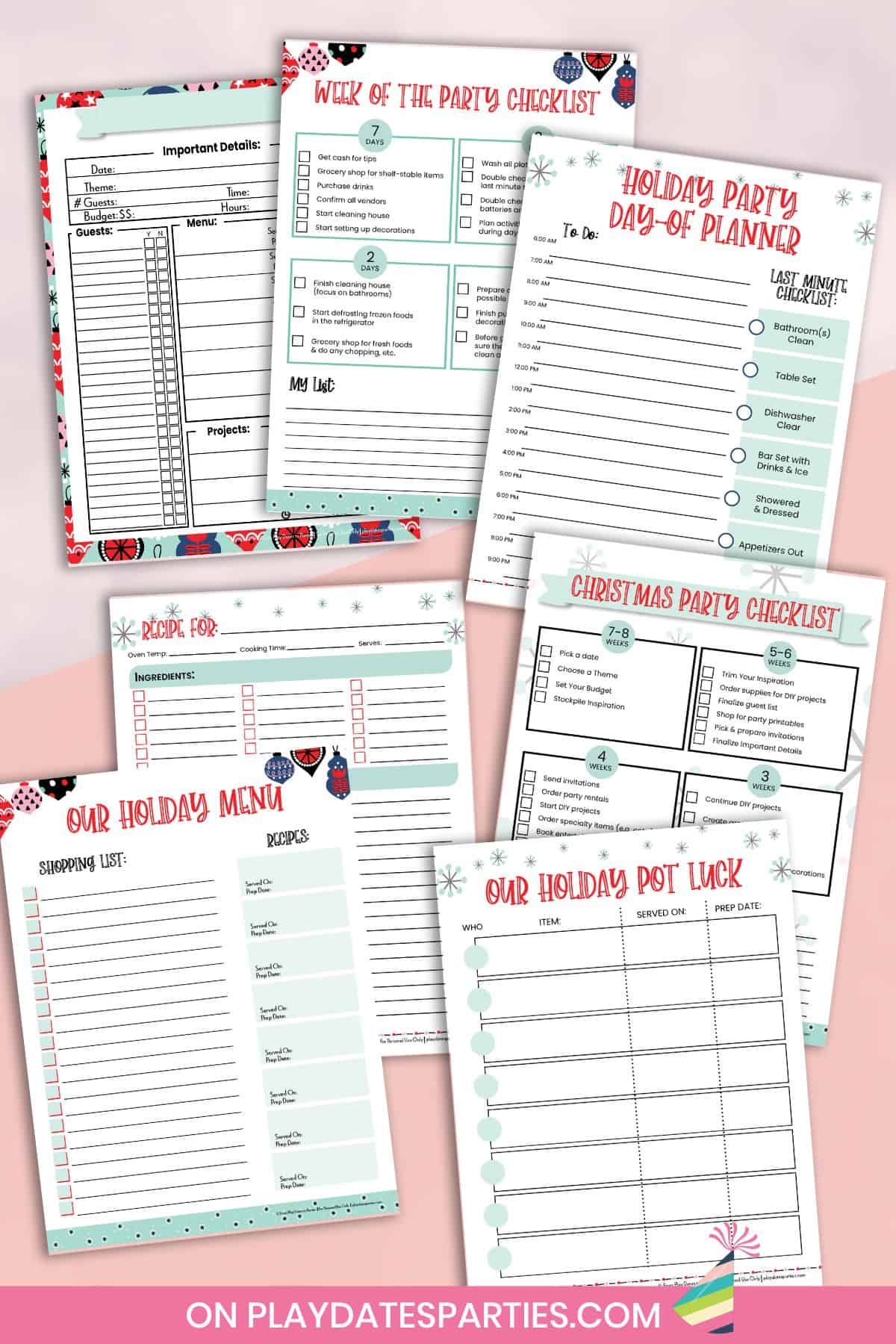 Comprehensive Party Planning Pages
Spend less time worrying about the details, and more time enjoying the company of those you love with these holiday themed party planning pages.
In addition to the snapshot page and day-of party planners, you'll get:
Christmas Party Checklist with suggested tasks based on how many weeks are left before your party,
Party Week Checklist with daily to-dos to take the guesswork out of last minute party prep,
3 Holiday Meal Planners customized to a variety of needs. Whether you want to plan every course of the meal, coordinate a pot luck with other family members, or simply decide what you'll be serving, these planners and shopping lists will keep you on track.
Blank recipe pages to write down your favorite holiday recipes and make sure you have everything on hand for the big day. (Don't want to write things down? You'll love these printable one-page recipes)
Whether you use every page, or just a few, you'll look like a Christmas party planning pro.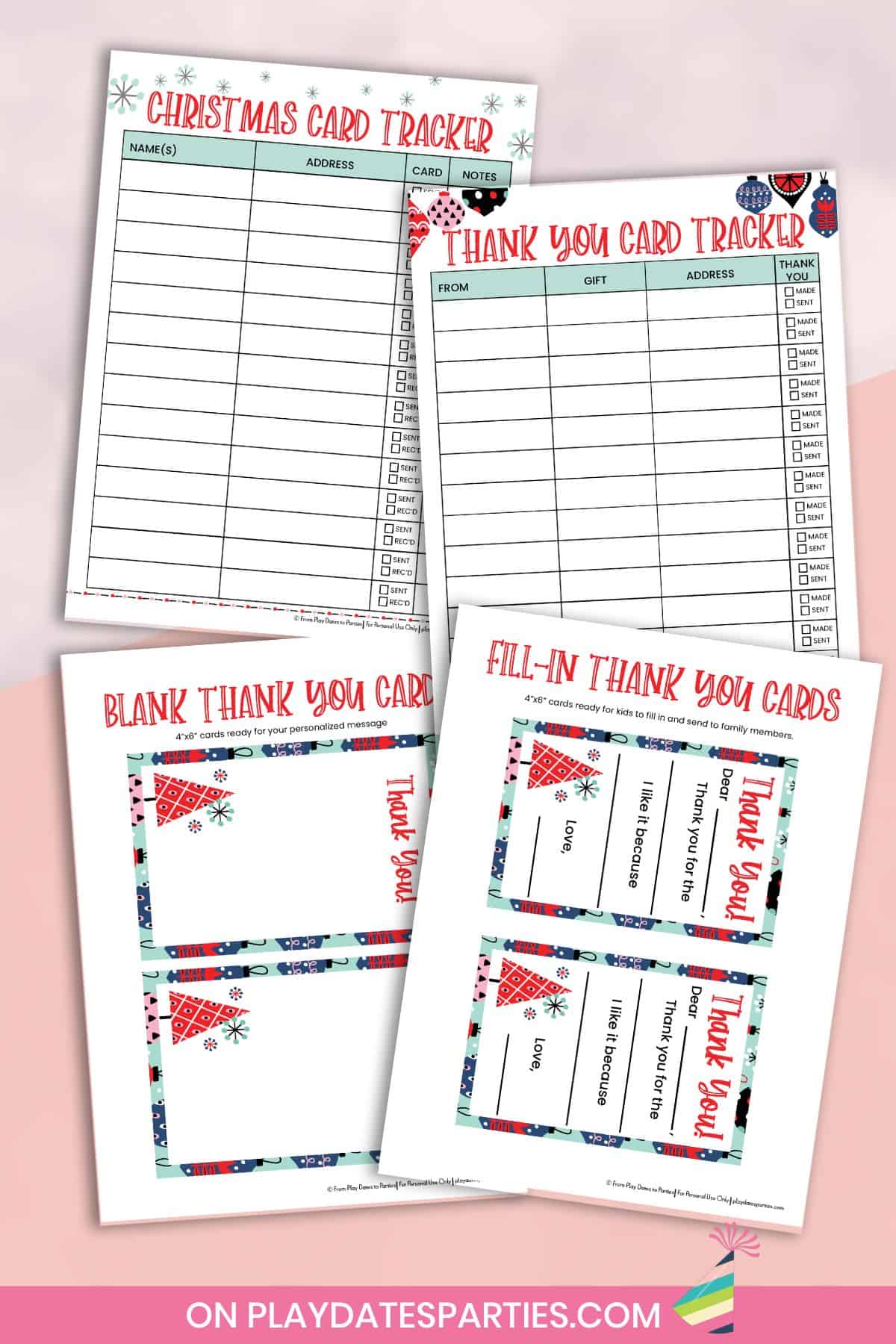 Christmas Cards and Thank You Trackers:
Show your loved ones how much you care with the Christmas card and thank you card trackers.
Use the Christmas card tracker to keep track of everyone's addresses, and whether or not you've actually put the card in the mail.
Teach your kids gratitude from a young age with the included printable Thank You cards. Early writers and little kids can use the mad-libs style thank you cards to show their appreciation in a sweet and simple way. (Grandparents love these!)
Older kids and adults can use the blank thank you cards to write a thoughtful message, letting your loved ones know just how much they mean to you.
Then, use the thank you card tracker, so you never forget to send a thank you note again! Simply fill in all your gifts and who sent them, and check off whether or not you've sent a thank you card for each gift.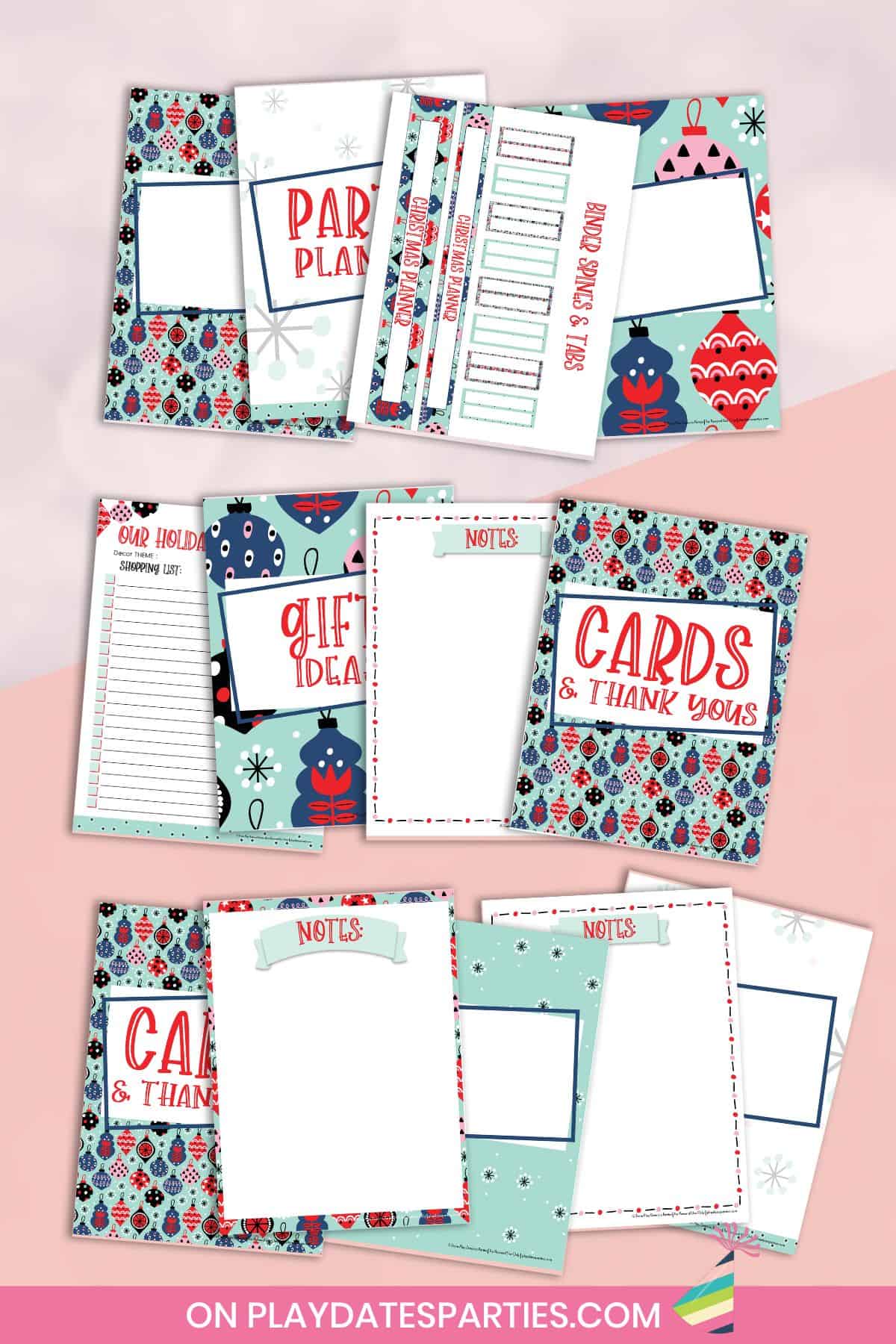 The Extras
To keep all of these planners and pages organized, you'll also get several extra pages to enjoy.
Pre-filled Divider Pages when you need to get started right away with minimal effort.
Blank Divider Pages to customize your planner and add in any extra sections you might need. (Note: the blank divider pages are not editable in Adobe Reader)
Notes pages in four different styles so you can take all of your thoughts and ideas down easily.
And binder spines and tabs to make your Christmas binder easy to find and use.
With all of these extras, you'll be able to plan the perfect Christmas in no time! So why wait? Get your planner today and start preparing for the best holiday season ever!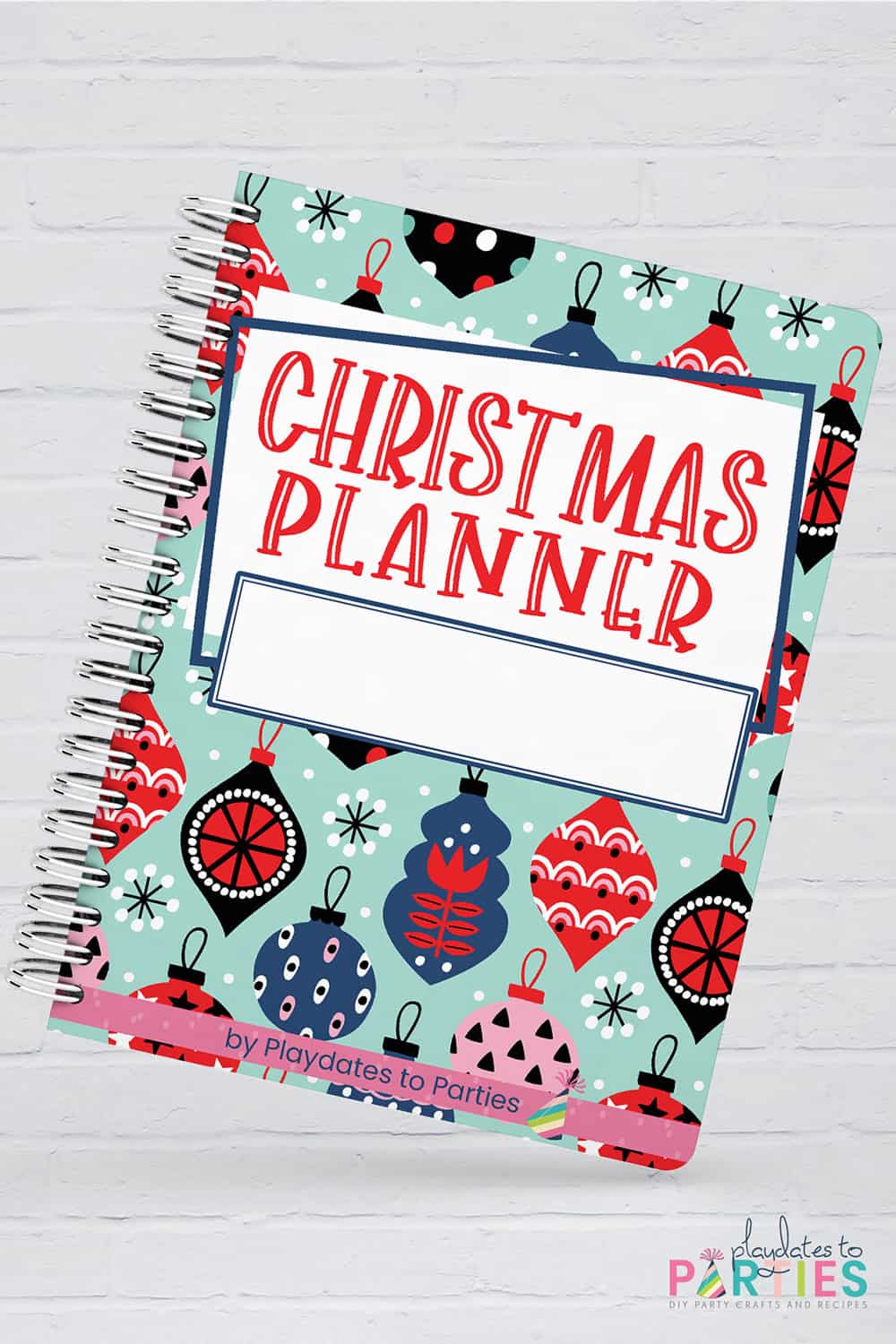 Grab Your Christmas Planners Here
From figuring out your holiday goals and intentions to organizing all of the details, a good planner can help you stay on track and keep your holiday preparations organized and manageable. Whether you are looking for a simple Christmas planner or one with more features and extras, these two options are a great way to help make your holiday season a success.
That said, the best Christmas planners have a few things in common:
they help you set your holiday goals,
help you stay organized, and
track all of your holiday season details.
So if you're looking for a way to get ahead this Christmas season and make sure everything goes smoothly, be sure to grab the the ⭐️⭐️⭐️⭐️⭐️ rated premium planner right here.
Just looking for a simple planner to track a few details? Feel free to download our free Christmas planner at the bottom of this post. Simply add your name and email address to the box below, and I'll send it right to you.
No matter how you choose to organize your holiday season, don't forget that the most important thing you can do is to be present with your family and friends. So take a deep breath, relax, and have a wonderful holiday season.
---