If you love a sweet, juicy watermelon on a hot summer day, you're going to love this watermelon art print set. Each design is available in 4 sizes, making these printables perfect for just about any space.
Download the free printable sign, or purchase the whole set from the shop. Either way, your summer just got a whole lot sweeter.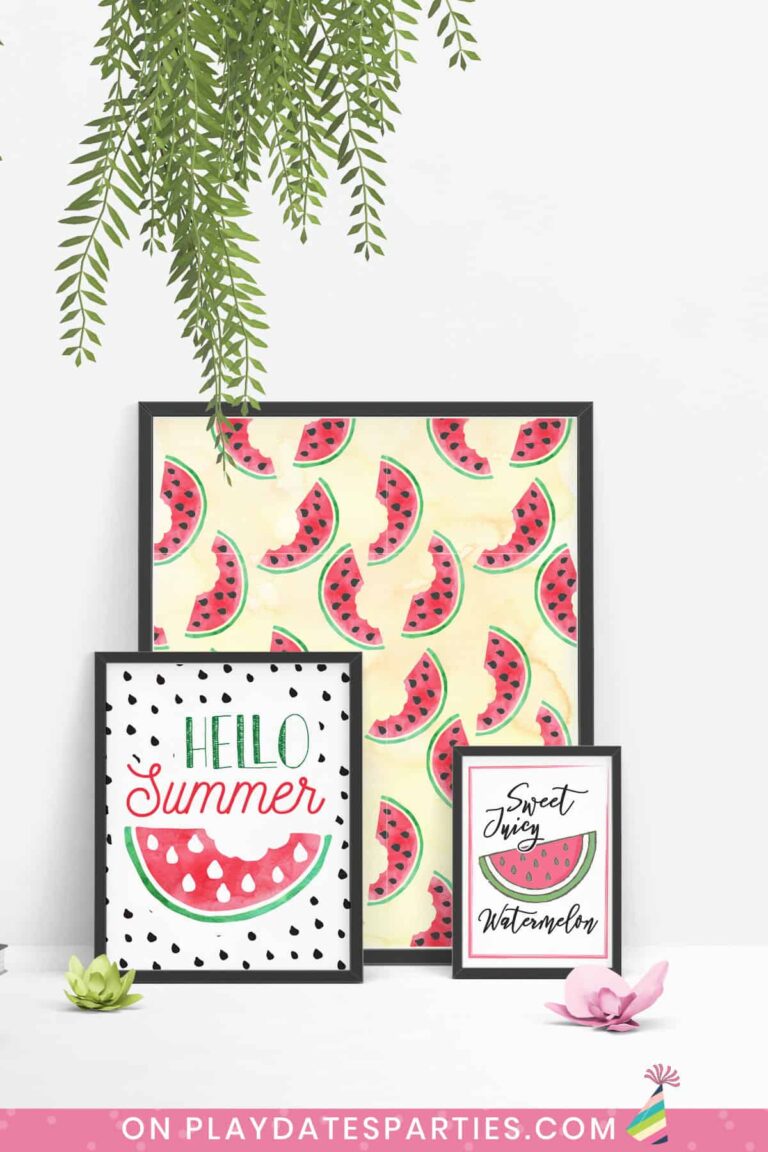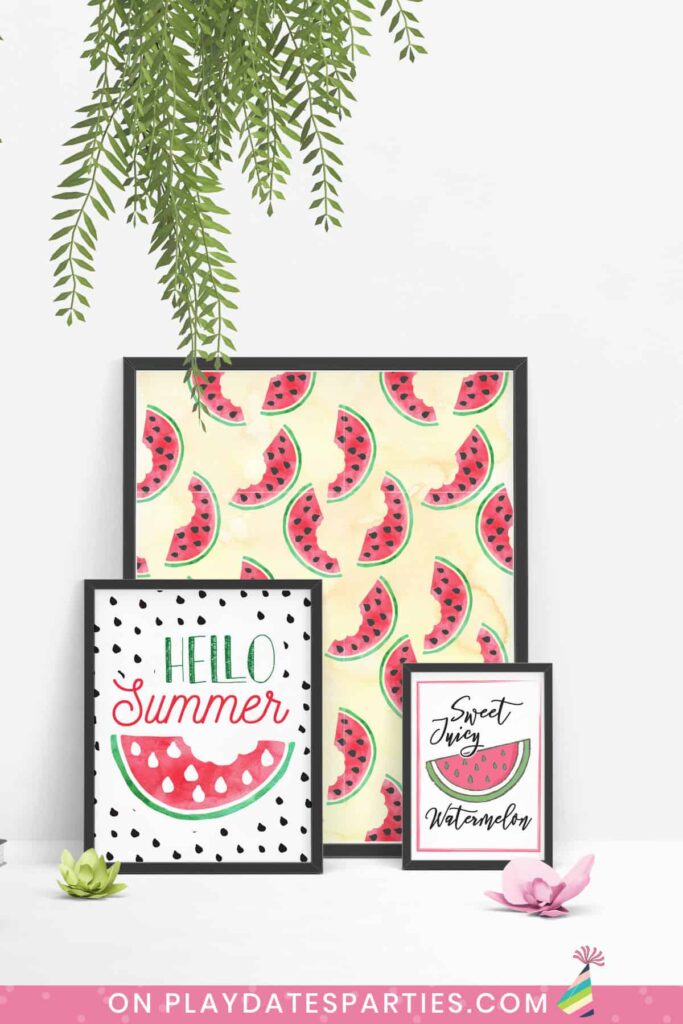 Raise your hand if you love watermelon. 🖐
If you ask our family, watermelon is the best summer fruit out there.
I grew up hearing stories of my Dad asking for watermelon instead of birthday cake, and when I was pregnant with my oldest, it wasn't uncommon to find me with a large bowl of watermelon during those last few weeks in the August heat.
Even my toddler loves watermelon so much that he gets angry when we run out. 🤣
Watermelon Art Prints
Which is why I thought it was the perfect time to create a whole set of watermelon art prints to share with you.
These fun DIY printables are perfect for…
Kitchen Decor,
Summer mantles,
Homemade cards,
Last minute party decor,
and more!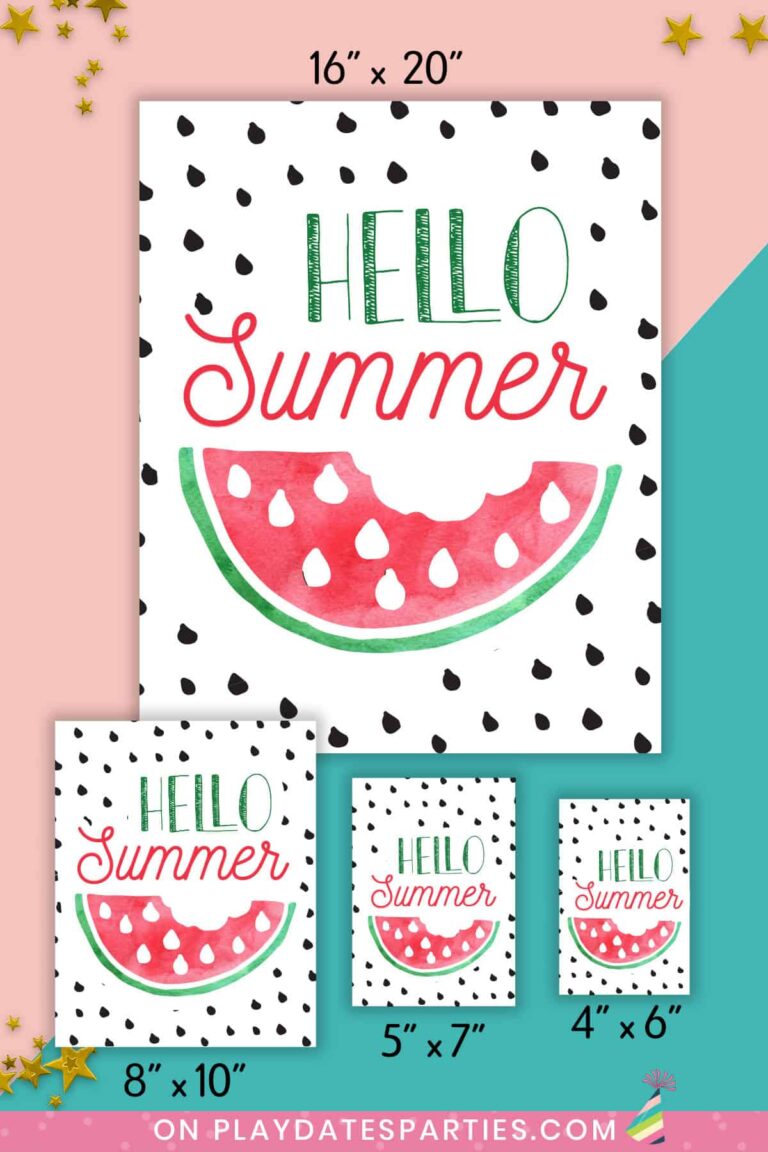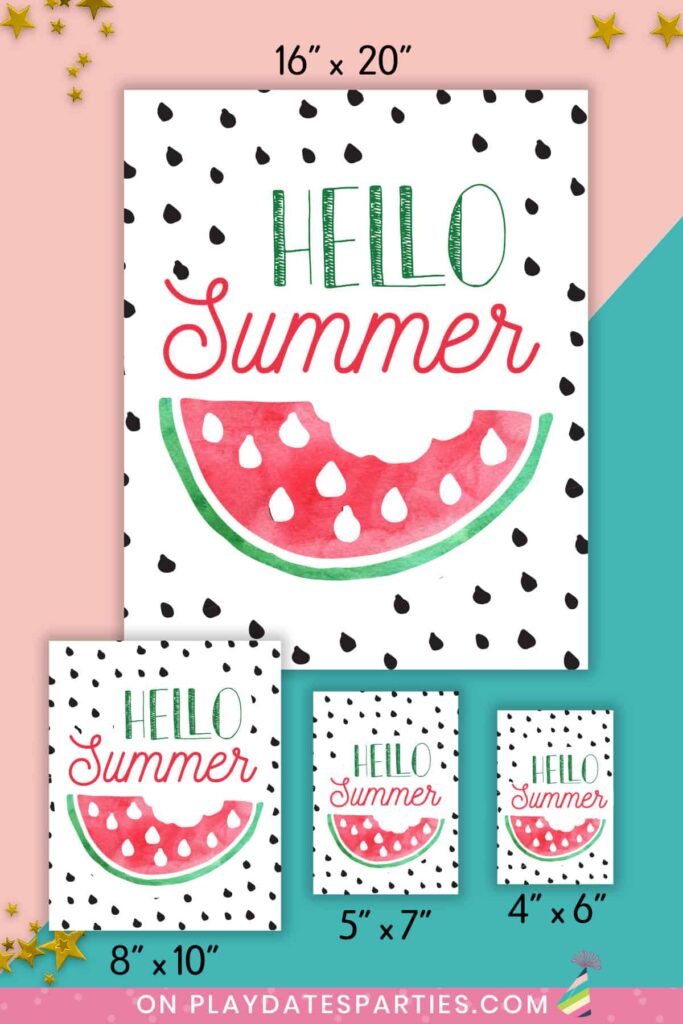 4 Different Sizes Included
Each of the designs comes with four different print sizes.
5 Reasons to Love Watermelon
Now, obviously our family doesn't need convincing. But we do know some people who insist that they think watermelon is overrated. 😱
So if you ever find anyone making that argument with you, here are some reasons to love this summer fruit.
1. It's a Great way to Stay Hydrated
It's so important to stay hydrated when it's hot outside. And since watermelon flesh is over 90% water, it's a delicious way to stay hydrated.
This is especially helpful with little kids – who seem to fight us tooth and nail over drinking plain old water.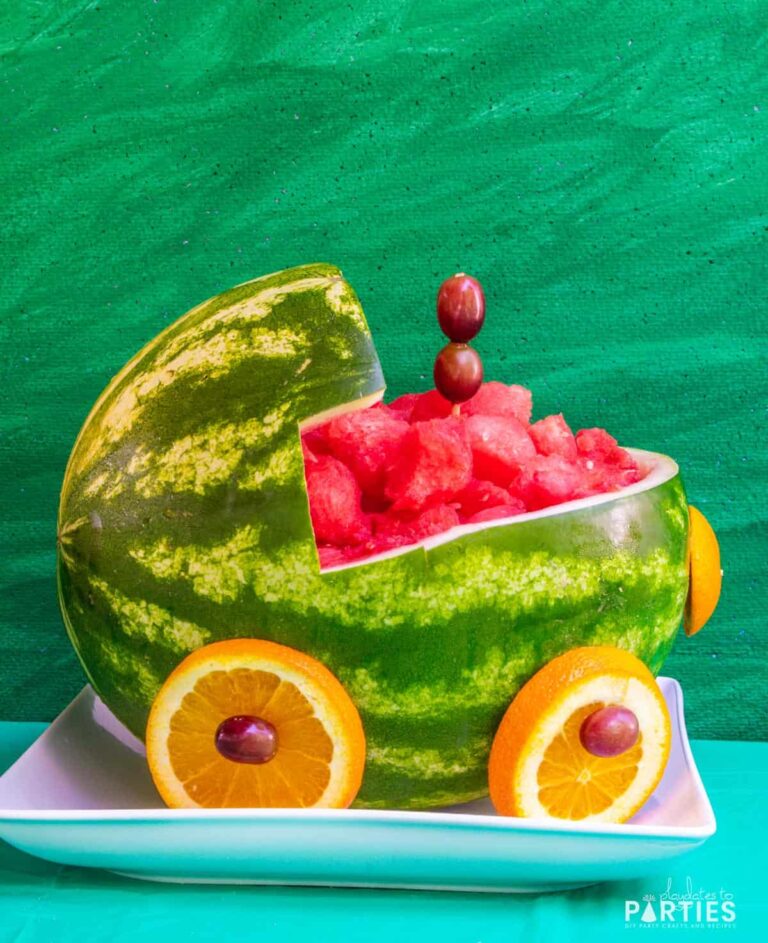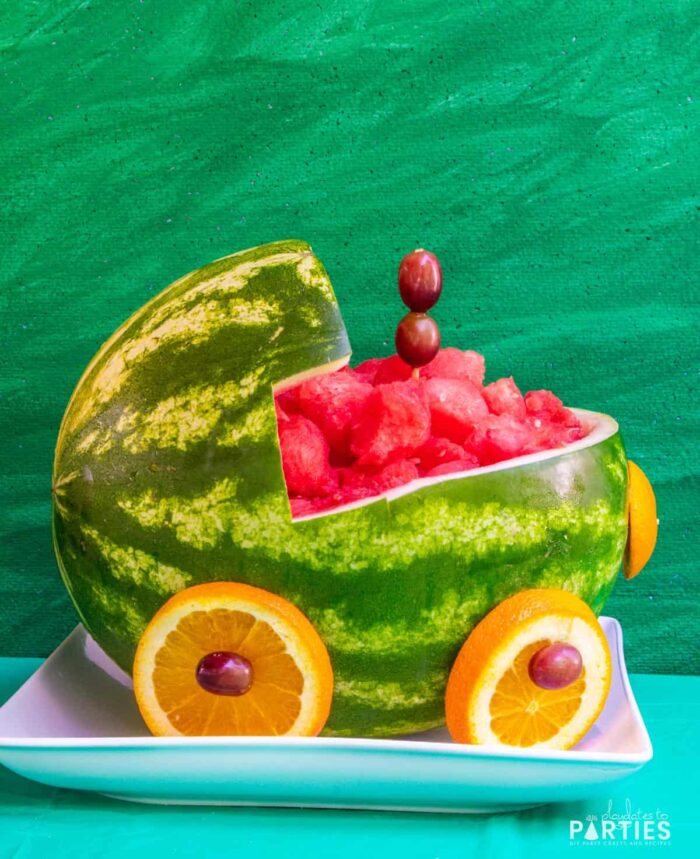 2. It Doubles as Creative Party Decor
Now, as evidenced above, I'm not the best at carving watermelons. But sometimes the fun is just in the trying, right?
So, grab your big knife, and turn that watermelon into a work of art.
3. Watermelon is low in calories.
Remember that high water content? Because of that, it's only 40 calories per cup, which makes it the perfect way to combat a sugar craving.
4. It's also a good source of nutrients
Watermelon is high in:
Vitamin C which is great for your skin and for your immune system
Potassium, which helps with blood pressure and cardiovascular health
Lycopene, which is a powerful phytonutrient and antioxidant.
5. It's Just Plain Pretty
The bright pink flesh, and green rind are opposite each other on the color wheel, which makes them a perfect match.
It also means that any drinks or snacks you make from watermelon will definitely look fantastic.
If You Like these Art Prints..
Then you're going to love all the art prints and party signs I have in my shop.
You might also like to learn how to make custom party printables from free art prints.
Grab A Print for Free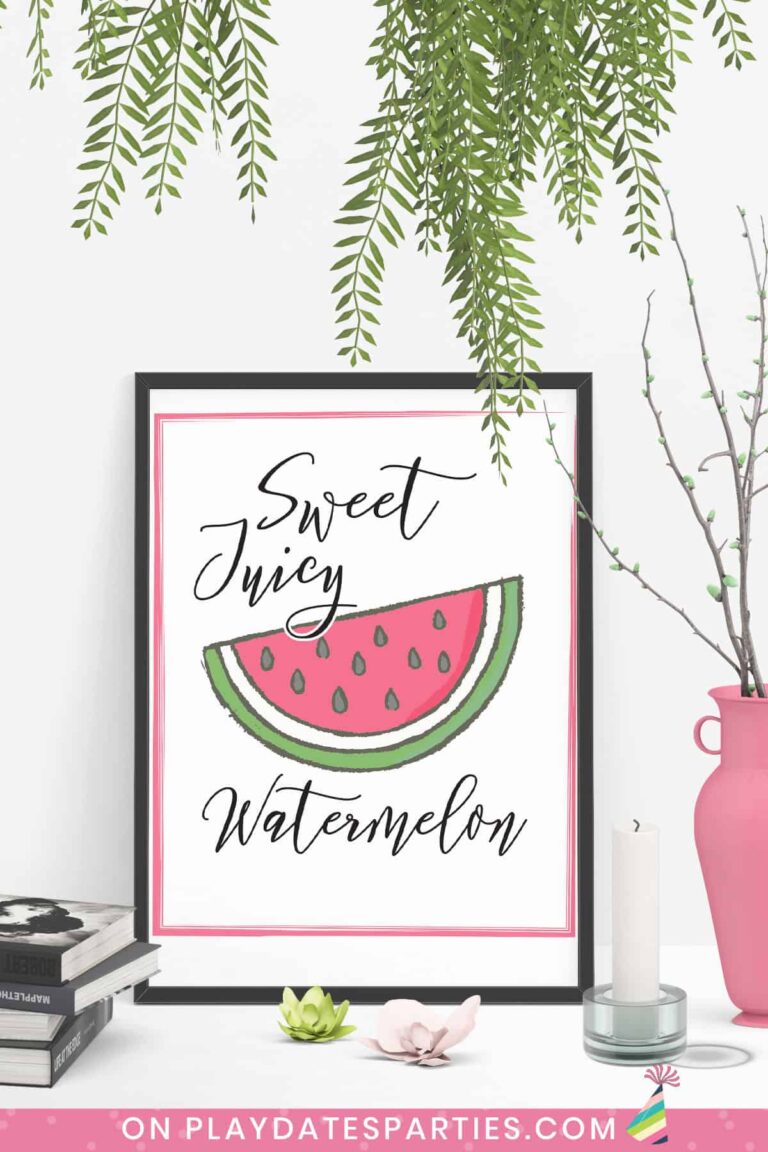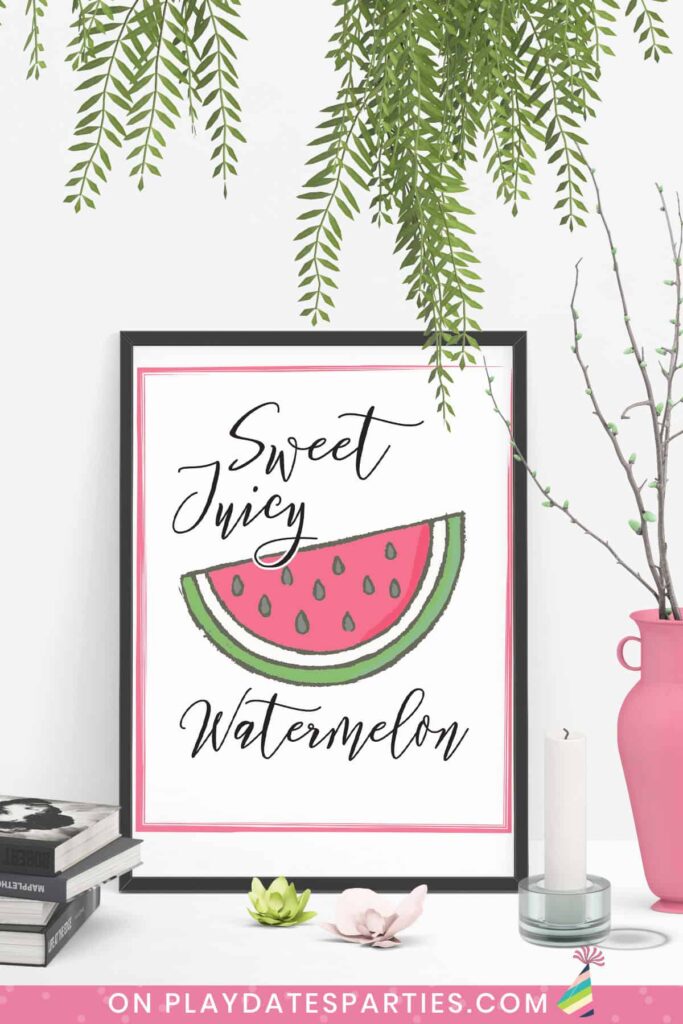 Newsletter subscribers can grab the "Sweet Juicy Watermelon" sign free of charge. Simply add your name and email address below to have the printable sent straight to your inbox.
Don't want to subscribe? You can also purchase the signs for a small price in my shop right here.
Now I Want to Know…
What's your favorite thing about Watermelon?
Which of these prints do you like best?
---
---
This post was originally published on July 17, 2017 as part of the Spectacular Summer Blog Hop. It has been updated with a fresh wall art design and expanded reasons to love watermelon.