Gorgeous art prints are available for free all over the internet. But did you know you can quickly and easily turn them into custom party printables?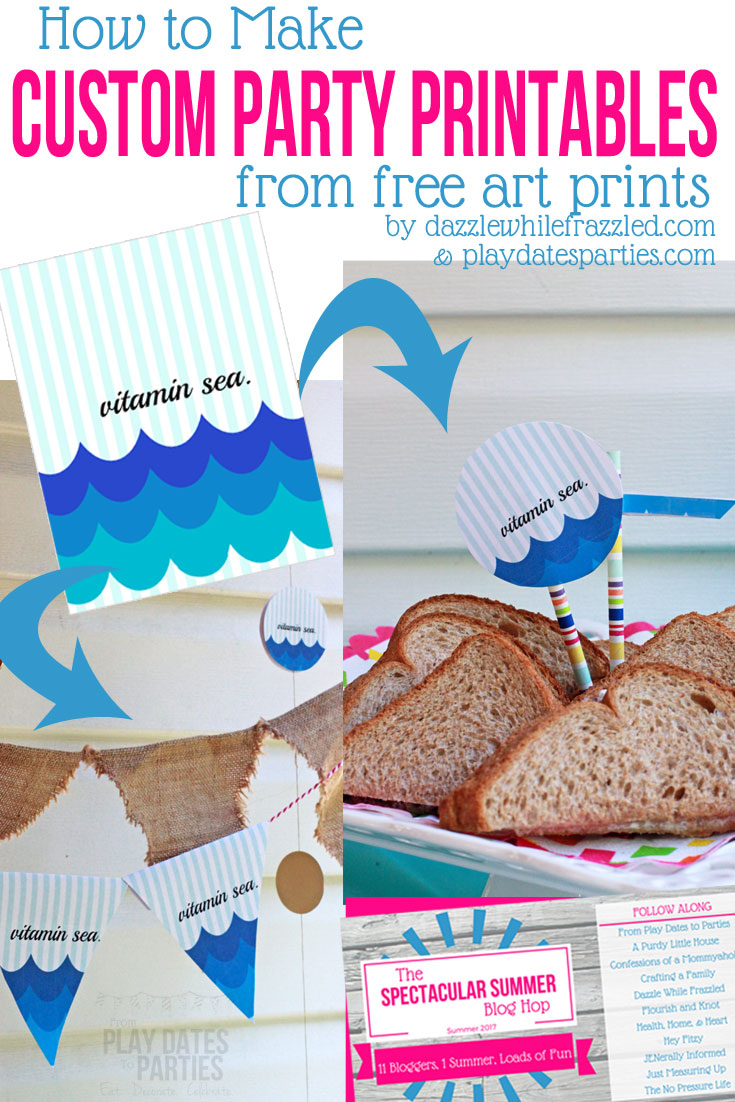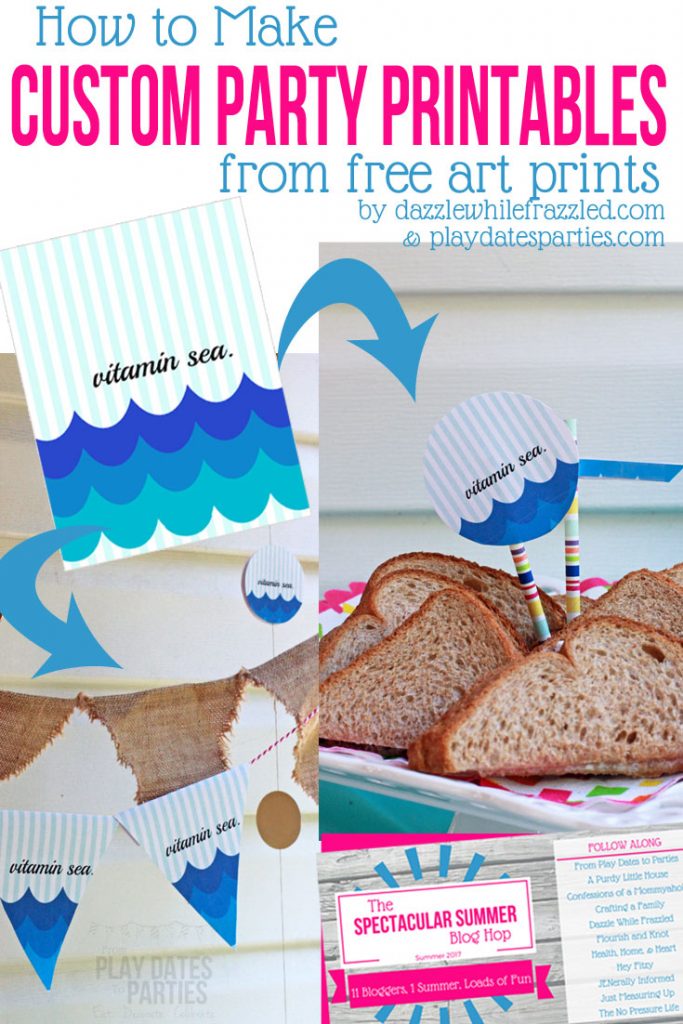 "I could never stay long enough on the shore; the tang of the untainted, fresh, and free sea air was like a cool, quieting thought." – Hellen Keller
Summer is about halfway over, and I'm guessing you could probably use a bit of that quiet ocean time. And if I could give it to you, I would. Promise. Unfortunately, it's difficult to send beaches and oceans through the internet.
But what I can do is share some fun beach-inspired printables with you!
Victoria from Dazzle While Frazzled is sharing 6 beach-inspired decor prints with a few fantastic tips on creating a simple gallery wall using free printables like just like these.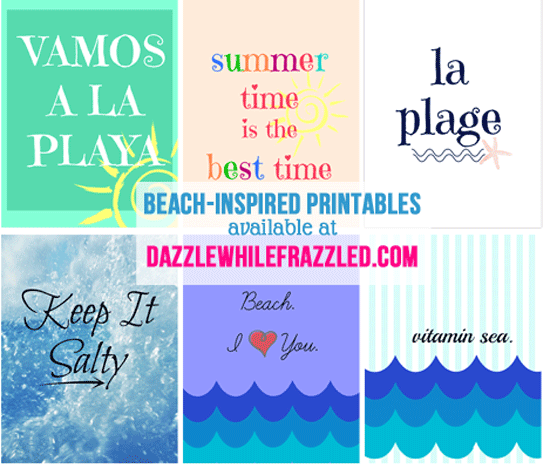 Arent' they cute? I love the variety and all the bright colors. But that's not all. Did you know you can take simple printables like these and quickly turn them into custom party printables?
How to Turn Free Art Prints into Custom Party Printables:
That's right! You can make some fast and easy party printables with just one art print download. All you need is a pair of scissors and a couple templates. Or if you want to get really fancy, you can use hole punches for a similar effect.
For this project, I chose Victoria's "Vitamin Sea" art print. I loved the simple message, and the combination of textures from the waves and the stripes.
First up was a cute little triangle bunting. To get the perfect size, and to save a bit on paper and ink, make sure to select "2 pages per sheet" in your print window. Then, create a triangle bunting template with some scrap paper.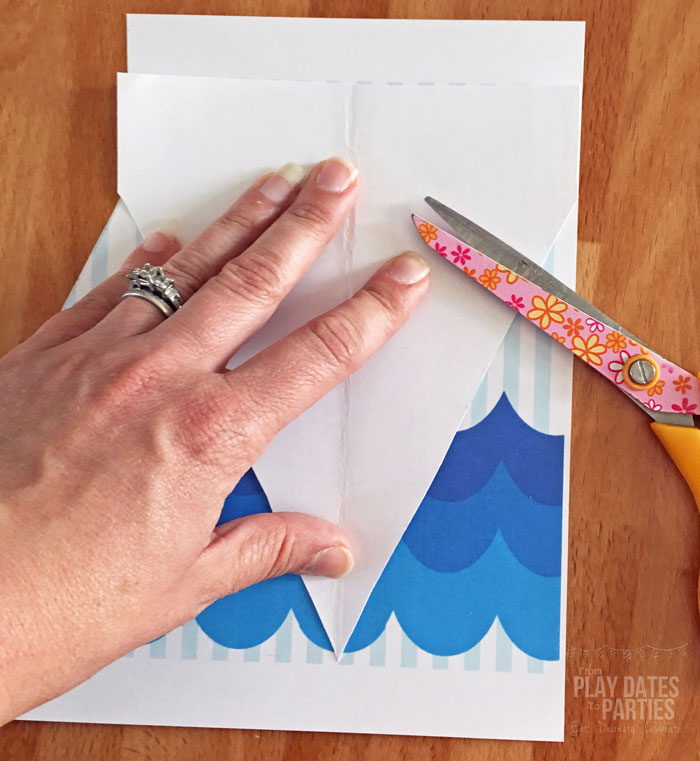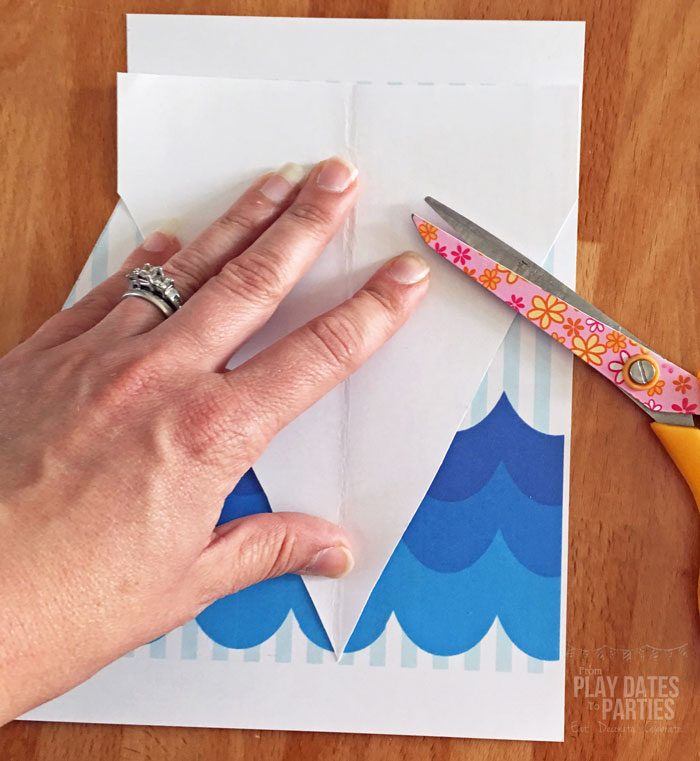 Next, a few party circles and paper flags. For this, choose "9 pages per sheet" in your print menu to automatically size down the image. Then, trace the print with a glass, or use a hole punch to get your circle shapes. I used the scrap sections to also create simple strips for straw flags. Easy peasy!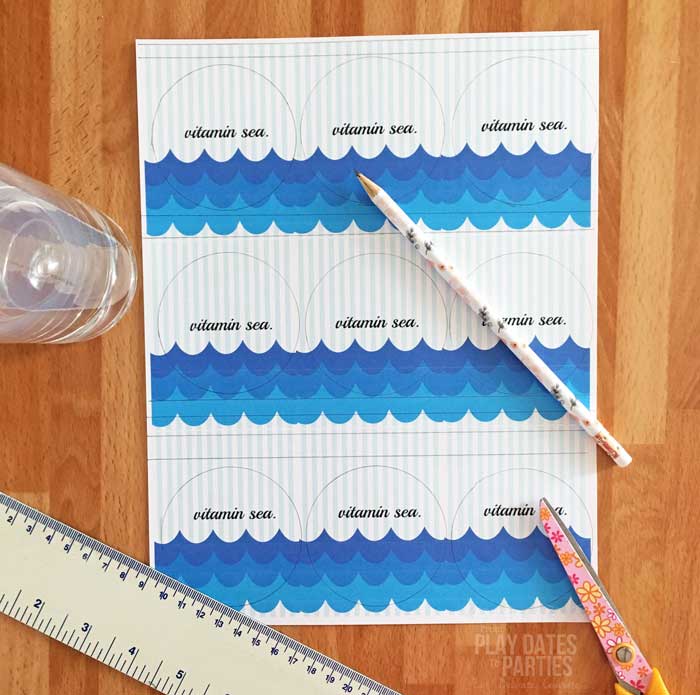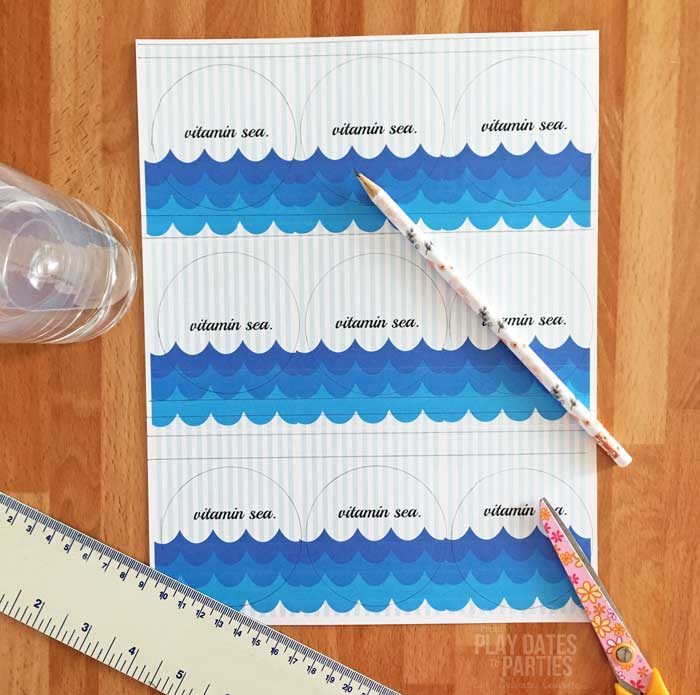 I know people are always saying four simple steps….but this time it's true:
Print our your design
Place your template.
Trace.
Cut.
That's it! Now, you're ready to put your party printables up.
I used this adorable set four our girls' annual end-of-school backyard picnic. They were perfect for a fun and casual afternoon in the sun.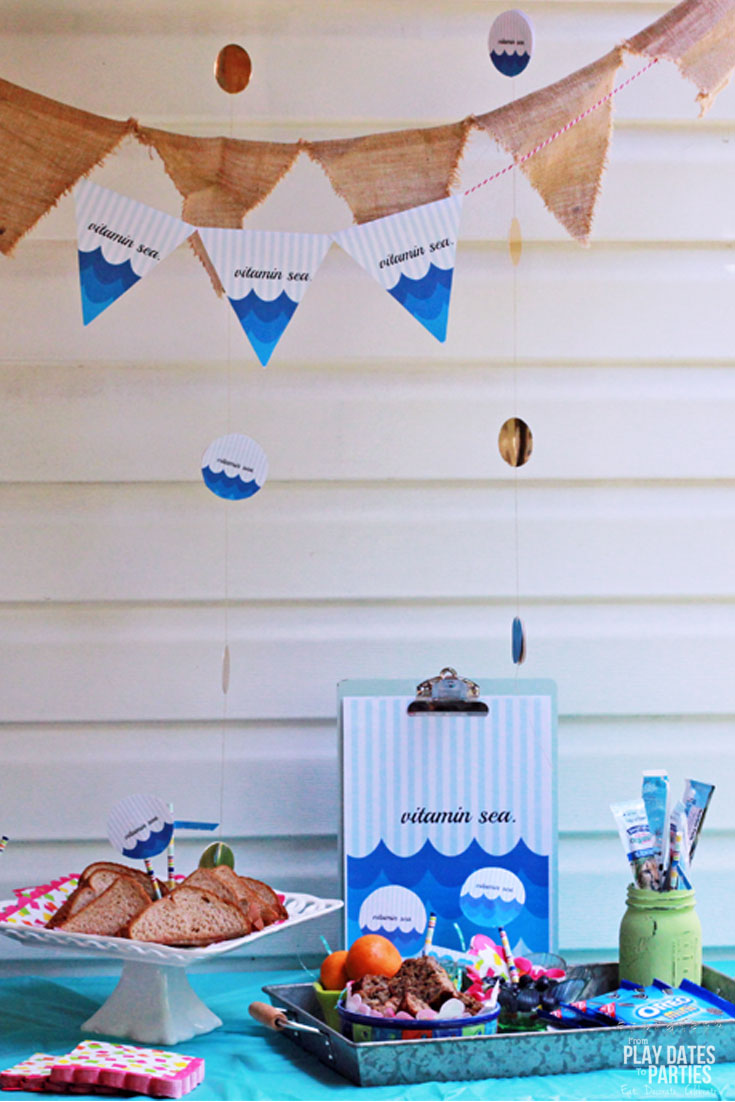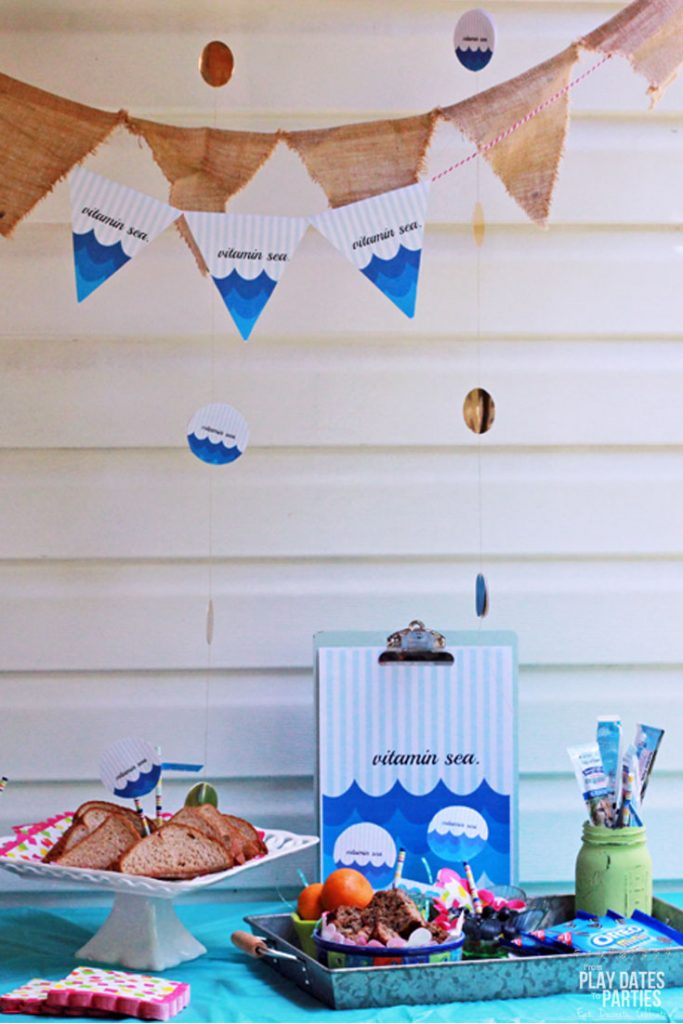 Tips for Creating Custom Party Printables from Art Prints:
Find a print that has many areas of visual interest and avoid large areas of text. Victoria's "Vitamin Sea" print was perfect for this project because it has two different patterns and a simple saying.
Keep your templates simple. You don't need much more than party circles and a bunting to get a cohesive feel to your party.
Print your design in different sizes to get more versatility. Try different sizes based on number of sheets per page or by printing based on a percentage (e.g. 125% or 75%) of the original print size.
Make use of paper scraps. You can use scraps to create smaller party circles, straight strips of paper to be used as straw flags, or just cut it up like crazy as confetti for your table.
Time Saving Tip: Add your custom party circles to a pre-made circle garland like this gold garland from the Target One Spot.
How Long Did it Take
In 30 minutes I made 5 bunting triangles, 9 party circles, and 5 straw flags. Plenty for a quick little gathering.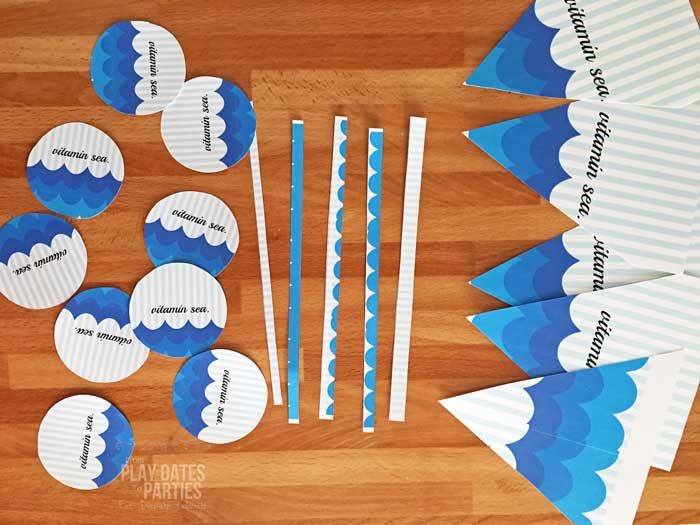 How Much Did it Cost
I already had the printer paper and ink on hand, so these fun party printables didn't cost anything more than time!
Would I Do it Again?
OMG, this feels like finding a goldmine. Just imagine the possibilities! I may or may not have started spending more time looking for other art prints just for this purpose…
>>>>WAIT…THAT'S NOT ALL! CHECK OUT THIS GOLDMINE OF FREE PARTY PRINTABLES JUST FOR YOU!
Now it's Your Turn
Even if you can't enjoy the quiet sands of the beach, you can still click down below to get your free beach-inspired art prints from Dazzle While Frazzled. Then use the tips here to create a fun, free, and fast beach party before summer is over. And don't forget to tag us with your pictures on Instagram and Twitter!
Which art print is your favorite?
What's your favorite way to make custom party printables?
Victoria answered a few fun questions so you can get to know her better…take a look at what she's sharing!
What is your favorite summer drink?
A Mexican Martini, which always brings us back to our days of living in Austin, TX.
Choose a movie title for the story of your life.
"Martha Stewart Drives a Mini Van"
Each of my Spectacular Summer co-hosts is sharing a little bit more about Victoria on their blogs, too. So don't forget to hop around and see what else she has to say.
Click here to get your free Beach-Inspired printables at Dazzle While Frazzled to make your own custom party printables!
Subscribe via
Bloglovin, Facebook, and Twitter
to get more updates!
Don't forget to check out these awesome posts: