The end of July and beginning of August brought 20-hour days filled with birthday party preparations for my oldest.
It was my own fault, really. I started the summer with the best intentions to keep the party planning stress-free. But life always gets in the way, and I was 10 days out from the birthday party with almost nothing prepared. That's even more last-minute than I tend to be.
But you know what? Despite the sleep deprivation and the high-stress levels, I loved it. There's something so special about seeing hard work turn into something awesome. It can be a fun recipe, a DIY project for the home, or my kids' parties. I just love to create.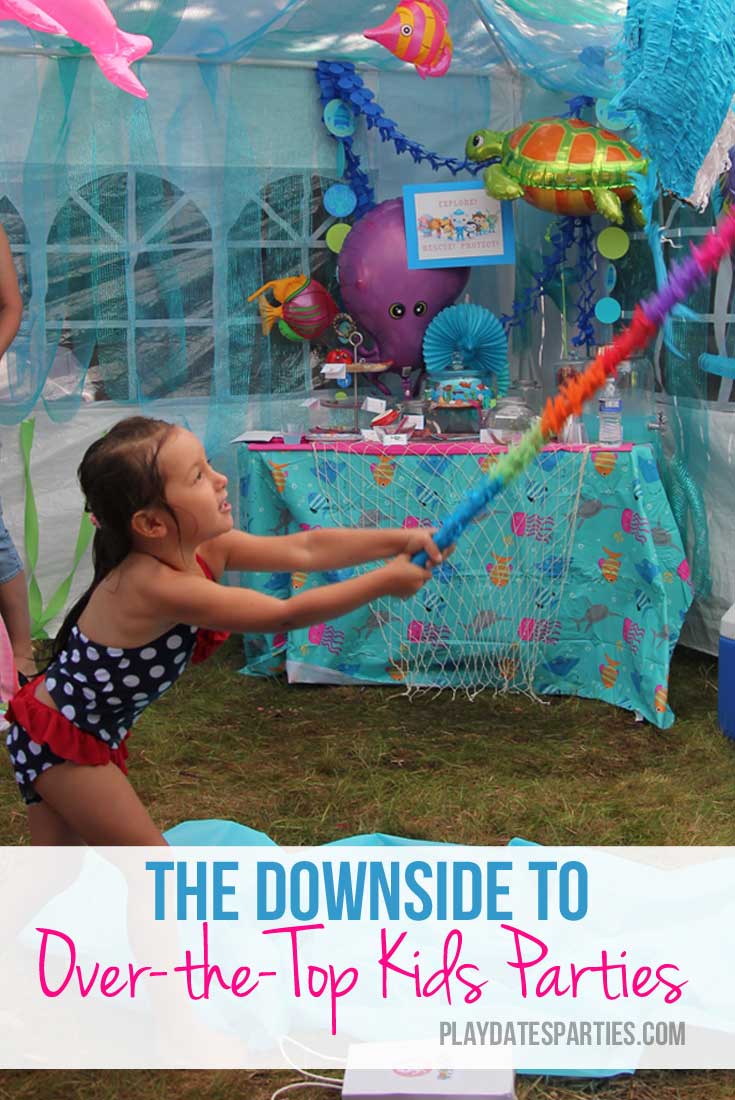 The downside to planning crafty, and over-the-top kids parties
Like others with the party bug, I love to browse the big party websites for inspiration and ideas. I also know that my kids' parties will never look quite like those. I don't have thousands of dollars to spend on catering or professional photographers. Almost everything for my kids' parties is completely handmade.
But are even my kids' parties too much? I don't remember parties being quite so big as they are these days. Most of my own birthday parties were pretty low key. We goofed off in the backyard, played musical chairs or pin the tail on the donkey, ate cake, and took home cheap plastic goodie bags filled with junk that was lost or broke within a week.
I hate the idea that my kids might grow to expect bigger and bigger parties each year. Thankfully, that hasn't happened yet. T actually requested to invite fewer friends for her party this year. But there's always the potential that the expectation is to have a big celebration for every single birthday.
I hate how the stress of pulling together the kids' parties affects the rest of the family. No matter how much I love creating these events and experiences…sometimes it means that the family balance is off. Sleep deprivation and stress give me a hair trigger temper, and I lose quality time with the kids.
I hate the conflicted feeling I get when other kids moms walk into my parties. Comments like "Oh, wow" and "Raising the bar, eh?" are commonplace. Parties don't need coordinated decorations, fancy favor bars, or themed foods to be great. What truly makes a party perfect is if the kids have fun together.  I don't make over-the-top kids parties for competition. To me, imagining and pulling together creative parties is a fun challenge.
I love making over-the-top kids parties.
I'm never going to stop loving over-the-top kids parties. But this summer proved to me that I have a limit. After careful consideration, the kids and I agreed to reduce the number of big parties next year. Since all our kids birthdays are in the summer, we'll hold only one big party. One party where I can pull all the stops. One party where I can go absolutely crazy with themes and activities and decorations. On their individual birthdays, the kids will get a smaller celebration that will be less styled, but no less important. And I won't let them take 20-hour days to pull together.
Do you believe over-the-top kids parties are doing more harm than good?
What do you do to celebrate your kids birthdays?
This post is written in response to the August prompt for the Who I Am Project; hosted by Dana at Kiss My List. This month's prompt is "Loves and Hates".
Don't forget to subscribe via
Bloglovin, Facebook, and Twitter,
to get more updates!