For some reason, I always start off a journey of well-being and healthy living by finding new breakfast recipes. There's just something about starting your day off right that makes you want to stay track (or at least, not go too far off track). But it's so hard to find healthy breakfast alternatives that are filling, delicious and portable.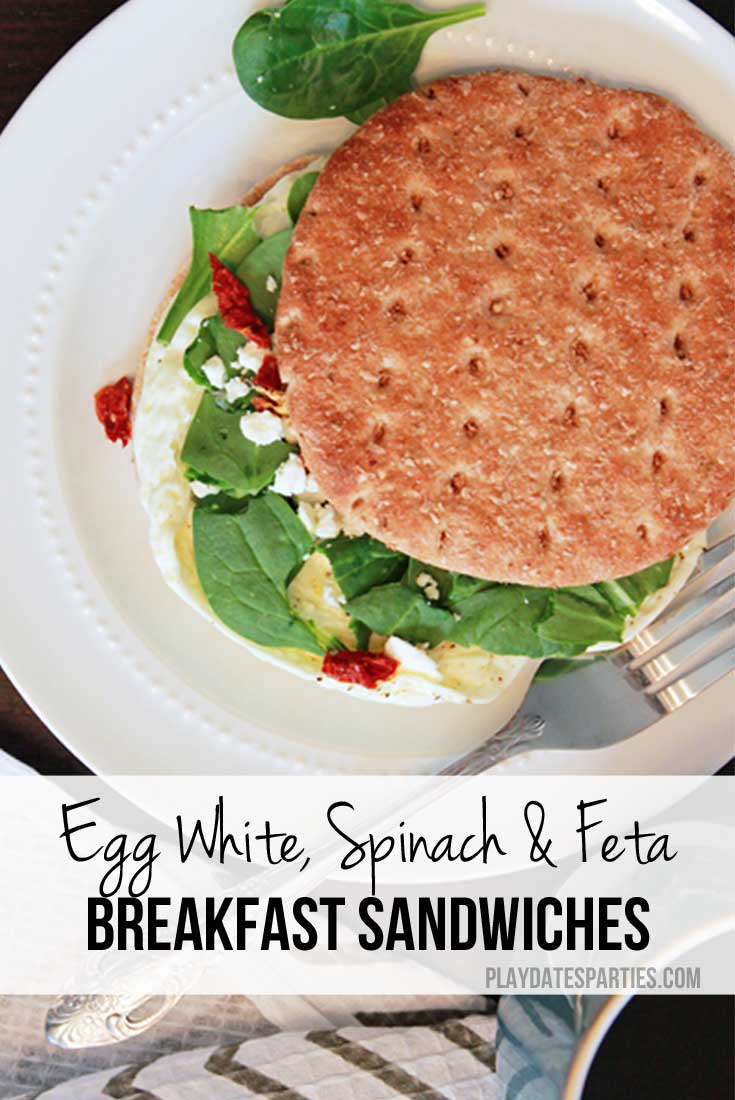 For those that don't know, I
lost over 26 pounds
before getting pregnant with E. I'm not going to lie, working outside the home was a big part of my success. I packed almost all of my breakfasts and lunches, making sure that I packed nutritious options to satisfy my cravings. Breakfasts usually consisted of microwaved oatmeal with cinnamon & stevia. It was filling, delicious and easy.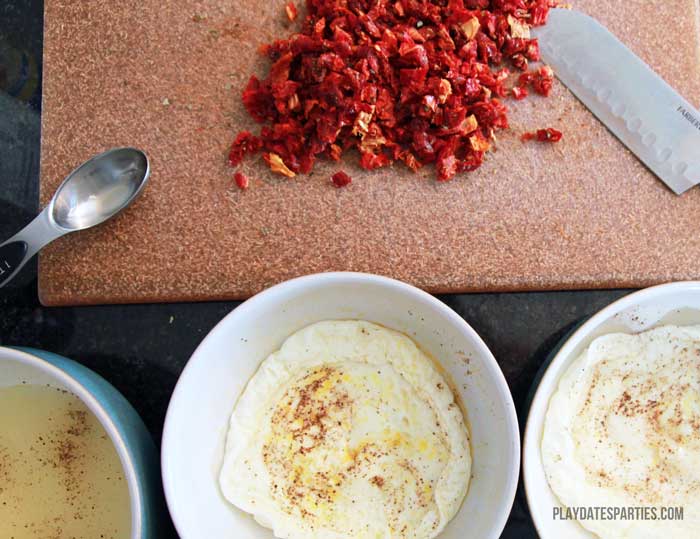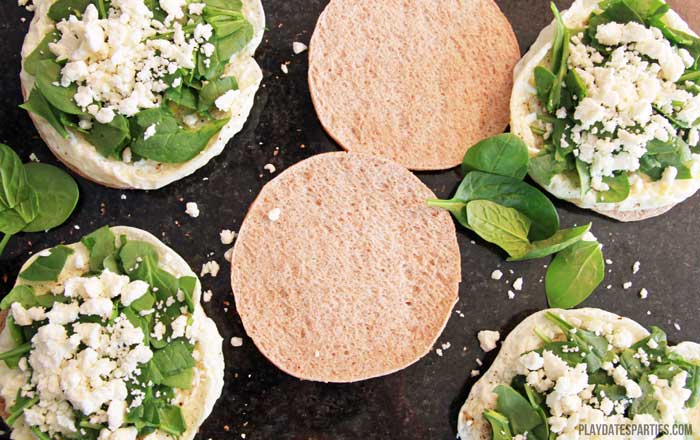 These days, my mornings are filled with chasing my kids through getting their breakfasts, getting dressed, teeth brushed, and out the door. Not to mention making sure the baby is fed and has a clean diaper. There's no sitting down to a nice warm bowl of oatmeal for me. Not on weekdays at least. I need something that can be devoured one-handed in the car on the way to morning drop-off. And it needs to be fast…very fast.
Believe it or not, these Egg White, spinach and feta breakfast sandwiches fit that bill perfectly. The trick is to make a large batch all at once. Then you can wrap them up and stick them in the fridge or freezer. (they freeze beautifully) In the mornings, just grab one, stick it in the oven (or toaster oven) and let it heat up while you manage the rest of the chaos. The heat from the oven softens up the spinach and sun dried tomatoes, and melts the feta into a deliciously salty companion. It's so good, and it's got the perfect balance of whole grains, protein and fat to keep me full right up until lunchtime.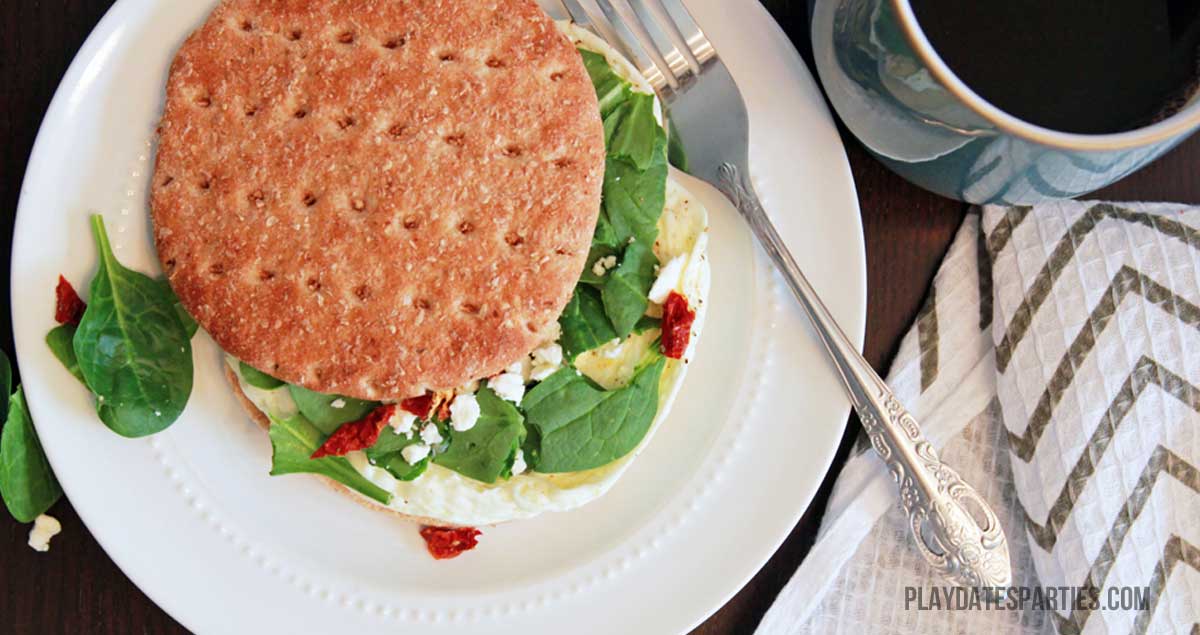 Egg White, Spinach, and Feta Breakfast Sandwiches
Ingredients:
Arnold whole wheat sandwich thins

6 T Egg Beaters Egg Whites, or 2 egg whites

1 Tbsp Crumbled feta

1/2 Tbsp Julienne cut sun dried tomatoes (dry packed), diced

1/4 -1/2C spinach, torn into small pieces

Salt & pepper to taste

Cooking Spray

Aluminum foil
Directions:
Prepare foil by cutting it into 8 sheets & spraying the matte side with a light coating of cooking spray

Spray a soup bowl with cooking spray.  Measure 6 tbsp egg whites (or the whites of 2 eggs) into prepared bowl.  Sprinkle with salt & pepper. Microwave for 1 minute 15 seconds, or until cooked through. (microwave times may vary)

Lay out a sandwich thin and top with cooked egg white. Layer torn spinach, feta and sun dried tomatoes on top of egg white. Top with remaining half of sandwich thin. Tightly wrap in prepared foil. Refrigerate or freeze until ready to eat.

To reheat: Turn oven to 300 degrees Fahrenheit for refrigerated sandwiches or 350 degrees Fahrenheit for frozen sandwiches. Unwrap sandwich so one side is exposed and place foil and sandwich in oven together. Do not wait for the oven to preheat. Heat until warm, about 20 minutes, flipping sandwich over once during cooking.
Tips for Making Egg White, Spinach, and Feta Breakfast Sandwiches:
To freeze, wrap tightly in foil, then wrap again in plastic wrap (Glad Press 'n Seal is the best), and store in a zip tight freezer bag

Make a whole week's worth by laying out all of your sandwich thins at once and loading up the toppings assembly line style.

Reheat the sandwich in an oven or toaster oven to ensure the bread doesn't get soggy.