Indoor hopscotch is a simple game for kids of all ages. It's not too complicated to set up and it's lots of fun! It's also an excellent way for parents to keep their little ones entertained on cold or rainy days.
With some creativity and a few household items, you can set up an indoor hopscotch course right in your own living room–and it'll be just as much fun as playing outdoors!
Hi, my name is Leslie, and I'm a mom to three very rambunctious kids. No, really, we were even once told by a child psychologist that ADHD doesn't just run in our family…it gallops.
So, when I tell you we need LOTS of activities to get that energy out, you know I'm not joking.
One of our favorite easy indoor activities is indoor hopscotch. We've all played hopscotch at one time or another, and for good reason. The combination of jumping while thinking about our next move or counting spots is a fantastic way to get some energy out.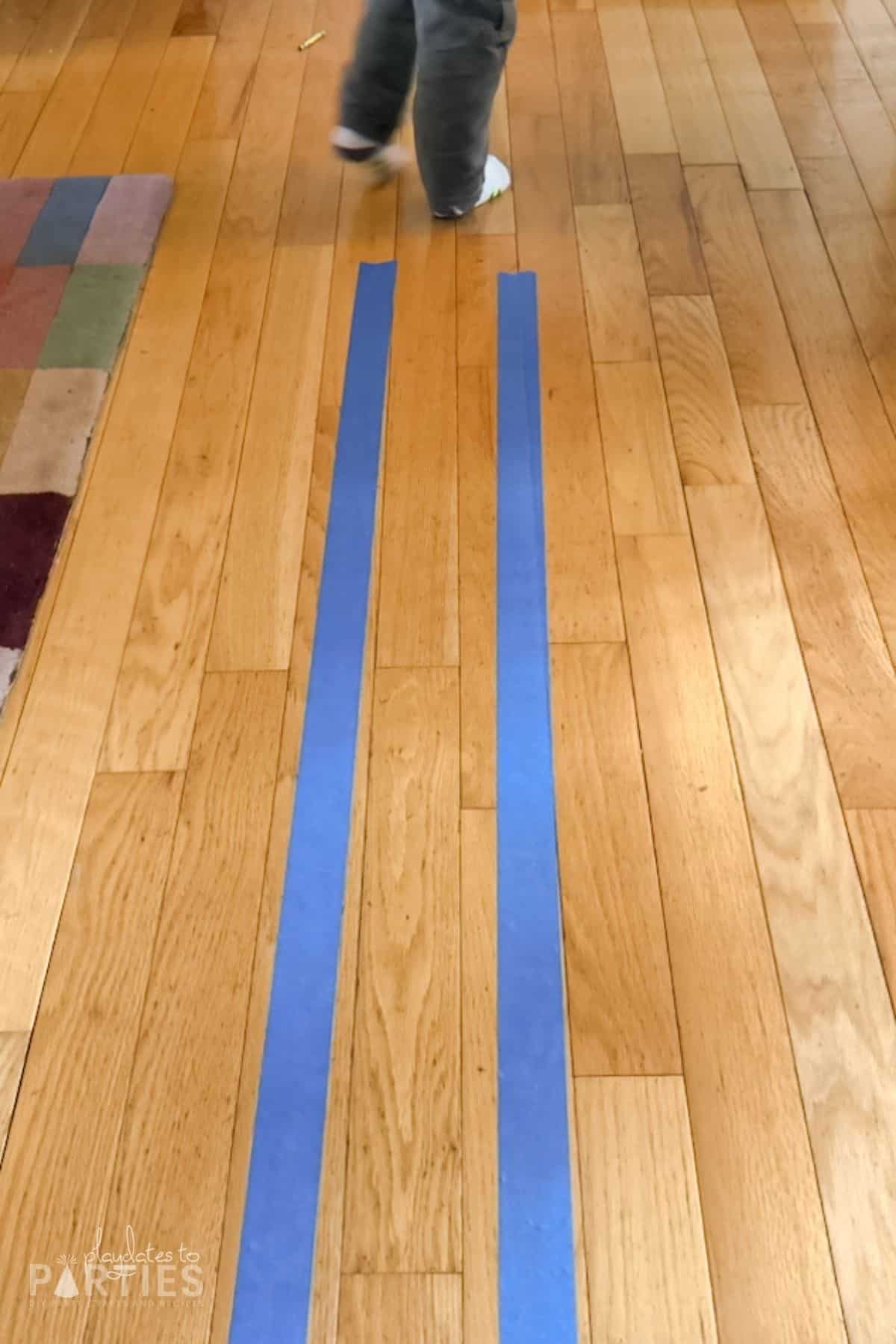 What You Need
A solid indoor surface (see below for our best tips for carpeted floors)
Enough space for your preferred shape, plus plenty of extra room to run around
A kid with energy to spare!
How to Set Up Indoor Hopscotch with Tape
Now, you can get all fancy and measure everything out, but honestly, it's just as fun taking this shortcut to making a simple hopscotch course.
Start by taping off two parallel lines. These lines should be as long as you want your hopscotch game to be.
Tape off perpendicular sections that extend beyond both sides of your original taped area to create sets of three squares. Add as many or as few as your kids would like, just make sure that the boxes are big enough for your children's feet.
When you're happy with the shape, add tape to the open sides to close off all the boxes.
That's it! In only 5 minutes, you can have your own hopscotch right in your living room.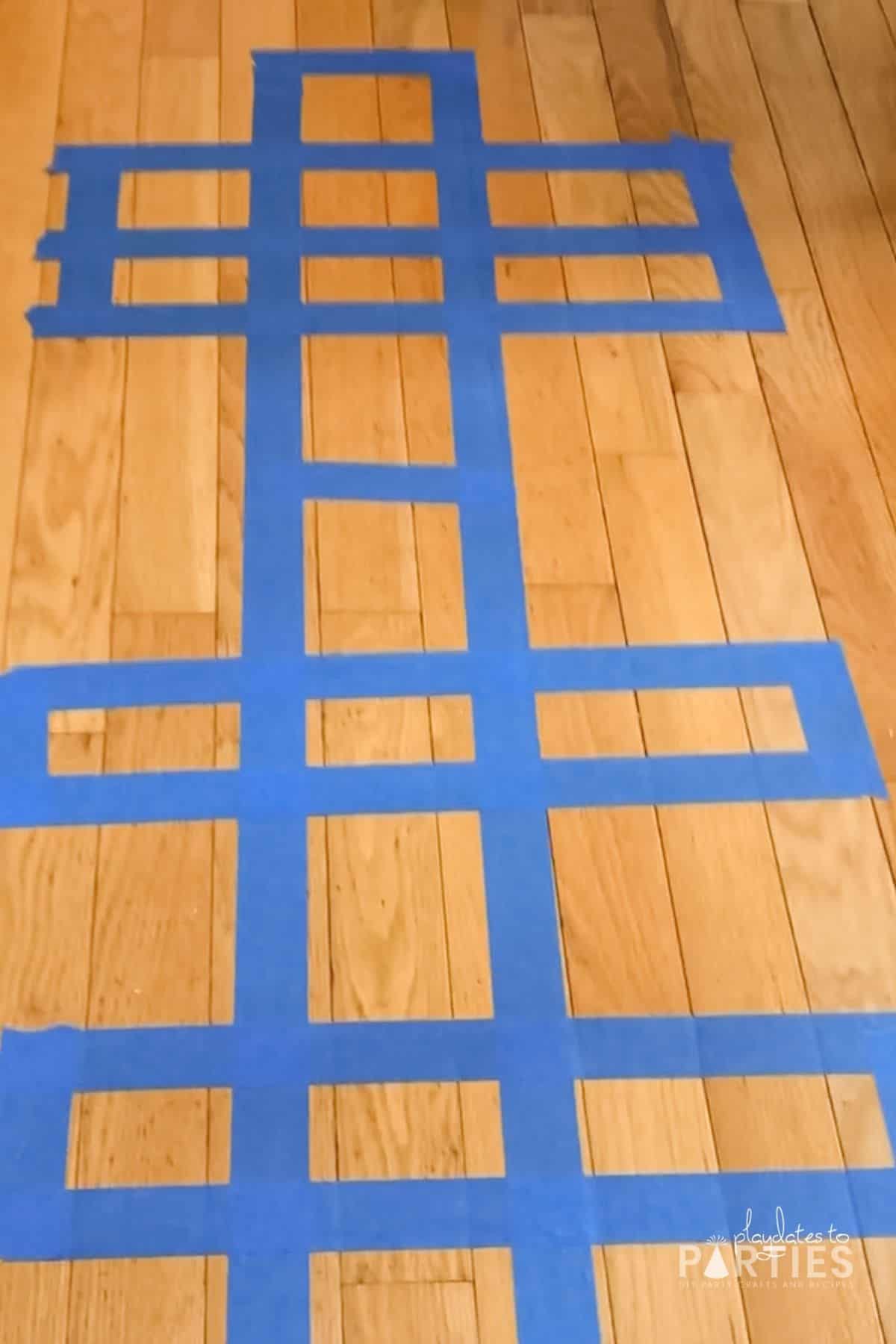 How to Play Indoor Hopscotch
Each player starts at one end of the hopscotch course. Then they hop, skip, and jump across all the boxes as they go.
The first one to get to the other side without falling or missing a box wins!
Tips for Playing Indoor Hopscotch:
Let your kids 'help' push the tape onto the floor during setup by wiggling, crawling, or running along the tape.
Add arm motions to your hopping. Up for some squares and to the side for others – almost like jumping jacks. This is a great way to get in a bit more exercise for toddlers and little kids who really need the extra activity.
Learn with hopscotch! Have your toddler or preschooler count how many hops they take. Getting to the end with all your numbers right is a big win!
Pull the tape up after a couple days. We made the mistake of leaving it on the floor for several days and were surprised how difficult it was to peel up.
If you're playing with toddlers or preschoolers, don't make the course too complex or difficult. You want to keep it fun, not frustrating.
After getting the wiggles out, don't forget to settle down with a fun quiet activity like some simple coloring pages or keep the energetic fun going with a few printable games and activities.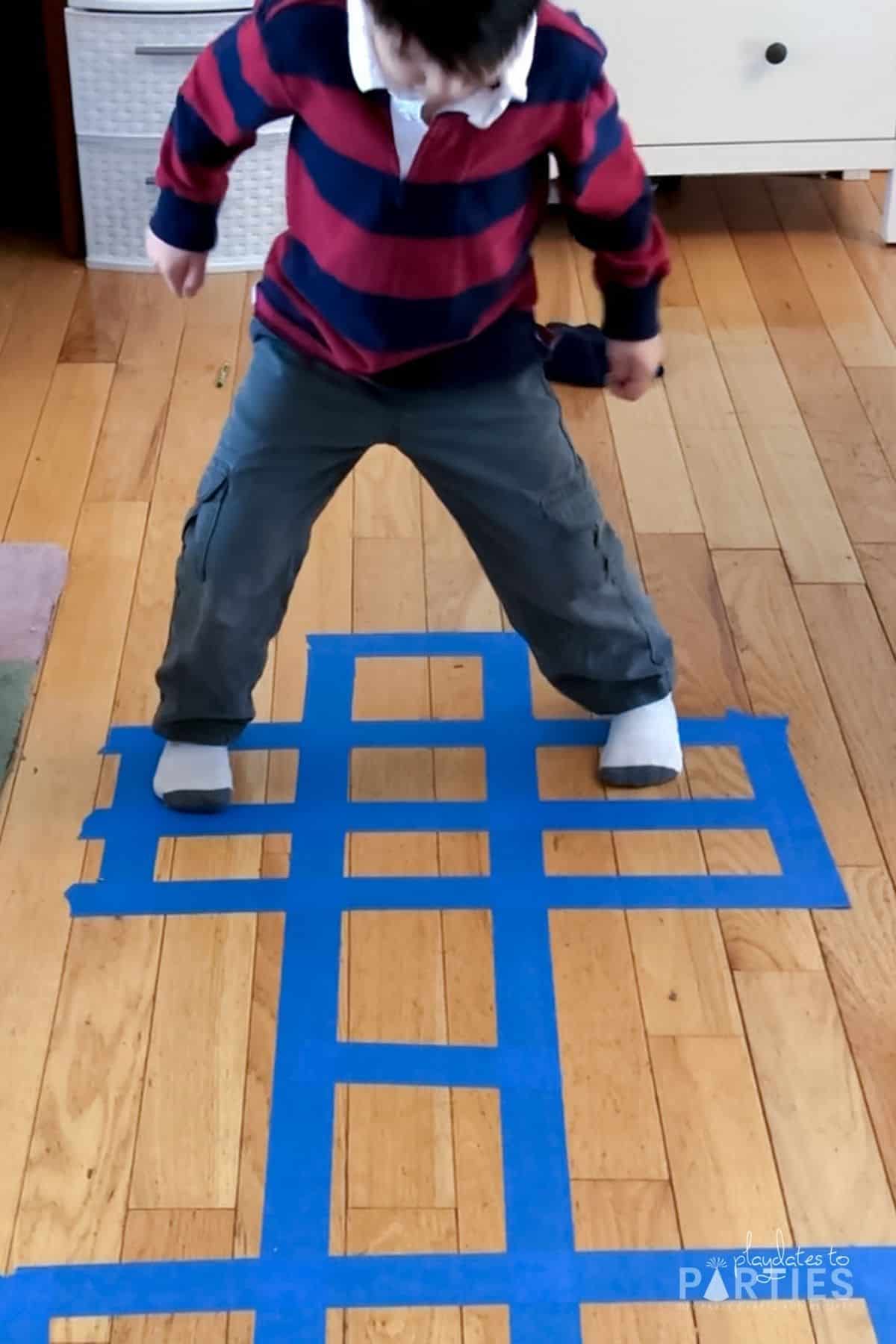 What if I can't use tape?
Tape is definitely not ideal on carpeted surfaces. If that's all you've got to offer, you can try these alternatives:
Use colored construction paper or scrap fabric to cut out different shapes. Lay them in a pattern on your carpet and have your kids jump just along one color or shape at a time.
Interlocking foam mats are fantastic on carpeted floors. We had one when our oldest was little, and it was so much fun creating all sorts of different hopscotch shapes and courses.
This hopscotch ring set is super versatile and easy to store. I love that you can rearrange the hoops to create different courses. (And knowing my 5-year-old, they would also get used for any number of other obstacle course and fort designs)
You can even grab a hopscotch rug. Though I personally prefer options that allow you to rearrange the squares to keep things interesting and fun.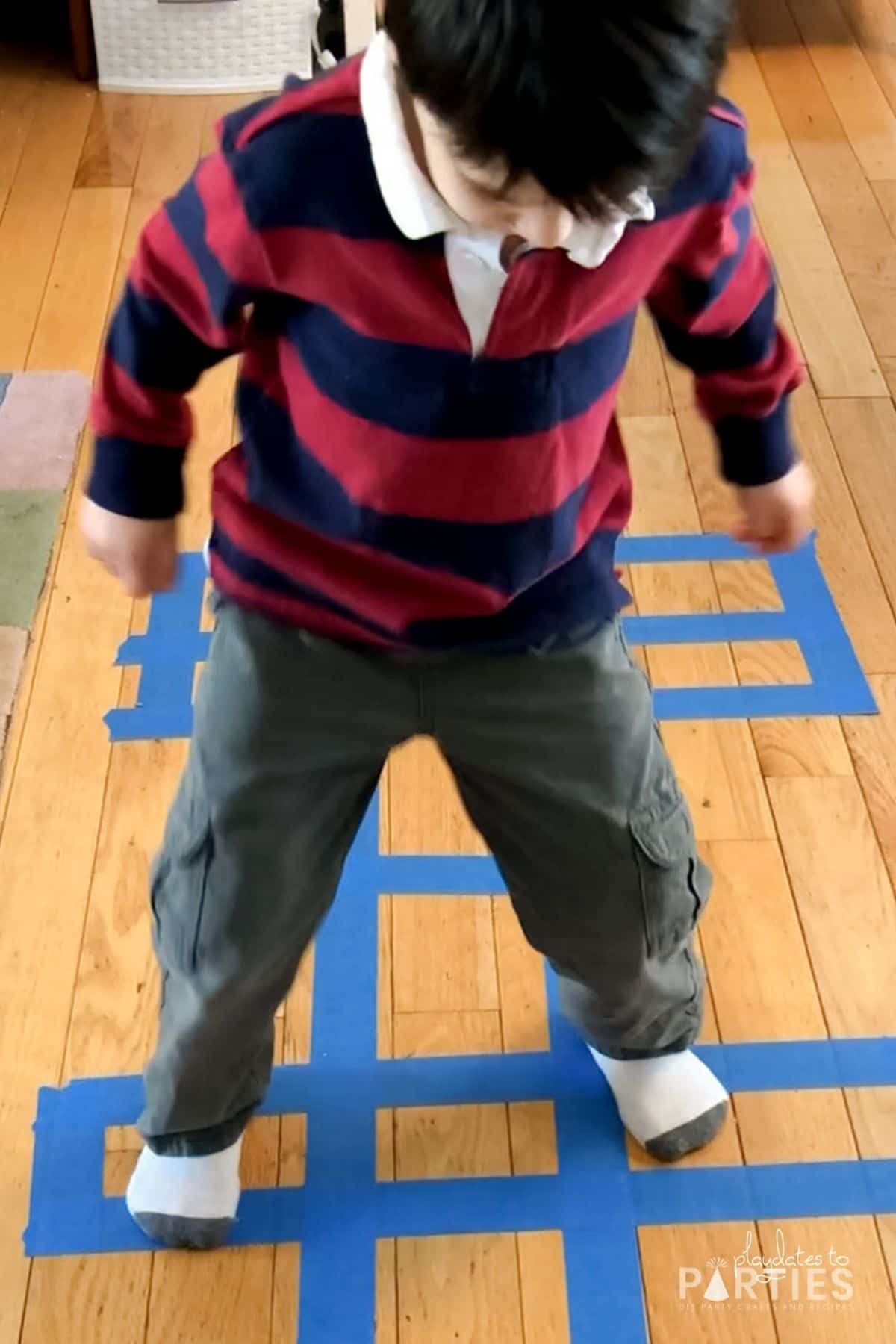 Now it's Your Turn
If it's too cold or rainy outside, indoor hopscotch is a fun solution for kids with lots of energy. With just a few supplies, you can transform your living room into an indoor hopscotch course full of fun and laughter.
If you enjoyed this activity, you'll love our 100 summer activities for kids, with ideas for every day of the week…rain or shine. It's the best list to start thinking about different ways to enjoy the fun summer days.

Want more party inspiration? Join me over at
Facebook
, and
Twitter
, for regular updates and fabulous finds from around the web.