Learn how to make this easy fire roasted peppers recipe right in your backyard! They're so much more flavorful than using the oven.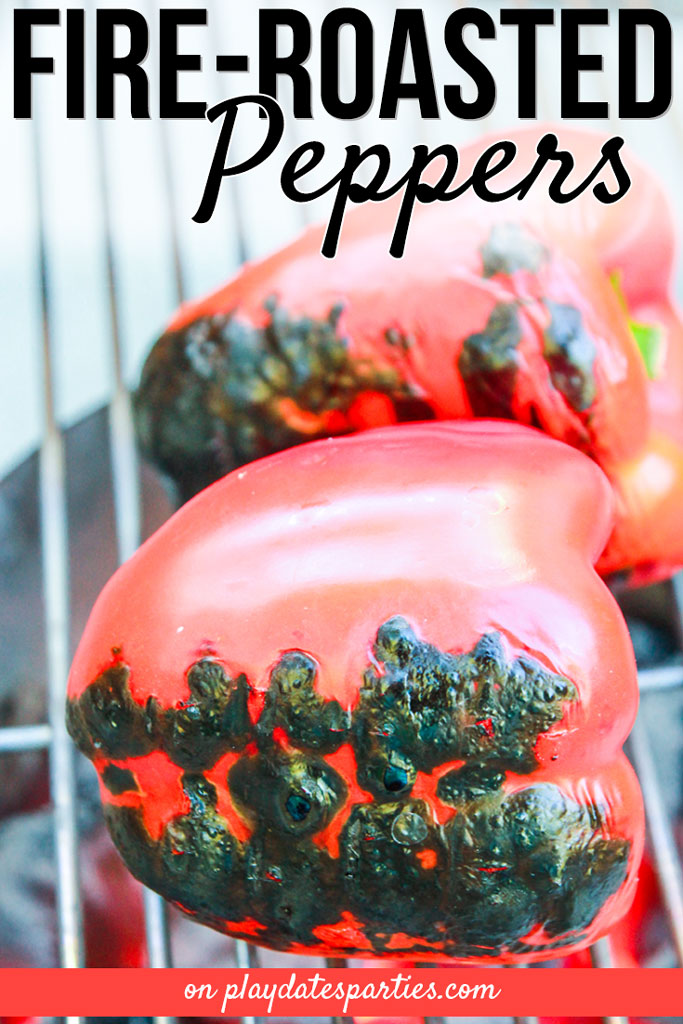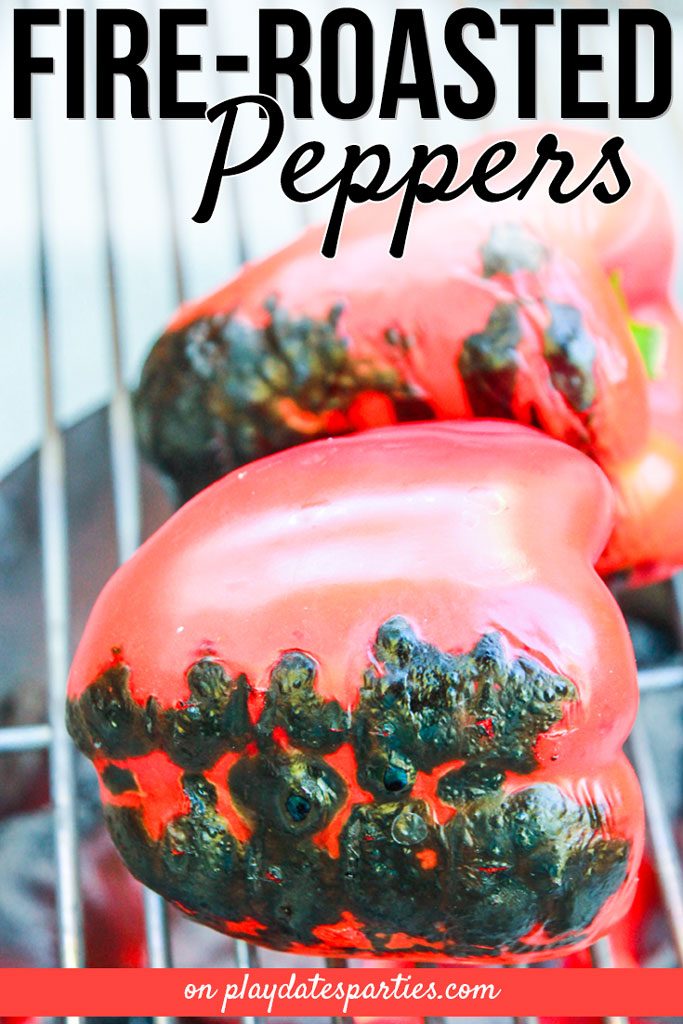 It took months after giving birth before I could even stand the smell of roasted bell peppers. And it took years before I was even willing to taste them again.
Pregnancy aversions are strong, my friends.
The worst part about it is that right up until I was pregnant with my first baby, I LOVED roasting peppers, especially on fresh salads.
No kidding, we would have a giant salad with roasted mixed vegetables at least once a week.
But those darn pregnancy aversions changed that for years.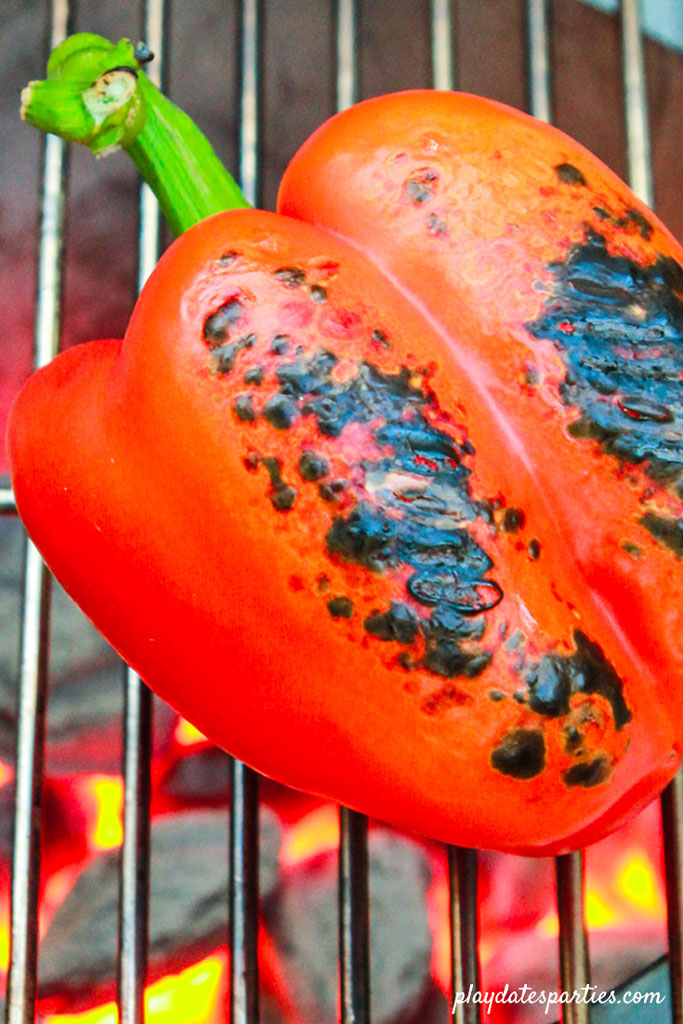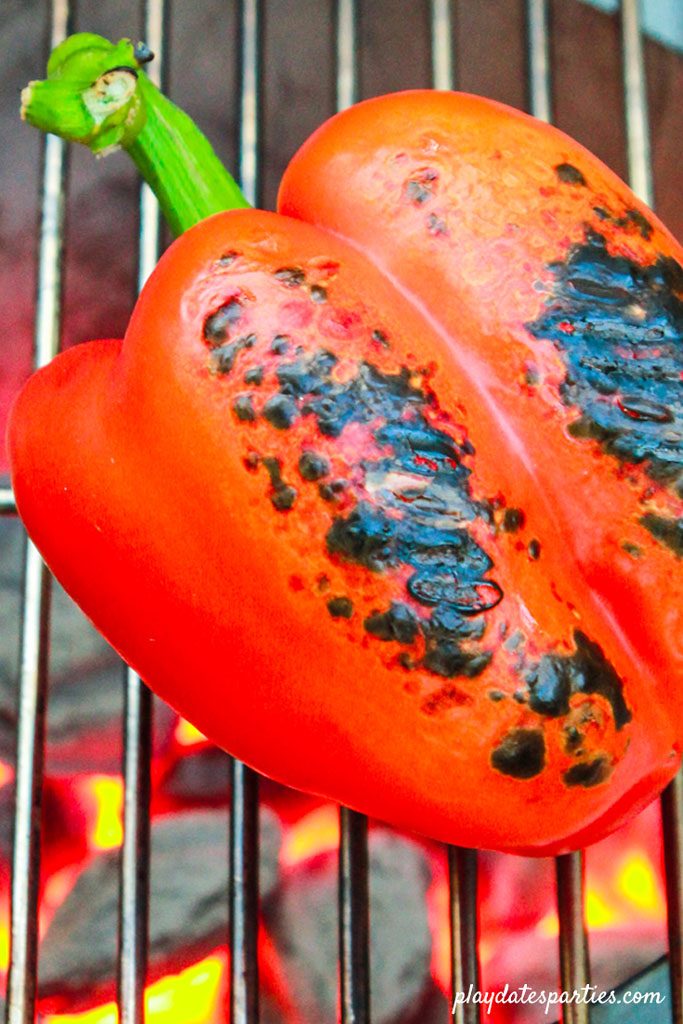 Until a year or two ago, when the Husband decided to fire roast some Hatch chiles using our grilling supplies.
Friends, this was one of the best experiments we've ever tried. Not only was I able to stomach the chili peppers, I loved them!
So…we started using his roasted peppers recipe for peppers of all kinds!
Plus, with his bar and prep table right next to the grill, our fire roasted peppers don't need to hit the kitchen until they're ready to be put away.
Fire Roasted Peppers Recipe
Fire Roasted Peppers Recipe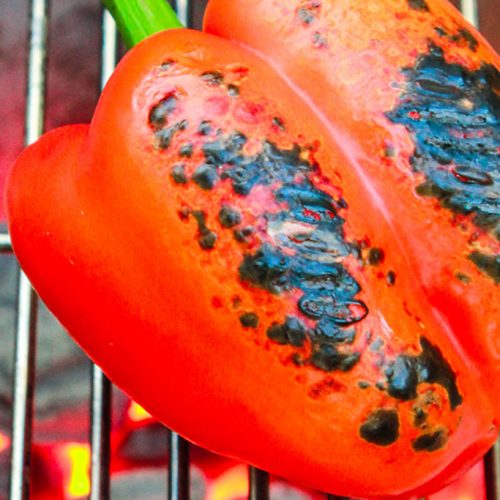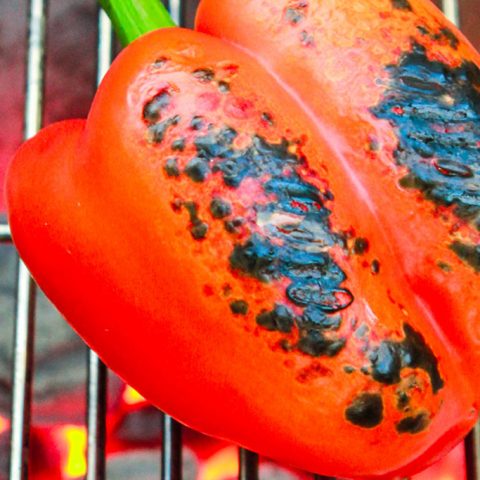 Leave the oven off and learn how to make fire-roasted peppers at home. You'll love the bold flavor added by using an open flame!
Ingredients
Chimney starter
charcoal briquettes
Steel tipped tongs
A large glass bowl
plastic wrap
Peppers of your choosing
Instructions
Light a chimney starter and fill it with charcoal briquettes until it is 4/5ths full.
When the coals are hot, place a grill grate directly on top of the chimney starter.
Place one or two peppers directly over the heat of the coals. Leave in place until the skin is well scorched, about 3 or 4 minutes depending on the heat of the fire and the type of pepper you are using.
Rotate your peppers and repeat step 3 until the peppers are roasted on all sides.
Remove peppers from heat and place in a glass bowl, covered with plastic wrap. Allow to sit for 5 to 10 minutes.
When the peppers are cool enough to touch, remove them from the bowl and carefully scrape away the skin with the back side of a kitchen knife.
Nutrition Information:
Serving Size:
1 grams
Amount Per Serving:
Unsaturated Fat:

0g
Don't Forget these essentials
Why not just put the peppers on the grill?
While you can roast peppers on the grill, using the coals directly from the chimney starter concentrates the heat, making the peppers roast more quickly.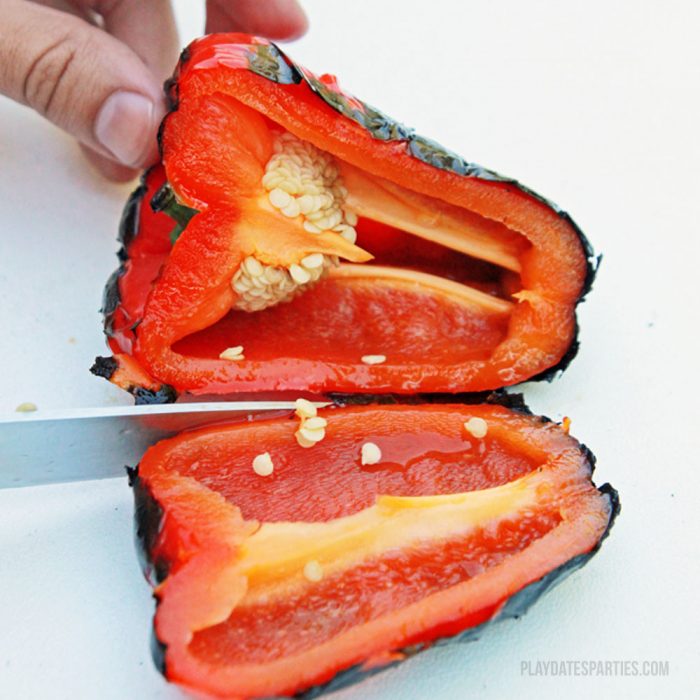 How long does it take?
The amount of time necessary is directly dependent on the heat of your coals and the thickness of your peppers. We spent about 5 minutes roasting each pepper when the coals were at their hottest. Scraping the skin off took another 5 minutes per pepper, so you should plan for at least 30-40 minutes from the time you put the first pepper over the coals.
Would I Do it Again?
We've roasted peppers this way a few times now, and I just love it. Fire roasted peppers are so much more flavorful, and I'll try any recipe if it keeps the oven off during the summertime!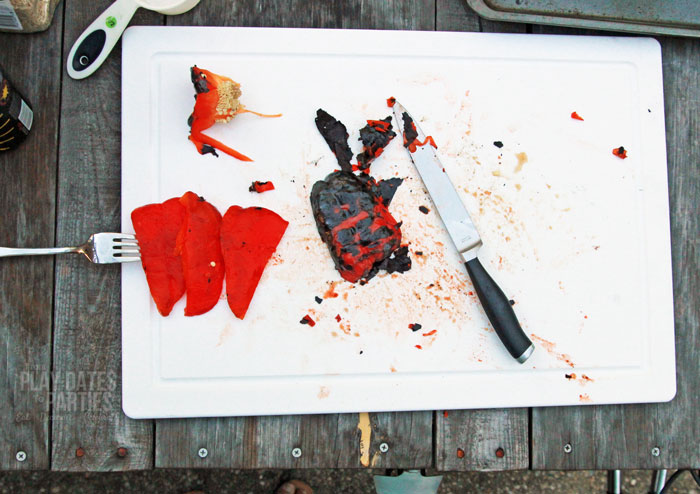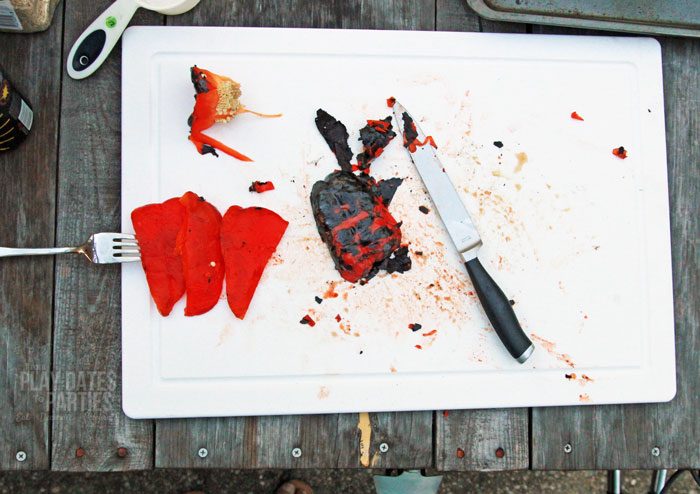 Now It's Your Turn
We used these fire-roasted peppers to make a batch of roasted red pepper dip, and it was just incredible. Grab some coals and start roasting your own peppers. You'll be thrilled you tried it – even if you're dealing with pregnancy aversions!
Subscribe via
Bloglovin, Facebook, and Twitter
to get more updates!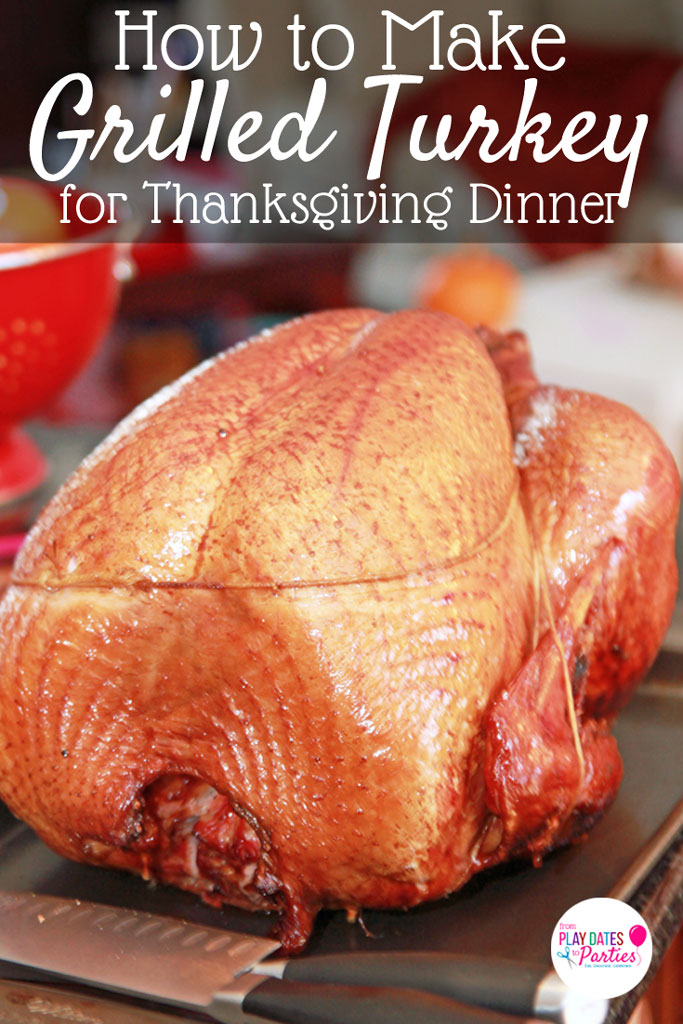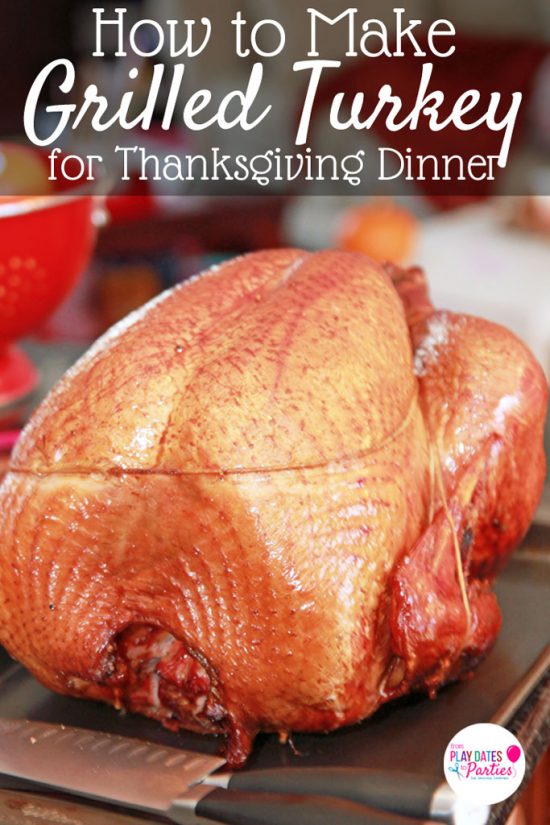 SaveSave
SaveSave
SaveSave
SaveSave
SaveSave