You don't need gorgeous handwriting to make pretty chalkboard lettering. With this easy DIY, learn how to create pretty chalkboard signs for any reason.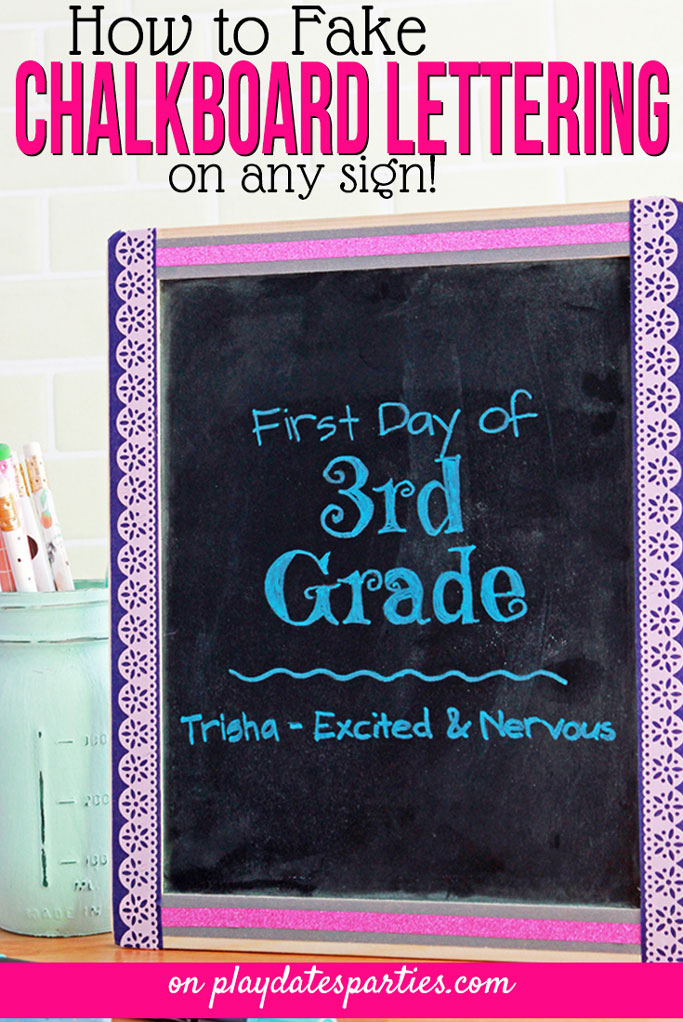 Do you love chalkboard lettering, with it's gorgeous mix of swirly script and block fonts?
It's all over the place right now, and that's no surprise. Signs with chalkboard lettering add loads of personality to whatever project they're in.
Whether you want to incorporate chalkboard lettering on giant farmhouse chalkboards, cheese trays, chalkboard contact paper party table runners, chalked wine glass labels, or even a back-to-school sign, I've got the perfect cheat for you.
Especially if you're like me and have terrible handwriting.
I love the idea of having a personalized sign for my kids on the first day of school or as a creative party buffet menu.
But I always hesitate because my handwriting is just awful. It's total chicken scratch.
Sure, I could spend hours upon hours practicing my handwriting and trying to master hand lettering techniques, but who really has time for that? Instead, I need to fast and easy way to fake chalkboard lettering!
And that's exactly what I'm sharing with you today. With this easy cheat, you can fill your chalkboards with beautiful writing and designs – instead of chicken scratch.
How to Fake Gorgeous Chalkboard Lettering
Materials & Supplies:
Small chalkboard, already decorated
Inkjet printer & paper
Photo or text editing program loaded with fonts you love (I use Canva – it's free and very easy to use!)
Ruler
Large piece of sidewalk chalk
Retractable ball point pen
Chalk pens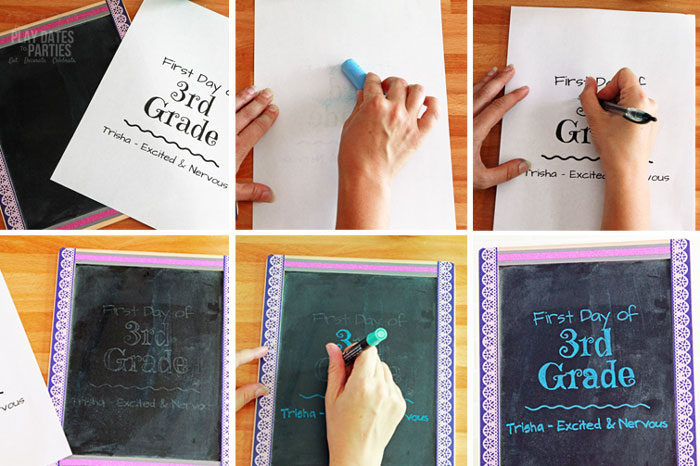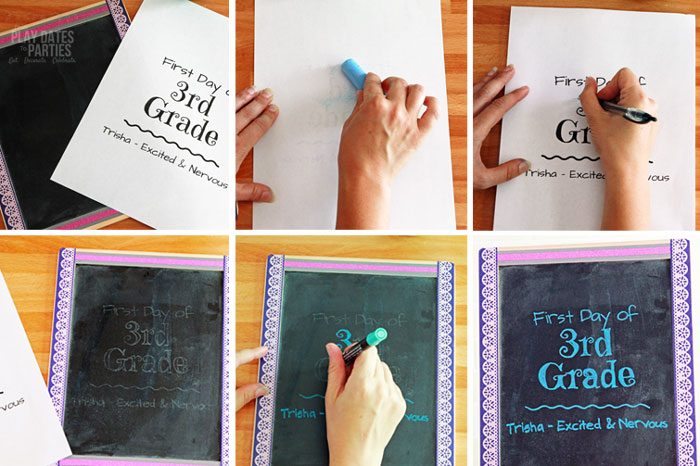 Directions:
Measure the dimensions of your chalkboard area. Open a document in your preferred photo or text editing software and create a template that is the size of your chalkboard. (see notes below)
Create your design using whatever fonts, layouts and graphics you like and print it out on a piece of printer paper.
Flip your paper over so the design is facing the table, and rub the long side of your sidewalk chalk over the area where your design is.
Place your paper right side up on top of your chalkboard where you want it to show up.
Using a ball point pen with the tip retracted (up in the pen, instead of clicked down), trace your design onto the chalkboard, checking often to ensure the design shows up on your chalkboard.
Working from the bottom to the top, write over your traced design with a chalk marker, taking short breaks to allow the chalk to dry before moving to the next line until you're done.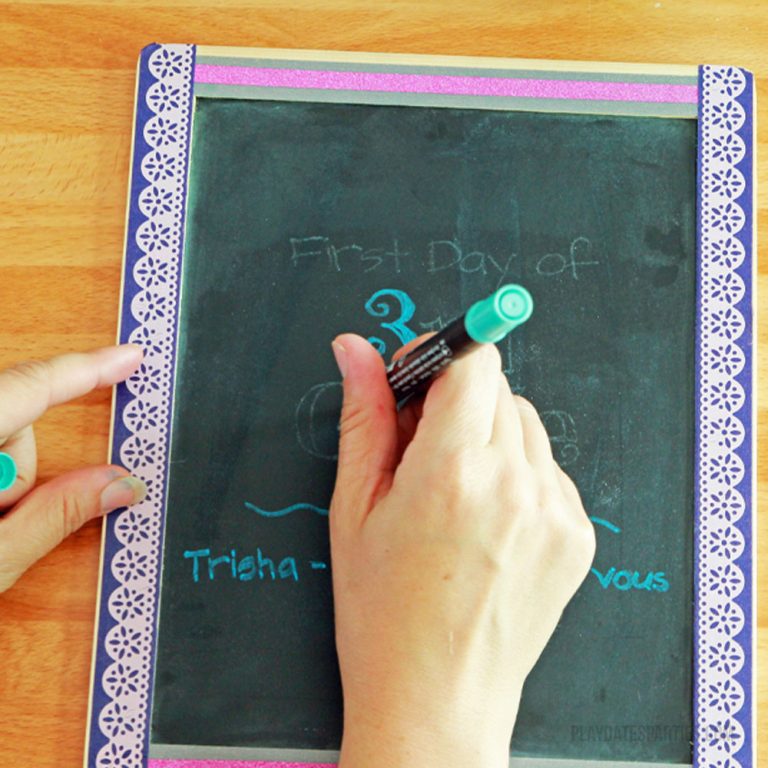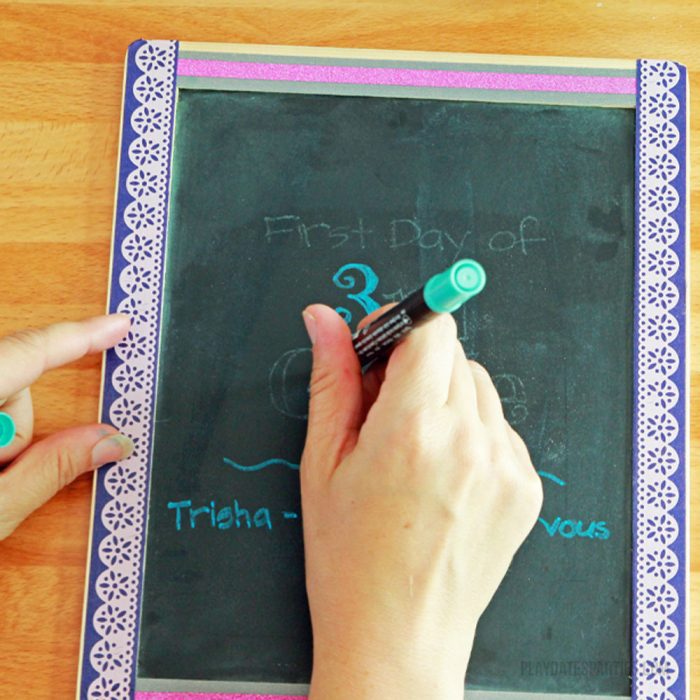 Notes:
Many people love to use PicMonkey, but I prefer Canva. Not only is it free, but you can easily create a template in the dimensions of your choice by adjusting size based on pixels, mm, or inches. Canva also has dozens of pre-made text templates in font combinations and layouts that you know will look good from the start.
You can also download fonts from Dafont.com or Fontsquirrel.com and then make your designs in MS Word or photoshop.
Be careful! Playing with fonts is addictive. I spent a half hour creating my design just because I love to try all the different fonts and layouts, and I would have easily spent longer if I had time!
If you're just starting out, try not to use fonts that are too small or intricate. Start simple and then work on creating more detailed designs.
Not all chalk works well for this, I found that my kids' cheap sidewalk chalk was soft enough to leave a residue on the paper, while some smaller pieces of chalk were just too hard.
I find it best to work from the bottom up so that the transferred chalk design doesn't smudge. Make sure you rotate the board while using the chalk marker to ensure you don't smudge letters on the same line.
Chalk markers usually have two tips: a thin and a thick. Unless you are doing very detailed work, the thick tip will show up better for most hand lettering transfers. Thinner lines can be accomplished by holding the pen straight up and down and just using the very tip.
To remove the design: I've tested many different methods for erasing chalk pen. Window and all-purpose cleaners work well, but I found that the Magic Eraser works best. Just don't leave the design on for more than a couple weeks, or it will be nearly impossible to erase.
How long did it take?
Making the chalkboard: 20 minutes…and only because I can be a picky perfectionist!
Creating the design: 30 minutes, but using pre-made templates could make this much faster
Transferring the design: 20 minutes
Total time: 1 hr 10 minutes
Now it's your turn
It doesn't matter if your chalkboard is large or small, this cheat is a great way to add some personality to your kids' back-to-school sign or to a party buffet.
With the quick trick above, you can now have fun creating the most beautiful signs for your projects, no matter what your regular handwriting looks like!
Subscribe via
Bloglovin, Facebook, and Twitter
to get more updates!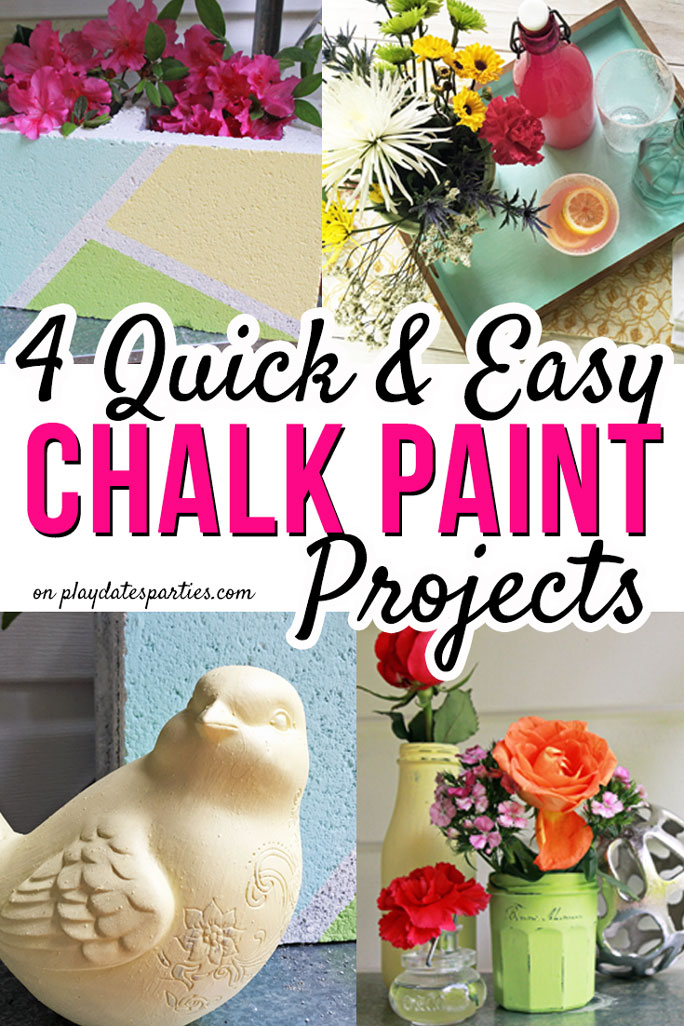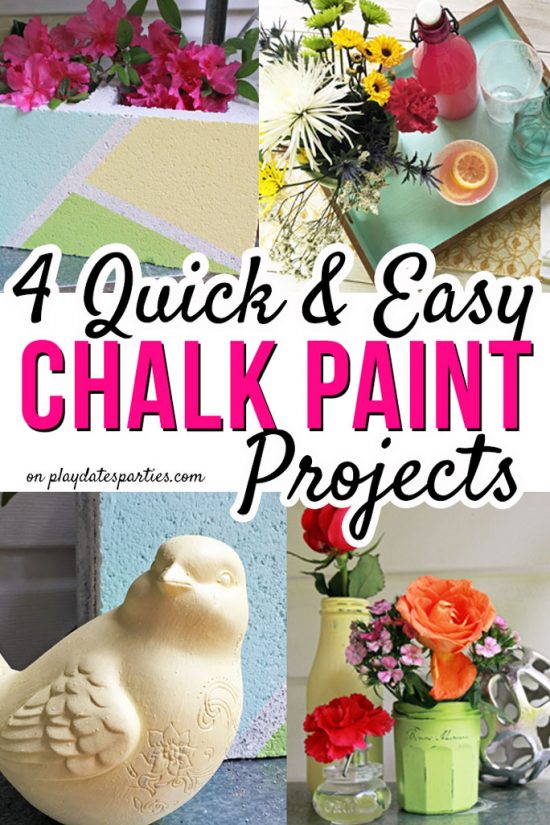 SaveSave
SaveSave
SaveSaveSaveSave
SaveSave