Want a fun green drink for kids this holiday season? Make them surprisingly tasty creamy apple mock-tini recipe with a red rim and cherry on top.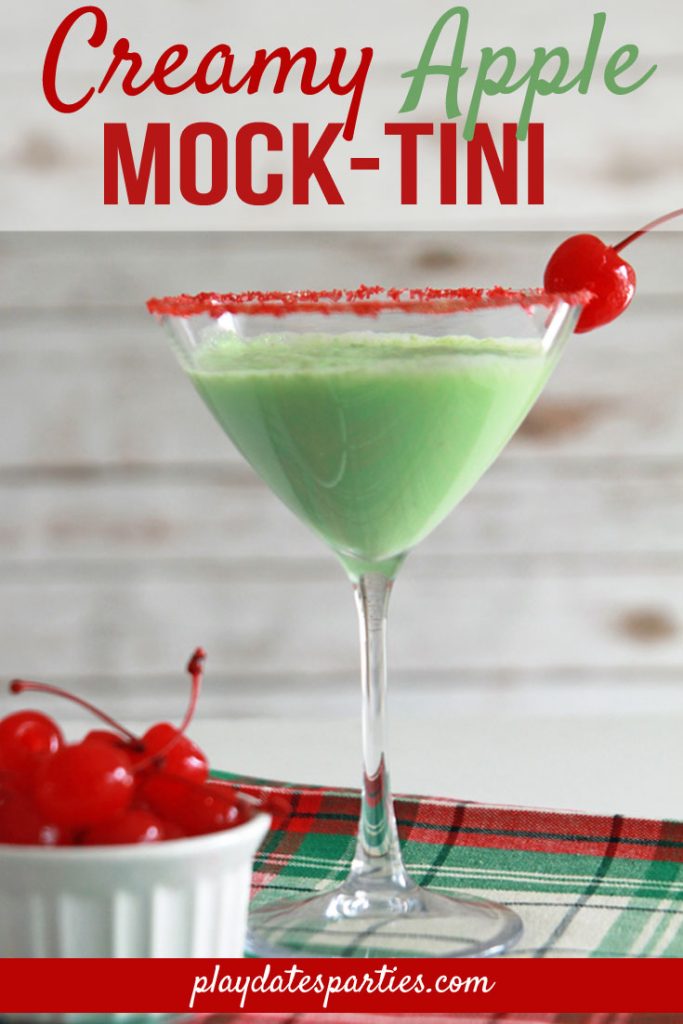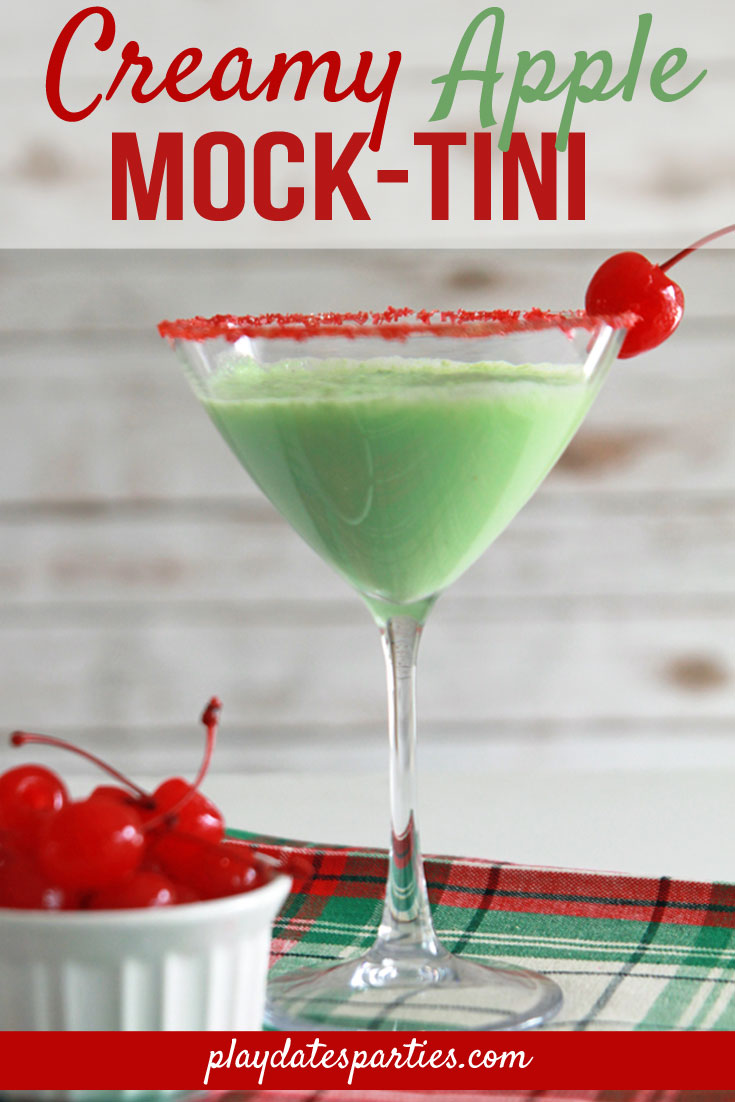 Come up with a creative green drink for the holidays that kids will love.
It sounds like an easy task, but it's surprisingly difficult!
At first, I hoped to find a recipe with a natural green color perfect for the holiday season. But most of the flavor combinations were clearly not kid friendly. You and I may like basil lemonade, but my kids wouldn't even give it a chance.
We attempted to find a lime green drink mix. But after two hours and three stores, that was a total bust.
Then, there was an unfortunate attempt at using lime gelatin in our drinks. Tastes good…but leaves a strange layer of grit at the bottom. Definitely not appetizing.

Which is why I was so excited to find the perfect drink to adapt for our little creative session: Jones' Green Apple Soda. The bright green color is just right for the holiday season. And the flavor is sweet and crisp. Perfect for kids.
It's so good we could just pour it into a glass with a maraschino cherry and call it a day. That would be super cute and festive.
But that's not very creative is it?
The girls had some interesting recommendations. Some were just silly, and others were completely ridiculous. I think that someone even suggested a 50-50 combination of apple soda and lemon juice.
Um, No.
"Craziness is like Heaven" – Jimi Hendrix
Suddenly, I had an idea. It was weird, it was crazy…it was possibly disgusting.
But it could be amazing.
So, I turned around and hid my ingredients from everyone in the room. I measured, mixed, and tasted. Eventually I presented a foamy green concoction to my family and asked their opinions.
The Husband said "Interesting." Which is probably the best thing he'll say about a sweet drink. Let's face it, he'd rather drink a beer.
But the kids lit up."Yum!" they exclaimed.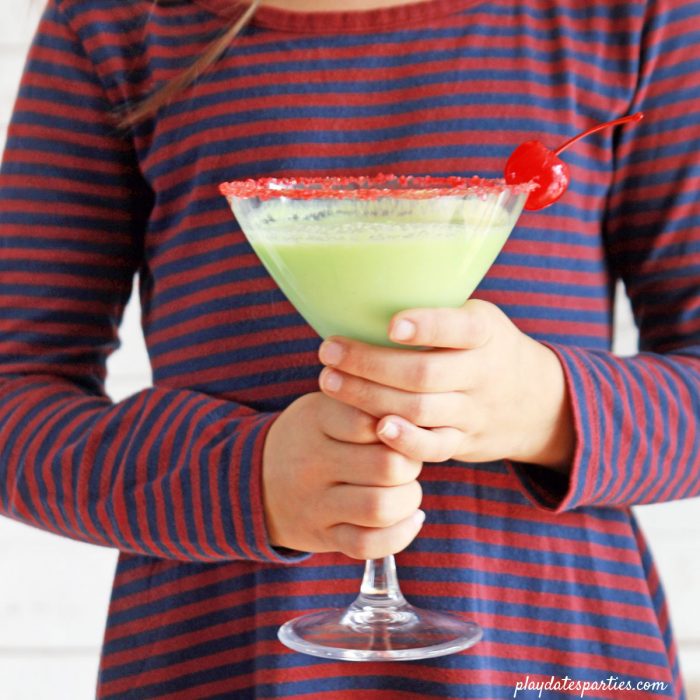 So what was the mystery ingredient I added to the bright green apple soda?
Eggnog.
We had a little bit left over from the Eggnog White Russians, and I figured it was worth a try. Once I confessed the ingredient to my kids, the 8-year-0ld said "It might sound gross…but it's actually delicious."
Yes, green apple soda and eggnog sounds like an awful combination. Truly terrible.
Just think of it as combining a tart apple pie with it's side of vanilla ice cream and turning it into a drink.
And in a strange way, it really does work!
That said, if you're not convinced, I suppose you could just soften some vanilla ice cream instead. It will still be plenty festive.
Would you drink this Creamy Apple Mock-Tini 🍏? Your #kids might! #recipes
Click To Tweet
Taking it Up a Notch
Now that we finally had our green mocktail, it was time make things really fun. Rimming a shatter-proof glass with red sprinkles and a maraschino cherry makes the creamy apple mock-tini a is drink a true hit.
Any clear cup will do, but the kids loved using our shatter-proof martini glasses, even if they were a bit wobbly.
You can skip the margarita rimming plates. In our experience, they only fit a limited size of glasses. A traditional tea saucer works just as well.
Using two saucers, coat your cup rim with a thin layer of honey, and then dip the honeyed rim into holiday sprinkles or colored sugar.
And that's how you come up with a fun green drink that kids will love!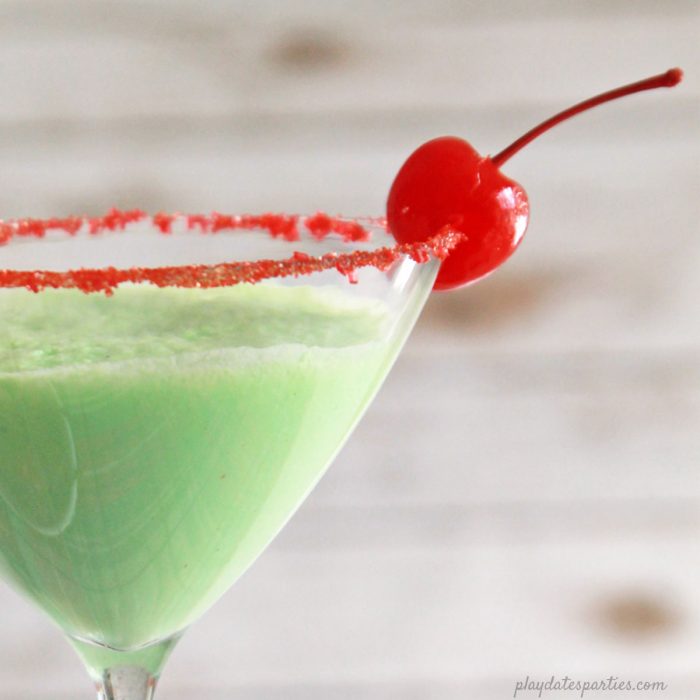 These Products Make Your Creamy Apple Mock-Tini Lots of Fun!
Creamy Apple Mock-Tini Recipe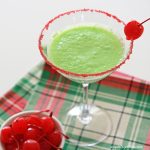 Creamy Apple Mock-Tini Recipe
Want a fun green drink for kids this holiday season? Make them surprisingly tasty creamy apple mock-tini recipe with a red rim and cherry on top.
Ingredients
Two parts Jones' Green Apple Soda

One part eggnog*

honey

Red sparkling sugar

Maraschino cherries

stem on
Instructions
Drizzle honey into the outside rim of a saucer. Arrange sprinkles in the outside rim of a second saucer.

Flip your cup upside-down onto the saucer with the honey and and spin to ensure that the rim is evenly coated with a thin layer of honey.

Dip the honey-coated rim in the sprinkles or sparkling sugar and spin to ensure an even coat.

Combine Jones' Green Apple Soda and eggnog. Stir well.

Pour soda combination into prepared glass and garnish with a maraschino cherry.
Recipe Notes
*Feel free to substitute softened vanilla ice cream for a milder, but just as tasty version!
Now It's Your Turn
Are you up for the challenge? Make a couple glasses of this creamy apple mock-tini and see if your kids love it too!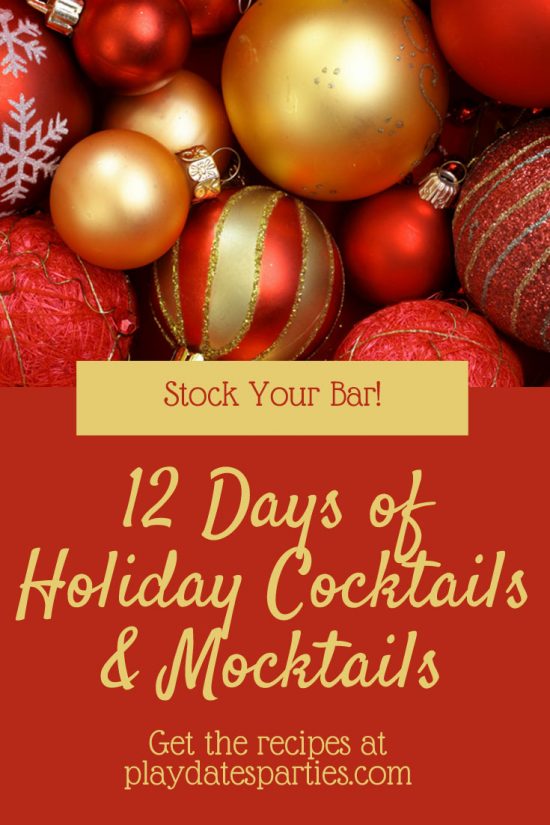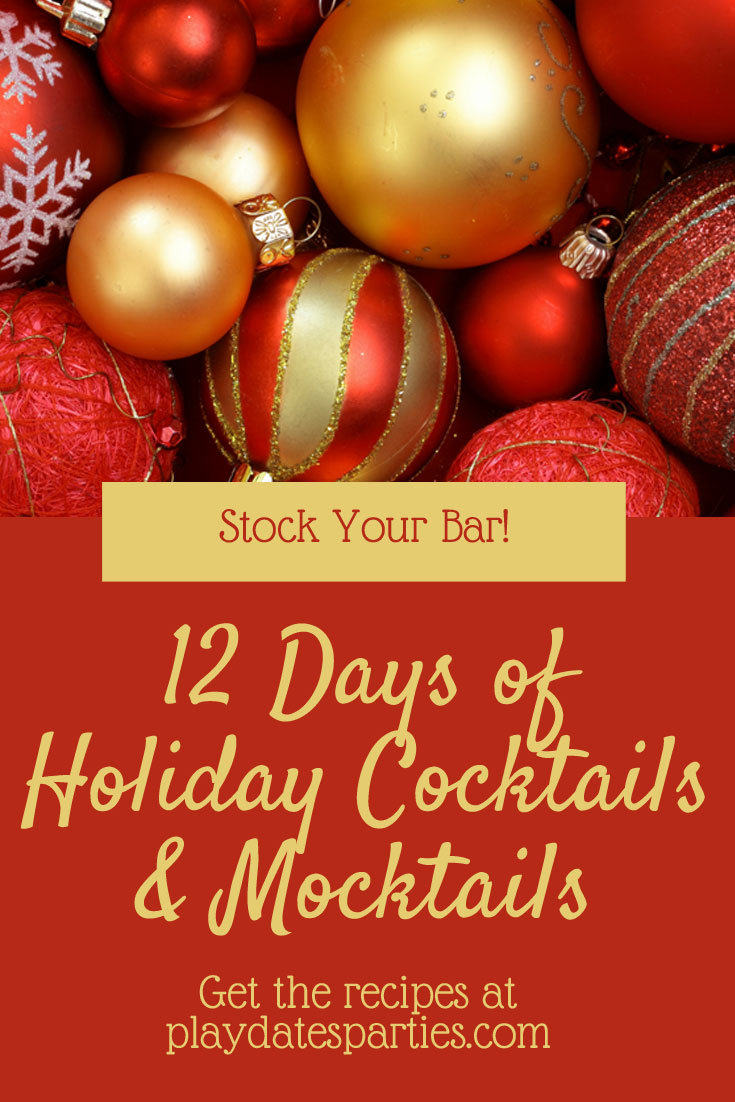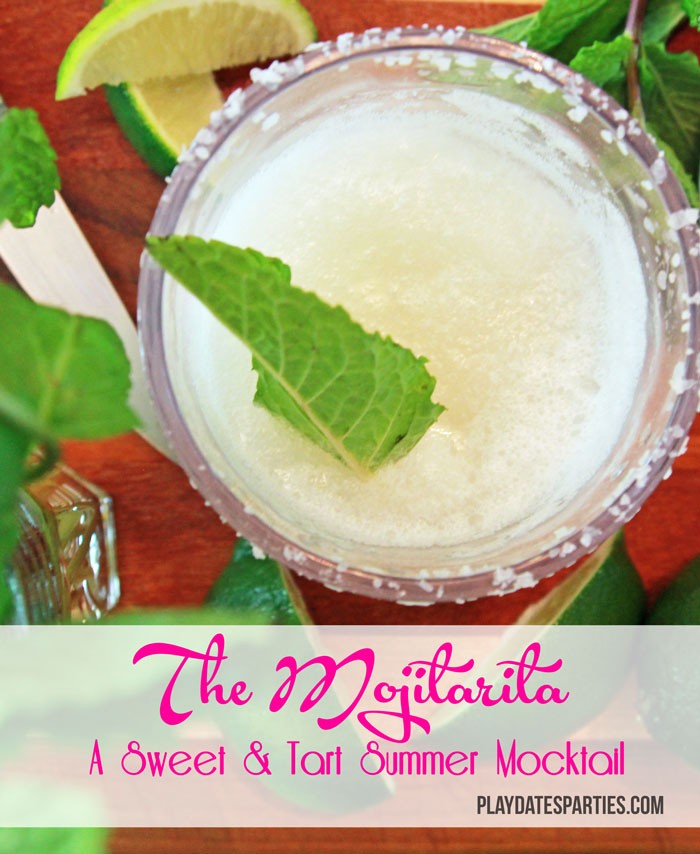 Don't forget to subscribe via
Bloglovin, Facebook, and Twitter,
to get more updates!
SaveSave