Halloween is one of the most candy-laden holidays of the year. This can be a problem for parents who want to keep their children healthy but don't want to deprive them of a fun-filled night. Fortunately, there are plenty of candy alternatives for Halloween that kids will love just as much as store bought sweets.
I've pulled together over 50 food free fun ideas that you can easily buy in bulk. Some of these are also great for Halloween party pinatas or as classroom party gift bag fillers. Let's get ready to celebrate Halloween without any of the sugar overload.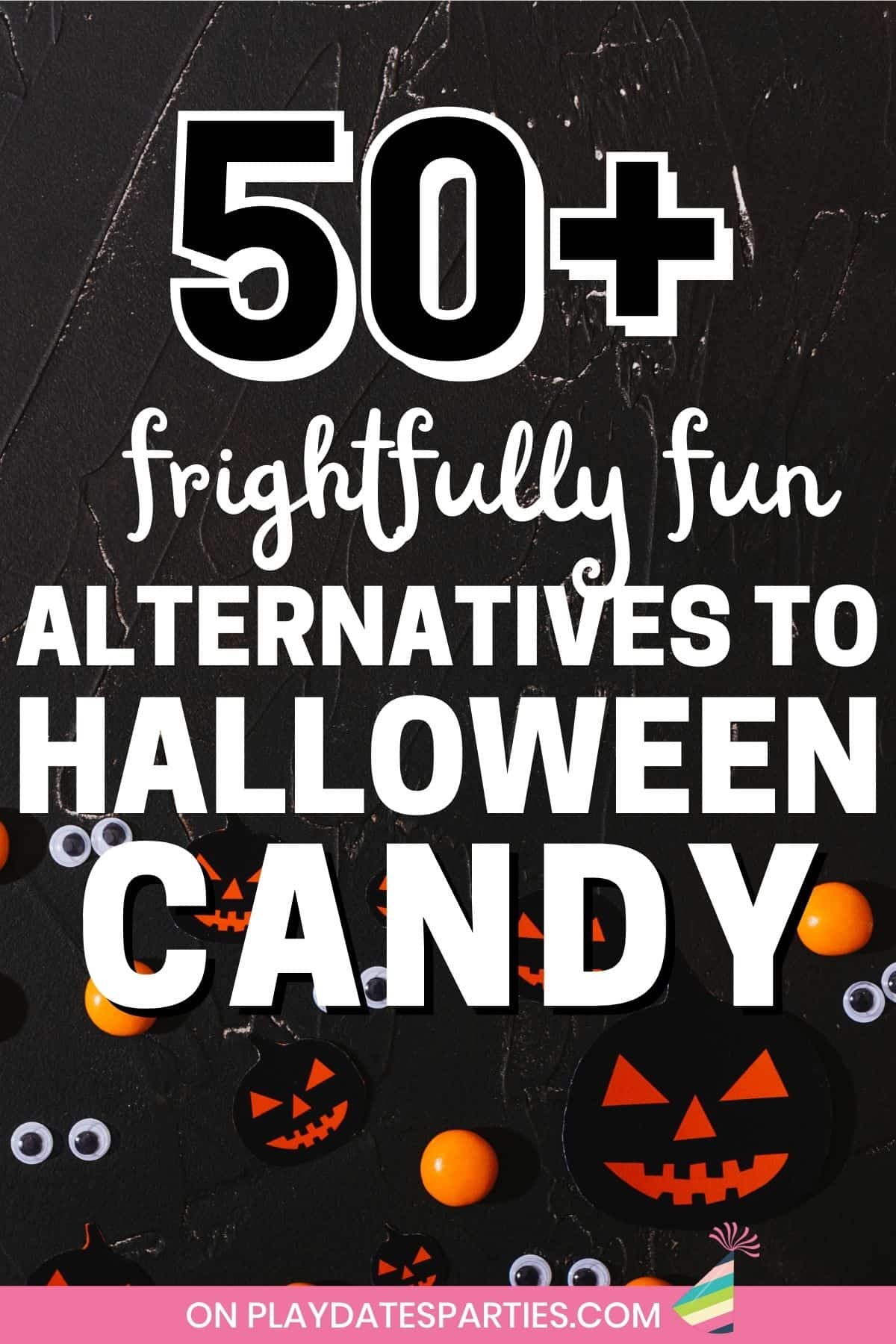 You know I love to create fun sweet treats and desserts, but it's important to keep it all in moderation. And let's face it, there's no moderation when it comes to trick-or-treating.
Help Kids Make Healthier Choices
While some candy options do exist that are slightly better than others, they still have high levels of sugar and artificial ingredients. In fact, eating just one small candy bar could add up to nearly half your daily recommended allowance of added sugars!
Offering non-food and non-candy alternatives is just one small way to show kids that Halloween can be fun even without the sweets.
Some kids can't eat what's passed out.
Have you heard of the Teal Pumpkin Project? Started by a mom in Tennessee, the idea is simple: paint your pumpkin teal (the color of allergy awareness) to show that you have treats that are safe for kids with food allergies.
This candy-free alternative allows kids with dietary restrictions or food allergies to join in the Halloween fun. It helps them feel included and reduces risk of exposure for those who have life threatening allergies.
Healthy Snack Options:
If you feel like you must hand out food for Halloween, make sure that you stick to individually wrapped, prepackaged, or Whole Foods. Here are a few ideas to consider:
Bags of microwave popcorn tagged with a fun message
Goldfish crackers
Veggie straws (little kids love to play around with these!)
Reduced sugar granola bars
But, I have to admit, my kids favorite candy alternatives to get are toys. And they don't have to be anything big, either.
Which is why I've listed below more than 50 non-food, non-candy alternatives for Halloween that the kids will love.
50+ Frightfully Fun Alternatives to Halloween Candy
So, what are you going to do this Halloween? Will you stick with the classic bags of Halloween candy (no judgement here, truly), or will you take charge of your kids consumption and teach them healthy choices for a night they'll love with some of these candy alternatives?
If you're ready to help make healthier decisions, I'd love it if you would share this post with your friends on Facebook or Twitter. Let's get ready!
---