It's beginning to look a lot like fall, and it's the perfect time for this apple cider sangria recipe. This recipe isn't overly sweet, but is still full of that delicious spiced apple cider flavor.
Whip of a batch for evenings around the campfire, afternoons watching the football game, or any other time you're ready for a crisp, flavorful way to enjoy a little taste of fall.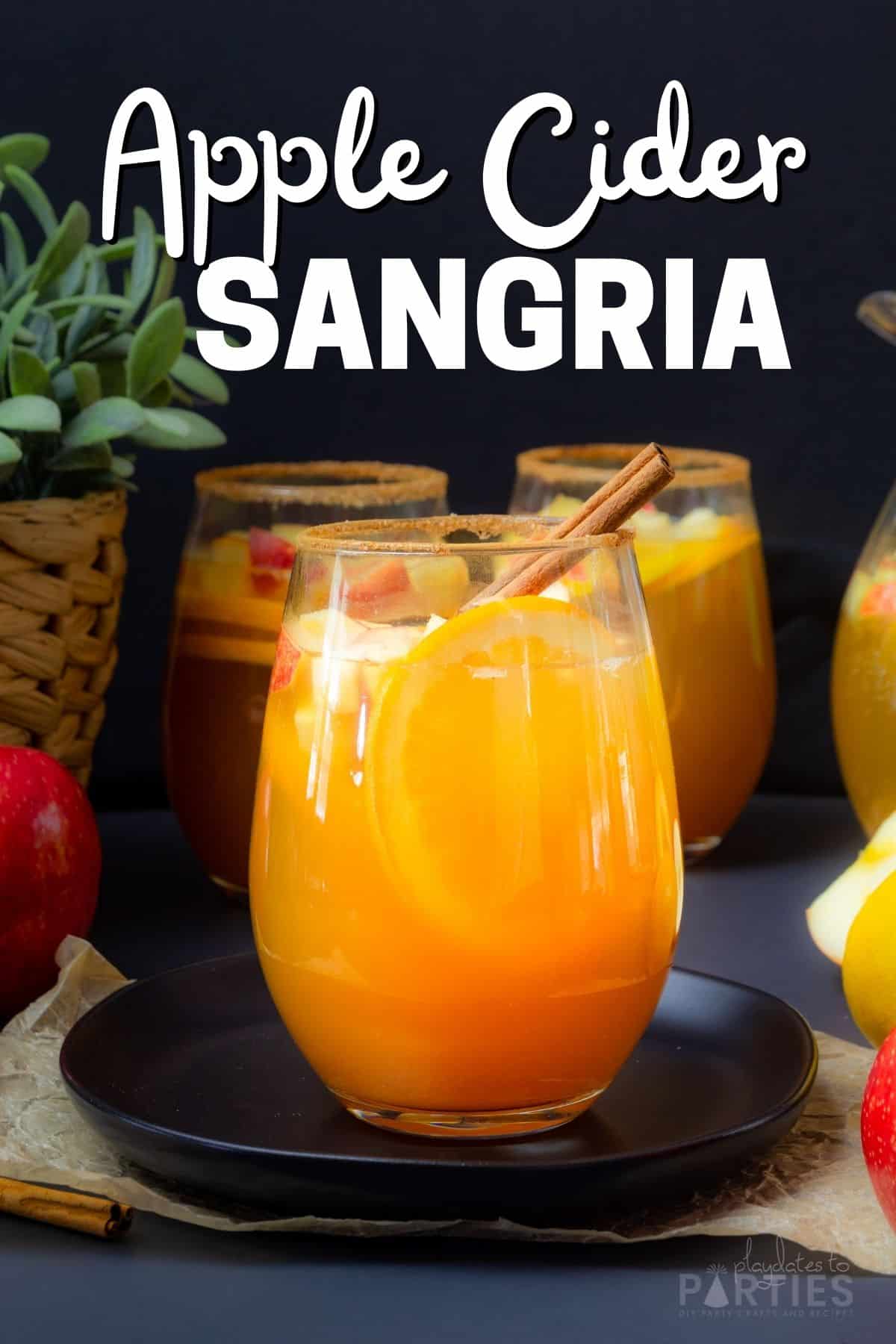 What Makes this Apple Cider Sangria Recipe So Great
Crisp and cold, this fall sangria with white wine is perfect for those early autumn days when the weather is still warm enough for tank tops, but you're ready for fall flavors.
The sweetness of the apple cider is balanced out with crisp white wine and plenty of spices.
As a big batch recipe, it only takes a few minutes to prepare.
Even better, it's a make-ahead fall cocktail, which means there's pretty much no fuss that is perfect for gatherings with friends and family.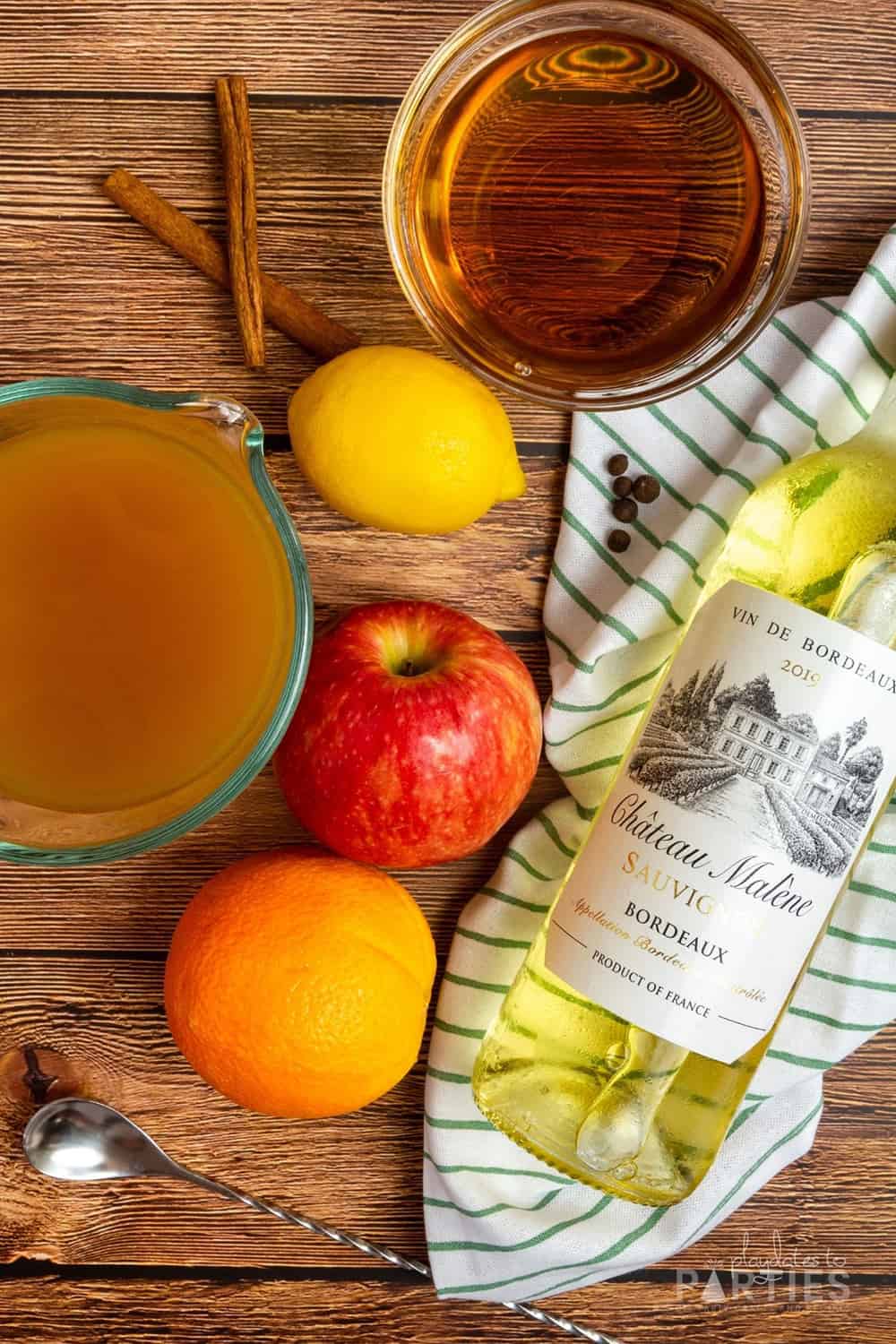 What You'll Need:
Ingredients:
Apple cider
Lemon
Orange
Apple
Cinnamon stick
Allspice berries
White wine
Spiced rum
Optional: Club soda
Supplies:
Kitchen knife and cutting board
Wine glasses
Optional: reusable tea bag (see notes)
A Few Notes about the Ingredients/supplies:
For best results use a spiced apple cider that isn't filtered. You'll know it's unfiltered because it's cloudier than regular apple juice. We like to use the fresh seasonal cider from our local Wegmans.
Citrus fruits add a crispness to the cider that is perfect for fall.
You'll want to use a firm apple that will stand up to the steeping process. Honeycrisp, Pink Lady, and Granny Smith apples are our favorites for using in sangria.
Spiced rum and allspice berries add to the warm, spicy flavors that make this a perfect fall cocktail.
Whole cinnamon sticks add flavor, and look gorgeous swimming with all the fruit.
If you're making this for a party or gathering where there will be other drinks available, you may want to add club soda just before serving.
How to Make Apple Cider Sangria:
To make things even easier for you, I created a simple photo guide below. For all measurements and a more detailed guide, check out the recipe card at the bottom of this page.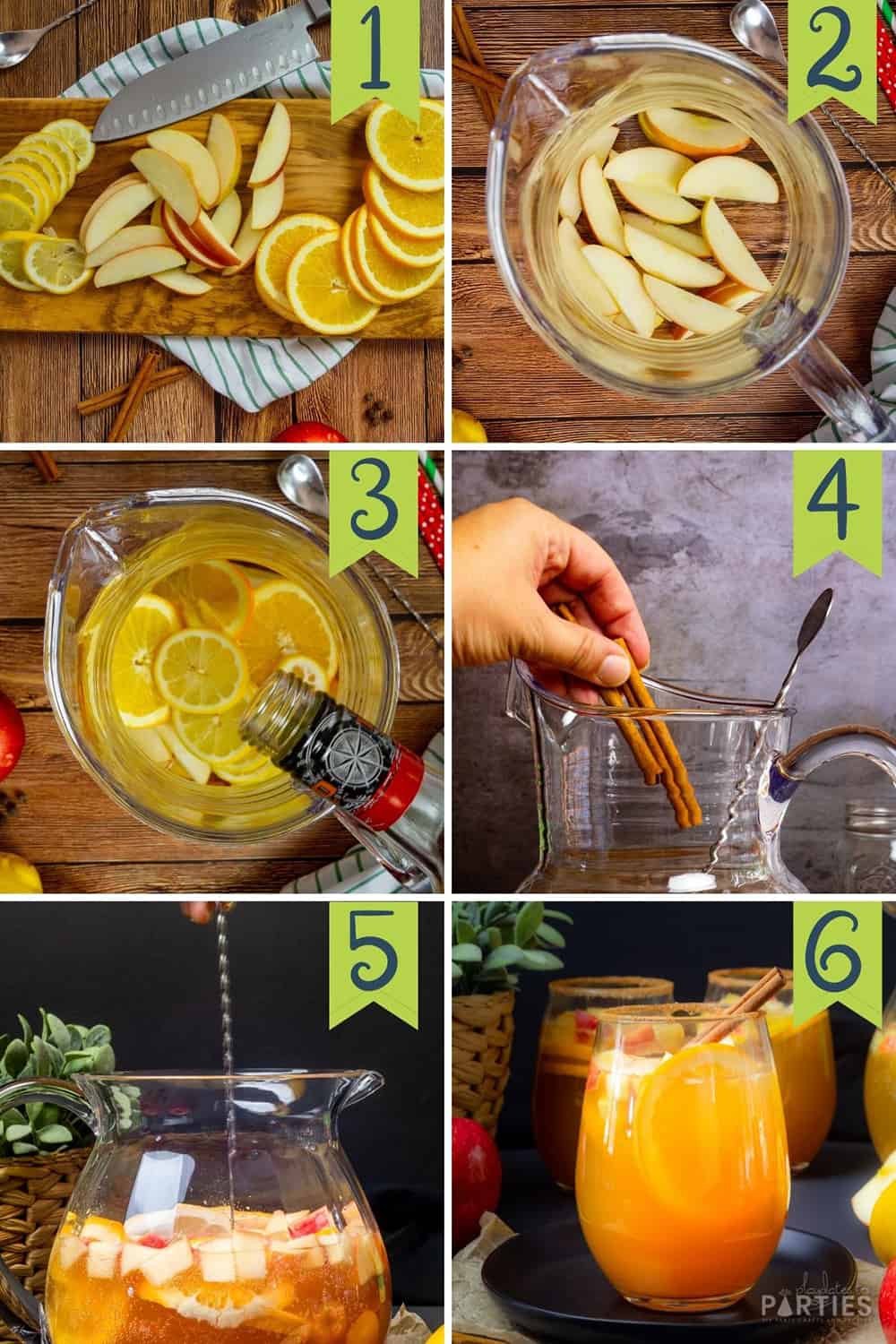 Step 1 – Chop the apple into chunks or wedges, and slice the orange and lemon.
Step 2 – Layer the fruit into your pitcher.
Step 3 -Pour the rum and the wine on top of the fruit.
Step 4 – Add the spices.
Step 5 – Stir together the mixture together and refrigerate for at least 2 hours to let the flavors come together.
Step 6 – Pour into glasses and enjoy!
Want to avoid spending hours on end preparing food for your party? Click here to download 10 Fast and Easy Party Recipes that don't take more than 20 minutes of your time to prepare.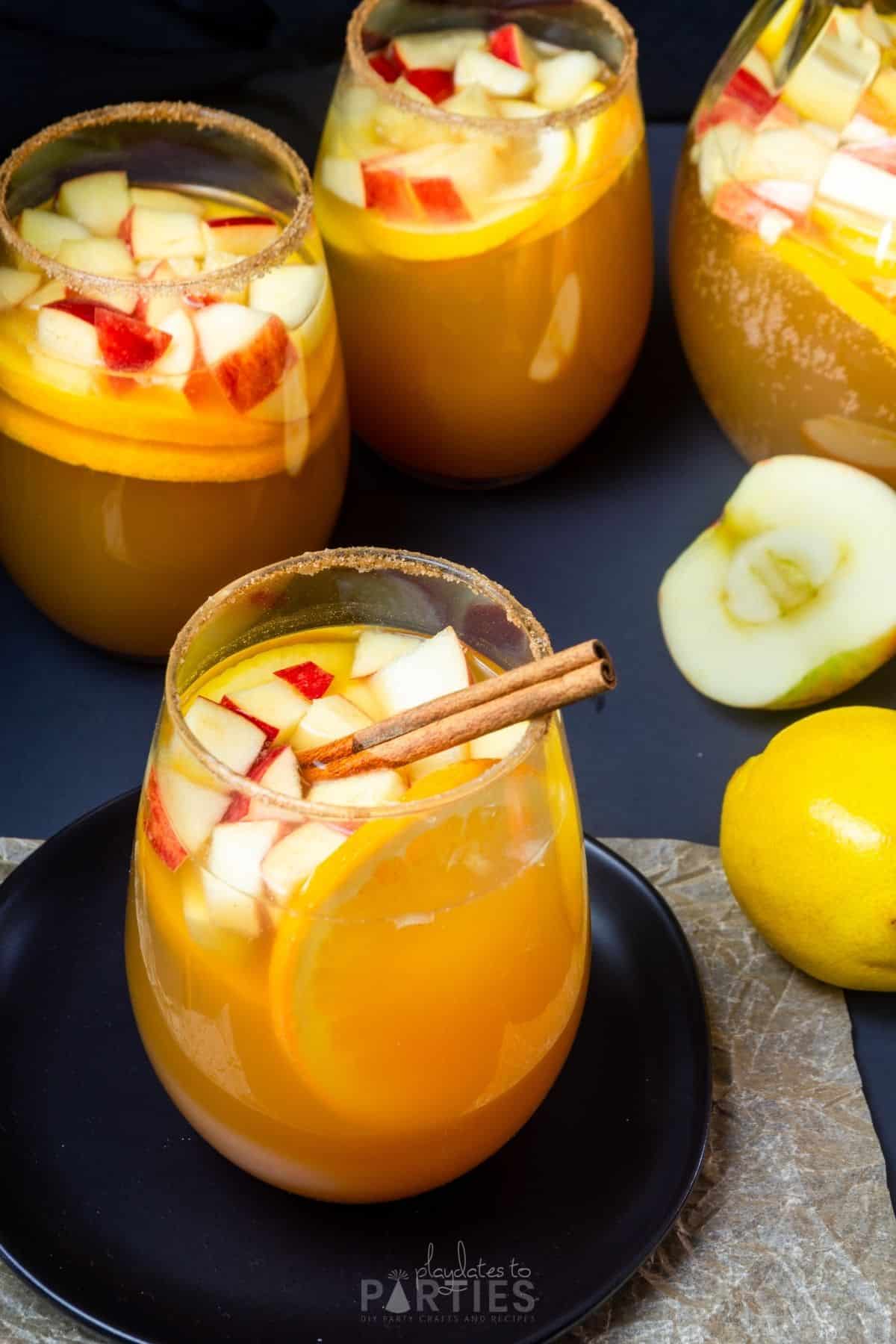 Essential Tips:
Don't skip these tips – read them before mixing to avoid any potential mistakes.
Chopped vs. Sliced Fruit
Some apple sangria recipes call for chopped fruit, some call for sliced fruit. It doesn't really make a big difference in flavor. That said, sliced fruit is definitely prettier, while chopped fruit is easier to munch on while enjoying your drink.
So, basically, it becomes a choice between whether you want it to be extra pretty or you want to make it easy for your guests to enjoy the spiked fruit in their drinks.
If you want to remove the allspice berries before serving…
You can put the allspice berries in a reusable tea bag like this one. We've done that several times. The bags let the allspice berries add their flavor, and also make it easier to pull them out before serving. That way no one ends up biting down on one of those hard berries.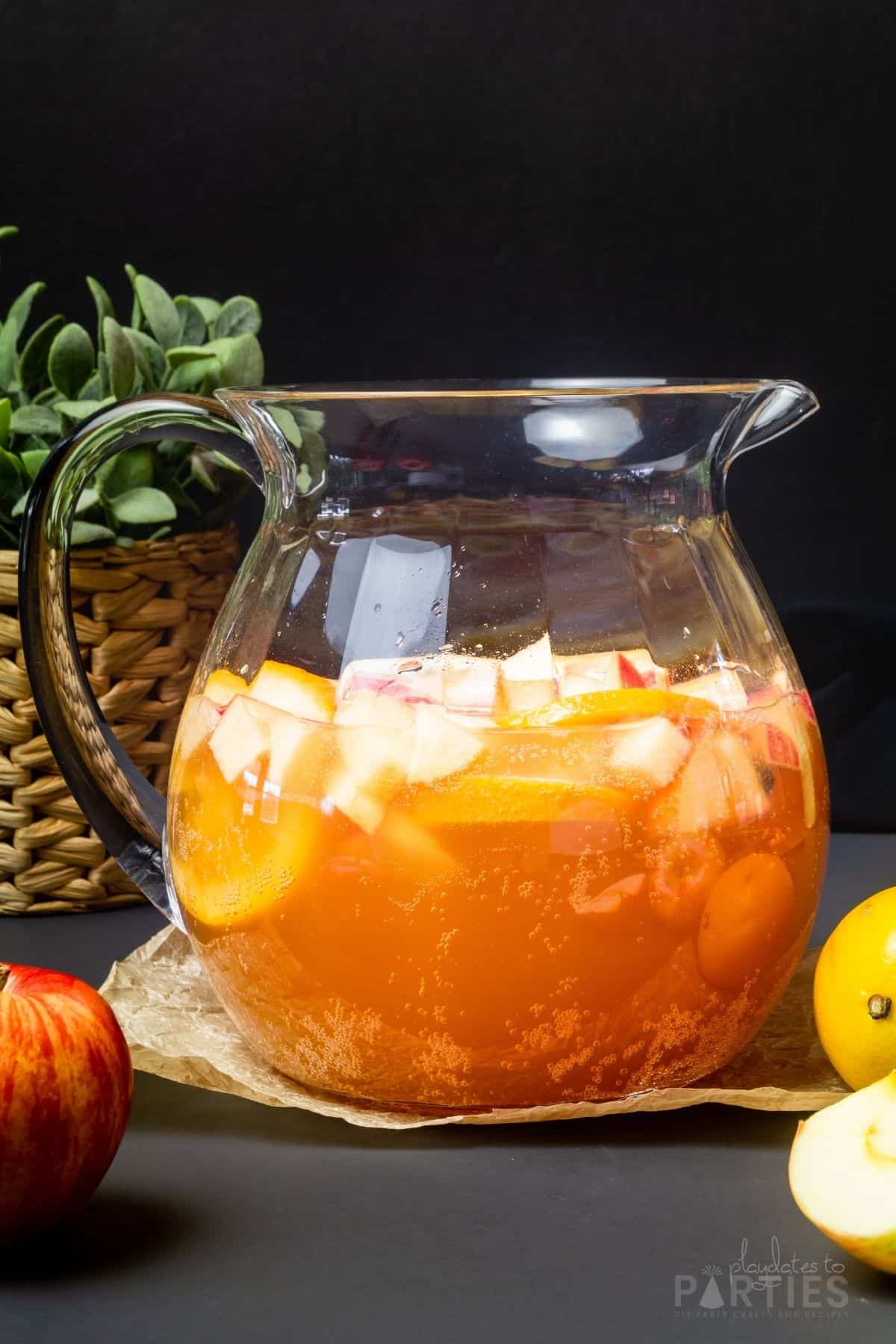 FAQs:
What kind of wine works best?
Generally speaking, any crisp white wine will work. We prefer to use a Sauvignon Blanc, but we've also enjoyed it with a cheap Pinot Grigio.
What size pitcher do you need?
You'll want at least a 2 quart pitcher for this recipe. The pitcher you see above is 2.75 quarts (find it here), and is a good choice when you're serving fall sangria for a crowd because it holds a full batch including the club soda.
How far in advance can you make apple cider sangria?
As long as your fruit is nice and fresh, you can make this up to 3 days in advance before the fruit starts to soften too much. Just make sure to keep it in a covered pitcher in the refrigerator.
What can I do to make this sangria sweeter?
Even with all the apple cider in the mix, this sangria isn't super sweet. To make it sweeter you can either:
Add 1/4 cup maple syrup to the mixture (our preferred method), or
Use a sweeter wine, such as Viognier or Riesling.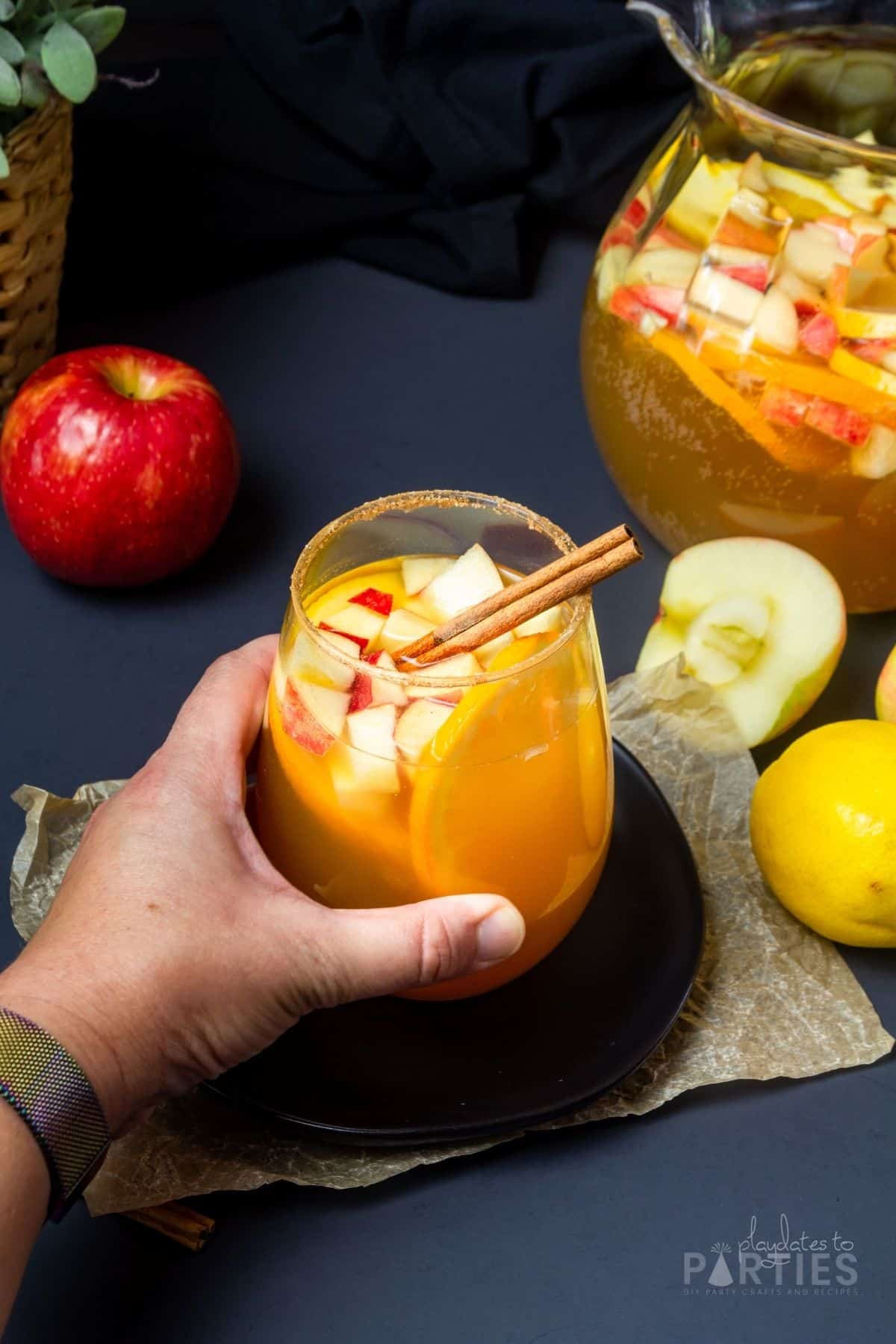 Fun ways to garnish your autumn sangria glasses
While not necessary, there are tons of creative ways to garnish your sangria glasses. Here are a few options:
Cinnamon sugar rim (what you see here): Use a lemon wedge to wet the edge of your glass. Combine equal parts white sugar and cinnamon. Spread the cinnamon mixture on a plate, and dip the wine glass into the mixture.
A caramel dipped rim is very tasty, but be careful, the caramel can get a bit drippy.
Fresh apple slices are an obvious, but beautiful choice.
Citrus curls are the easiest option if you want to have your pitcher out for a self-serve bar at a party.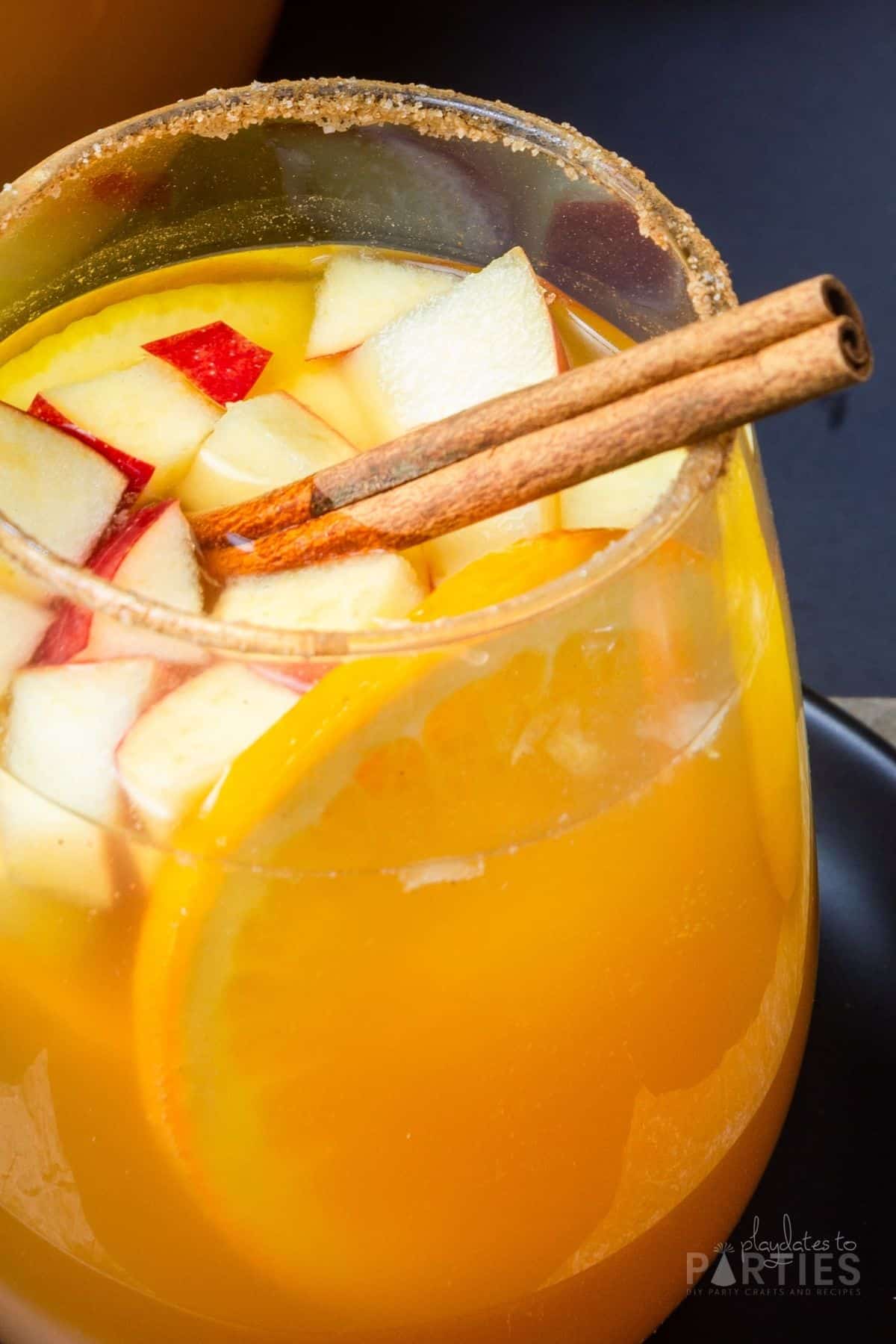 If you liked my apple cider sangria recipe, you're going to love these apple recipes to make this fall. There you'll find everything from easy appetizers to stunning desserts worthy of your Thanksgiving buffet.
Or you can also check out my other drink recipes here.
Yield: 6-8 servings
Apple Cider Sangria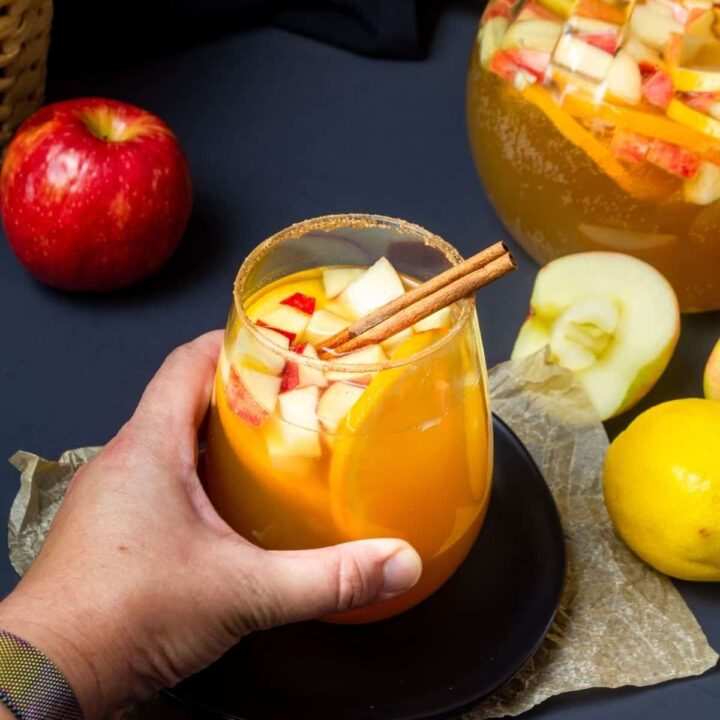 You'll fall in love with this spiced apple cider sangria recipe. Crisp, cool, and not too sweet, it's the perfect fall sangria.
Refrigeration Time
2 hours
Total Time
2 hours
5 minutes
Ingredients
2 cups apple cider
1 lemon, sliced
1 orange, sliced
1 apple
2 cinnamon stick
5 whole allspice berries
1 750ml bottle of white wine
2/3 cup spiced rum
1 liter club soda, optional
Instructions
Chop the apple into chunks or wedges, and slice the orange and lemon.
Layer the fruit into your pitcher.
Pour the rum and wine on top of the fruit.
Add the spices to the pitcher and stir together.
Refrigerate for at least 2 hours to let the flavors come together.
Notes
Remember, the step-by-step photos and tips/FAQ in the recipe post are there to help you if you feel stuck at any point.
You will need a 2 quart or larger pitcher for this recipe,
I prefer a crisp, dry Sauvignon Blanc, but Pinot Grigio also works well with this recipe.
Make it easier to remove the allspice berries before serving by putting them in a reusable tea bag while the sangria steeps.
If you want to make it sweeter you can add 1/4 cup maple syrup, or use a sweeter wine such as a Viognier or Riesling.
Recommended Products
As an Amazon Associate and member of other affiliate programs, I earn from qualifying purchases.
Nutrition Information:
Yield:
8
Serving Size:
1 glass
Amount Per Serving:
Calories:

184
Total Fat:

0g
Saturated Fat:

0g
Trans Fat:

0g
Unsaturated Fat:

0g
Cholesterol:

0mg
Sodium:

10mg
Carbohydrates:

19g
Fiber:

2g
Sugar:

12g
Protein:

1g
__________________________________ The nutrition information provided above is estimated using an automated calculation system. Actual nutrition will vary depending on brand and measurements used in your recipe. To obtain the most accurate representation of the nutrition information for any given recipe, you should calculate the nutritional information using the actual ingredients you used in your recipe.
---