Father's Day is coming soon. You don't want to settle for yet another cheesy gift, but don't have time for a big craft project, either. The solution? A quick and easy All About Dad questionnaire.
Have you ever asked a little kid what they know about their parents?
It's always a riot! Parents already know that kid have no filter – especially little kids. So, why not harness that innocent honesty and create something special?
The All About Dad questionnaire is the perfect way to get your little one thinking about all of the wonderful things that make dad unique. But it's also great for moms and caregivers because it only takes a few minutes to fill out.
The end result is a keepsake that dads will love to look back on over the years…no matter how silly the answers are.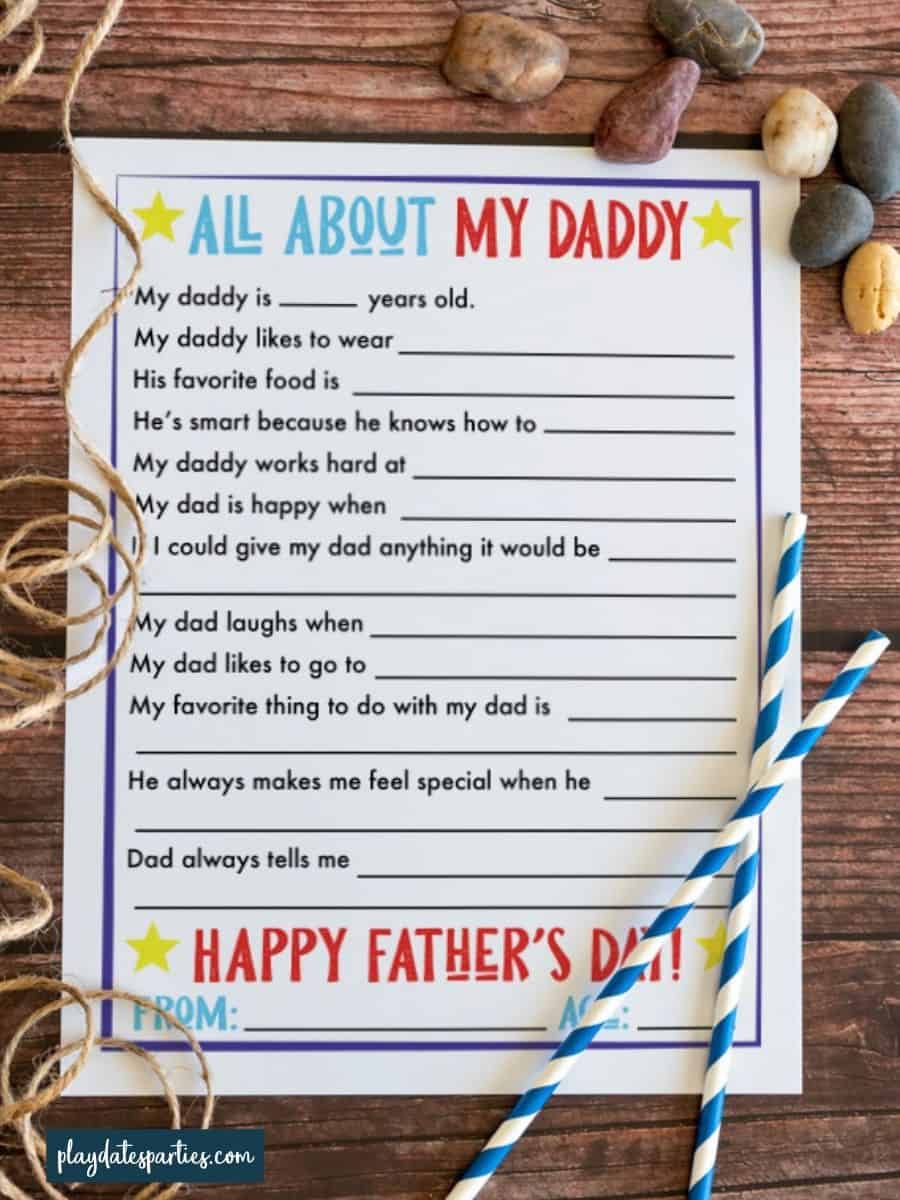 What You'll Need:
This printable file (grab your free copy at the end of this post)
Color printer. We use this inket printer.
White paper
A pen, pencil, or some colorful markers
How to Use the All About My Dad Worksheet
The key is to let the kids answer the questions themselves. Seriously, don't give any options, influence the results, or even correct their spelling. It's more fun that way, and it also allows the kiddos to truly express how they feel about dad.
Once the kids have completed their questionnaire, you can give it to Dad on it's own, or help them assemble it into a beautiful keepsake.
Here are some fun ways to gift it to Dad:
• Frame the questionnaire and give it to dad on Father's Day
• Create a mini scrapbook with the worksheet and pictures of dad on the next page
• Make a poster board with the questionnaire, special notes, and photos.
• Or, simply roll it up, tie it with a ribbon and present it as a scroll!
No matter how you package it up, Dad is sure to love it.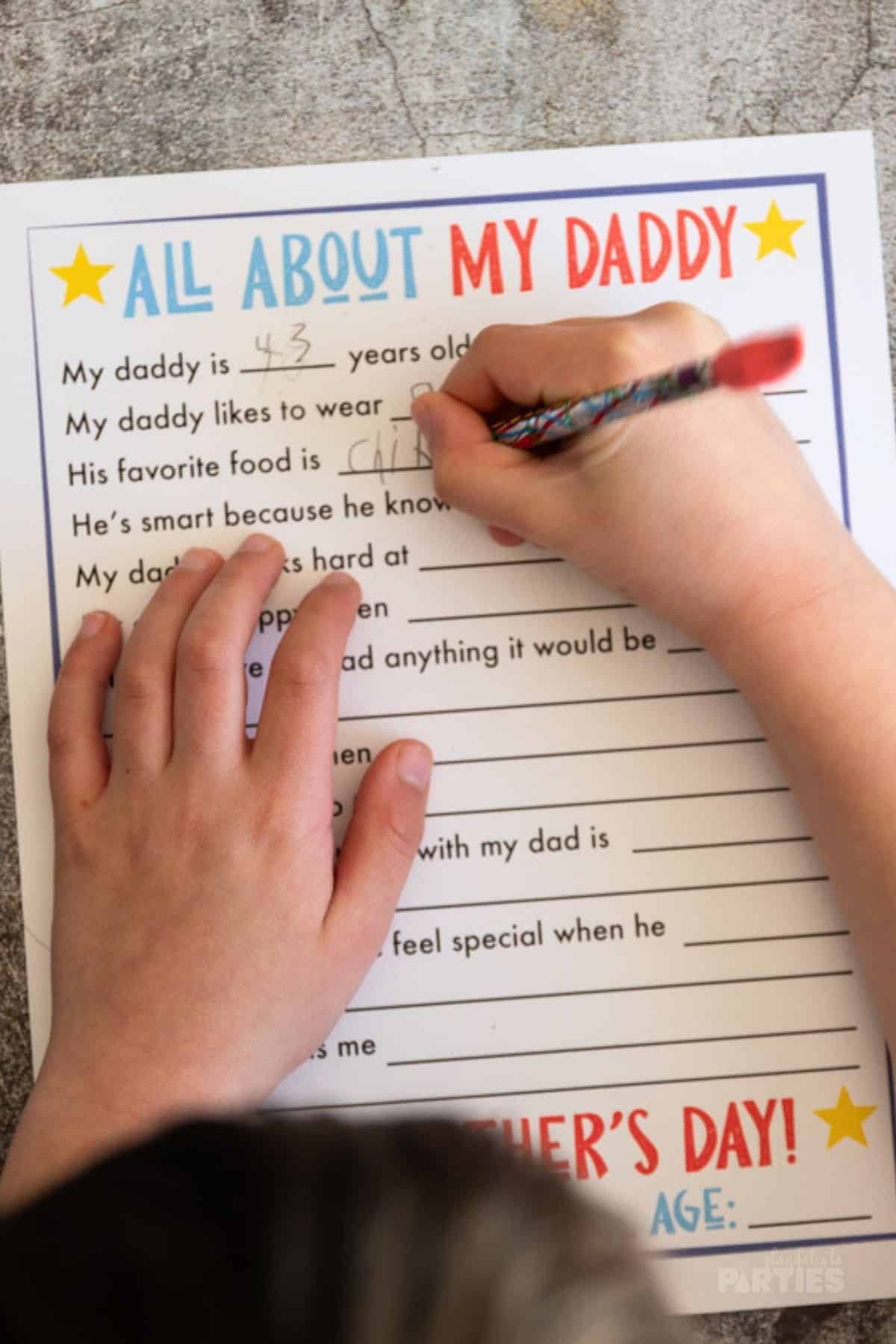 Questionnaire prompts and questions:
The All About Dad questionnaire is short and sweet with a variety of questions and prompts, including:
Daddy's age
What Daddy wears
Dad's favorite food
Why Dad is smart
What makes Dad happy
If I could give him anything, it would be…
What makes Dad laugh
Where Dad likes to go
My favorite thing to do with my Dad
How Dad makes me feel special, and
What Dad says a lot
Of course, if you want to make a poster or scrapbook, you could also include other questions, like:
What is Dad's favorite color?
What is one thing Dad can do better than anyone else?
How does Dad show love and affection?
Who are some people that are important to Dad?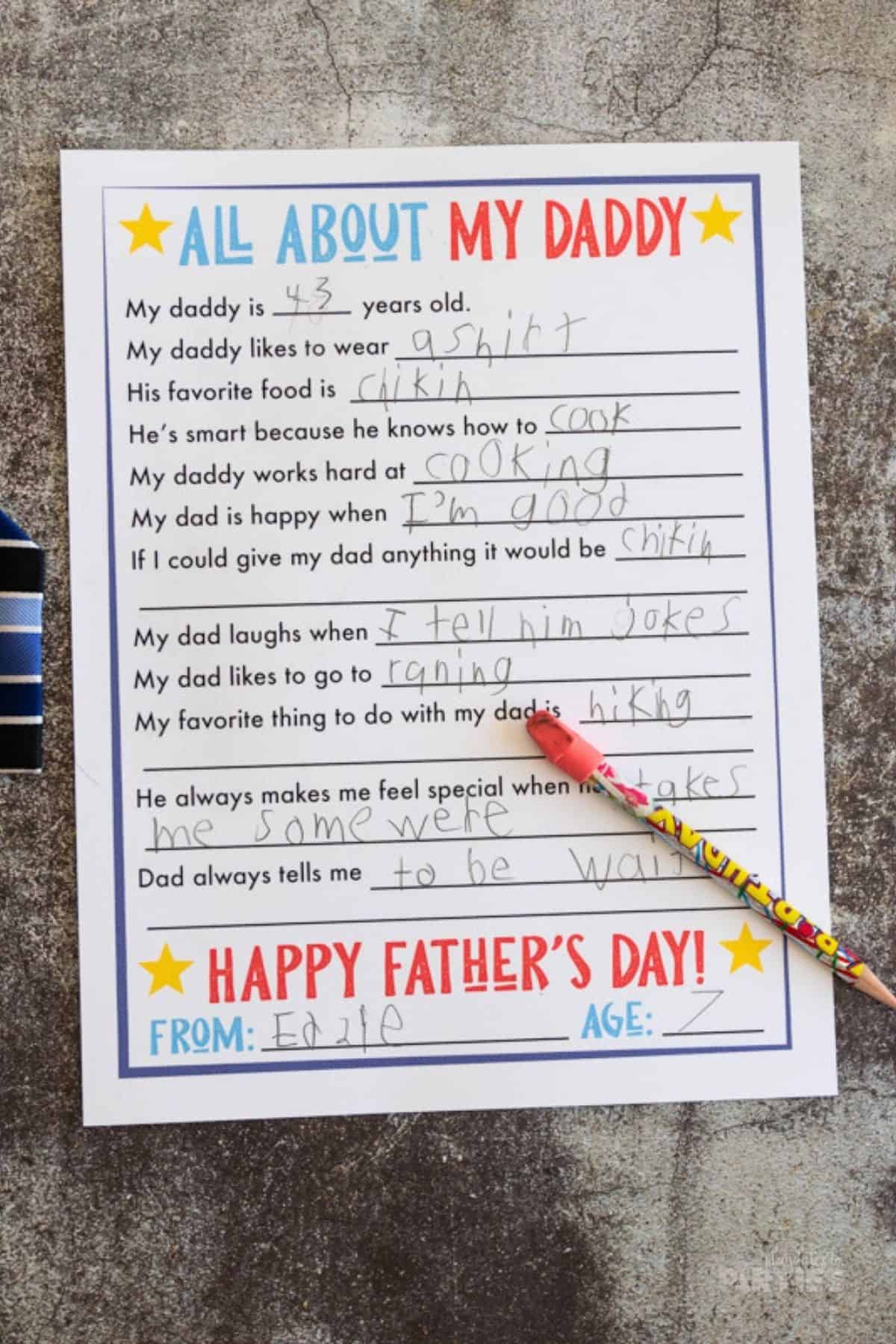 More Last Minute Father's Day Gift Ideas
Download your Free Printable All About Dad Questionnaire Here
Taking the time to create a unique and thoughtful gift like this can mean so much to dads – even if it's a last minute Father's Day gift idea. This is something that they can keep forever and look back on, remembering your child at that age, and all of the jokes, stories, and memories shared during that time.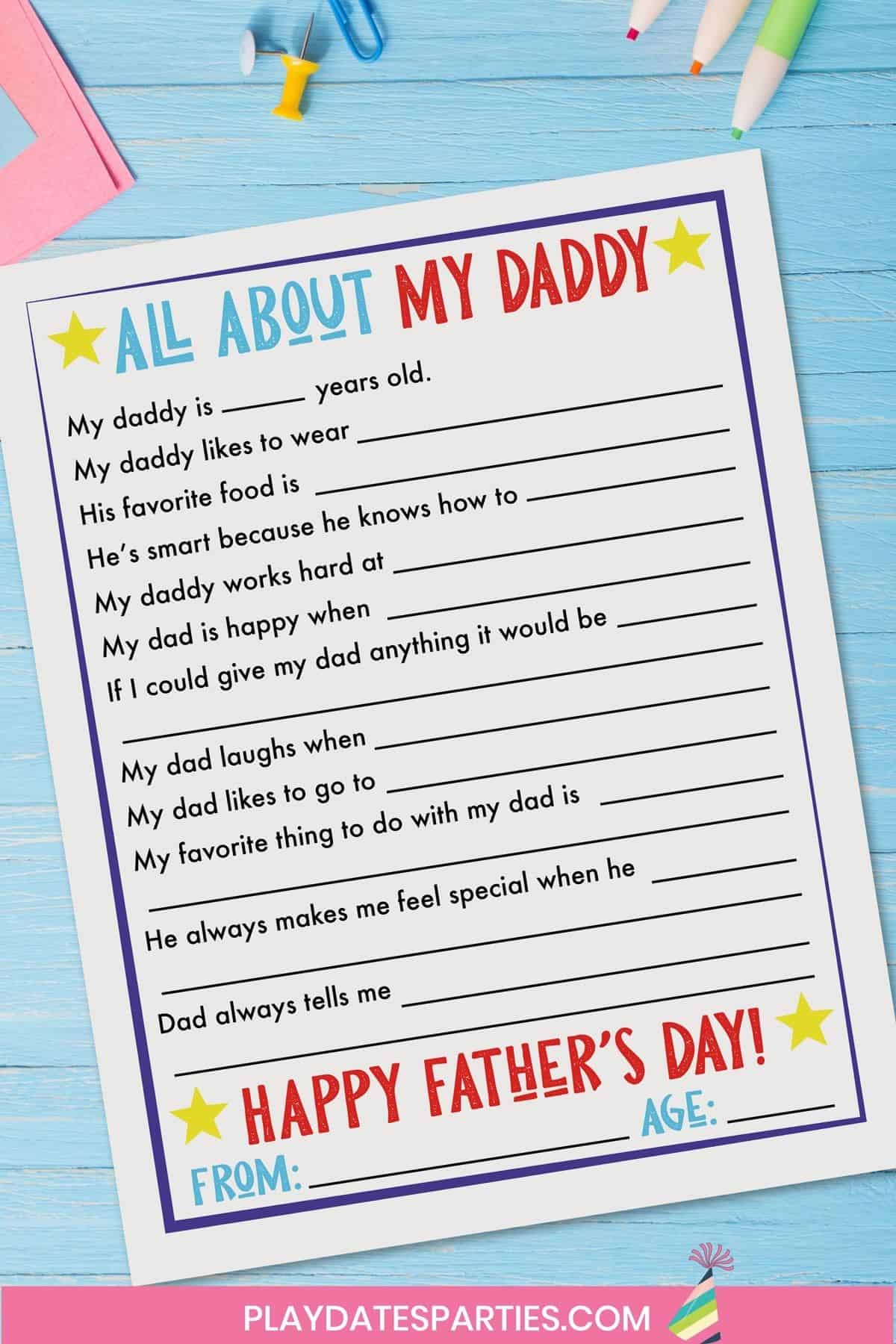 Simply add your name and email to the form below to download your free printable All About Dad questionnaire and take advantage of this easy way to give your dad the perfect Father's Day gift!
Don't want to subscribe? You can also purchase a copy of the Father's Day Interview my shop for a small price.
---