Macaroons have a long and varied tradition. Most know about coconut macaroons, but almond macaroon cookies are easier to make and just as delicious.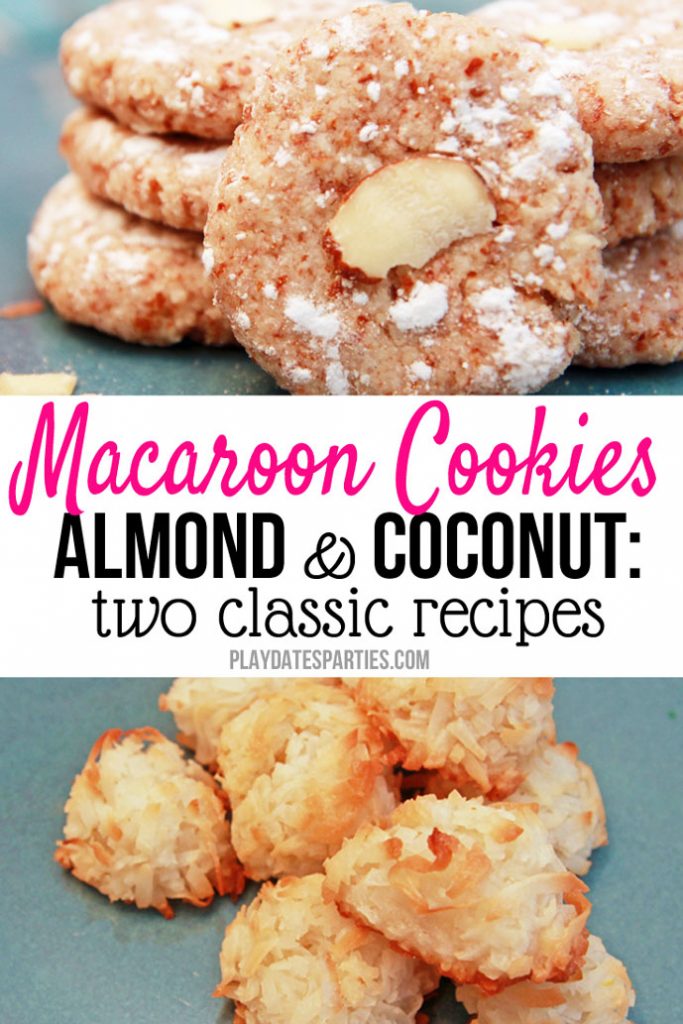 I love macaroons.
When made right, they're perfectly chewy and delicious. And when you're preparing a cookie platter, coconut macaroons are a fantastic way to provide a variety of texture and flavor.
Coconut macaroons in particular always make me think of the holidays because we used to serve them so often at holiday parties when I worked in catering.
This was the first time I made coconut macaroons from scratch, so I'll admit I was nervous. And after the fantastic cut-out sugar cookies I tried from Sally's Baking Addiction, I figured her coconut macaroon cookies should be a shoo-in.
[clickToTweet tweet="Coconut and Almond Macaroons – Learn the difference #cookies #sweet #food via @PlayDatesParty" quote="Coconut and Almond Macaroons – Learn the difference #cookies #sweet #food"]
If you like a very lightly flavored macaroon, this is the recipe for you.
Unfortunately, my macaroons ended up being a bit overcooked around the edges and raw in the middle.
It's most likely my own fault, because I didn't pay attention to the specifics of how much coconut should be used.
Perhaps we should just refer to these macaroons as 'toasted'.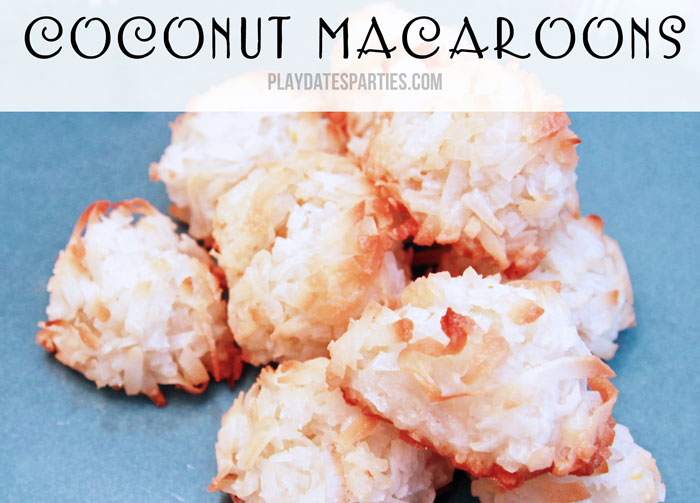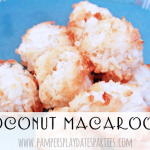 Coconut Macaroons
Perfectly chewy and delicious, coconut macaroons are a perfect way to add variety and texture to holiday cookie platters.
Ingredients
4

large egg whites

1/2

C

granulated sugar

1

tsp

vanilla extract

14

oz

shredded coconut
Instructions
Preheat oven to 325F.

Beat egg whites, sugar and vanilla on medium-high in a stand mixer fitted with the whisk attachment.  When the sugar is dissolved and the egg whites are foamy, slowly fold in the coconut until it is all moistened.  Refrigerate the mixture for at least an hour, to let the coconut soften a bit.

Scoop mounds of coconut onto parchment-lined baking sheets, making sure to keep them tight and dense.  If the mounds are too loose, the macaroons won't have that lovely dense,  chewy center.

Bake for 20 minutes, or until the macaroons are just barely golden around the edges.
For chocolate drizzled macaroons:
Place macaroons on parchment or wax paper.  Melt a little bit of chocolate in a microwave safe bowl for 30 seconds at a time, stirring with a fork between heating sessions. Using a fork, flick chocolate back and forth over macaroons until satisfied.  Let cool completely before serving.
Recipe Notes
This recipe originated on Sally's Baking Addiction
The original recipe recommends measuring an exact 4 3/4 cups of coconut to avoid getting dry macaroons.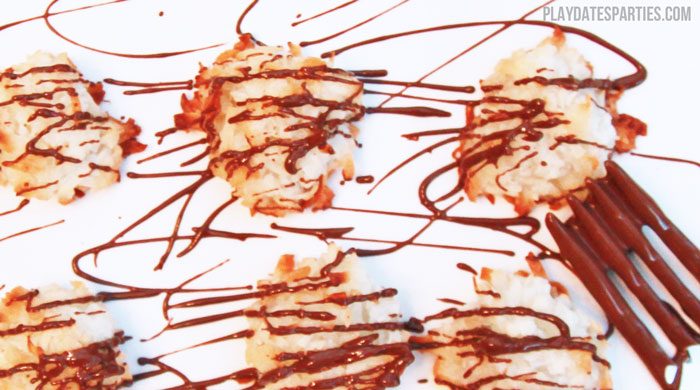 Unfortunately, I was rather disappointed with my coconut macaroons. So, I looked for something that promised to be a bit more successful.
That's when I remembered a former co-worker raving about almond macaroon cookies.
As it turns out, almonds were the original nut used when baking macaroons.  Who knew?  A lot of recipes use almond paste (not marzipan) to make this a super-simple cookie, but I used whole nuts in my recipe.
[clickToTweet tweet="Ever had almond macaroons before? You definitely should! #dessert #food #cookies via @PlayDatesParty" quote="Ever had almond macaroons before? You definitely should! #dessert #food #cookies"]
I was delightfully surprised at how delicious almond macaroon cookies are!
Even the husband even had a hard time controlling himself, which is unusual with him and sweets.
I made these cookies very small, about a half-inch in diameter. But they still came out very soft, with a noticeable crunch from the almonds.
I'm definitely sold on these cookies.  They just may be making it into the rotation for the cookies I make every year!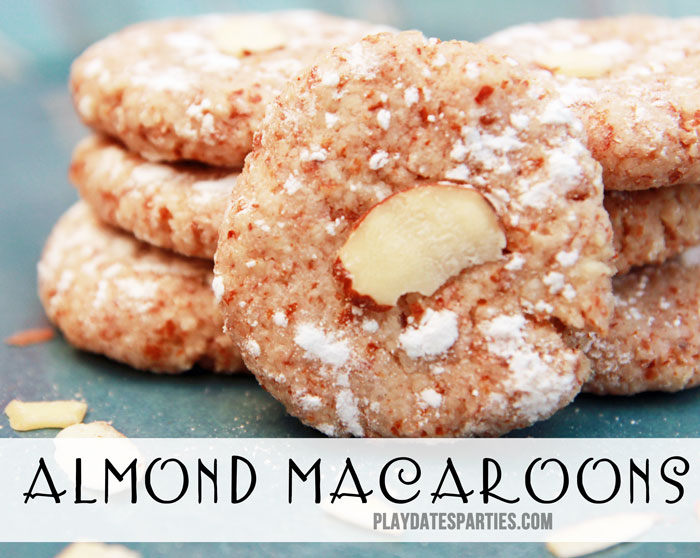 Almond Macaroon Cookies
Soft on the inside with just the right amount of crunch, almond macaroon cookies are completely irresistible!
Ingredients
1

C

whole almonds

2/3

C.

white sugar

1

large egg white

1/4

tsp

almond extract

pinch

of salt

powdered sugar for dusting

whole or sliced almonds for garnish
Instructions
Preheat oven to 350F.

Combine 1 cup almonds and white sugar in a food processor until finely ground.  Add egg white, extract and salt and pulse a couple of times until just combined.

Roll dough into balls and place on parchment lined baking sheets.

Flatten dough balls with the bottom of a cup and press either a whole almond or an almond slice into the center of the cookie.  Dust with powdered sugar.

Bake cookies for 10 minutes or until just barely golden in color.  Cool completely and enjoy!
Have you ever heard of almond macaroon cookies?
What's your biggest cookie fail?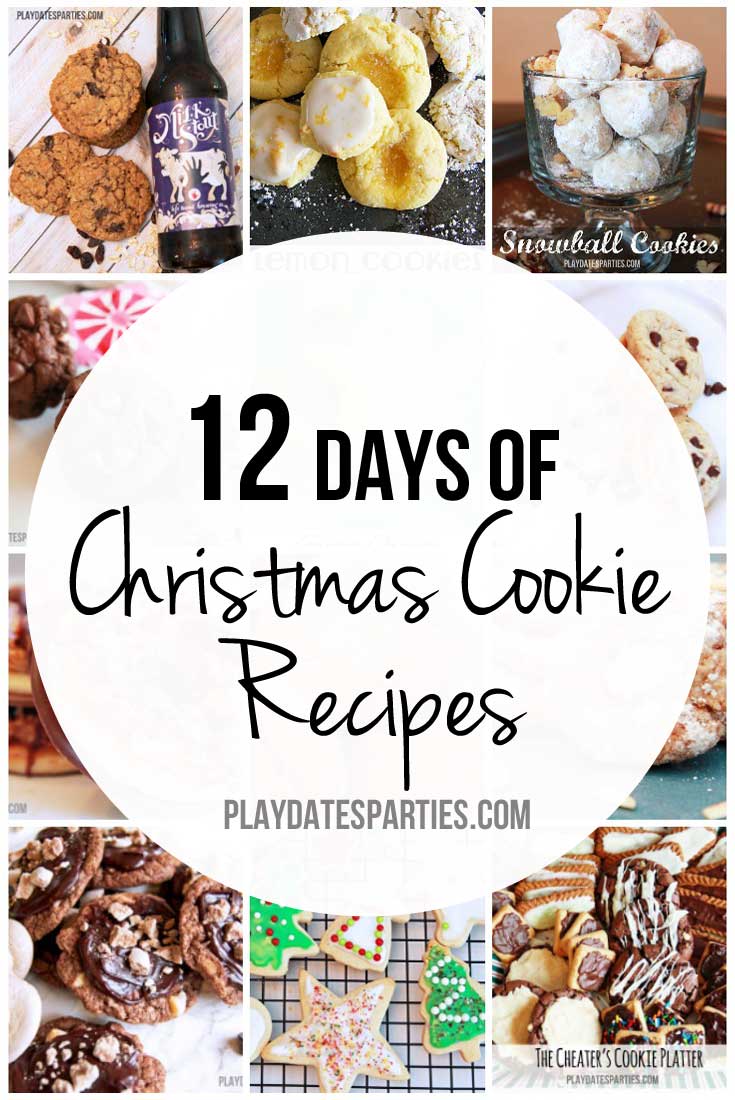 Subscribe via
Bloglovin, Facebook, and Twitter
to get more updates!
SaveSave