Believe it or not, it's time to start planning for the holidays. See how these top 7 resources from the Ultimate Homemaking Bundle make getting prepared a total cinch!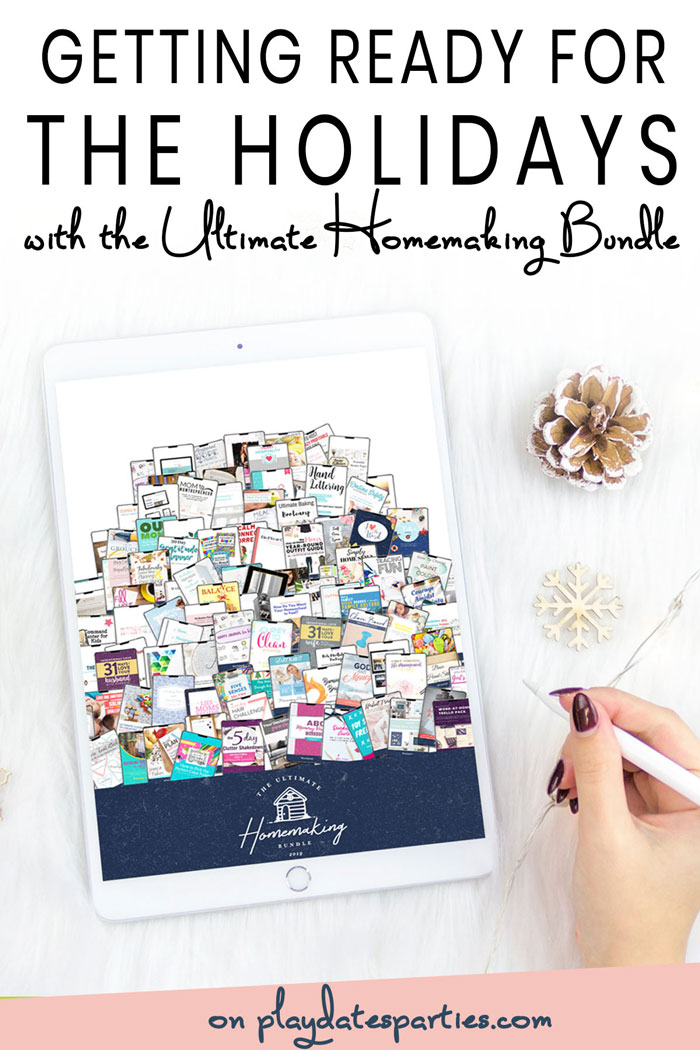 How on earth is it already mid October? The first day of school feels just like yesterday, and temperatures have barely started cooling down here in the mid-atlantic.
My brain keeps screaming that it's still summer…I'm nowhere near ready for the holiday season. But it's time to face reality.
And it's time to start getting ready for the holidays.
Believe me, I am SO not ready for all the craziness that the holiday season brings, but I know that doing a little bit of planning now will make it so much less hectic when the season starts.
Which is why I want to share with you an awesome resource that I found that is going to make getting ready for the holidays so.much.easier.
Seriously, this resource was available in the spring, and I didn't buy it. And I totally regretted it.
Don't be like me. For such a small price, it's not worth the regret!
Here's What You Need to Know:
When? 8 a.m. ET Wednesday, October 16th until 11:59 p.m. ET Thursday, October 17th
What? 30 eCourses & videos, 28 eBooks, 25 printable packs, 16 workbooks, 3 summits, & 2 membership sites
Where? Purchase the bundle here.
How much? This is the best part. The entire package is worth over $2,200, and it's selling for less than $30! That's over a 98% discount!
Here's how it works:
Head to their website, take a quick look at all the awesomeness that you get in this one package, then click the green "Buy now!" button to go through their simple and secure 3-step checkout process.
Next, you'll receive an email with a login to their online access portal, where you'll begin downloading your eBooks, signing up for your eCourses, and redeeming your free bonus offers.
Tip: The Getting Started Guide at the top of the portal is super helpful for figuring out which tools you want to access first.
They even offer a 30 day money-back happiness guarantee, so you can make sure it's right for you.
Get what you need to have a happy and well-run home. Learn more or get your bundle HERE.
IMPORTANT: The sale will be over fast! The bundle goes away at 11:59pm Eastern on Thursday, October 17th.
Get a Bonus!
I've got a special extra for you, too! If you purchase through any of the links in this blog post, I'll send you a free printable Thanksgiving kids activity pack. It's got over 18 pages of activities for your kids to play on Thanksgiving day, including:
place mats,
I Spy,
word search,
word scramble,
sudoku,
coloring pages,
and so much more.
Your kids will have fun playing and you'll get a few extra minutes to get things done!
Just go to this Google Doc after you purchase your bundle to confirm your purchase and email address so I know where to send your free printables.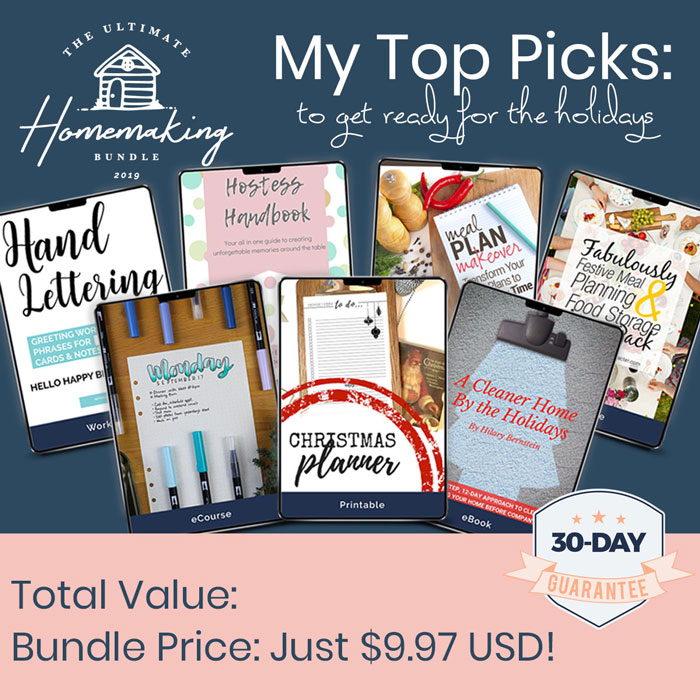 Resources Perfect for the Holiday Season
Okay, so I promised to show you how this will help you get ready for the holidays. Well, here are the download and ecourses I've already started using:
This is my #1 pick right now. It's an easy PDF download with simple steps you can take over 12 days to get your whole home ready for the holidays. Each day, you tackle a new area of your home with a specific checklist.
So, if you're like me, and tend to do everything at the last minute, this takes the stress out of figuring out how to get your home ready.
Or, if you're more organized, then you can tackle 2 days each week and be done by Thanksgiving! How awesome would it be to go into Advent knowing that you don't need to do any more deep cleaning?
Best of all, this is a quick win just in time for the holidays. Then, when the new year comes, you can use the other ebooks and courses to help you get and stay organized for good.
If you like comprehensive planners that take all the guesswork out of what to do when, then this is for you. Chrissy lays out exactly what you need to for preparing your home, your finances and your calendar starting this week and going all the way to beyond Christmas Day!
It's like she reached right into my busy mom brain and said "let me handle this for you."
If you're wanting done-for-you holiday menus, then this is your guide. With 5 full party menus, plus recipes, it takes all the hard work out of your planning. And while none of them are specifically holiday themed party menus, she does include Thanksgiving planning pages and checklists.
(Though I wholeheartedly disagree with Ashley's statement that crostini is a staple appetizer…but I'll have to explain that another time)
Brush Lettering
There are actually two brush lettering and hand lettering resources that I just cannot wait to start…
Brush Lettering 101 (valued at $47) is a video based eCourse to help you actually learn how to do your own hand lettering. As someone with the worst chicken scratch around, I'm so excited to give this a try.
Hand Lettering: Greeting Words & Phrases for Cards & Notes (valued at $27) is more of a cheat-sheet version of hand lettering. It's filled with 177 pages of hand-lettering practice and tracing sheets with phrases, numbers, and graphics for all occasions, including 15 pages dedicated to holiday greetings.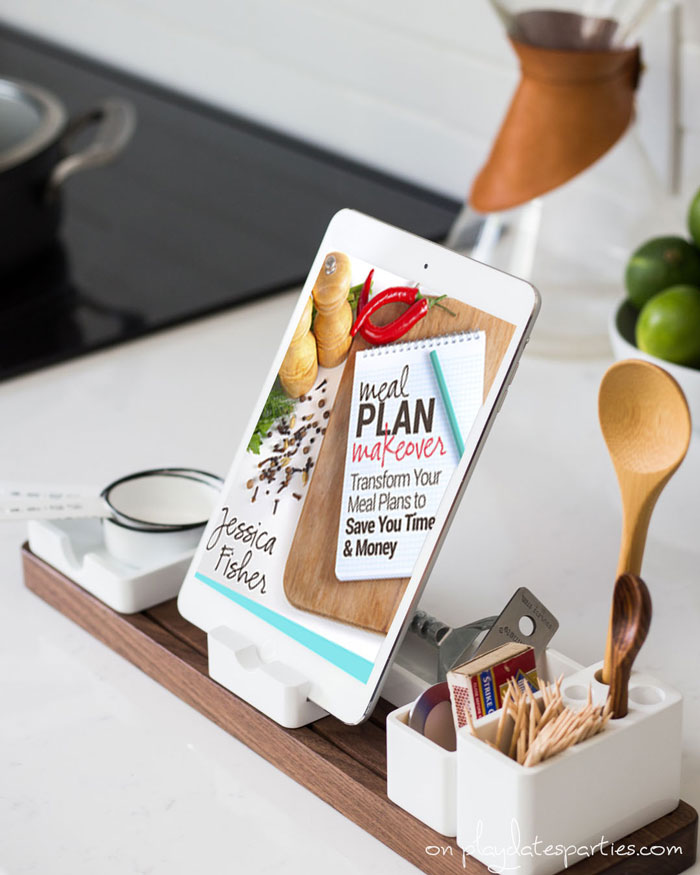 Meal Planning
I've fallen off the meal planning bandwagon BIG TIME ever since starting chemo last year. Part of it is because our schedules and diets have changed dramatically since the last time I was meal planning, and part of it is just because it hasn't been a huge priority.
But, a good meal plan is one of those things that can make your holiday season run so much more smoothly.
Fabulously Festive Meal Planning and Food Storage Printable Pack (valued at $17.00) is a fun set of brightly colored meal planning printables designed to get you through the holidays. The holiday dinner planner includes essential items like who's bringing what for a pot luck, and even food storage and safety resources.
I can't wait to try out Meal Plan Makeover (valued at $17) once our holiday menus are planned. It's more than just a planner, it's actually a workbook and workshop combo to really help create a meal plan that fits your family's diet and lifestyle.
So, Is the Ultimate Homemaking Bundle worth it?
Well, considering I didn't buy it when it was available in the Spring, and immediately regretted it…yes, I would say it's worth it. Just the holiday resources I've listed above are worth over $160!
And I didn't even get into all the other homemaking resources in the bundle.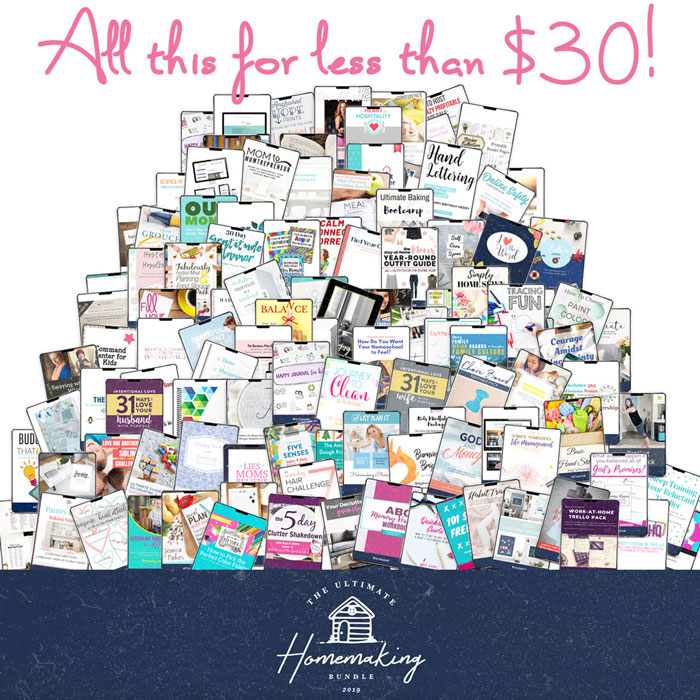 What's Included in the Sale?
There's so much more in this bundle than I already mentioned. If I list everything, this post would get even more ridiculously long. You can can click here to see the full list. But here are some other products in the bundle that you might find interesting:
Creativity & Decor (10 products worth $299.95)
Basic Hand Stitches
Brush Lettering 101
Embroidery for Beginners: The Basics
Hand Lettering: Greeting Words & Phrases for Cards & Notes
How To Choose Paint Colors For Your Home How to Pick the Perfect Color Palette: For Adult Coloring, Art Projects, Graphic Design & More
Quote Decor: Simply September Collection
Redesign Your Home: An Interior Designer's Secret Steps to Redesign your Space
Simply Home Sewn
Swaying with the Wind: a Charity Knitting Pattern Collection
For Kids (9 products worth $134.96)
101 Screen-Free Ideas: Printable Activity Cards
Chore Board Printable Pack
Happy Journal for Kids
Kids Command Center
Kids Mindfulness Package: Flashcards and Coloring Pages
Kids Sorted: 100+ Printables for a Calm and Happy Home
Picture Word Cards
Printable Educational Poster Bundle: Laundry Guidelines and Modern States & Capitals
The Amazing Play Dough Printables Pack
Marriage (6 products worth $80.95)
Finding Hope and Joy in My Marriage: 9 Week Bible Study on Christian Marriage
Finding Joy: The Year Apart That Made Me A Better Wife
Giant Date Night Bucket Lists: Printable Posters for Couples
Intentional Love: 31 Ways to Love Your Husband/Wife with Purpose
Surprise "Heart Attack"
Organization (10 products worth $227.00)
Christmas: Sorted! The Ultimate Planner & Support to Help you Enjoy Every Part of Christmas
Get Organized HQ: 2018 Virtual Summit
Habit Tracker Bundle Printable
Home Project Planner Printable Kit
Homemaking ePlanner: Homekeeping & Project Planning
Mom's BFF Planner
Purposeful Printable Pack
Time Blocking 101
Ultimate Homeschool Life Management
Vacation Planner
Self Care (10 products worth $266.95)
7 Simple Days
Bust Out of the Makeup Rut
Courage Amidst Uncertainty: How to Ride Life's Waves and Do Amazing Things
Create Your Intentional Life Masterclass
Intentional 21
Lean Fit 1.0 Home Workout Guide
Seven Day Hair Challenge: Easy to learn hairstyles for busy moms!
Texting Action Pack: Exercises to Ease Upper Body Pain and Tension
The Stay-at-Home Moms' Year-Round Outfit Guide: 280+ Outfits for the Entire Year
Self Care Spree: Learn Better Self Care with Just 15 Minutes a Day
What if I buy it and don't like it?
Although Ultimate Bundles has had an extremely low return rate, there are some people who it doesn't work for. That's why they offer a 30-day happiness guarantee refund policy. If you don't love it, just email [email protected] within the first 30 days of your purchase to ask for a full refund.
Now It's Your Turn
I'm so grateful that Ultimate Bundles put out this flash sale. Having a plan for the holidays is such a relief.
You can get your Ultimate Homemaking Bundle right here.
But act fast! The sale ends in…
Don't forget to subscribe via
Bloglovin, Facebook, and Twitter,
to get more updates!