What exactly is the Ultimate Homemaking Bundle? And is it really worth it? Keep reading for a look inside the bundle so you can make the best judgment call for your family.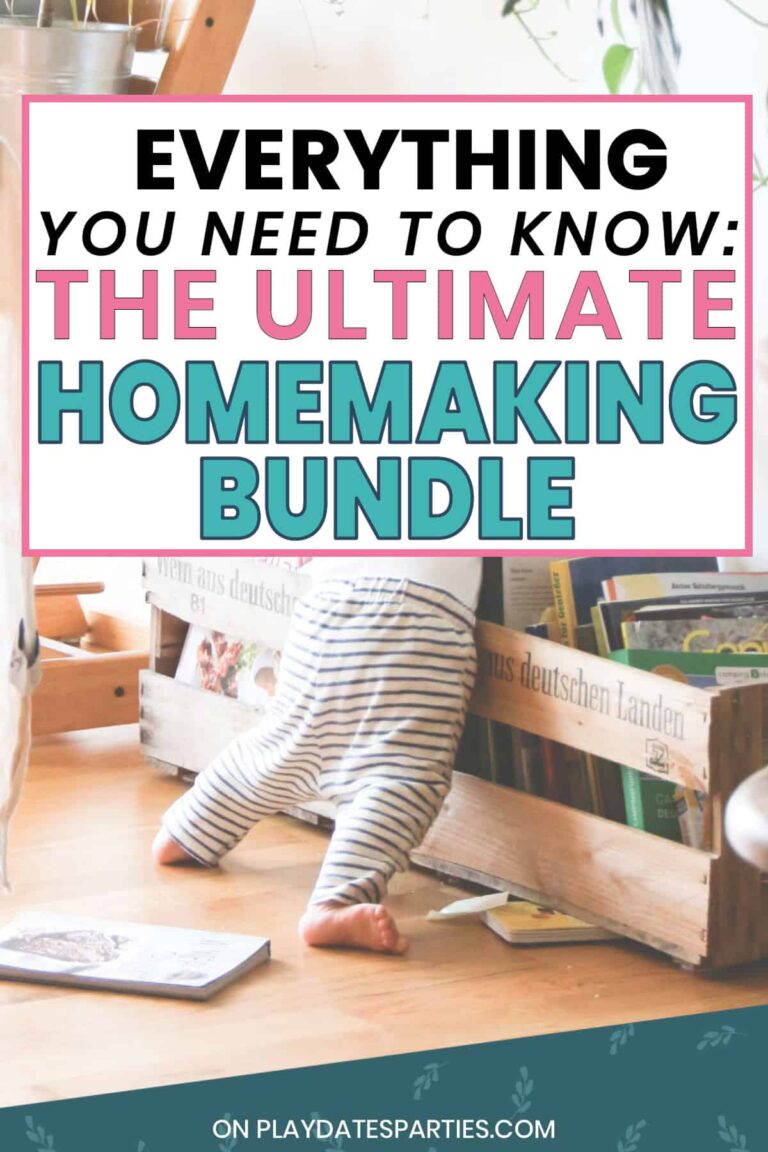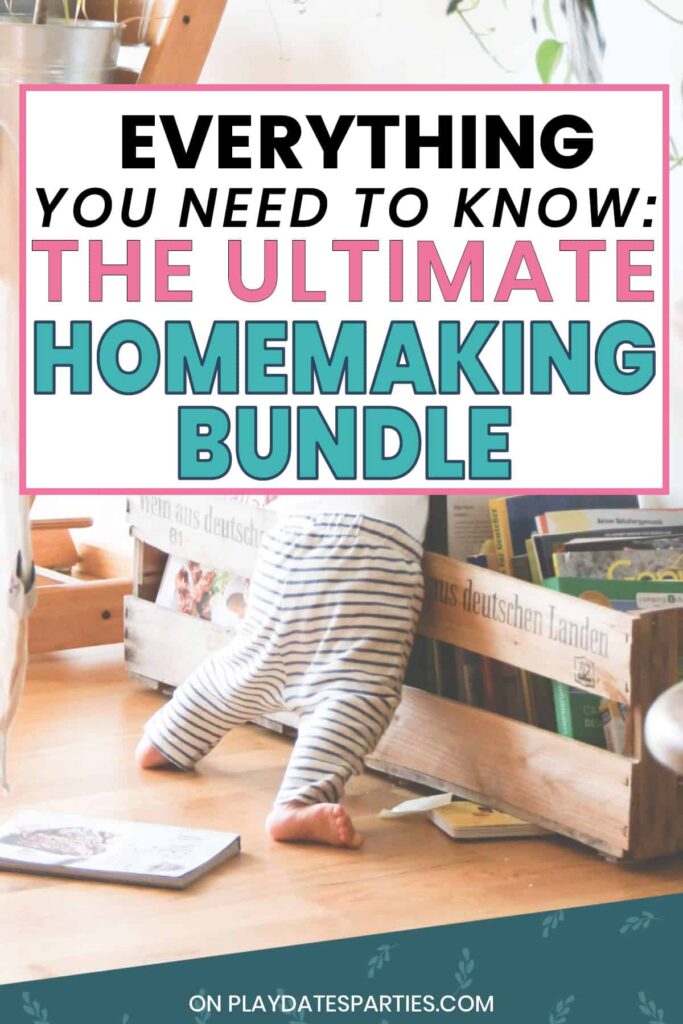 So, last year, I did something that I regretted…big time.
I saw the Ultimate Homemaking Bundle…and that there were products in it that looked really interesting. And I didn't buy it.
Less than a week later, I was totally kicking myself. And I don't want you to go through the same regret.
Here's What You Need to Know:
When?Monday June 22nd @ 8am ET – Friday, June 26th @ 11:59pm ET
What? 14 eCourses, 9 eBooks, 16 planners & printables, 9 workbooks, 2 membership sites, and a summit
Where? Purchase the bundle here.
How much? This is the best part. The entire package is worth over $1,200, and it's selling for less than $30! That's over a 97% discount!
Here's how it works:
Head to their website, take a quick look at all the awesomeness that you get in this one package, then click the green "Buy now!" button to go through their simple and secure 3-step checkout process.
Next, you'll receive an email with a login to their online access portal, where you'll begin downloading your eBooks, signing up for your eCourses, and redeeming your free bonus offers.
Tip: The Getting Started Guide at the top of the portal is super helpful for figuring out which tools you want to access first.
They even offer a 30 day money-back happiness guarantee, so you can make sure it's right for you.
Get what you need to have a happy and well-run home. Learn more or get your bundle HERE.
IMPORTANT: The sale will be over fast! The bundle goes away at 11:59pm Eastern on June 26th.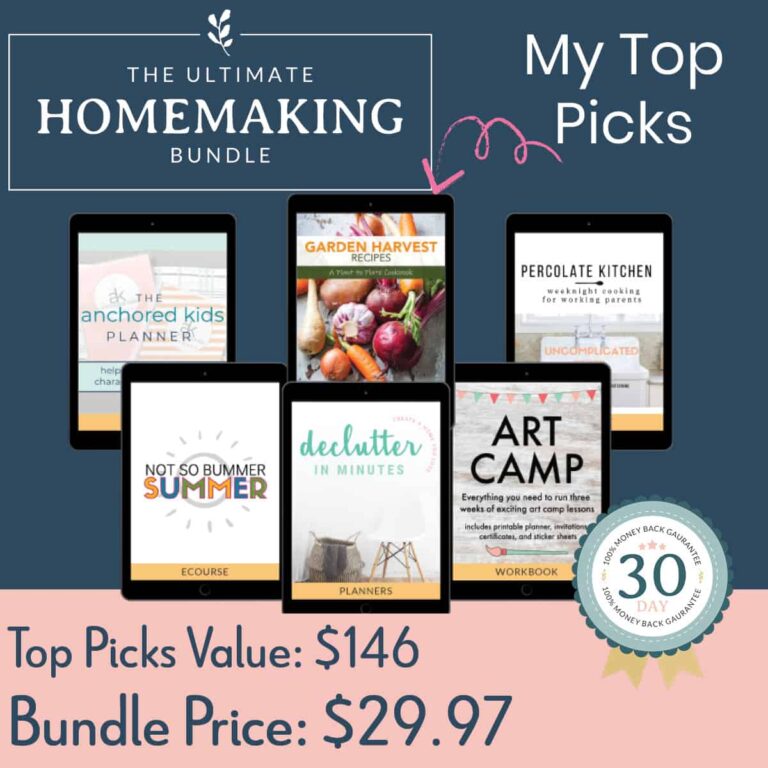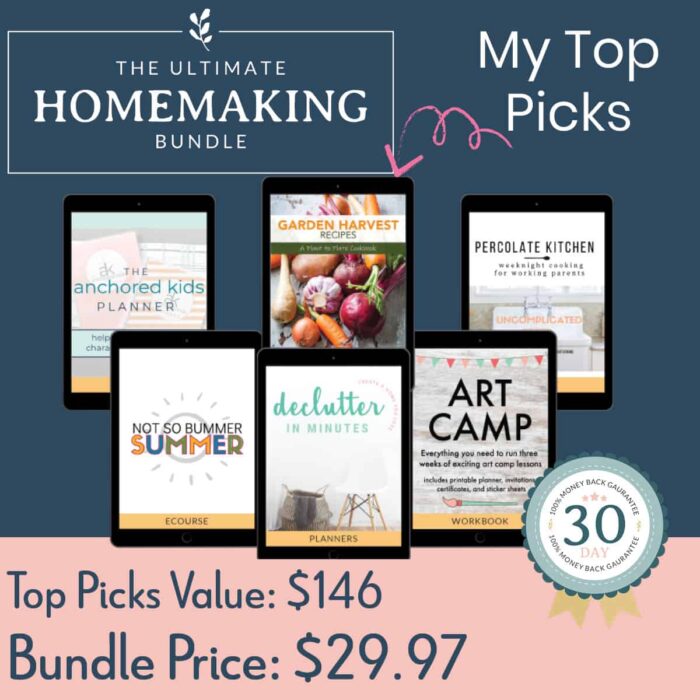 My Top Picks from the 2020 Homemaking Bundle
Okay, so what's awesome is that these products are put together by people who know what it's like to live with a busy family…not just another product put out by a big-box corporation.
Here are my top picks from the bundle this year:
Declutter in Minutes
This is my #1 pick right now. Life is nuts with three kids, everyone's birthdays to plan for, and no summer camps. This planner promises to help you easily weave decluttering and organizing into your already busy day. Sounds perfect, right?
Garden Harvest Recipes: A Plant to Plate Cookbook
Do you know what you're going to cook with that vegetable garden you planted this spring? Well, with this cookbook, you're set. Learn how to make healthy recipes from the food you grow yourself.
Uncomplicated Kitchen: 3 Step System for Simpler Weeknight Cooking
This ecourse will help you take the first steps to streamlining your weeknight meals with a proven 3-step system.
Anchored Kids Planner: Growing Kids of Character + Responsibility
*Sigh* As I write this, my kids are fighting. Don't you love the idea of a kids planner designed to help them not only with responsibility, but to help them grow in character and creativity as well?
Not So Bummer Summer
Kids that entertain themselves over the summer – without being glued to screens? Sign me up!
Art Camp: Everything You Need to Run Three Weeks of Exciting Lessons
This is the perfect summer activity for older kids and tweens that are right in that crafty phase. , and mixing in some art camp activities would be a perfect way to keep her entertained.
So, Is the Ultimate Homemaking Bundle worth it?
Our family can't even order pizza for less than $30. (And I've been known to order pizza on a Friday just to keep my sanity for a couple of hours)
So, if these products can help you save money, and maintain a peaceful and clean home – then yes, I think it's worth it.
But don't just take my word for it, go check it out for yourself.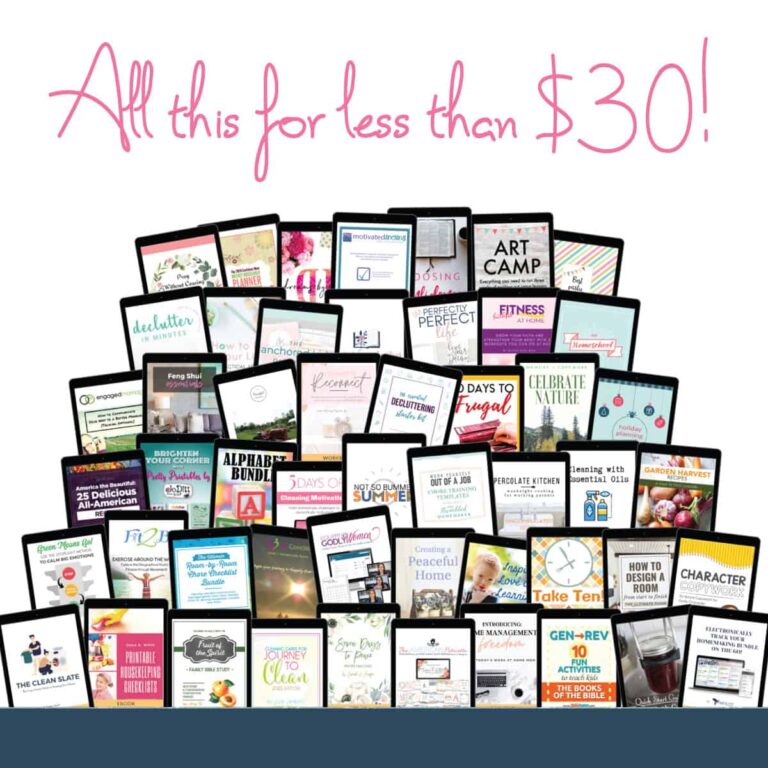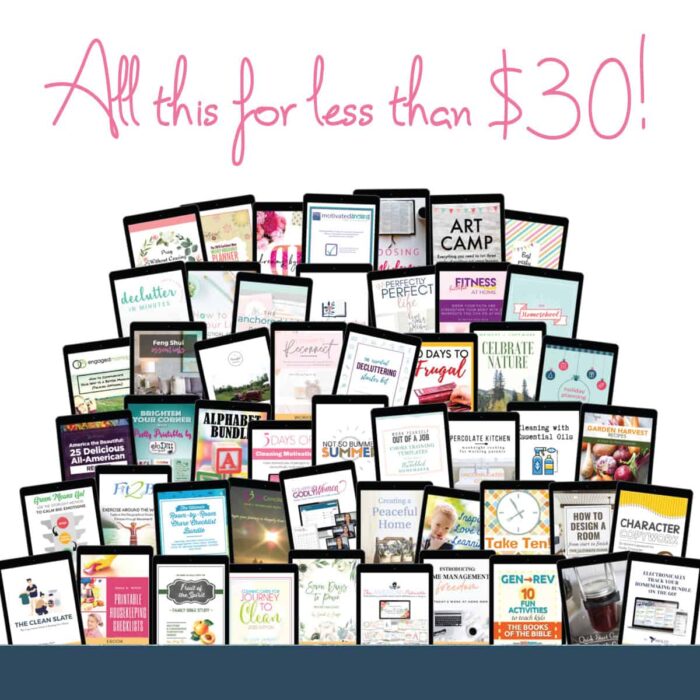 What's Included in the Sale?
This post would be ridiculously long if I gave a review on every single item. (Click here to see all the details) But here's a quick rundown of what's in the bundle:
Cleaning & Declutter (8 products worth $143.48)
Organization & Decor (11 products worth $450.00)
In the Kitchen (5 products worth $111.44)
For Kids (3 products worth $83.00)
Homeschool (7 products worth $121.68)
Marriage (2 products worth $89.00)
Parenting (2 products worth $26.99)
Faith for the Family & Home (4 products worth $129.98)
Faith For Kids & Adults (7 products worth $132.84)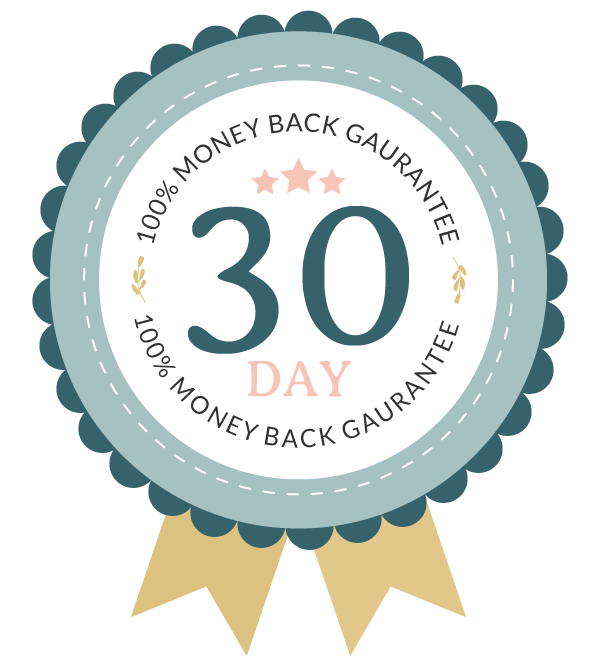 What if I buy it and don't like it?
Although Ultimate Bundles has had an extremely low return rate, there are some people who it doesn't work for. That's why they offer a 30-day happiness guarantee refund policy.
If you don't love it, just email [email protected] within the first 30 days of your purchase to ask for a full refund.
Now It's Your Turn
I'm so grateful that Ultimate Bundles put out this flash sale. Having a plan for the holidays is such a relief.
You can get your Ultimate Homemaking Bundle right here.
But act fast! The sale ends in…