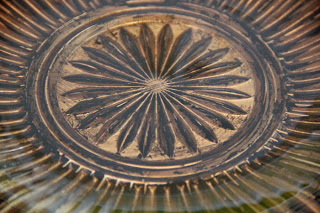 For Mother's Day this year, I got an itch to use my bronze toned serving dishes.  I know a lot of people use white and clear serveware a lot, but I had some bronze in my stash that I thought might add a warmth to the display that white just couldn't provide.  The only problem was that I only had a few pieces, and there aren't many inexpensive food safe options in that particular tone. So what's the answer?  Customize and improvise!
One way to improvise is to simply use a clear platter on top of the desired tone:
 Or you can use clean scrapbook paper on top of white plates or cake trays.  I used a coordinating paper pattern to make these little treat stands:
Another common option is to make your own tray using paint and inexpensive trays, plates or wood pieces.  One quick note about painting trays:  While I love the way painted trays look, please remember that most readily-available paints are not considered safe for food use, so food should never come in direct contact with the surface of painted trays, plates and platters.  Always use a liner or wrapped food.
So how do you make a food-safe, painted tray that doesn't immediately have to be covered?  Paint the underside!  It's so simple, you hardly need a tutorial; but I've gone ahead and laid out a few steps to get the two-toned effect on the plate at the top of the post:
Materials:
Clear Glass Plates (I used the grooved glass plates from the Dollar Store)
Black Acrylic Paint
Bronze Spray Paint
Foam Brush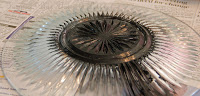 1. Using a foam craft brush, paint the underside of your plate black.  I painted a nice thick layer to ensure that the paint really got into the grooves.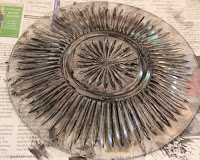 2. Before the paint dries, wipe off the excess black paint with a paper towel.  How much paint you remove is up to you.  Let dry. (Tip: A dry paper towel will leave more paint than a wet towel.)

3. Spray paint the underside of the plate with bronze spray paint.  Let dry.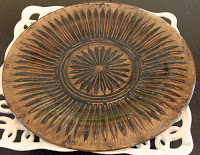 4. Hand wash the top side of the plate to remove any paint or dust and enjoy your one-of-a kind plate!This tutorial is linked up with the parties listed at the bottom of this page!