Is anyone else still suffering from a candy hangover? No matter how much I promise I won't touch the stuff, a few too many pieces always make it past my lips.  Lesson learned for next year…get the candy you don't like! (the problem is figuring out which candy that is!)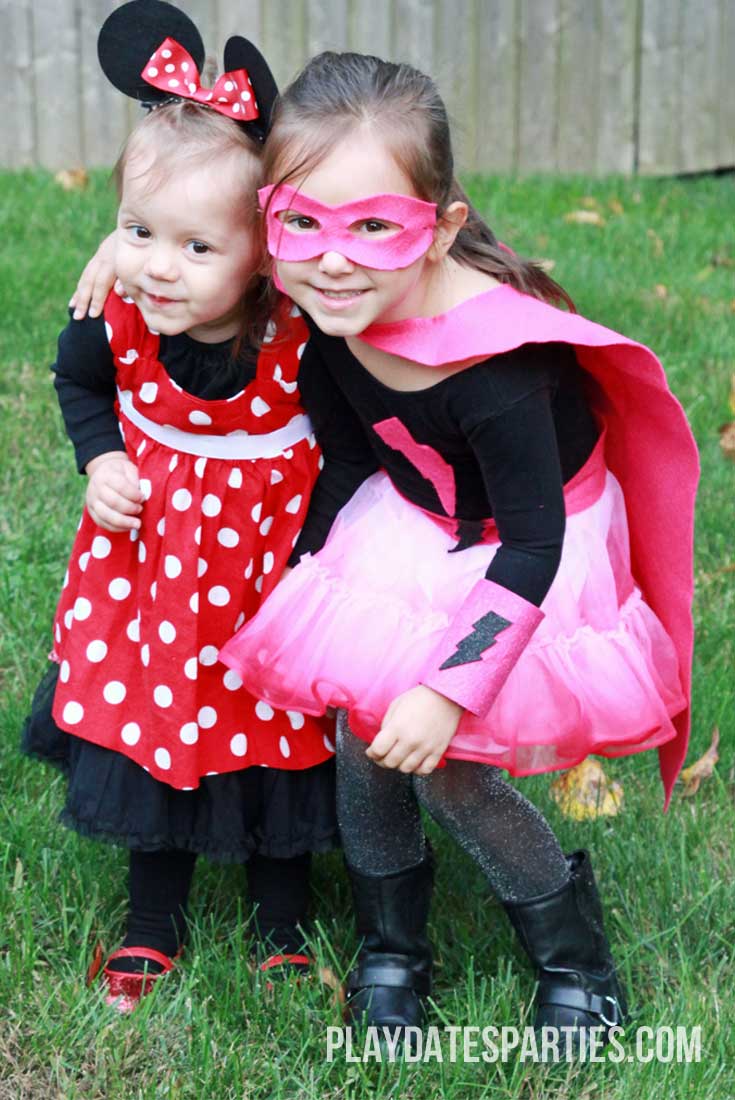 Ever the procrastinators, we realized late Sunday afternoon on the 26th that we still needed to carve our pumpkin.  There's no way T would let us go without decorating the front porch; so while the husband carved out a basic jack-o-lantern face I let the kids go to town continuing our pumpkin painting tradition…this year with glitter!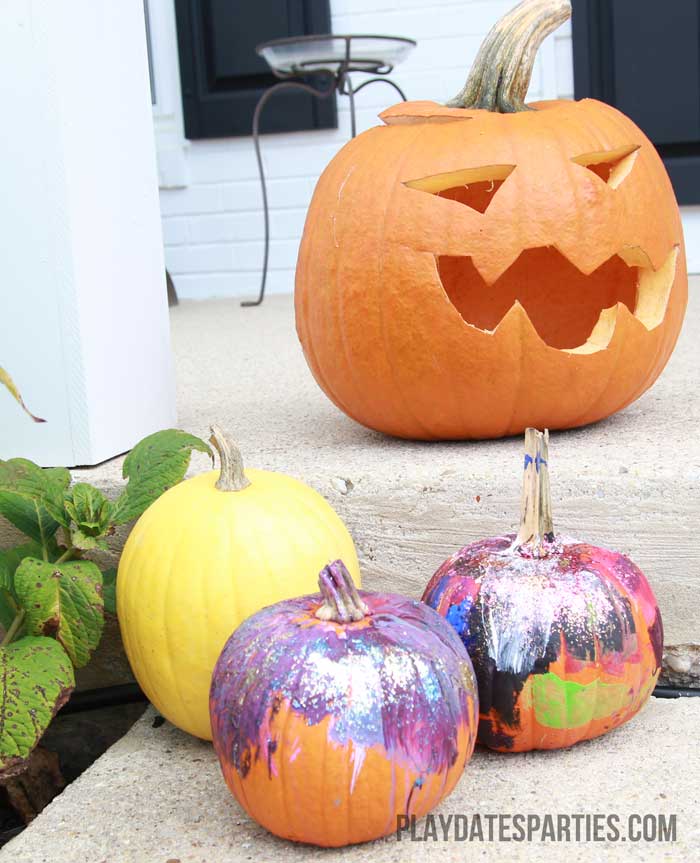 An hour later we had the sparkliest Halloween decorations on our block.
Unfortunately, the kids' costumes were just as last-minute as the pumpkins.  For the longest time, L would say she didn't want to dress up for Halloween…no matter how many times her sister would say "but you get CANDY!"
Thankfully she likes Minnie Mouse even more than her sister did at the same age; so she got to wear the costume their grandmother so lovingly made three years ago.  (I must say that I was pretty shocked we hadn't lost some of those little pieces)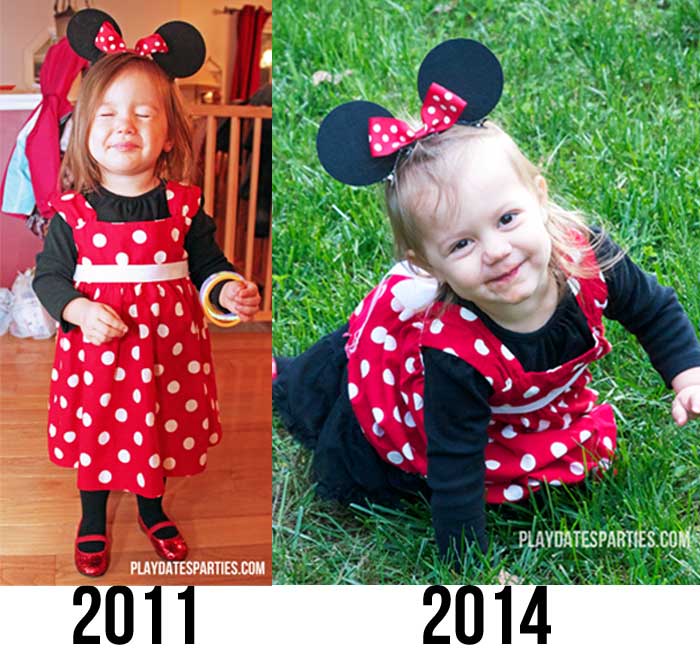 It was a bit shorter and tighter on L, but the black pettiskirt underneath makes it extra sweet.
T changed her mind about costumes half a dozen times during the month of October.  Two weeks out I was frantically trying to figure out how to make a My Little Pony Rainbow Dash costume…only to find the next day T had swung back again to being a superhero for Halloween.  At least I actually got to make use of the research I did earlier in the month for a DIY Superhero costume.  Being so last minute might have been a little extra stressful, but it was a lot of fun to pull the costume together.
My favorite part…she wanted to be her own superhero.  So today I introduce to the world…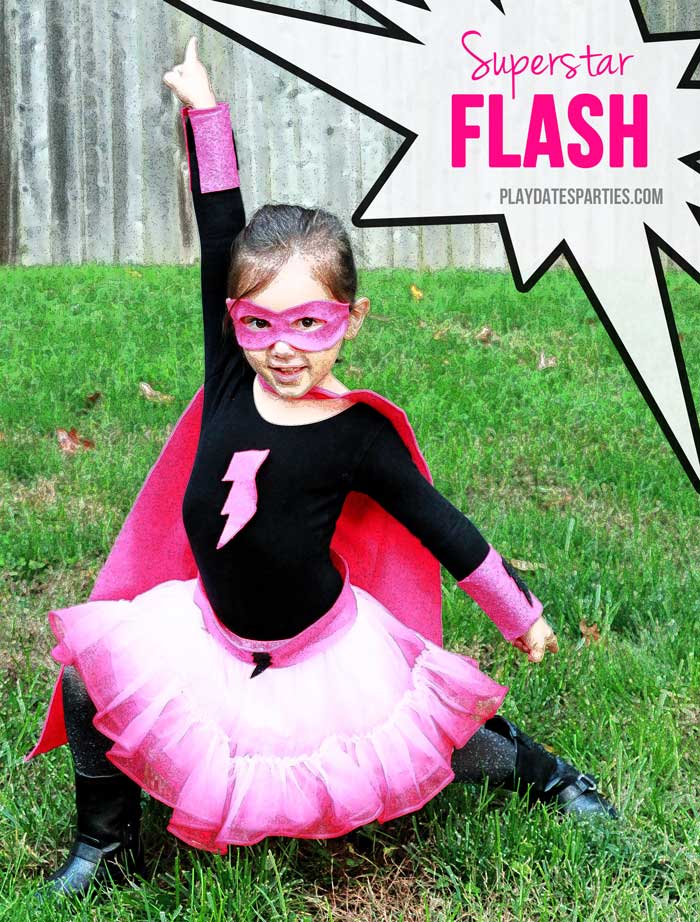 SuperStar Flash spends her days disguised as your average 5-year old girl.  But make no mistake, she can stun you into silence with her powers of hyperactivity and make you beg for mercy with endless renditions of "Let it Go".
Maybe not.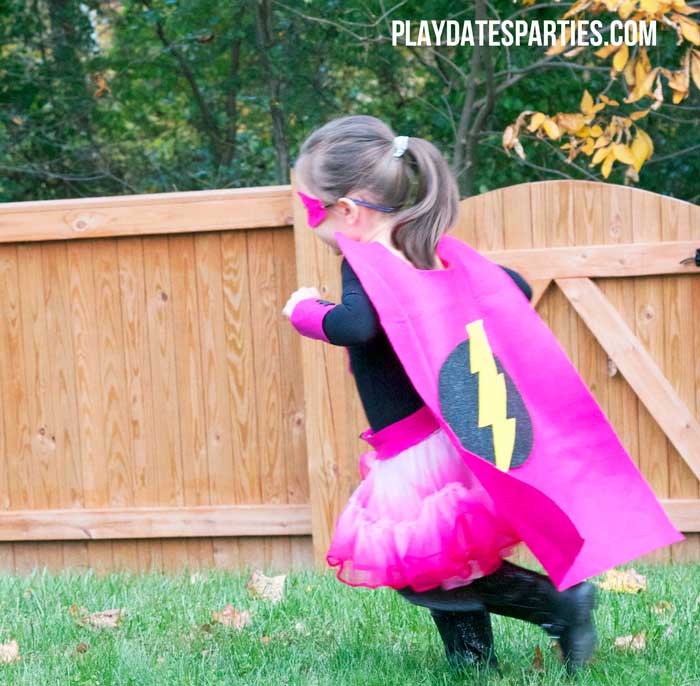 According to T:  SuperStar Flash loves to help people and other superheroes who aren't as strong as she is.  Her powers include the ability to shoot lightening bolts out of her eyes and laser beams from her fingers.  Her favorite non-superhero activities include coloring, playing with blocks, and playing with a large collection of teddy bears hand-made by her grandmother.

I love how creative this stage is for T.  She is constantly creating stories for us and loves to illustrate them as well.  It was so fun to help her bring one of those creations to life.
[bctt tweet="Learn how to #DIY your own #kids superhero costume!" username="PlayDatesParty"]
Let's face it, I also had a lot of fun adapting those tutorials to make T a costume of her own. Here's a quick run down of how I pulled it together.
Easy DIY Superhero Costume
Materials
1 36″ x 36″ piece of felt
Chalk or wipeable marker (I used a chalk pen)
 Smaller pieces of felt in contrasting colors
sharp scissors
elastic
2 toilet paper tubes
leotard
fabric glue
safety pins
boots
DIY Superhero Cape
To be fair, I mostly followed a tutorial from Jolly Mom for making the cape. However, I didn't cut the neckline. I made sure T knows to be safe with the cape and not to let it get stuck on anything. (I just know that she'd be playing with the velcro all day at school)  I also didn't measure anything out, opting instead to cut the cape to the longest length, and then clip off the bottom of the cape to meet the length we needed. There was a little extra trimming required on the sides to correct the taper, but it was pretty darn easy.
Using contrasting felt, cut out a large circle. Trace and cut your logo of choice onto other contrasting felt, and glue the logo onto the fabric circle. Glue the circle to the back of the cape.
Superhero Chest Logo
Trace and cut a logo for the front of the costume from the cape scraps. Attach to the leotard using safety pins.
DIY Superhero Wrist Cuffs
Cut two toilet paper tubes lengthwise. Double check that the length is comfortable on your child and cut down if necessary. Glue felt from cape scraps over the toilet paper tubes. Trace and cut small logo shapes from contrasting felt, and glue on top.
DIY Superhero Mask
Gently hold a cape scrap up to your child's face and note how wide his/her face is. Cut the felt down to the proper width. Fold felt in half on the short side and cut curved lines on the long sides to create the outer shape. Make sure to leave enough room at the fold to fit over the nose.
Fold the mask in half lengthwise and cut half ovals where the eyes will be. (I pretty much eyeballed this, and had T try her mask on several times, double and triple checking the width and size of the eye holes.)
Cut small slits on the outside of the mask by the ears. Slip about a 6″ length of elastic through the slits and tie or sew onto the mask.
Superhero Belt
Using more scrap fabric from the cape, cut a straight length of felt slightly longer than your child's waist. Trace and cut a logo in a contrasting color felt, and add it to the belt with safety pins or fabric glue.
We added all these individual pieces to clothing T had on hand: a black leotard, sparkly black tights, black boots, and a fluffy pink tutu. (I always did love tutus for Halloween costumes)
All in all we had a fantastic Halloween.  T played the big sister well; "teaching" L how to trick-or-treat and holding her hand between houses.  The kids were exhausted after about an hour, and we were back home before 8pm.  And knowing that daylight savings gave us an extra hour the next night just made it that much sweeter.
Would your kids like a DIY Superhero Costume?
How did your family dress up for Halloween?