Give a gift that keeps on giving with these free teacher appreciation printables and a printable shopping list of teacher supplies that are always needed!
I have good news and I have bad news.
The bad news is that I completely lost track of time and missed the deadline to purchase our kids school sponsored teacher appreciation gift. Ooops.
The good news is that I ended up creating a fun teacher appreciation printable and gift. And now I get to share it with you. Hooray!
Let's get real. There are many thankless got jobs out there. But being a teacher is definitely near the top of the list. I really don't know how my kids' teachers do it.
I love my kids, but if I'm being completely honest…they drive me batty sometimes. And I only have three kids with me, not the 20, 30, and 40 that are in most classrooms.
Seriously…teachers are my heroes.
Free Teacher Appreciation Printables
Now, last Christmas I reached out to my sister, who is an elementary school teacher, and shared a way to make gift cards special for teachers. But with teacher appreciation week approaching (it starts May 6th!) I wanted to do something more personal, while also making sure that it's useful too!
So, we came up with the idea of providing extra classroom supplies. Because there are never enough supplies. My sister gave me a great list to start things off, and I designed the printables. A pretty awesome team, right?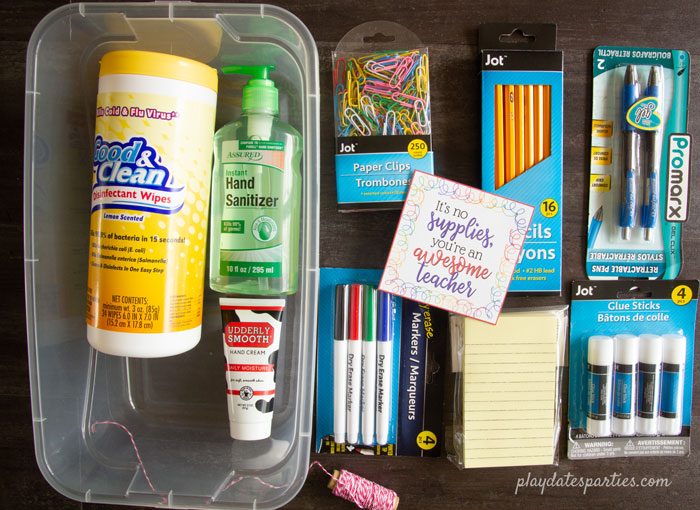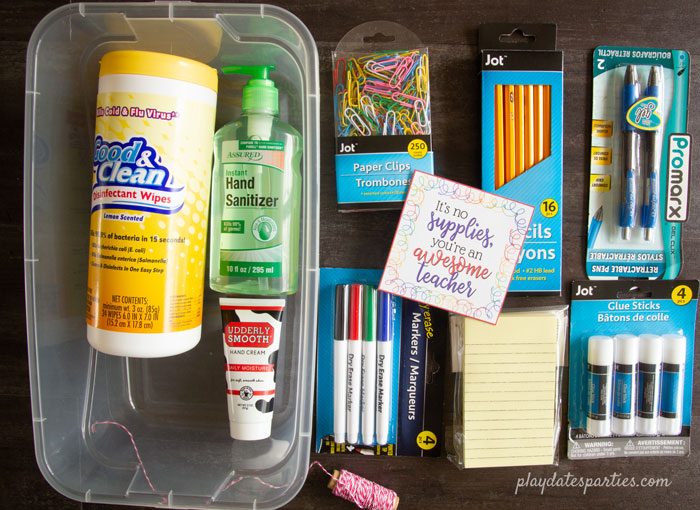 Supplies That Teachers Pretty Much Always Need
In addition to the list of supplies that my sister gave me, I also looked back at the school supply lists that are sent out at the beginning of the school year. (Our kids' school keeps them on the website, which makes it super easy to refer to) Between both of those lists, and a few other things I've heard over the years, here are some items that teachers pretty much always need:
Whiteboard markers
Ink pens
Tissues
Hand lotion
Sharpies
Paper clips
Sticky notes
Pencils
Card stock
Ziplock bags
Glue sticks
Paper towels
Hand sanitizer
Sanitizing wipes
The best thing is, these don't have to cost a fortune. Seriously, I just went to the local Dollar Tree and got pretty much everything you see in our gift. Yes…including the box, twine, and tissue paper! (Did you know Dollar Tree has in-store pickup? Such a game-changer!)
And to make it even easier for you, the printable gift tag includes a page with the shopping list. It doesn't get much simpler than that.
Putting Together the Supplies Box with the Teacher Appreciation Printables
After buying all your supplies, this gift only takes a few minutes to put together.
What You'll Need
A variety of teacher supplies from the included shopping list
Tissue paper
A box or gift bag to hold everything
Twine, ribbon, or string
Scissors
Hole punch
Paper trimmer or cutting machine
Teacher supplies gift printable tag, available for free in the resources library
Printing Out the Labels:
Make sure your printer is equipped with the right paper. I printed our labels on bright white card stock, but if I'd used matte photo paper, the colors would have been even brighter. Both look great, but if you want the most saturated look, photo paper is definitely better.
Print out the labels using "best" or photo quality. This is different for every printer, so just make sure to check your settings. (Side note: if you have a printer that defaults to 2-sided printing, make sure to uncheck that box. This may be experience talking.)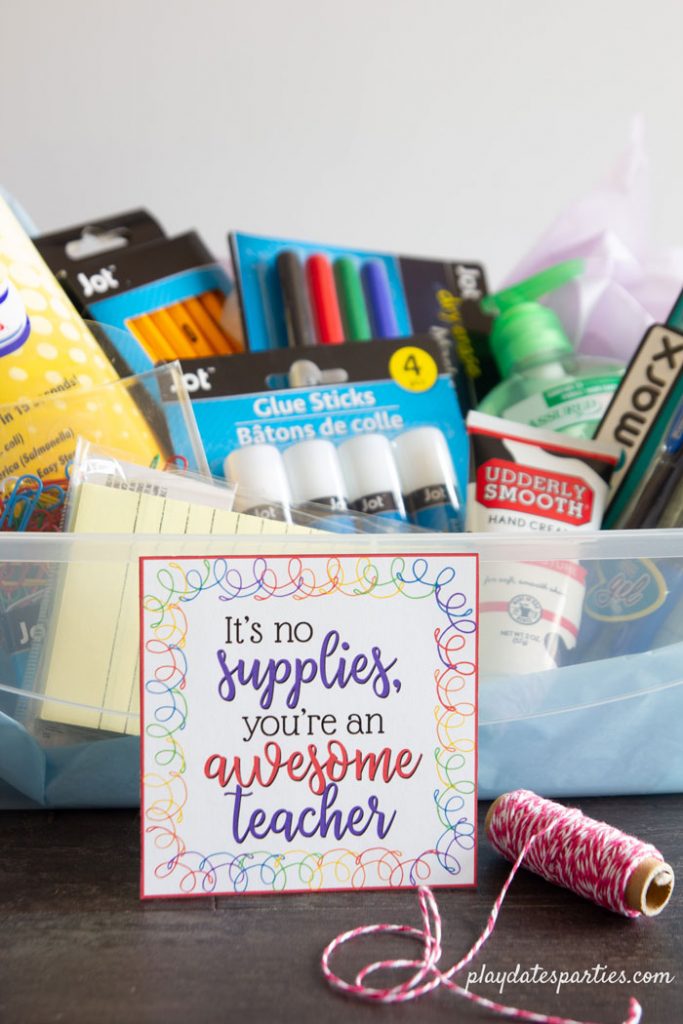 Cutting the Teacher Appreciation Printables
These tags are about the easiest things in the world to cut since they're squares. Feel free to use sharp scissors or a paper trimmer.
Or, if you have a Cricut, you're in luck! I designed these teacher appreciation printables to fit within the Cricut design space Print and Cut feature. So, if you've got a Cricut, go ahead and use it! Here are a few tips:
First, you'll need to convert the document from a PDF to a PNG. I made a video that shows how I convert a PDF to a PNG on a Mac, but you can also use the PDF to PNG website. (I've used this website once, and it worked well for me)
Next, you'll want to upload to Cricut Design Space only the page that is marked as "Cricut Print and Cut Friendly." It's formatted specifically for this purpose.
When you're prompted to remove the background, only click on the white space outside the box with the text. The rectangle is there to keep your machine from cutting out all those letters.
Finally, when the document is loaded into your project, make sure you resize it to 6.75 inches wide.
You can also have the Cricut machine cut out the holes for threading the twine, too. Just add 1/4 inch circles in each of the top corners, or in the middle of the tag.
Note: Don't be like me and forget to punch holes for the twine. Ooops! A little double sided tape did the trick for us, but it would have looked better threaded through with the twine.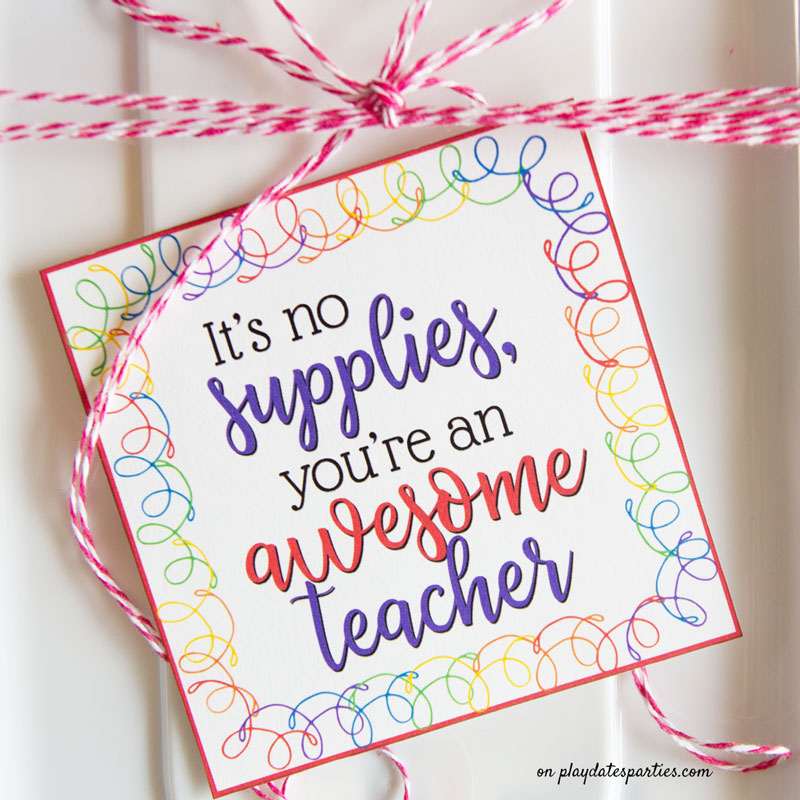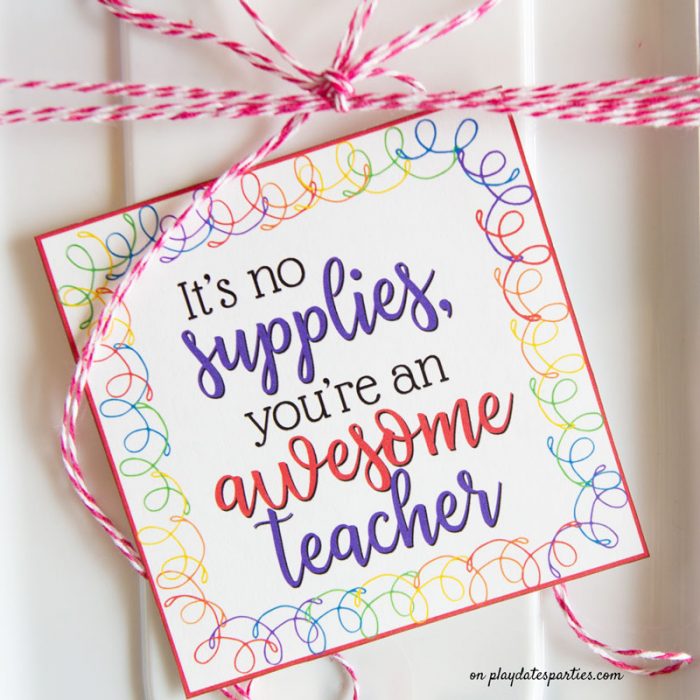 Assembling the Gift
Once you have everything purchased and cut, it's time to get it all assembled!
I like to do a dry run first so I know that everything fits properly. While you do this, it's good to have the kids sign the card somewhere.
Then, take everything out one more time and double check for price stickers.
Add a little tissue paper and put everything back in the box or bag.
Wrap some twine around the box (or through the handles of a gift bag), and add the tag.
Tie it all in a pretty bow, and you're done!
Now It's Your Turn
You know, sometimes last minute gifts can be pretty awesome. Our kids told me that their teachers both loved their supply boxes. They may not be quite as versatile as gift cards, but at least these teacher supply boxes and teacher appreciation printables are useful!
What are you doing for Teacher Appreciation Day?
Are there any other supplies you think teachers would love?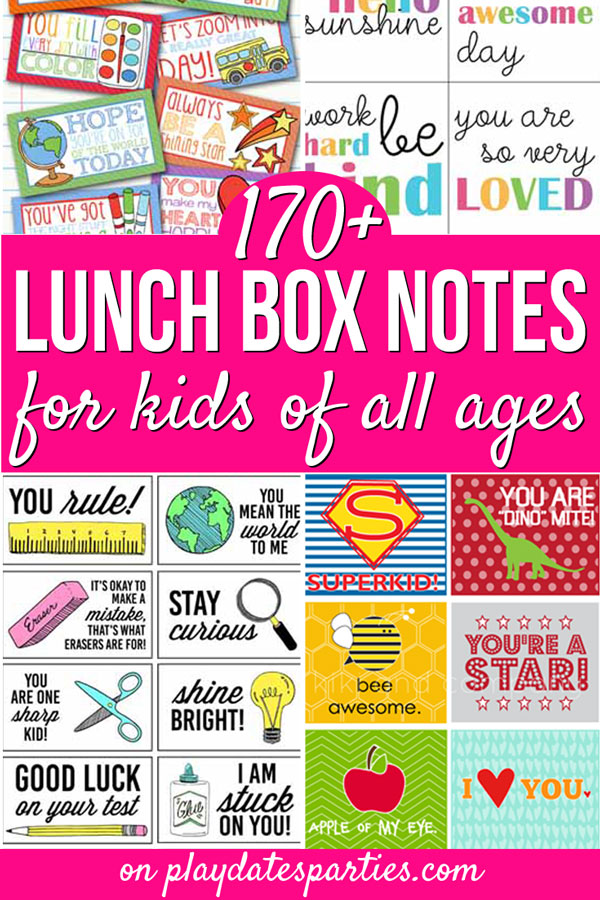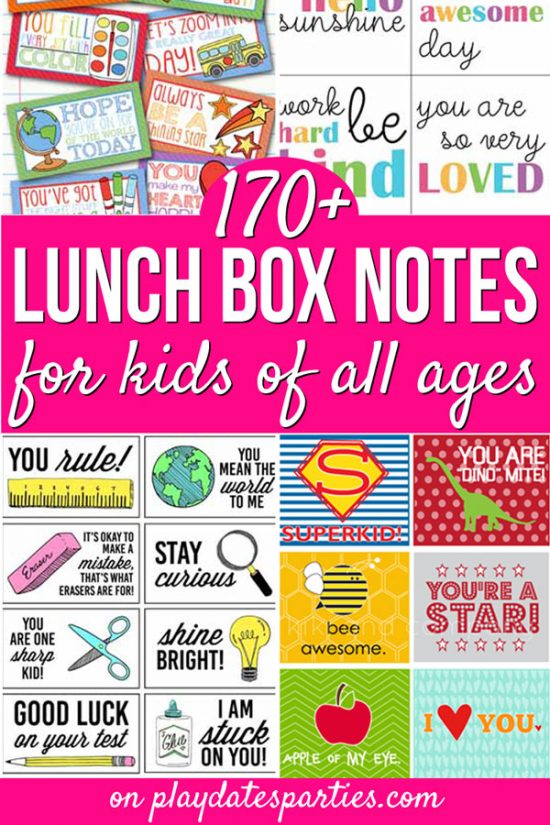 Don't forget to subscribe via
Bloglovin, Facebook, and Twitter,
to get more updates!