If you're looking for a fun and easy way to celebrate St. Patrick's Day, then you're going to love these free printable St. Patrick's Day charades cards. With 24 pre-filled cards, plus 8 blank cards for your own ideas, this hilarious game is perfect for family game night, a St. Patrick's Day party, or even in the classroom with the kids.
There's no doubt you're going to have a blast playing charades with your kids, so download your copy of these free cards at the bottom of this post, grab your friends and family, and get ready for a fun time!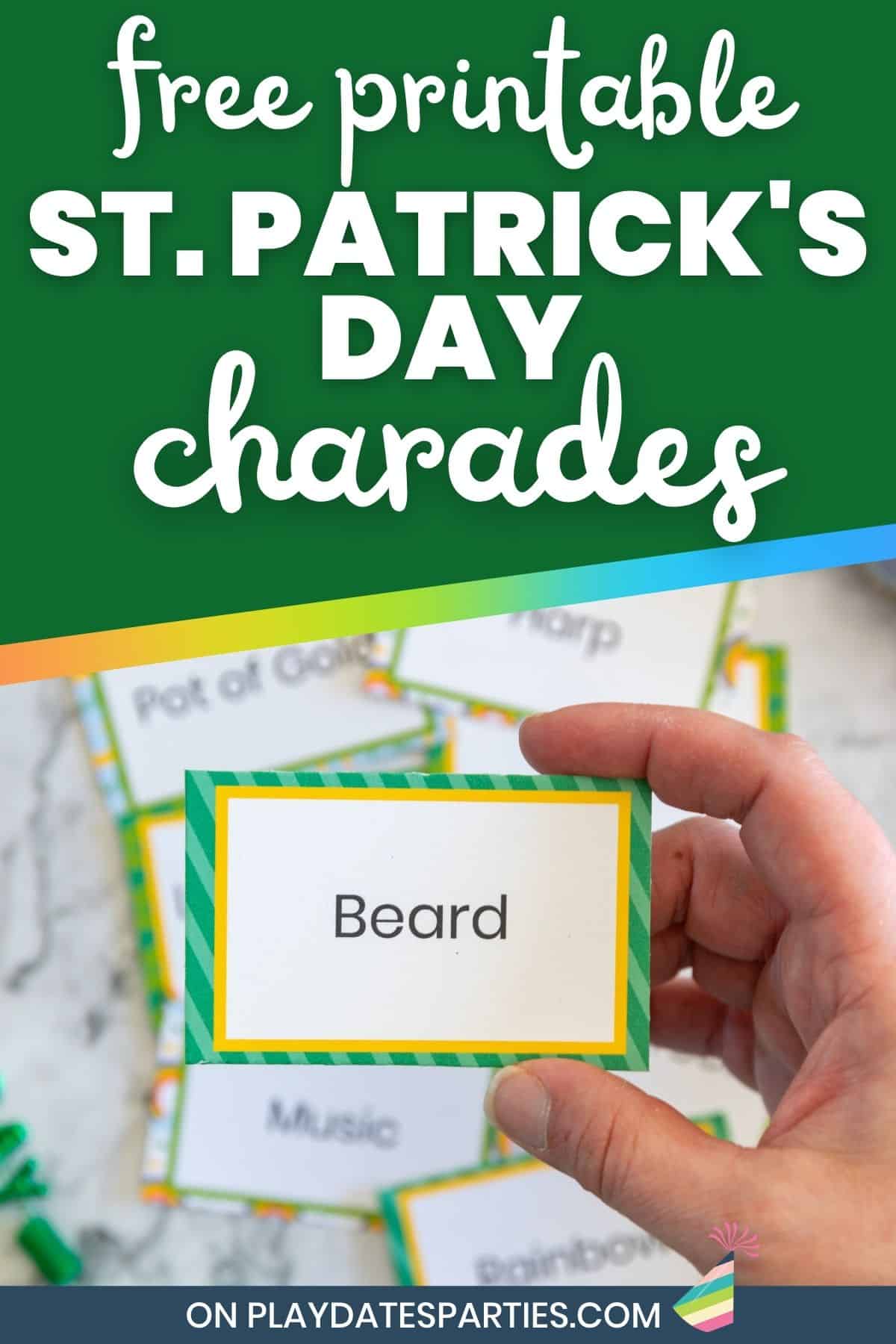 What I love about St. Patrick's Day Charades
There are so many reasons to love charades, but here are my top 3:
It's downright Hilarious. Kids come up with some of the wackiest movements for things, and there's almost no way to avoid giggling while playing.
Screen free fun. I don't know about you, but with school chrome books, and favorite shows, it's hard to get kids away from the screen. This is one game that everyone in our family loves to play, from the 6-year-old to the tween.
It's easy! With our pre-filled cards, there's hardly any work involved. The rules are simple to explain, and you can be as strict or relaxed about the rules as you like.
Lucky You!
Make St. Patrick's Day magically delightful with a treasure trove of printable goodies – including printable games, tags and bag toppers, party decorations, and art prints to make everyone in your home pinch proof. Check it all out right here.
Setting Up St. Patrick's Day Charades:
Print out your cards on white printer paper and cut them out along the edges. Or, have everyone write out some common words or phrases on small slips of paper.
Place all the clue slips in a bowl, bucket, or hat so players can't see what is written.
Play the game and have a blast!
How to play Charades
The rules for charades aren't super strict, so feel free to adapt these for your game players.
Option 1: Divide into teams
If you have a bigger group, split everyone up into two or three teams. Make sure each team has the same number of players and that all teammates sit together in their own area.
The first team to act out the charade will choose one of its players to perform it. Without looking at the paper slips, the chosen player selects a clue from a bowl or hat.
The selected player then tries to get their teammates to guess whatever is on their slip by acting it out.
The team that guesses the most clues correctly wins!
Option 2 : Play as a Individuals
For small gatherings it's easiest to play as one group, with one person acting out their word or phrase and the rest of the group guessing.
The person who acts out the most clues that are guessed correctly wins!
The game ends when all the slips of paper are gone.
Tips for Playing St. Patrick's Day Charades
If you're writing your own clues, remember to avoid long phrases, or uncommon words that other players might not know.
Keep the clues secret! The opposite team or other players shouldn't know the clues before they're acted out.
Make sure your space is set up properly. For example, make sure there are separate spaces for each team to sit, and plenty of room for acting out each clue.
If you have little kids playing, make sure to use words that they are very familiar with so they can act it out easily.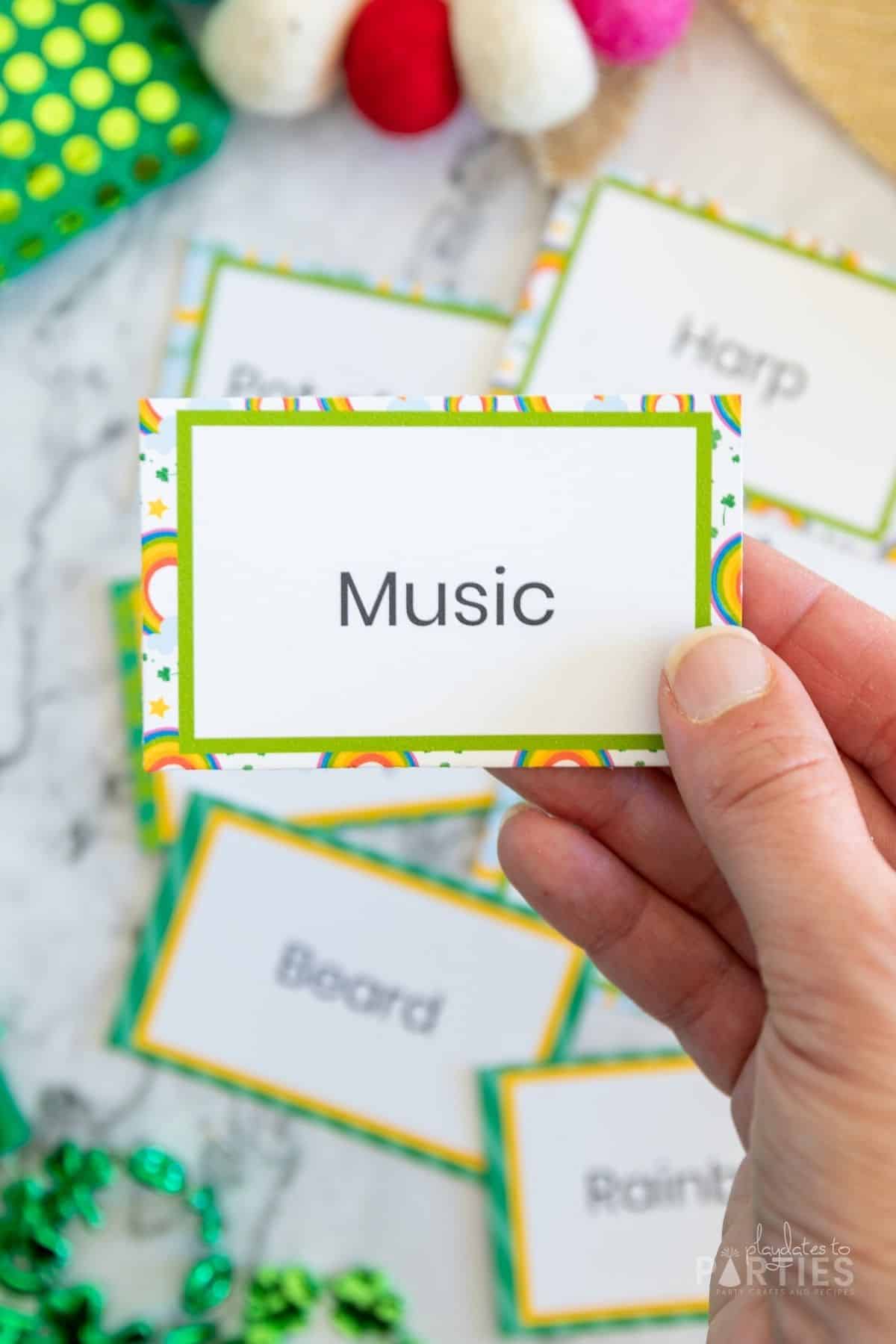 How to Use these cards to play St. Patrick's Day Pictionary
Have you ever played Pictionary before? It's very similar to charades – instead of acting out the clues, the active player has to draw the clues item without talking or gesturing.
Playing Pictionary-style is a good choice if you don't have enough space to act out your clues, or if your kids get a little too boisterous playing charades.
St. Patrick's Day Charades Word List:
I've included 24 pre-filled cards in the set, but here's a list with over 30 St. Patrick's Day charades words. Don't forget, you can also use everyday words and phrases too.
Beard
Beer
Blarney Stone
Buckle
Clover
Coins
Cross
Dance
Drink
Four leaf clover
Gold
Green
Guinness
Harp
Hat
Ireland
Irish jig
Kiss
Leprechaun
Leprechaun trap
Luck
Lucky charms
Magic
Music
Orange
Parade
Pinch
Playing a fiddle
Pot of gold
Potato
Pub
Rainbow
Shamrock
Sing
Snakes
Spring
Star
Unicorn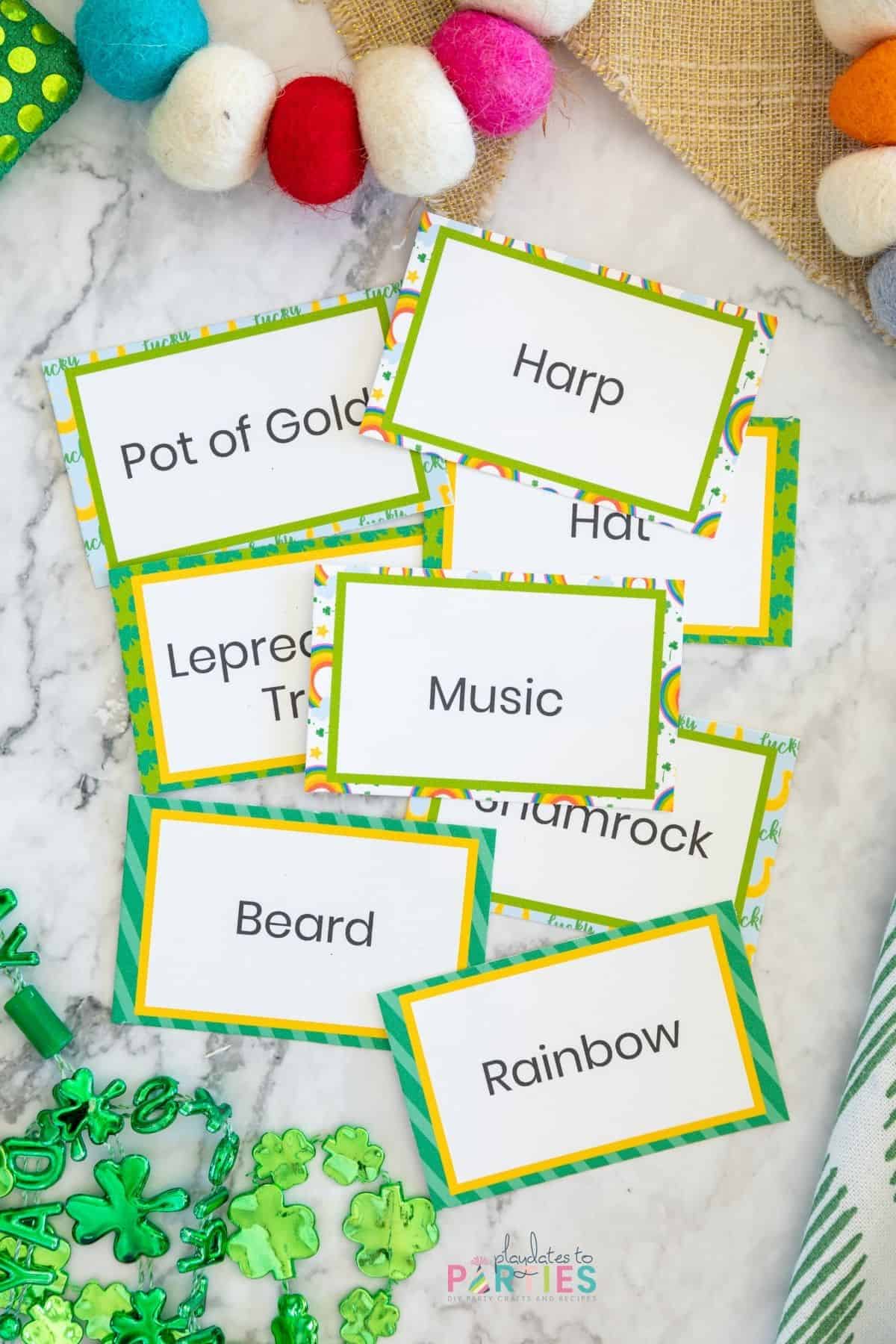 St. Patrick's Day Charades Prizes
You don't have to give out prizes when you play charades, but it's always fun when you do!
Prizes for Kids
Slap Bracelets – It cracks me up to no end that my kids love slap bracelets. Though, they don't seem to hurt as much now as they did when I was playing with them in the 80s.
Clover Keychain – Kids of all ages can use keychains as zipper pulls on backpacks and pencil pouches. With one of these, they can show off their Irish pride.
Chocolate Gold Coins – Most kids won't turn down a little extra candy…especially when it looks like a leprechaun's favorite bait.
Prizes for Adults
Who says these games are just for kids? Get the adults involved…but make sure you've got a prize they'll love too.
St. Patrick's Day Socks – Buy them in rainbow stripes or shamrock green, silly socks are a great way to bring a smile to someone's face.
Local craft beer – Even if it's not Irish, it's still a favorite on St. Patty's Day.
Rainbow pencils – These are good for kids and adults, and they look so fun when you sharpen them!
More St. Patrick's Day Activities and Ideas: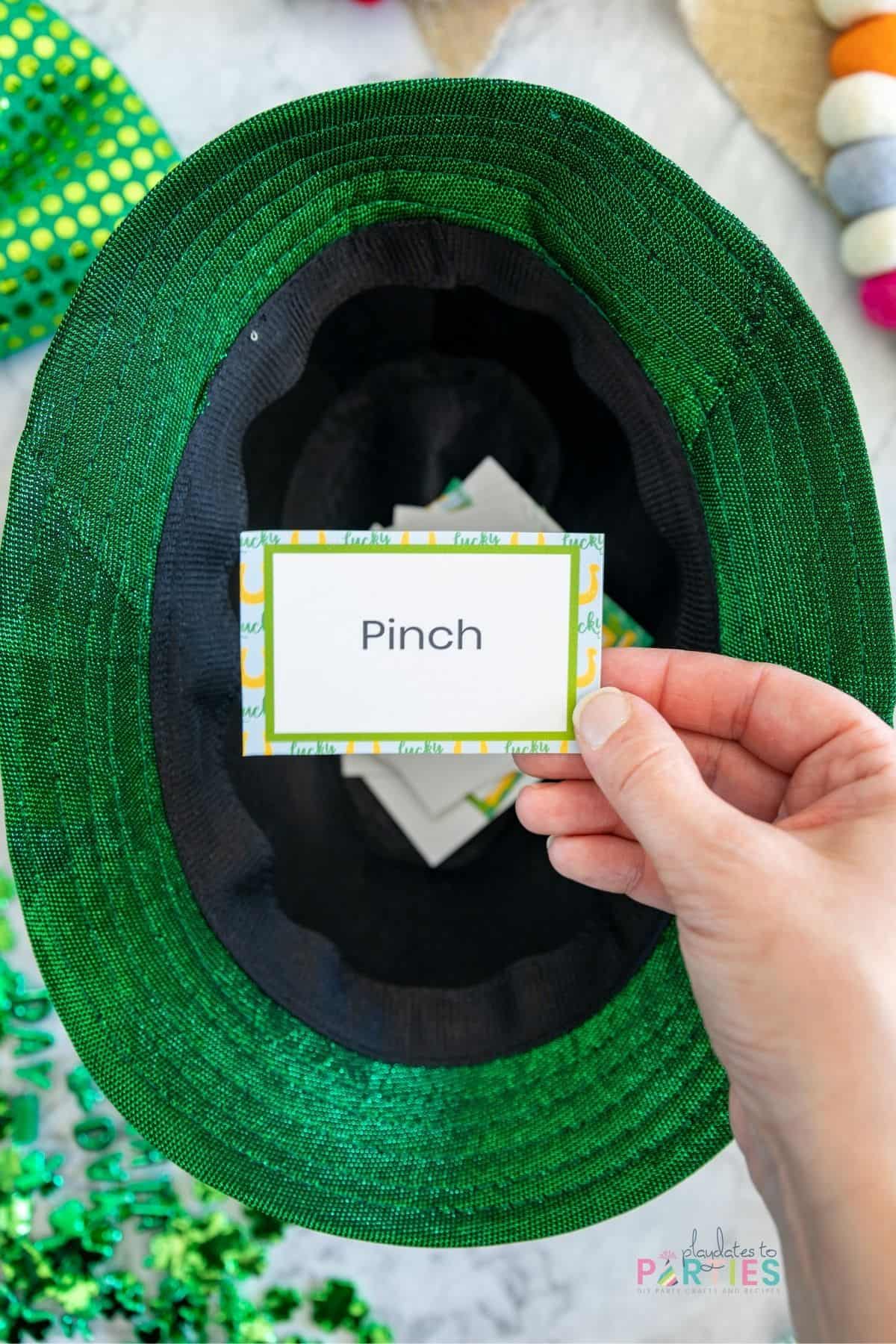 Download your free St. Patrick's Day Charades Here
Whether you've got a class party coming up, or just want a fun family night activity with the kids, these St. Patrick's Day charades cards are a fun activity for everyone.
As a lucky treat, these St. Patrick's Day charades cards are available free to newsletter subscribers. All you have to do is fill in the form below to get them sent right to you.
Don't want to subscribe? You can also purchase a copy of the St. Patrick's Day charades cards for a small price right here.
---