It feels wrong admitting this, but I never feel like spending much money on decorations for holidays like July 4th or Memorial Day. Those holidays always seemed more about spending time with family and friends than about putting out the best decorations.
When I was a kid, our neighborhood would pack up a picnic and go to the local outdoor amphitheater for July 4th. While the adults enjoyed some beers and the music played by the symphony; we kids would chase after lightning bugs and wait in anticipation for the fireworks to begin.
Those are the types of memories I want my kids to have of their summers. Sure, a beautiful display or fun food is great, but the memories of time spent with family and friends is really what it's all about.
So when we decided to host a small cookout for Memorial Day, I didn't really stress over decorations…at all. But then I had to go to Target…and of course raided the dollar spot. There I found patriotic glitter stickers, plates and small American flags. I knew I could do something with them…and with the help of the little one, I came up with a fun little centerpiece.
I actually love this centerpiece. And it's so incredibly easy to put together! It seriously is no more than a glass vase covered with stickers (courtesy of T), and filled with crepe paper scraps. Use a shotglass in the center of the vase to hold your flags upright, and there you have it!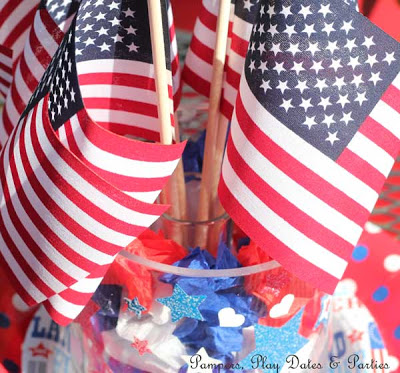 A sneak peek at the shotglass holding the flags
I'm thinking of switching out the crepe paper for rice or colored sugar for July 4th…what do you think?