Years ago, the Husband and I made a pressed picnic sandwich that just blew our minds. And when I decided to have T's birthday party as a picnic, I just knew I needed to find the recipe. All I remembered is that it was from Martha Stewart (of course). After searching and searching, I finally found the original recipe, here. (it's also posted to the Pinboard for T's birthday party).
Since it was so hard for me to find, and there is no picture on the original recipe site, I figured it was time to revive this fantastic recipe, and post it here. I do actually make a few slight changes, such as using olive tapenade instead of black olive paste and using jarred roasted red peppers (it's all about picking your battles). Definitely make the vinaigrette, it's divine!
Ingredients (as listed in the original recipe, I needed far less):
1.5 tsp Dijon mustard
1/4 cup extra-virgin olive oil
2 tbsp warm water
Salt and freshly ground pepper
Large loaf rustic Italian bread, such as ciabatta (I used about 5 sandwich sized loaves)
1/2 cup prepared black olive paste (or use store-bought olive tapenade)
3 medium red bell peppers, roasted and cut into strips
8 oz. fresh goat cheese
8 oz. marinated artichoke hearts
6 oz prosciutto, thinly sliced (I chopped it up to allow the marinade to sink in)
1/4 lb peppered salami, thinly sliced (I also chopped this up)
2 1/4 cups loosely packed, mixed fresh herbs such as basil, cilantro or parsley
To make the vinagrette:
In a medium bowl, combine mustard and vinegar. Gradually whisk in olive oil. Whisk in 2 tablespoons warm water. Whisk in salt and pepper to taste, and set the vinaigrette aside.
To Assemble the Sandwich:
When all of that is done, use a sharp bread knife to slice the sandwich and you will have the most amazing picnic treat. I hope you get to make one soon and enjoy it as much as I we all did!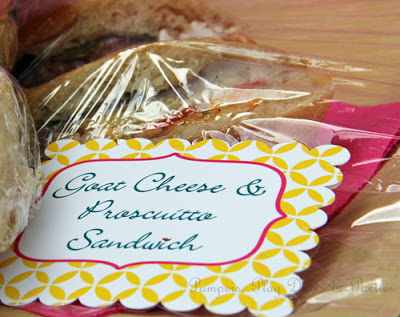 In action at T's birthday
Linky Party Love: