I'm trying to go as long as possible before having to decorate birthday party themes for T around cartoon characters.
Don't get me wrong, I love Minnie Mouse as much as the next girl, but there are so many other cute ideas out there. And since T just turned 2-years-old, I wanted to take the opportunity to do something fun for her birthday this year.
She loves pinwheels, so I knew that I needed to incorporate them somehow. But then I thought about how nice our backyard could be for a picnic. We have a lot of privacy, and a nice pear tree that provides just the right amount of shade. And so the theme of picnics and pinwheels was born!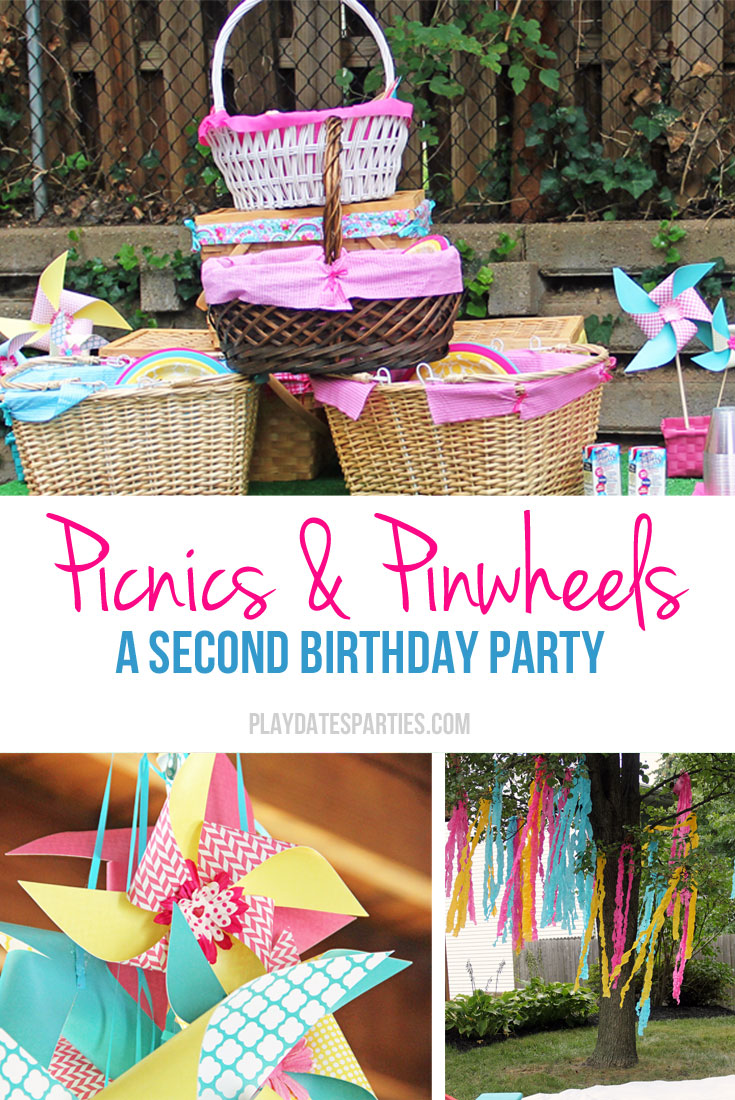 The most time-consuming aspect of this whole party was the baskets. I went to Goodwill countless times to gather picnic baskets, and other large baskets. And then I spent hours seaming together color coordinated liners (remember, I don't have a sewing machine).
I do love how they turned out, though.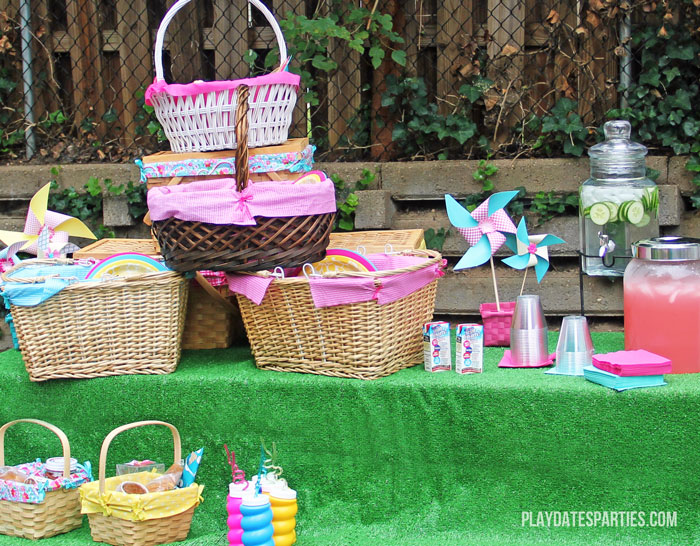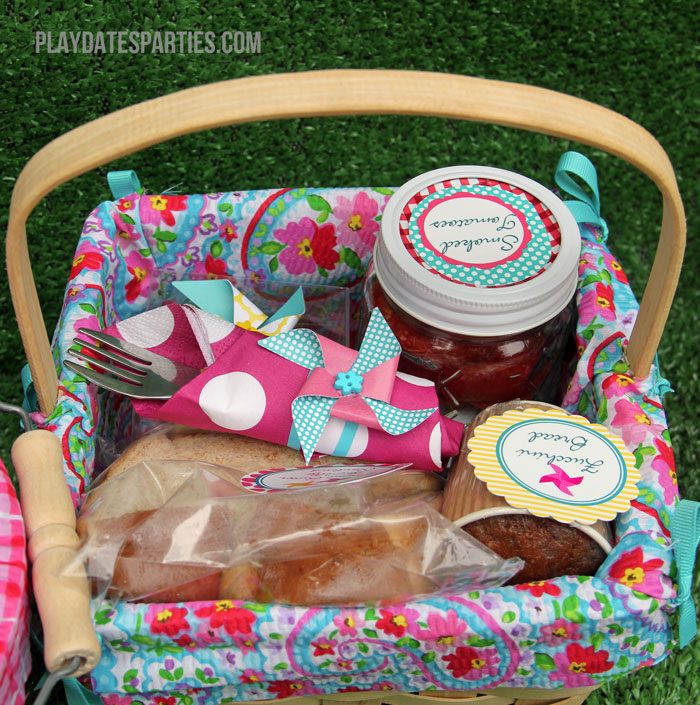 In order to avoid making a couple dozen baskets, I made large baskets for couples to share and small baskets for each kid. That also allowed me to get creative, and serve some fancier meals to the adults, knowing that the little ones wouldn't be so interested in artichokes and proscuitto.
In each adult picnic basket was: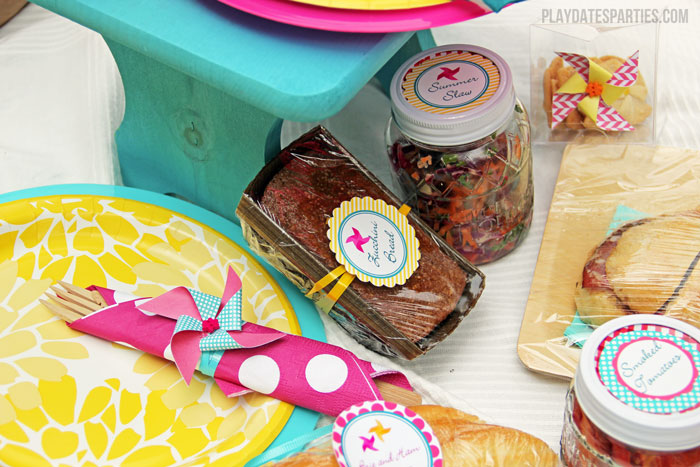 Each Individual Kid-Sized basket had:
A zucchini bread muffin
A corn bread muffin
A small jar of summer slaw
A small jar of smoked tomatoes, and
Peanut butter & jelly sandwiches
All baskets had utensils wrapped with a pinwheel to hold it all together. (I also tried my hand at making some printable labels for the food.)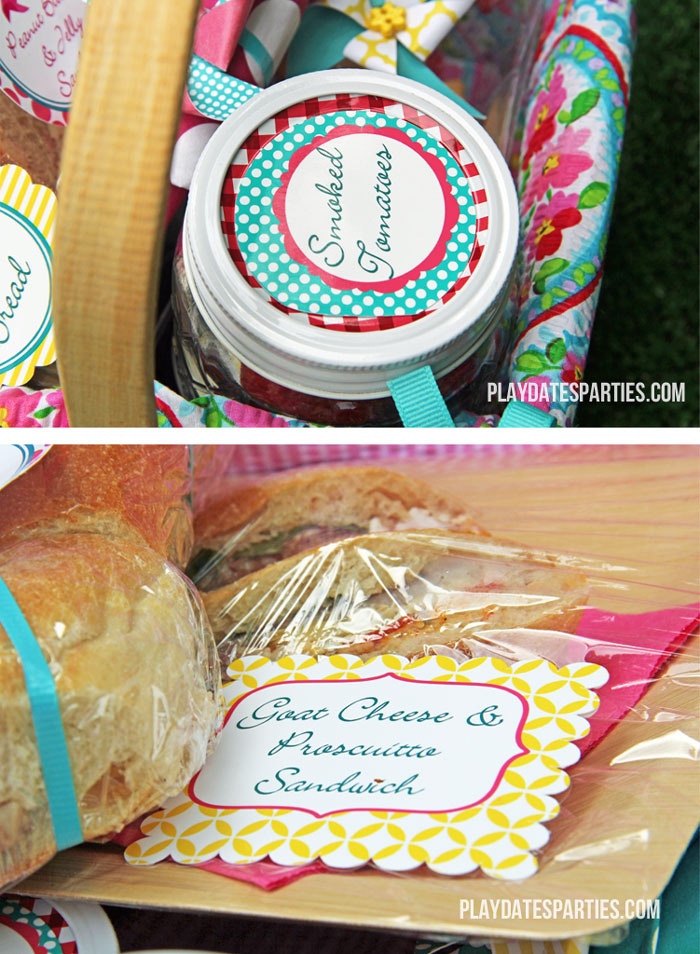 One of my favorite decor elements is the ruffled streamers hung from the pear tree in the backyard. Would you ever guess they are made from cut up plastic tablecloths? And they're hung from the tree with nothing but clothespins. I love high-impact, inexpensive decorations like that.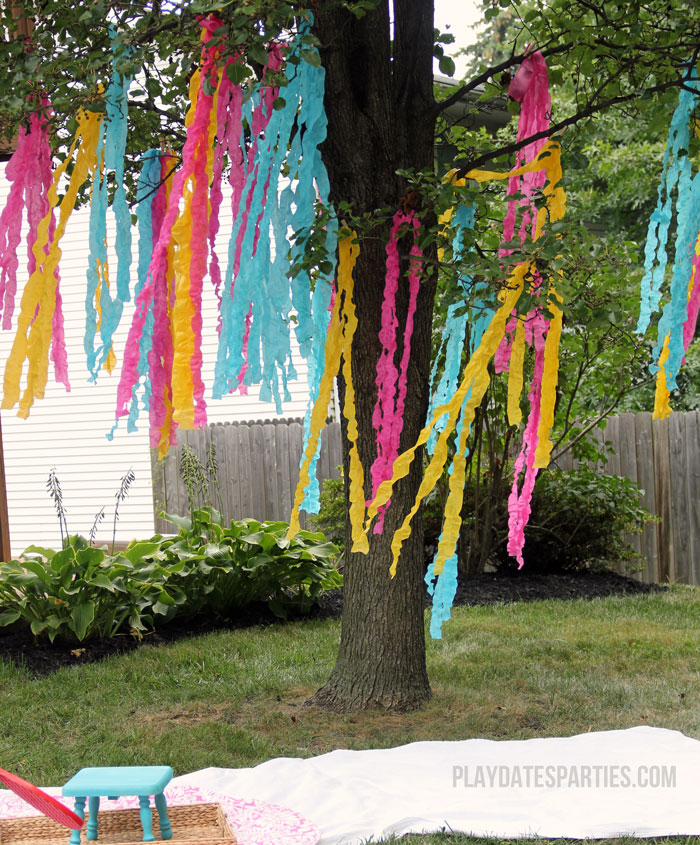 Speaking of low-cost, high-impact decorations…I made nearly 100 paper pinwheels for this party. They were all in different patterns of teal, pink, and yellow. Bright colors to match my girls' bright personality! Pinwheels were in centerpieces on the picnic table, on the food packaging, and even strung together to make a pinwheel chandelier.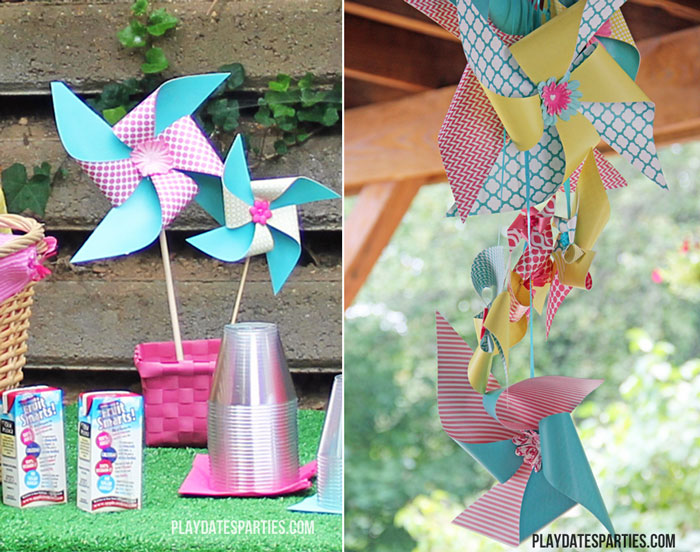 Next to the picnic table, we had a small fill-your-own-favor candy buffet with sweets in all the party colors. I used small painted buckets to hold the candy, and guests got to take home a framed picture of T as well.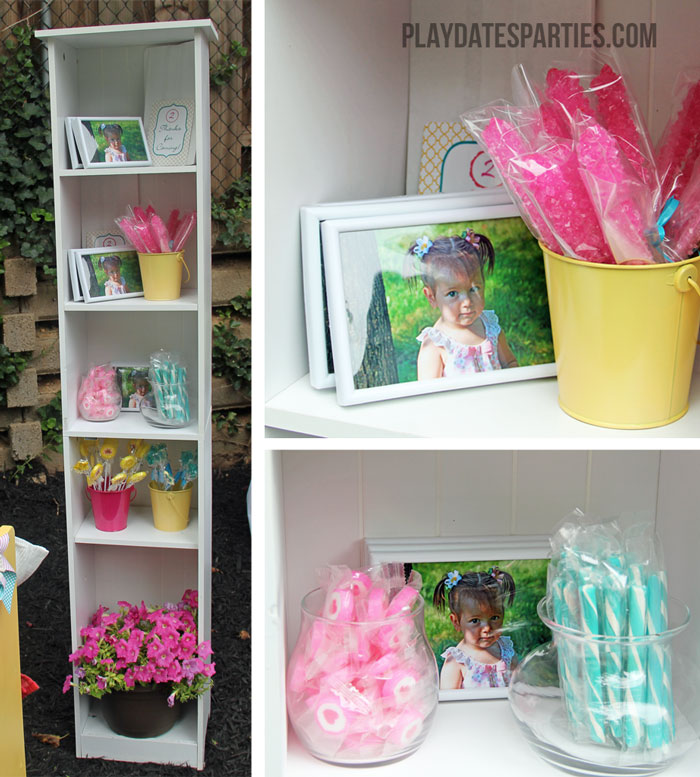 To finish off this picnic and pinwheels birthday party, we all enjoyed a slice homemade strawberry ice cream cake topped with a trio of more pinwheels.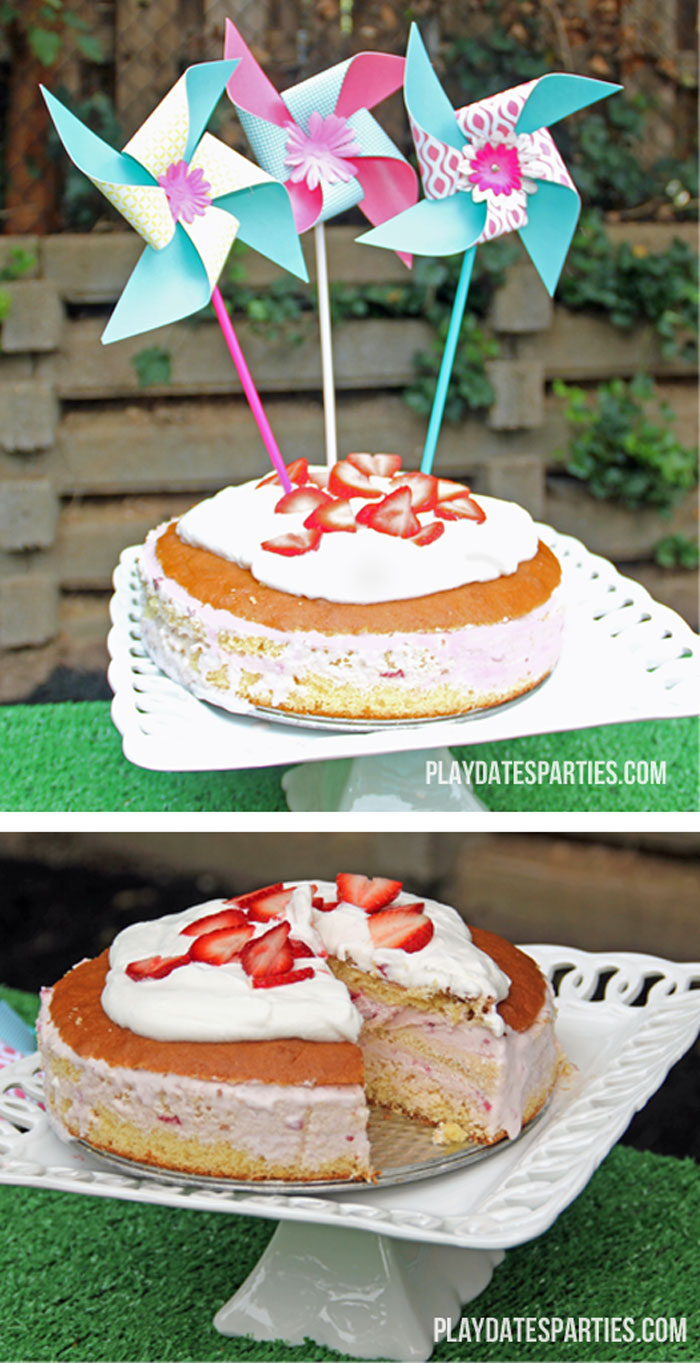 All-in-all, we had a great time. Rain threatened us most of the day, but held off until the party was over. And even though there wasn't a single Minnie Mouse in sight, T keeps asking us where her party went!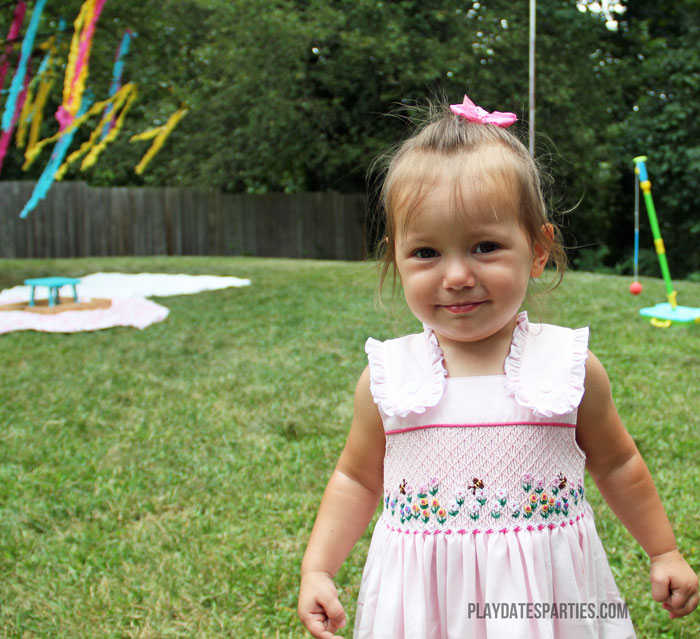 How would you decorate for a picnics and pinwheels birthday party?