I hope everyone had fantastic holidays! The last week and a half has been a complete whirlwind. In the last ten days, we've hosted a dinner party, had family come to visit, visited my family in Richmond, recovered my computer, reconfigured our entertainment system and played a ton with the little one. To say my energy is drained is an understatement.
It all started with our Christmas Eve dinner party. Right after Thanksgiving, I was all set to host a
big family bash
(as envisioned here), but apparently some of the other family members decided they didn't want to hang with the original plan. So instead, we invited over the in-laws and my husband's aunt and uncle for a sit-down dinner and just enjoyed the evening. It wasn't the big bash I had envisioned, but it was good nonetheless.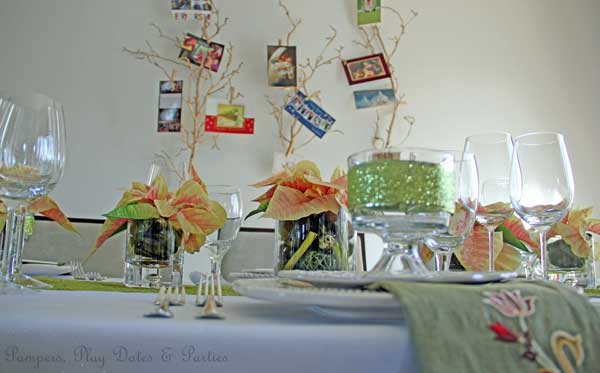 The table was set with tones of green and white, and touches of glitter. With the exception of the soup bowls and the table runner, the table was completely set with items on hand.
For sit down dinners, I like to keep centerpieces low and simple to avoid distracting from the conversation. The centerpiece for this table was made with clear glasses and a medium round vase that were filled with green potpourri and topped with a single poinsettia flower head each.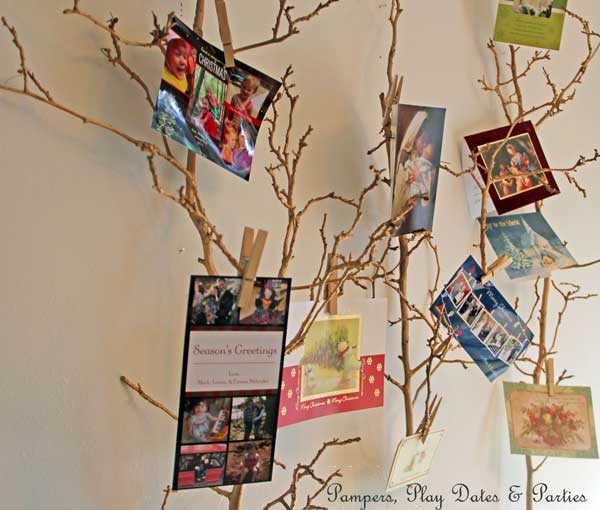 Originally these branches were going to be part of the buffet, but with all the changes, I took some inspiration from Lili over at
Swanky::Chic::Fete
and mounted them to the wall as holders for our Christmas cards. It worked perfectly, and several people have mentioned how much they like the idea…thanks Lili!
We served dinner at about 7:30, which ended up working out pretty well for the little one. My in-laws brought freshly baked rolls and pre-mixed Manhattans; and the husband's uncle brought a fantastic homemade apple pie.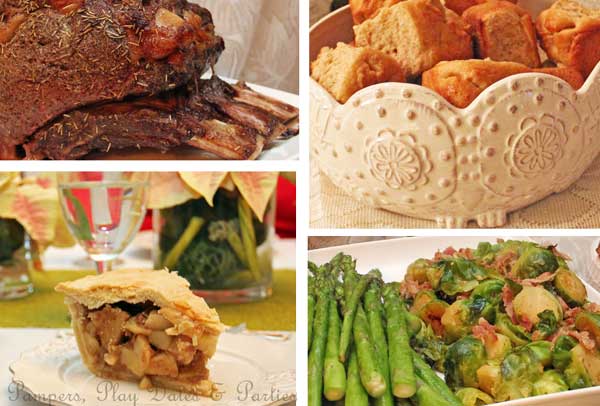 Other menu items included locally raised prime-rib, roasted asparagus, brussel sprouts with garlic, shallots and pancetta, mashed potatoes, cauliflower soup, and a medley of roasted squash.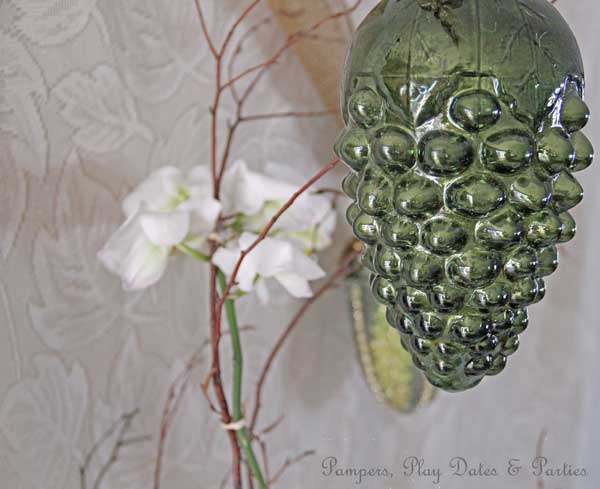 The buffet decorations were kept very simple, with a layered backdrop of burlap and lace, giant acorn ornaments, and white orchids.
It may not have been everything I envisioned, but it was a wonderful evening and a great way to finish off the
last year
. Now it's on to the next adventure!