I had so much fun pulling together those tutu costume ideas a few weeks ago! Let's face it, while the girls are still young enough to listen to me Halloween costumes for little kids are just as much fun me as they are for them!
When I was a kid, most of my costumes were cheap plastic things from the drugstore. These days, there are tutorials galore for anyone hoping to be crafty, and if you're tight on talent (or time), there's always Etsy!
When else are you able to dress up as whatever you can think of?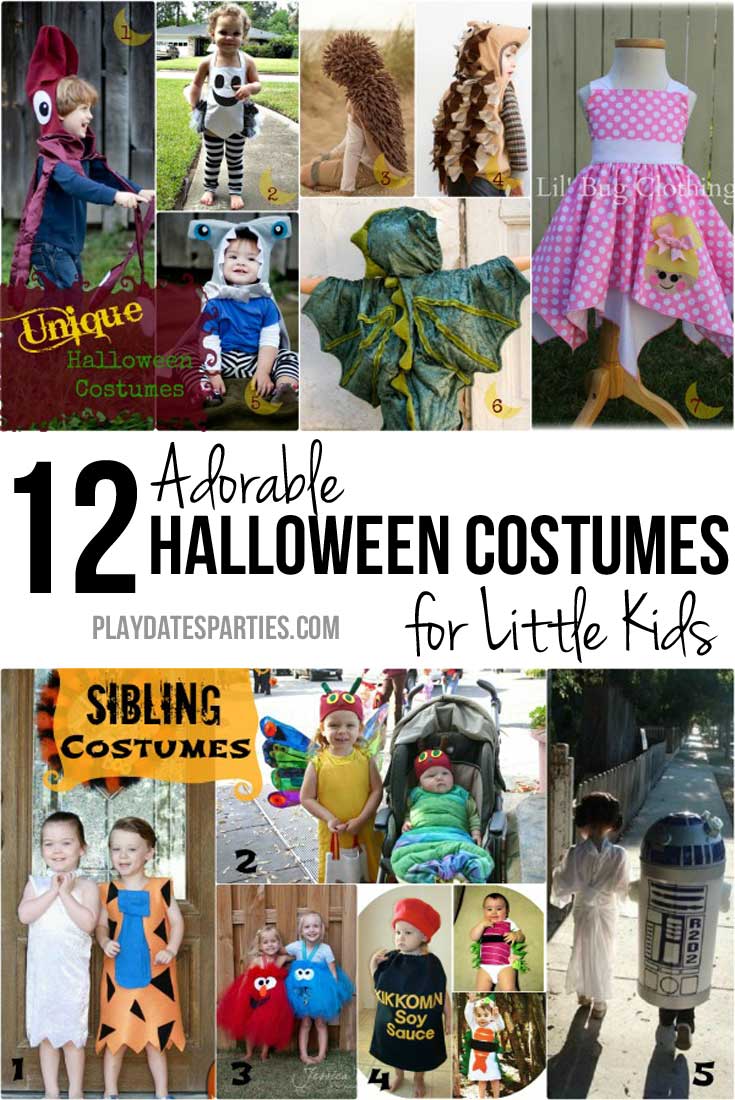 I just wish I had as much imagination as some other people out there. While browsing Etsy, I found all sorts of costumes that I never would have considered as a child. If only I had the budget for all of these unique kids costumes!
[bctt tweet="Get one of these and your #kids are sure to win top prize for best #costume! #Halloween" username="PlayDatesParty"]
7 Unique Halloween Costumes for Little Kids
1 – Giant Squid from Pip and Bean
2 – Ghost Sunsuit from Hana Bugz
3 – Hedgehog from Beau Miracle for You
4 – Hedgehog from Alla Verboloza
5 – Hammerhead Shark from Pip and Bean
6 – Dragon from Beau Miracle for You
7 – Cinderslippers dress from Lil Bugs Clothing
Another trend I noticed is the idea of coordinated costumes for siblings. Maybe it's because my brother is 5 years older than me, but we never even considered dressing alike for Halloween. But these sibling costumes are just so cute, I can't help thinking about doing something like this with the girls.
5 Adorable Sibling Halloween Costumes for Little Kids
1 – Fred and Wilma from HTHRGRC3HEATHER
2 – Very Hungry Caterpillar & Butterfly from Craftster
3 – Cookie Monster & Elmo from Shoppe 3130
4 – Sushi Platter: Infant costumes from The Wishing Elephant
Kikkoman Costume from The Costume Cafe
5 – Leia & R2D2 from Imgur
For now, T isn't set on any one costume. One day she wanted to be a character from her favorite movie. The next she wanted to be a princess, The day after that she wanted to be Supergirl. I just hope she lets me get creative with her costume…after all, I want to have some fun with it too!
Did you have crafty or store-bought Halloween costumes as  a little kid?
What are your Halloween costume plans this year?
Don't forget to subscribe via
Bloglovin, Facebook, and Twitter,
to get more updates!
More Halloween Inspiration:
[pt_view id="bf20dff9fq"]