Tired of the same old wreath shape on your front door? Try a basket wreath instead! It only takes a few minutes to switch them up from season to season!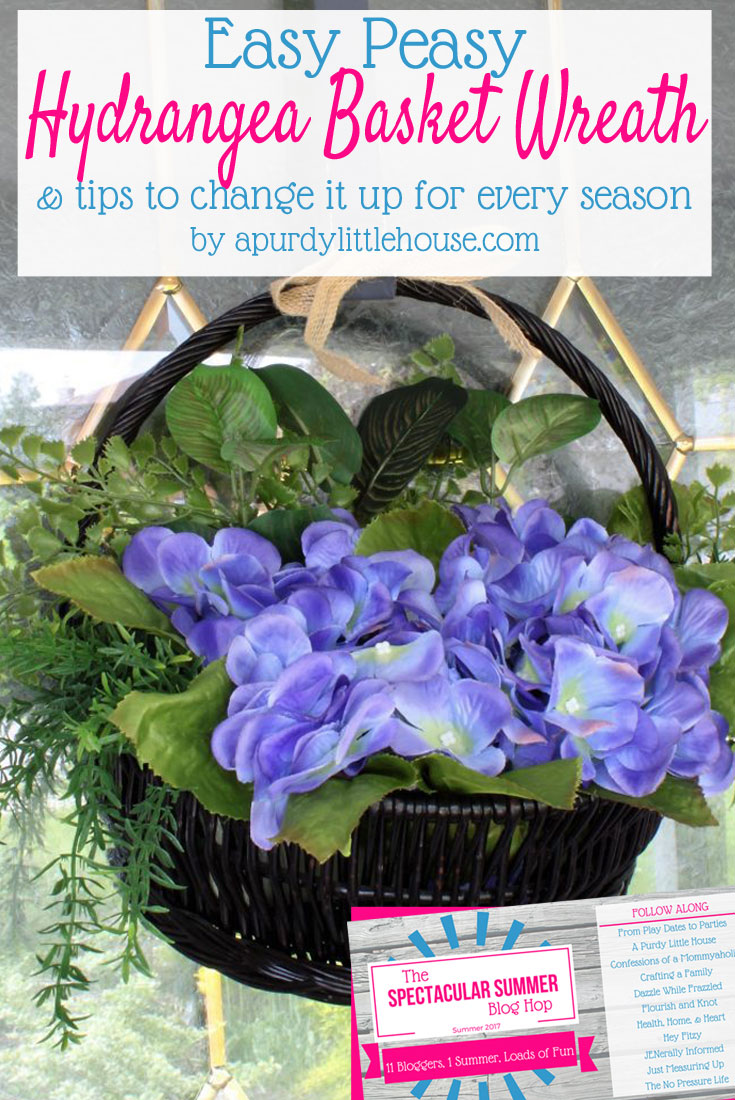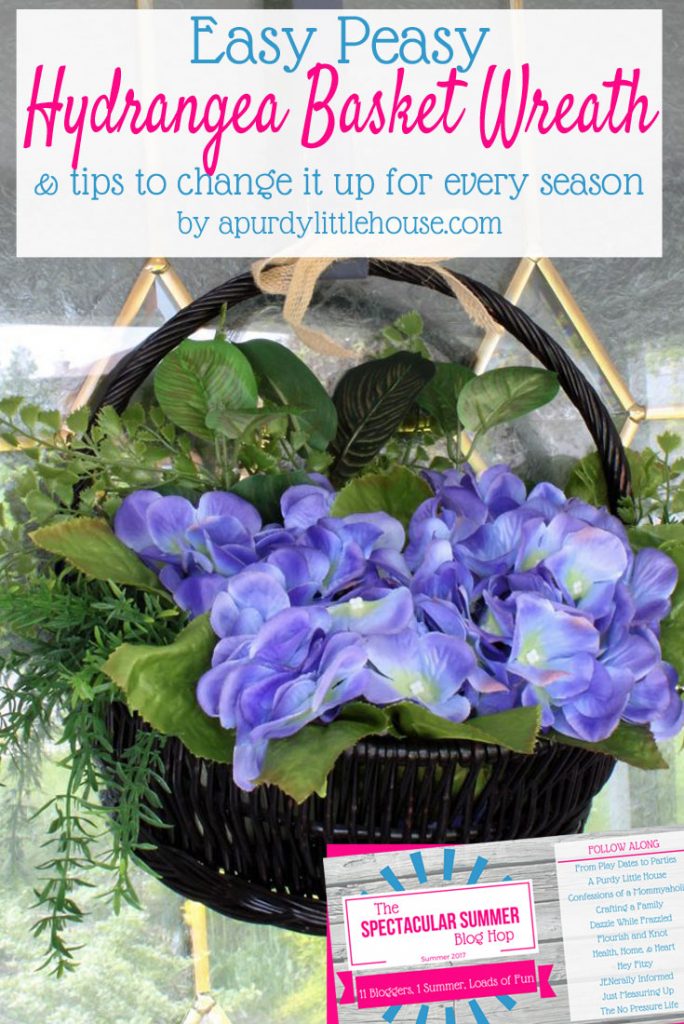 It's no secret that versatile crafts and projects are my favorite.
I don't like spending significant sums of money on anything that can't be used again. And I hate spending extra time on projects that go nowhere.
So, today's post from Sue of A Purdy Little House is right up my alley. She's sharing how she created this adorable basket wreath with a thrift store find and plenty of faux greenery. The best thing is, that even though summer is coming to a close in just a few days, a craft like this can be quickly changed up for the next season.
Here are some ideas for how to update a basket wreath from season to season:
Spring/Summer: Hydrangea and plenty of greenery…just like Sue's wreath!
Early Fall: Swap out the greenery for faux fall leaves and a few pumpkins. Maybe add a witch hat for Halloween.
Late Fall: Take off the witch hat and add a few dried corn cobs. You're now ready for Thanksgiving!
Winter Holidays: Remove all the greenery and fill the basket with shatter-proof balls, garland, and maybe a few fun holiday picks to fill the vertical space
Winter After the Holidays: Add a little snowman motif, or go straight to Valentine's Day with plenty of hearts and roses. We all need a little more cheer in the dead of winter.
See? It doesn't take much to add some cheer to your door year round!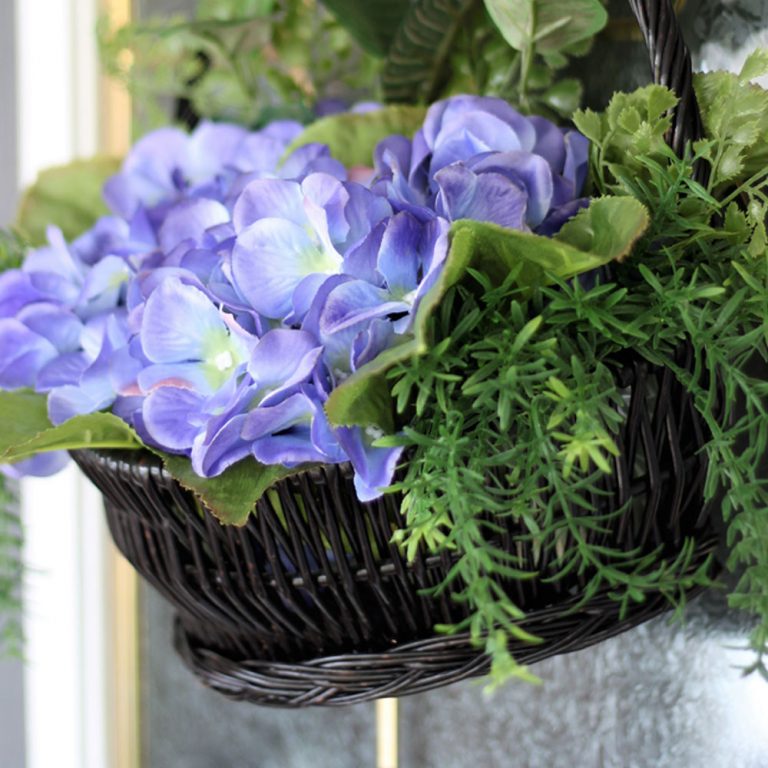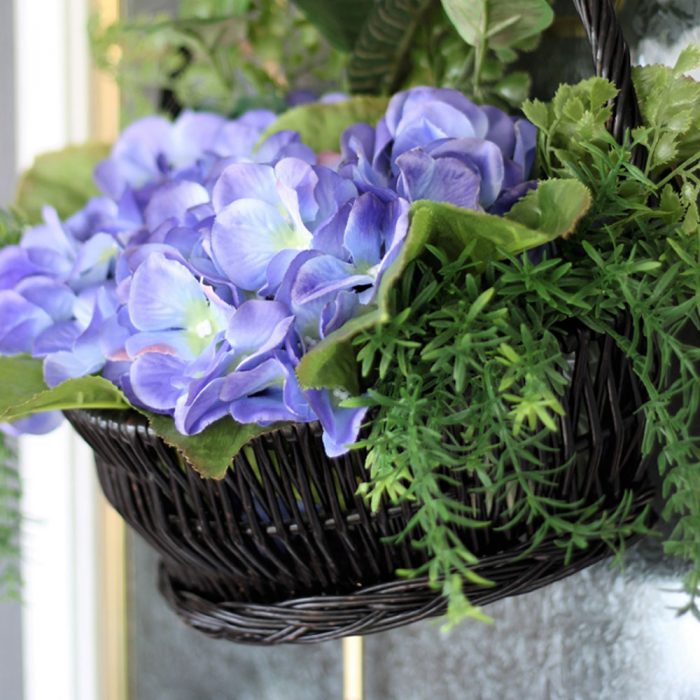 Now, for a few fun facts about Sue:
What celebrity would you like to meet at Starbucks for a cup of coffee?
Keifer Sutherland. Or maybe Katee Sackhoff, so I could tell people I met Startbuck at a Starbucks.
What is the first thing you do when you wake up?
Look at my phone.
Each of my Spectacular Summer co-hosts is sharing a little bit more about Sue on their blogs, too. So don't forget to hop around and see what else she has to say.
Subscribe via
Bloglovin, Facebook, and Twitter
to get more updates!
Don't forget to check out these awesome posts: