As if Tuesday's post didn't already have enough chocolaty goodness; I recently took some time to tackle my first foodie goal of 2011 – homemade chocolate truffles!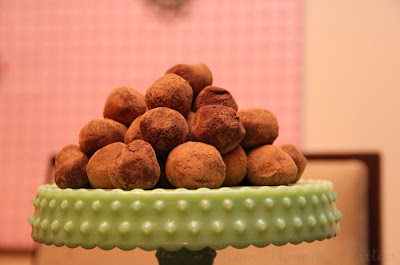 Mmmmm….chocolate!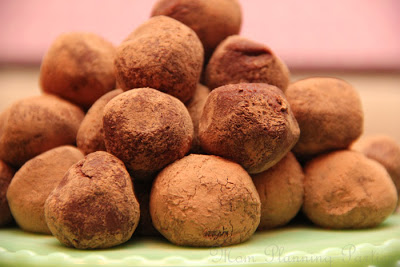 Because they just look so good ultra close!
I used a recipe I found on the Joy of Baking website; and a blend of artisanal dark chocolate and Ghiradelli milk chocolate. According to the recipe good chocolate is the key to making good truffles. While the Husband absolutely loved this batch, I wasn't a fan of this particular blend. As soon as I find a good chocolatier, I will definitely be making these treats again. Once I find the perfect truffle-making blend I will let you know!
While simple, the recipe does take several hours (or two days) to complete. You may want to set aside some time while little ones sleep or after your day is done to roll the truffles; because it's a messy task. But your family will be all hearts and hugs for you if you take the effort to make these morsels for their Valentine's Day treat.
*I want to send a special "Thank You" to Bird Crafts and Sweet and Saucy Supply for this gorgeous pedestal. It truly outshines my entire collection of platters!