I've mentioned before that the Husband and I love to cook and to try new food. Unfortunately, with a toddler in the house and both of us working full time, we're not able to be as adventurous as we used to. That's one of the reasons the party last weekend was so great.
It was the first time in a long time, that I felt willing to travel a half hour or more to get high quality and specialty foods. The Husband got to enjoy having my blessing for going nuts at the wine store, and T got to have fun time with her grandparents and great-grandmother. And now, you get to have a run-down of all our recipes and wine pairings:
Just a quick close-up of the menu-card!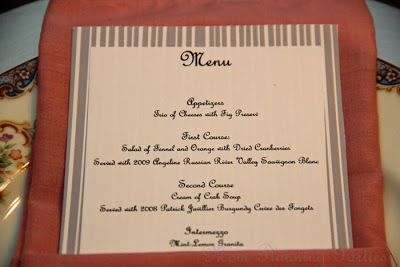 The Appetizer: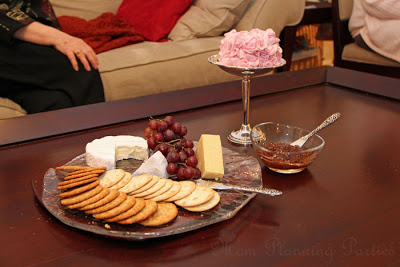 Brie and Cheddar with Crackers, Grapes and Fig Preserves
I didn't want to go with another cheese and cracker appetizer, but time got the better of me. The menu actually stated that we were serving a "trio of cheeses with fig preserve", but somehow the Manchego got lost between the store and our house. (You have no idea how upset I was…that would have been the best cheese on the plate!)
First Course: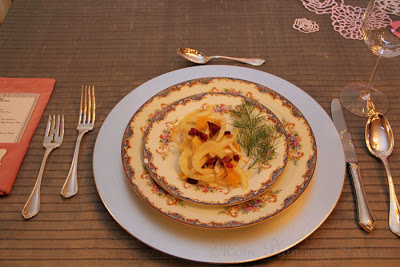 Orange and Fennel Salad with Dried Cranberries
The Husband's father is adamantly anti-salad; and since he was one of the guests of honor I had to make sure I chose a salad course that was a little different. This orange and fennel salad was the perfect starter course. Not only was it light and refreshing, it is also seasonal, and is best prepared in advance! We served it with a 2009 Angeline Russian River Valley Sauvignon Blanc. It was a good match, but the wine may have been a bit overpowering for the salad.
Second Course: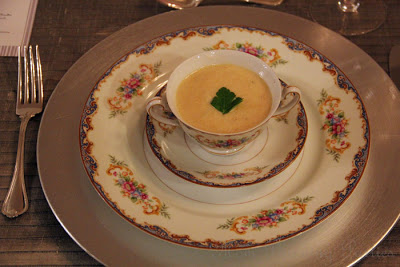 Cream of Crab Soup
Next, we moved on to a Cream of Crab Soup. This was actually the only course that we didn't make in house. I purchased the soup from a local seafood shop that specializes in crabs; and it was divine. The soup was served with a 2008 Patrick Javillier Burgundy Cuvee des Forgets. This was one of the best matches of the night – the wine had a creamy element that was a perfect compliment to the delicate flavors of the soup.
Intermezzo: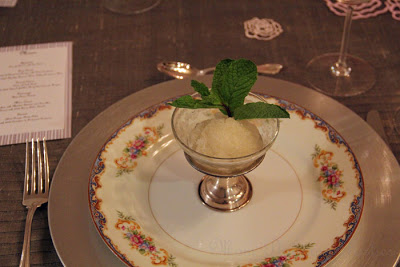 Mint Granita
I know that you don't necessarily need a palate cleanser for a five course meal, but I couldn't help myself. I was originally going to purchase some lemon sorbet, but then I came across this recipe for mint granita. It was fantastic. I accidentally forgot to scrape it at the proper intervals, so I just put it in the fridge for a course or so and then gave it a quick scrape before putting in my mother-in-law's amazing little sherbet cups. She inherited them and estimates that they were probably made in the 1920's or 1930s. Seriously, you don't find such delicate silver-work anymore!
Main Course: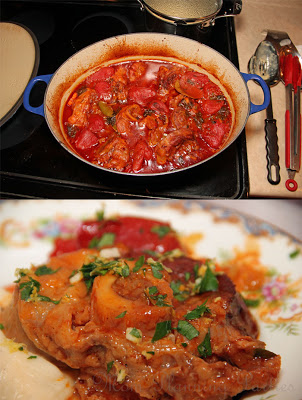 Ossobuco-beautiful in the pot and on the plate!
The main course was my Husband's dish. And it was divine. He cooked the Ossobuco recipe from our favorite Italian cookbook Essentials of Classic Italian Cooking, by Marcella Hazan. We served it with mashed potatoes and had intended to add some gorgeous broccolini I found, but didn't get the chance to get it on the plate. This course was paired with a 2004 Rocca Felice Barolo – all I have to say is YUM!
Dessert: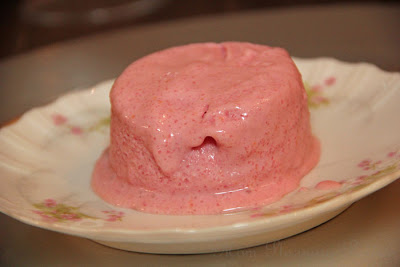 Blood Orange Panna Cotta…sort of
So dessert was supposed to be a Blood Orange Panna Cotta, but my Panna Cotta never actually set-up. So, instead we had some sort of hybrid of Panna Cotta and Ice Cream. Nonetheless it was tasty, and was a perfect little light ending to such a decadent meal. It was served on my Mother-in-law's Limoges that was purchased for her grandmother in 1910. It's amazing how well it has held up! We served the dessert with a 2003 Castelnau de Suduiraut Sauternes. Typically we don't do dessert style wines, but this was fantastic. It was a bit strong for the panna cotta, but was very good as a small after dinner drink.
Just going through all of this again, makes me wish for some leftovers. I'll admit that this was a ton of work to put together, but it was so much fun – I would definitely do it again….but not too often!