About twenty years ago, Marcel Desaulniers at the Trellis restaurant in Williamsburg, VA created a new chocolate dessert that took everyone by storm. It was and is the ultimate chocolate cake; basically combining every single chocolate dessert into one incredibly rich and decadent cake. It takes no less than two days to make, and requires over three pounds of chocolate and was dubbed Death by Chocolate.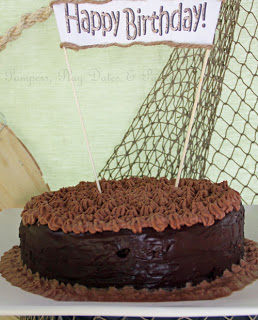 This was the dessert that I conquered for my husband's Birthday and Father's Day Crab Feast. To give you some background information, the Husband has raved about this cake to me since we first met. His mother is a very adventurous cook and one summer the family made a three day adventure of making this dessert. When I asked him what kind of cake he wanted for his birthday this year his instructions were "either something chocolate or something strawberry or a combination of the two". My first instinct was this cake.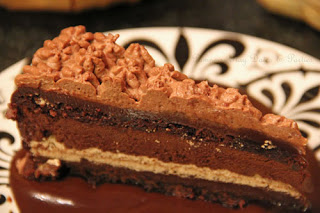 It took me three days to make. Of the six different recipes it takes to make the seven layers in the cake, I had to re-make no less than three (so incredibly frustrating!).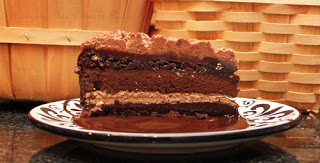 Here's a rundown of the layers:
1) Brownie
2) Ganache
3) Cocoa Meringue
4) Mocha Mousse
5) Brownie
6) More Ganache
7) Chocolate Mousse
It is served over a pool of mocha rum sauce. Each layer is so tasty, but the meringue actually adds a nice bite to the cake. I had every intention of documenting the process with my camera as I got started…but reality set in too quickly and I didn't get any photos after the first layer. Someday I will remake this monster of a cake, but until then you can find the recipe here. Hopefully then I can actually make all six recipes only once and get the ganache a bit smoother!
This post is linked up to the parties identified at the bottom of my page!