As I mentioned yesterday, I'm focusing for the next few days on basketball party ideas in anticipation of the March Madness excitement on both Saturday and Monday.  I had hoped to convince the husband to throw a last-minute Final Four party on Saturday, but he's just got too much work to do, and we have family coming to visit next week.  But that doesn't mean I can't dream, so on to the inspiration!
Since the games are so close, printables would be the fastest and easiest way to decorate.  I love the basketball invitation from
Photerrific Cards
.  I can just imagine how adorable these jersey printables from
Storybook Style
would be.  I also love the clean look and feel of the basketball party circles from
Delightful Order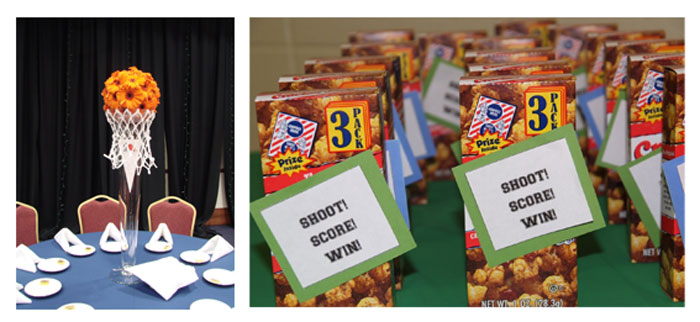 I'll admit, it was difficult to find real party decor based on basketball.  I did, however really like the idea of the flower/basketball hoop centerpiece from
Creative Juice Group
, and
All You Need Is Love
had an adorable basketball party for her son with fantastic Cracker Jack favors!
If we'd been hosting a party this weekend (like I wanted to!) then I would have had a chalkboard showing all the brackets as a backdrop, mini basketballs hanging from the ceiling, maybe a little basketball hoop/net cake or cupcake stand and lots of printables!  What creative displays would you put together?
Subscribe via Bloglovin, Facebook and Twitter to get more updates!