Are you ready for the annual Amazon Prime Day sale? It's coming October 13th and 14th, 2020.
Find out some of the best deals for crafty folks and how to get notifications for the items you want to buy so you don't miss a thing!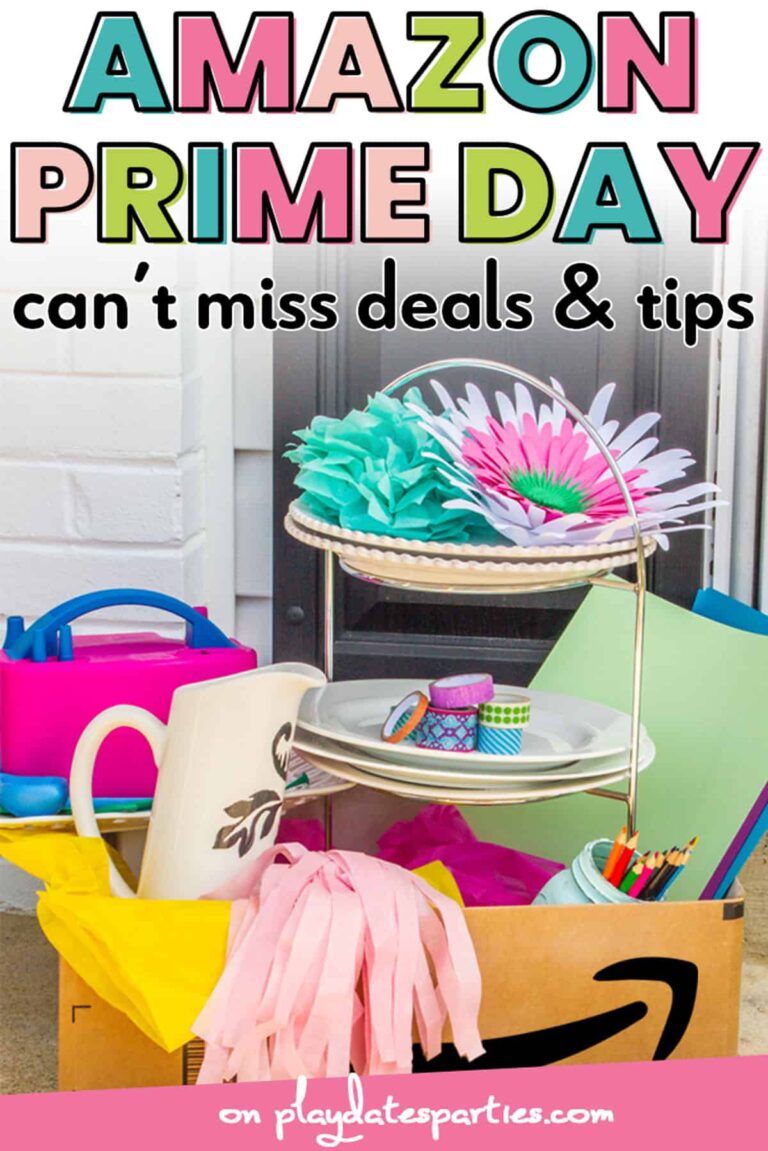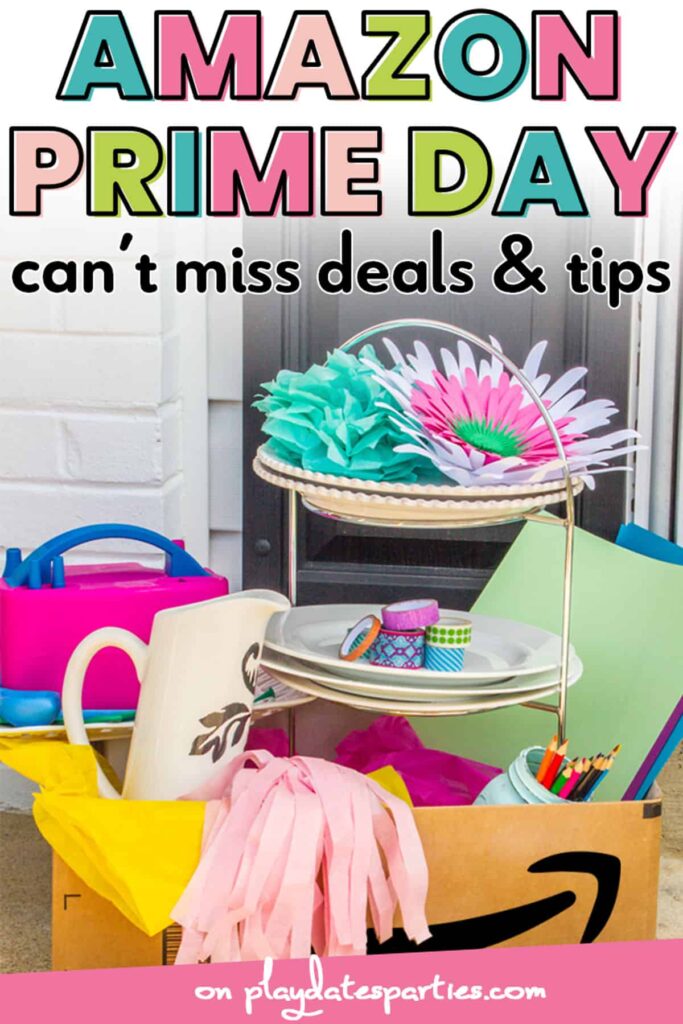 You've heard of Amazon Prime Day, right?
It's practically the biggest sale of the year, with something like 100,000 items on sale. It's even bigger than Black Friday!
Amazon Prime Day 2020 is October 13 and 14! Check back here often for my favorite deals.
I've been a Prime member for several years now (you need to be a Prime member to get the deals), and it's become a necessity for our household.
But last year was the first time I actually shopped the Amazon Prime Day sale. 😳
And when I found out that you can learn in advance exactly what the Amazon Prime Day sale items will be, I was super excited!
Guys, this is a total game-changer for us. With some of these deals, I'll be able to get a lot of our Christmas shopping done early, and have everything I need to be prepared for holiday parties!
Can you tell I'm excited?!
How to Prepare for Amazon Prime Day
First, Make Sure You're a Prime Member
First, you need to make sure you're a Prime Member. If you're not already, or you aren't sure about it just yet, Amazon offers a free 30-day trial. Just click here and follow the on-screen prompts to give it a try.
(Seriously, though, I love my Prime Membership. They've got great free streaming shows for kids, subscribe and save is a lifesaver, and the shipping has gotten insanely fast. You can get some things delivered same-day or next day now!)
Tip: Anyone with a valid .edu email address can sign up for a 6-month free trial for Amazon Prime Student here.
Second, Download the Amazon Prime Shopping App
I know, I know, who needs another app? Amazon has made the mobile version of their website just as user friendly as being on a desktop, so I resisted for a long time.
BUT, for the Amazon Prime Day sale and for finding the right deals, having the app is a total game changer.
You see, it's all about the push notifications. Yes, I hate push notifications too, but here's what makes them so useful:
Check Out Deals Beforehand and Add them to Your Watchlist
You can see the Amazon Prime Day deals up to 24 hours in advance and then get a notification of your favorite sales as they go live!
Because Amazon Prime Day deals start at different times during the event, and are only available as long as supplies last, things sell out FAST. So getting that notification is super helpful.
I've looked through the desktop page, and if something like this is available there, it's not super easy to find.
Tip: After you've added items to your watchlist, add them to your cart before Prime Day goes live. Then, when you get a push notification you can get the sale before supplies are gone!
Here's how to set up the app with a Prime Day Watchlist:


Amazon Prime Day Deals (In Order of Sale Time):
Here's a list of items that I recommend, or will be watching for Amazon Prime Day. Remember, they won't go on sale until the time noted in the Amazon Prime App.
If you're interested in any of these items, I recommend you add them to your card NOW. Then it will be much easier to grab them when the sale starts.
I'll be updating this list periodically during the Amazon Prime Day event for new items to look for, so come back again later if there's something here you want but don't see. Happy Shopping!
***Edit to add: Times are EST***
Party Supplies:
Boy Taco Twosday Birthday Party Decoration**Early Access Deal*** PurSteam Garment Steamer For Clothes, Powerful 7-1 Fabric Steamer For Home/Travel – Fantastic for getting wrinkles out of fabric backdrops and table linens (this deal disappeared from the list 😕)
3:10am – LED Strip Lights, 16.4FT Waterproof 5050 150LEDs RGB Flexible LED Lights for Bedroom with 44-Key IR Remote Controller and 12V Power Supply
3:20am – Birthday Decorations, Birthday Party Supplies for girl and women include 62Pcs Banner Rose and Pink Balloons
3:25am – Globe String Lights 25Ft Solar Powered with 25 Clear LED Bulbs, Vintage Backyard Patio Lights
3:25am – ***Top Pick*** The Complete Make-Ahead Cookbook: From Appetizers to Desserts 500 Recipes You Can Make in Advance
3:50am – 306 LED Curtain Lights
6:20am – ***Top Pick*** Prextex Balloon Pump
6:45am – Twinkle Star 300 LED Window Curtain String Light with Remote Control Timer
7:00am – 100pcs Assorted Color Party Balloons,12 Inches 8 Kinds of Multicolor Rainbow Latex
7:40am – Bluetooth Music LED Lights Strip, Smart-Phone LED Strip Lights
8:05am – TMY Projector with 100 Inch Projector Screen (reviewers say it works well for outdoor movie nights)
9:00am ***Top Pick*** Electric Balloon Pump, Portable Dual Nozzle Blower Pump/Inflator, ETL Approved, with Balloons, Tying Tool, Flower Clips, Tape Strip, Colored Ribbon, Dot Glues for Party Decoration
8:40am – PH PandaHall 100PCS 4×6 Inches Pink Organza Gift Bags with Drawstring
9:00am – Outrageous Party Game – The Game of Witty, Hilarious Answers That You Come Up with
9:10am – Sanwo Led Strip Lights Music Sync, 32.8ft/10m Dream Color LED Light
11:10am – Bluetooth Music Strip Lights 33 Feet, Hedynshine Waterproof Strip Lights Sync to Music
11:20am – GRC Video Projector, 5000 Lux 1920×1080 Supported Full HD Native 720P Mini Movie Projector, with Built-in HiFi Sound Speaker
12:30pm – MESHA Electric Balloon Pump Air Pump Inflator
2:00pm – DJ Lights Sound Activated, RGBW Strobe Party Disco Lights with Remote
6:05pm – Pastel Balloon Garland Kit – Macaron Balloon Arch Kit for Parties
6:50pm – Rose Gold Birthday Party Decorations with DIY Cake Topper, Happy Birthday Banner
7:20pm – Mermaid Birthday Party Decorations

Wednesday Deals:
7:50am – LED Curtain Lights, 19.7×9.8ft, 594 LED, 8 Modes, Plug in Twinkle Lights
9:35am – Cake Pop Display Stand, 21 Hole Clear Acrylic Lollipop Holder
12:35pm – Plastic Mini Cake Plate Stand with Dome Cover, Clear, 12 Pieces
3:15pm – DIY Photo Booth Props Kit – 90pcs Photobooth Prop Funny Selfie Accessories
Craft Supplies
***Ongoing*** Up to 20% off IRIS Arts & Crafts Storage
***Ongoing*** Up to 15% off Cricut Vinyls, Papers, & Craft Tools

3:45am – 13 inches Laminator Machine, JZBRAIN A3 Laminating Machine with 20 Laminating Pouches, Paper Cutter, Corner Rounder
7:05am – Glitter Gel Pens by Color Technik, Set of 12 Professional Artist Quality Pens
7:15am – ***Top Pick*** 60 Rolls Glitter Washi Tape Set, Washi Masking Decorative Tapes (see why here)
10:00am – ARTEZA Coloring Book for Adults, Mandala Designs
10:05am – LitEnergy 32.5 Inch Diagonal LED Light Box Light Pad for Tracing
10:35am – HTV Heat Transfer Vinyl Bundle – 33 Pack 12″ x 10″ Sheets
11:20am – 30 Rolls 15mm Wide Washi Masking Tape Set, Colourful Rainbow Tape
6:15pm – Monicut Lightgrip Cutting Mat for Cricut Explore One/Air/Air 2/Maker(12x12in, 3 pack)
8:00pm – Gel Pens, Caliart 32 Colors Gel Pen Set, 40% More Ink

Wednesday Deals:
8:05am – Adhesive Vinyl Sheets – 12" X 12" Premium Permanent Glossy
9:50am – Chameleon Heat Transfer Vinyl Sheets
10:40am – Carrying Bag Compatible with Cricut Die-Cutting Machine and Supplies
1:00pm – 30 Rolls Gold Foil Washi Tape – 15mm Wide
8:05pm – 100W Hot Glue Gun with 10Pcs High Adhesion Hot Glue Sticks
Side Note: I was seriously hoping for a fantastic deal on a Cricut products, but haven't seen anything just yet. I'll keep my eyes open, though and update if anything shows up.
Kitchen and Home Items
Time TBA – Roborock S65 Robot Vacuum, Robotic Vacuum Cleaner and Mop with Adaptive Routing,Multi-floor Mapping, Selective Room Cleaning, Super Strong Suction, and Extra Long Battery Life, Works with Alexa(black)
Time TBA – Goodful Premium Non-Stick Cookware Set, Dishwasher Safe Pots and Pans, Diamond Reinforced Coating, Made Without PFOA, 12-Piece
8:55am – Flex Edge Beater for KitchenAid Tilt-Head Stand
12:15pm – 17-Quart Air Fryer & Food Dehydrator

Wednesday Deals:
8:30am – 24-Pcs Silicone Donut Molds
8:30am – Cake Decorating Supplies Tips Kit
6:00pm – Silicone Macaron Baking Mat Kit
Christmas Shopping for the Kids:
It's always great to get some Christmas shopping done in advance, so I let my kids create a wishlist off things that will be going on sale for Amazon Prime Day.
And since I'm not the only one with kids, I figured it's worth sharing. (it can be so hard to come up with gift ideas!)
For Kids of All Ages:
For a 5-year-old Boy:
For an 8-year-old Girl:
For an 11-year-old Girl:
Now It's Your Turn
Are you a Prime Member? Have you ever shopped the Amazon Prime Day sale before? If not, sign up now, set your alarms and let me know what deals you scored!
---