Let's make gift wrapping easy! This set of printable Christmas gift tags includes over 70 ready-to-print tags in 5 bright colors and two glitter textures.
Add your name before you print and you'll be ready for all your late-night wrapping sessions.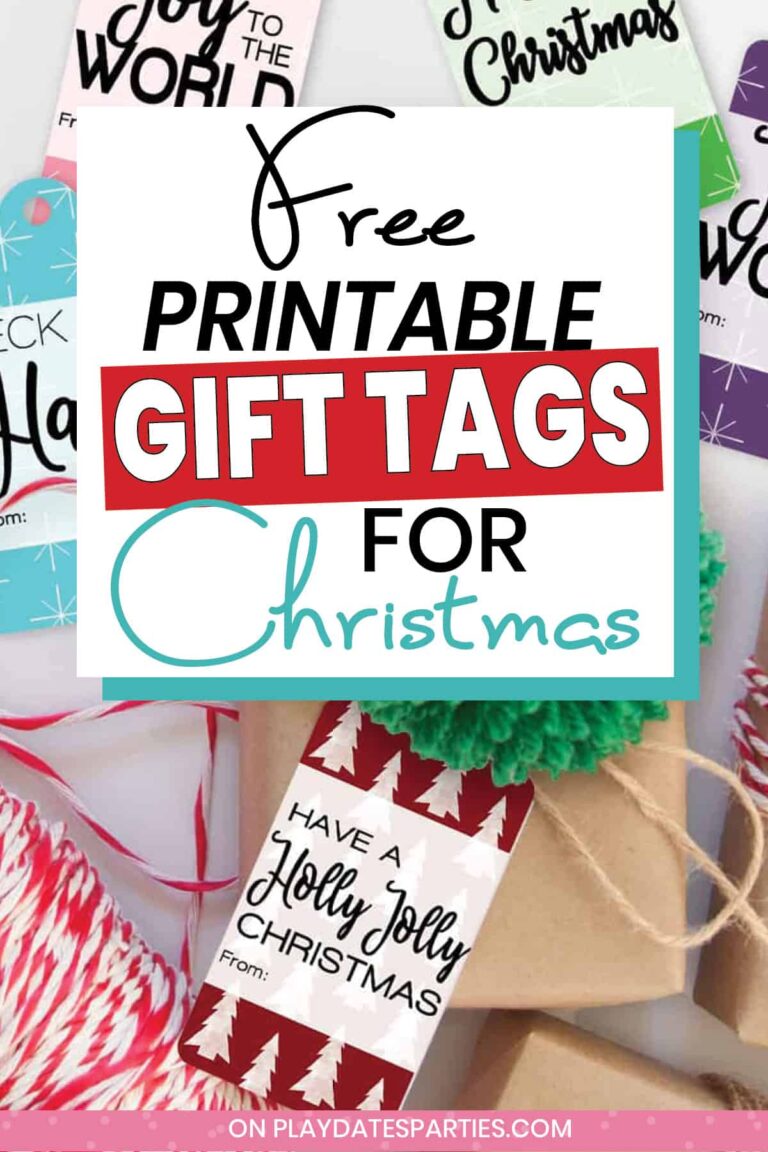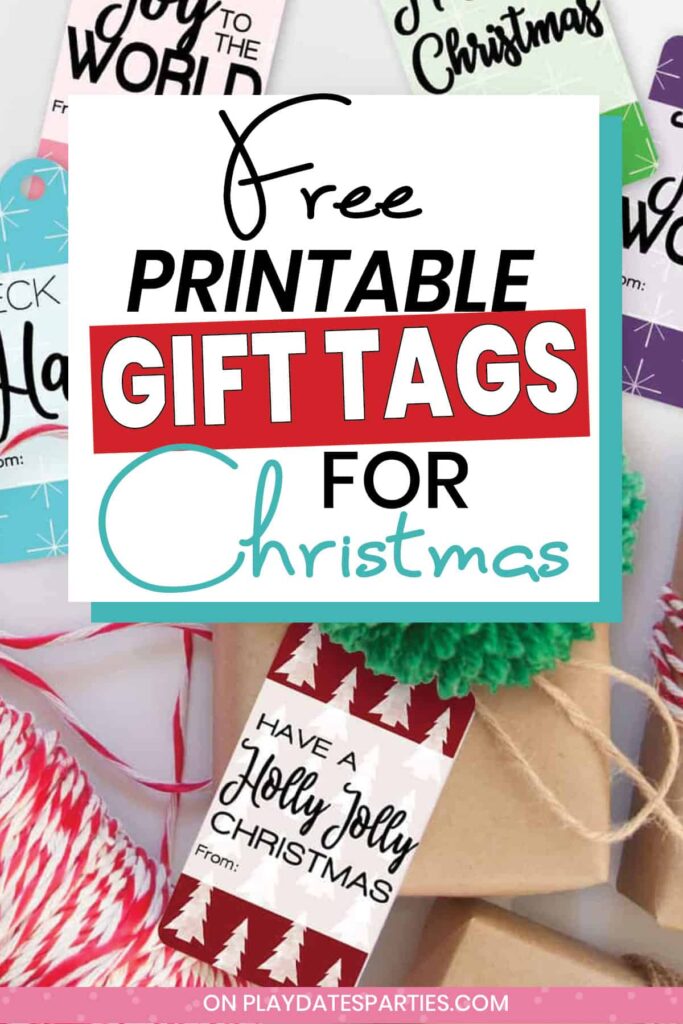 It always happens.
Thanksgiving comes and goes in a flash and then suddenly we're rushing toward Christmas.
And most years, things are so rushed between buying gifts, going to school activities, holiday parties, and putting up all the decorations, that somehow I always seem to forget to buy gift tags.
And if you're like me, you'll be up well past midnight on Christmas Eve putting the final touches on your Christmas gifts when you realize it.
But here's a little secret: You can print gift tags right in your own home.
It's amazing.
Printable gift tags have been my favorite way to finish off Christmas gifts for years now, and for good reason.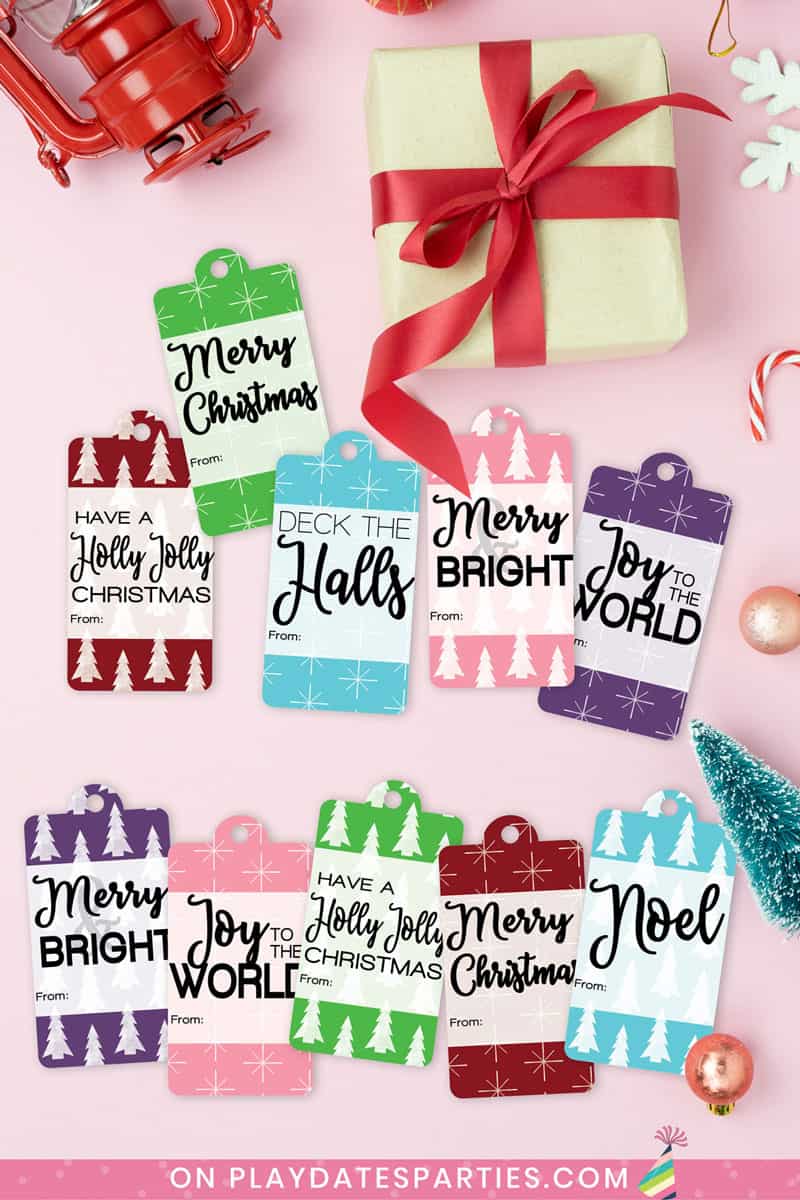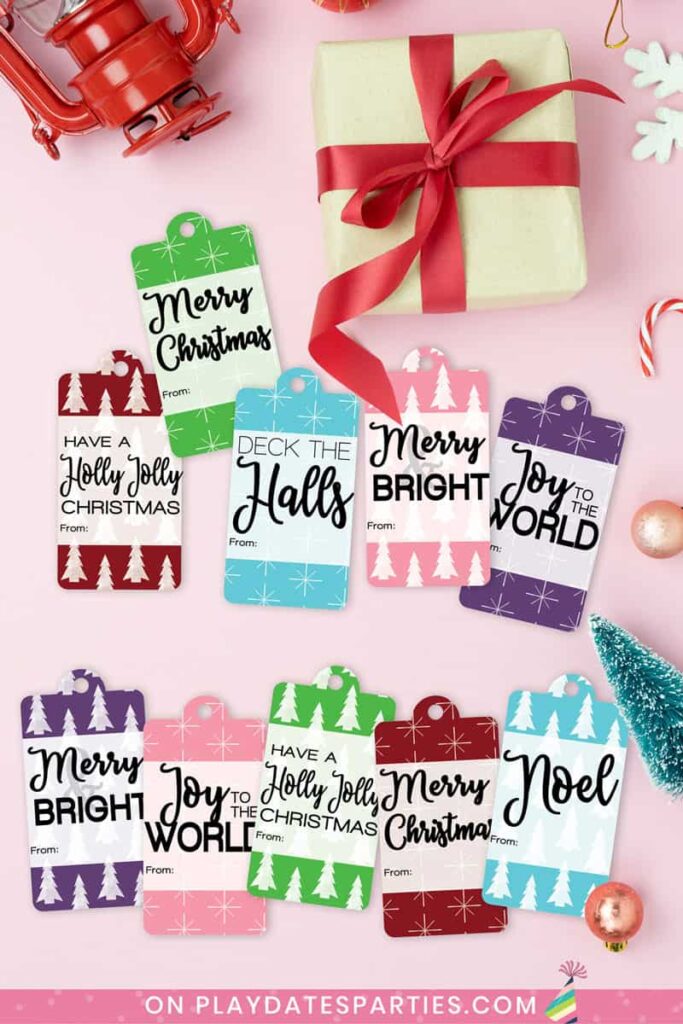 Four reasons printable Christmas gift tags are better than store-bought:
They're unique. Just about everyone in our family goes to Target for something. Which means we've all seen the same mass-produced gift tags. And unique touches like a Christmas gift tags printable are a great way to make your gifts a touch more personal.
You can find printable gift tags to match just about any wrapping paper. Again, the little touches just make gifts more thoughtful and personal.
They're Cheap! The only cost involved is paper, scissors, and maybe some baker's twine or ribbon.
Don't tell my kids, but I like to use printable gift tags for Christmas gifts from Santa. That way, if I actually remembered to buy tags at the store, then the kids won't recognize them. It's fun to keep the dream alive for a little bit longer.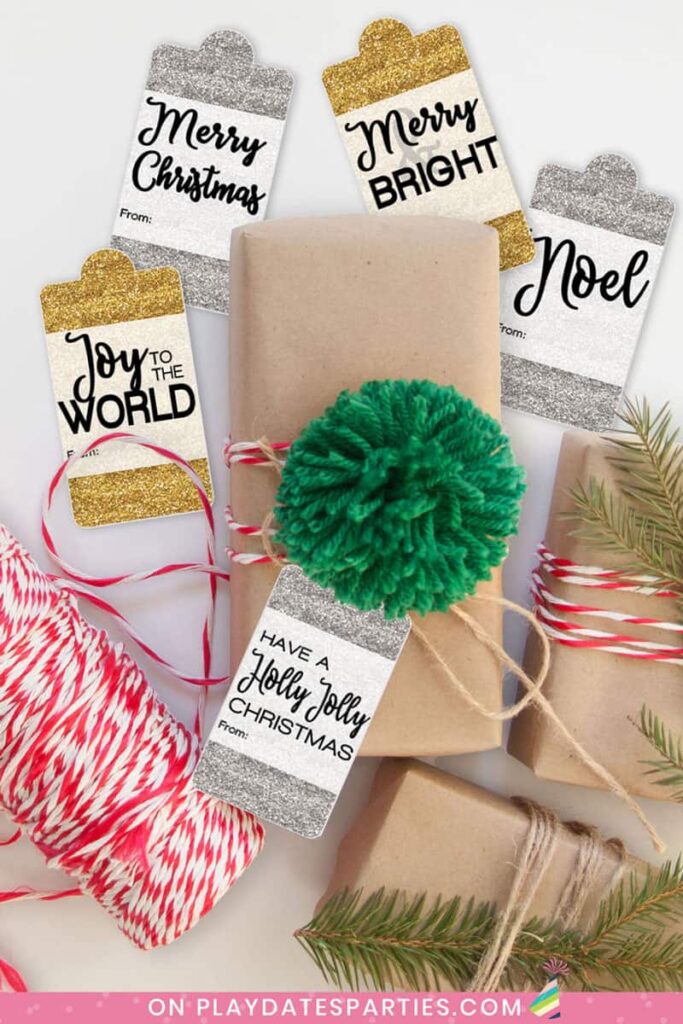 What You'll Get
I first shared printable Christmas gift tags back in 2017, so it seemed like a good time to update them for current color schemes.
At approximately 2.1″ wide by 4″ tall, these tags are large enough to add to oversized gifts, but are also a great size for goody bags, wine bottles, gift bags, and practically anything else you may want.
Bright and Colorful Gift Tags
First up is a set of tags with colors to match most holiday wrapping paper: green, purple, red, blue, and pink.
And because I'm indecisive, each color also comes in two different patterns. 🤣
Glitter Gift Tags
While I tried to cover most bases with the colors above, it would be nearly impossible to match every type of wrapping paper.
Soooo, I added this set of silver and gold glitter tags to the mix as well.
Add your name before printing
You can even use Adobe Reader to add your name (or Santa's) right on the computer before printing.
Note: Because these are also made to be useful as goody bag tags and hostess tags, there's no "To" line. But it's just as easy to write that in at the top or on the back.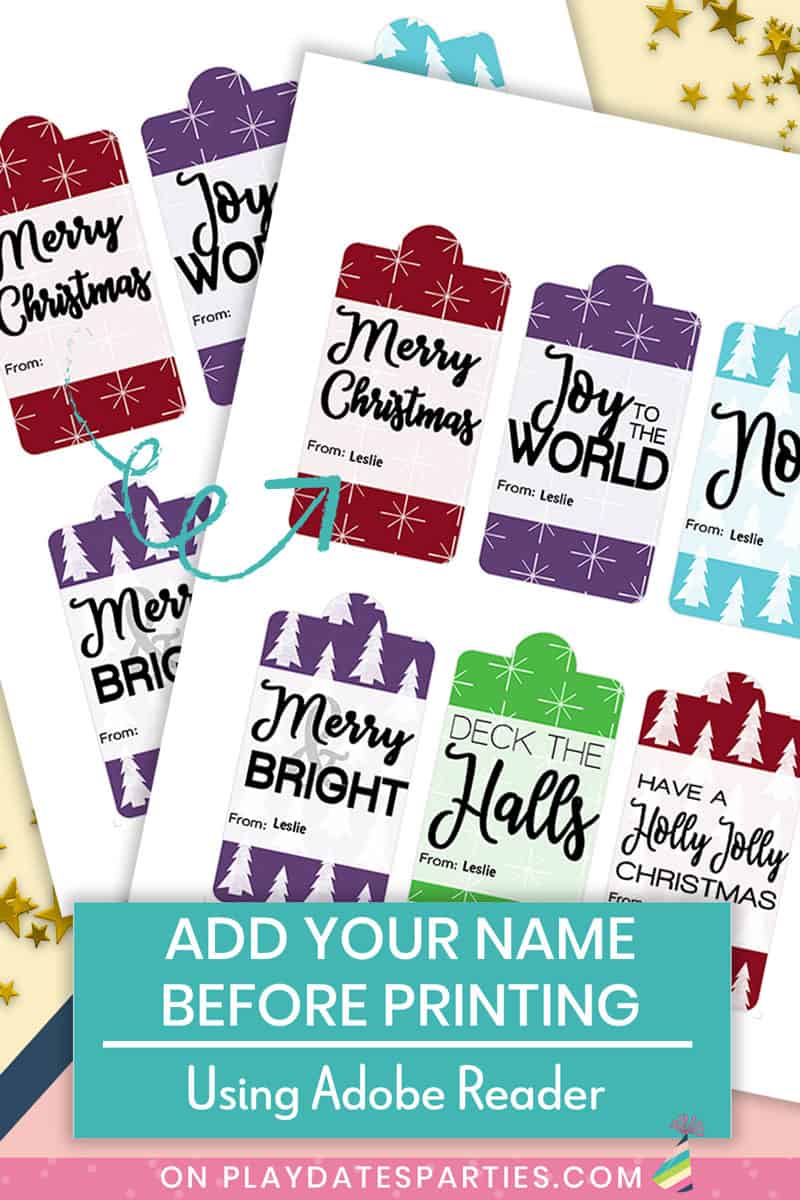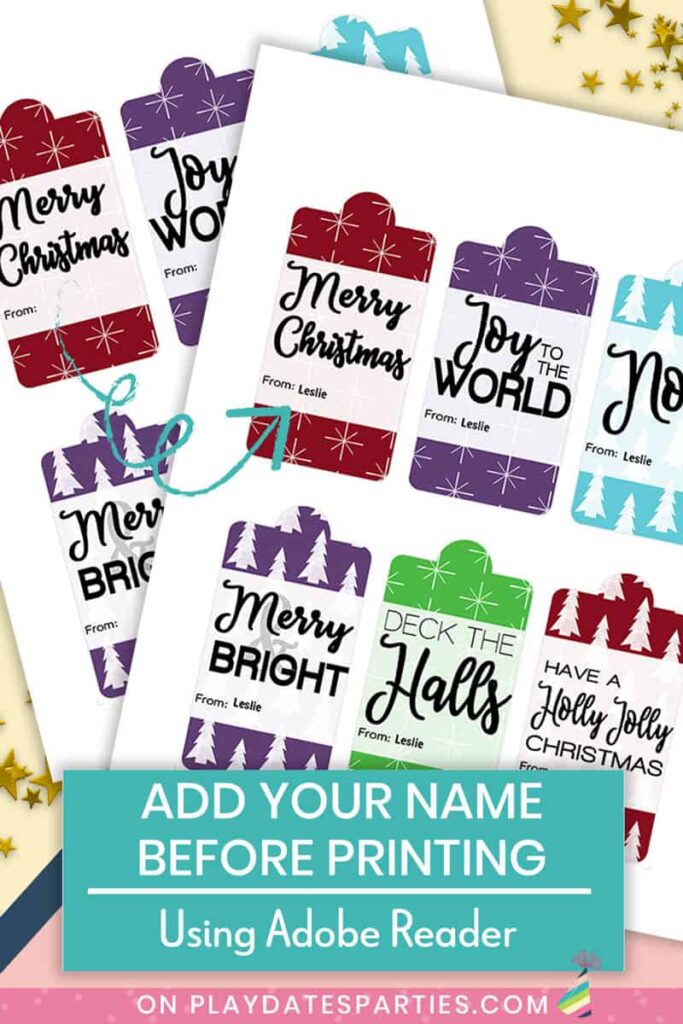 Tips to make the most of your printable Christmas gift tags: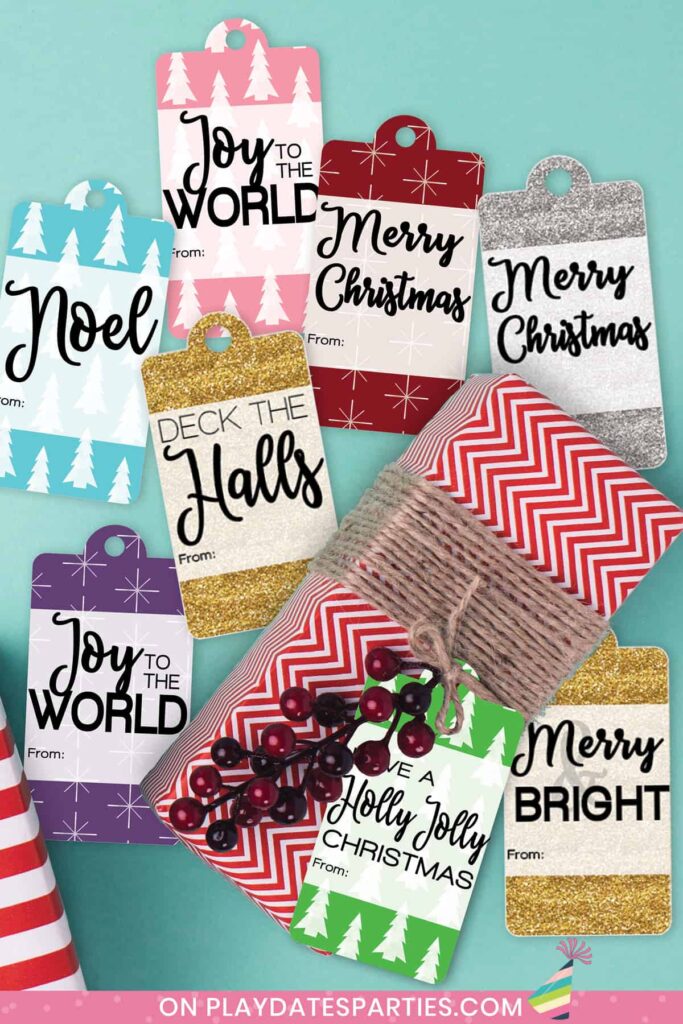 Grab Your Bag Toppers Today
Don't stress over remembering to purchase gift tags this year. Add a special touch to the gifts you give by using these printable Christmas gift tags instead.
Subscribers get a copy of the gift tags for free!
All you have to do is fill in the form at the bottom of the page to get them sent right to you. And, if you don't want to subscribe, the gift tags are also available here for a small price.
Just add your name and email address to the bo Just click here to request access and you'll be ready to print your tags today!
---