My little baby L will be turning one in less than two weeks!  I can't believe how quickly the last year has gone by.  It's also hard for me to believe that I've basically done NOTHING for her first birthday.
Three years ago, I started planning T's first birthday six months in advance.  I was working on crafts for nearly two months before her party, made a TON of themed food, and painstakingly baked and assembled fondant covered cookie favors.
I've learned a lot since then, and L's first birthday party will both benefit and suffer.  I'm not going to spend a lot of time worrying about making the perfect food to match a theme or creating too many handcrafted decorations without enough thought to how it will all work together.  In fact…I'm staying very relaxed about this party…there's not even a real "theme"!  That doesn't mean I don't care about how it looks, it just means I've whittled all the work down to what really matters to me: The Cake Smash!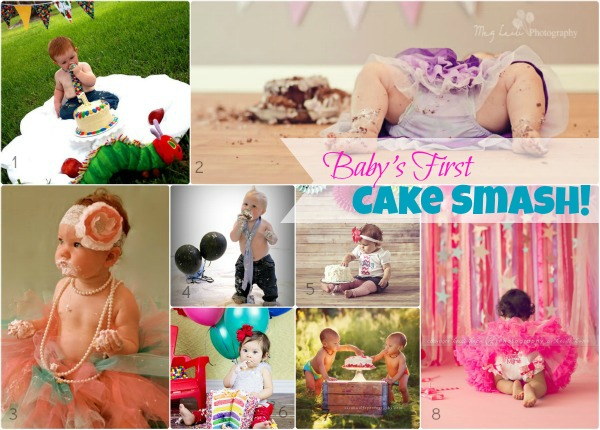 I LOVE looking at cake smash pictures…and really, isn't that what a first birthday is all about?  I've been scouring Pinterest for ideas and inspiration and have come down to three primary areas to make L's cake smash truly memorable:
1. The outfit – Whether it's a custom made tutu, pettidress, or nothing but a ruffle-butt diaper cover, a cute outfit is a must.  I've already got L's party outfit hanging in her room.  You'll have to wait for the party pictures to see what I picked, but most of you probably already know that a giant headband is involved!
2. The backdrop – Some people keep it simple, others go all out with lots of streamers, banners and paper pom poms.  This will probably be a last-minute call for us depending on weather and time…but I've got some fun ideas!
3. The cake – Ruffle cakes, rainbow cakes, cupcake cakes, colored frosting or white frosting…the sky's the limit.  My biggest concern is to make sure that it's soft enough to be mashed up and eaten with little fingers!
…and with that, I'm now in the mood for frosting.

What do you think is the most important part of a baby's first birthday party?
Don't forget to subscribe via Bloglovin, Facebook, and Twitter to stay up-to-date.