Classic Independence Day decor is fun, but sometimes you want something different. That's when this set of Independence Day printables is just right.
With red white and blue cupcake toppers, a banner, and a coordinating "America the Beautiful" party sign, you'll be set to party this July 4th.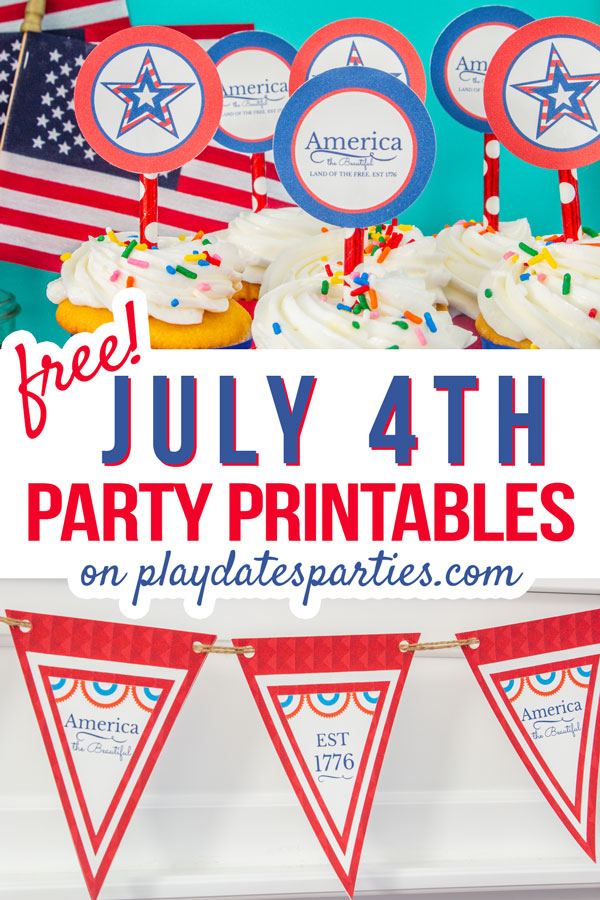 Independence Day is one of our favorite summer holidays.
I'm not sure if it's because I grew up living less than an hour away from Colonial Williamsburg, or if it's because my father is a huge fan of American history, or that my husband is a huge fan of Revolutionary War history.
Maybe it's just because it's such a fun way to mark the mid-point of summer…and it's another reason to have a party.
Because clearly I like parties.
Now, there are lots of free 4th of July printables available on the web. But I like to put my own spin on things.
Lately we've been watching 1776 together as a family, and I've been re-watching the John Adams HBO series on Amazon Prime.
Free Independence Day Printables
All these got me thinking…there aren't a lot of Independence Day printables that focus on the actual Independence aspect.
So I decided to change that.
I combined some of my favorite patriotic things to create these fun Independence Day printables for you.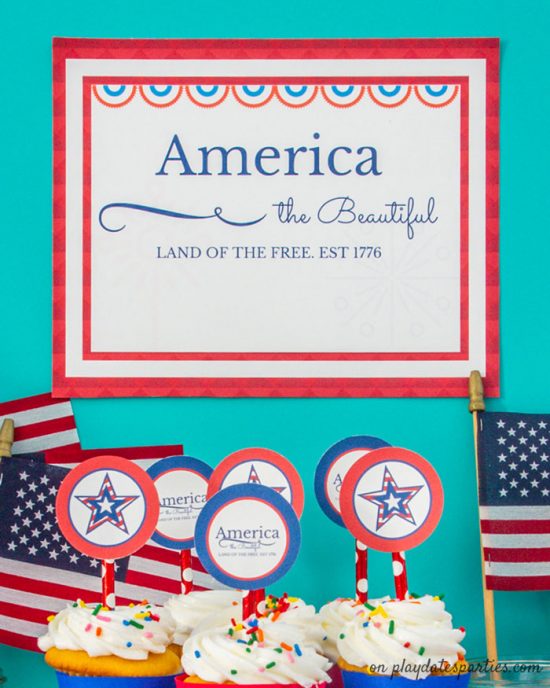 America the Beautiful Sign
First up is this simple sign that you can hang as a party backdrop or frame and put on your mantle.
I'm a sucker for clean lines, and this definitely has them. But my kids love the images of fireworks that are just barely visible.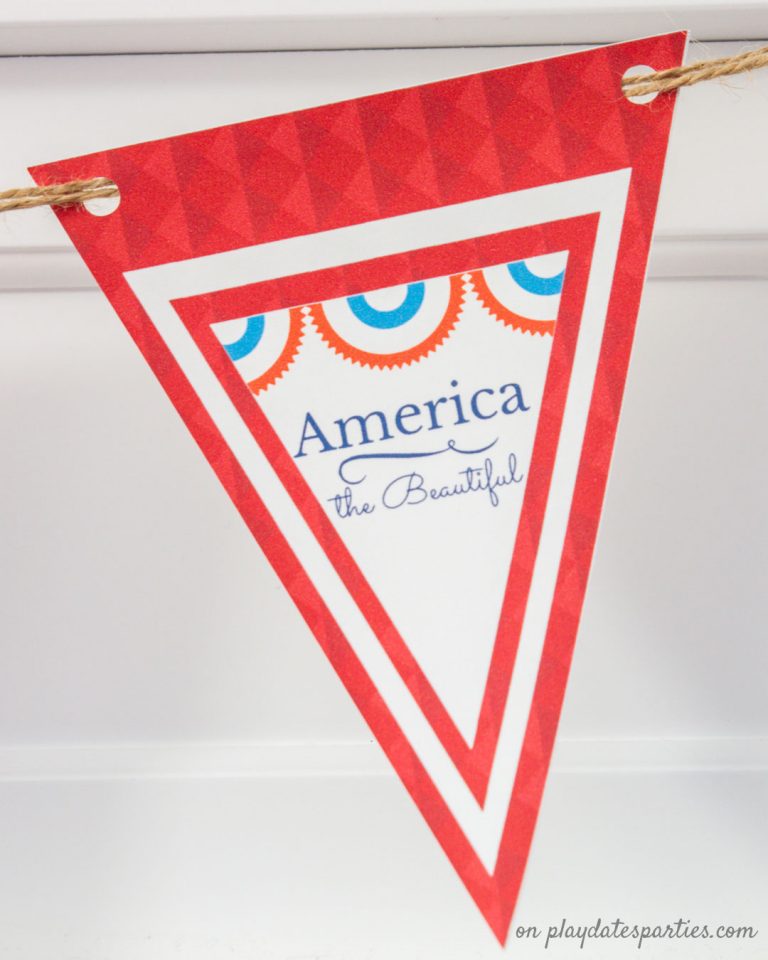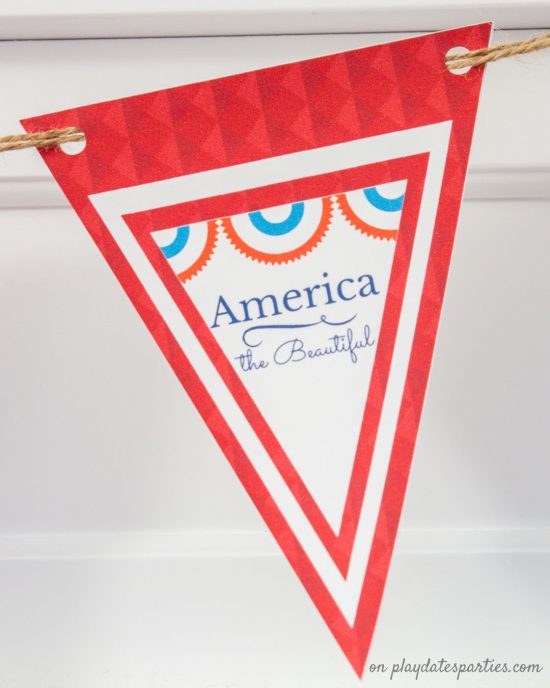 Printable Independence Day Bunting
Next is the patriotic bunting to match the sign. It's perfect hung with twine on a mantel. It would also look really awesome as a party backdrop, layered with lots of red, white, and blue paper fans.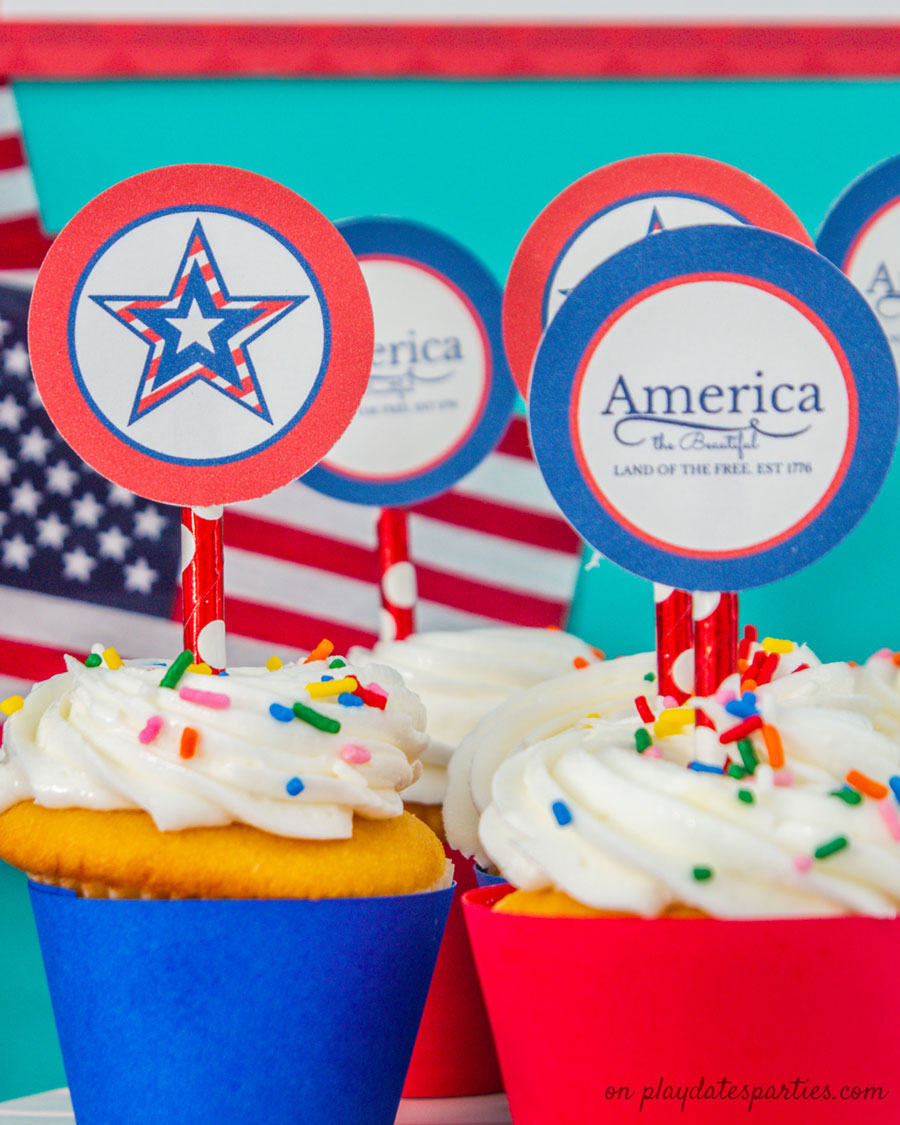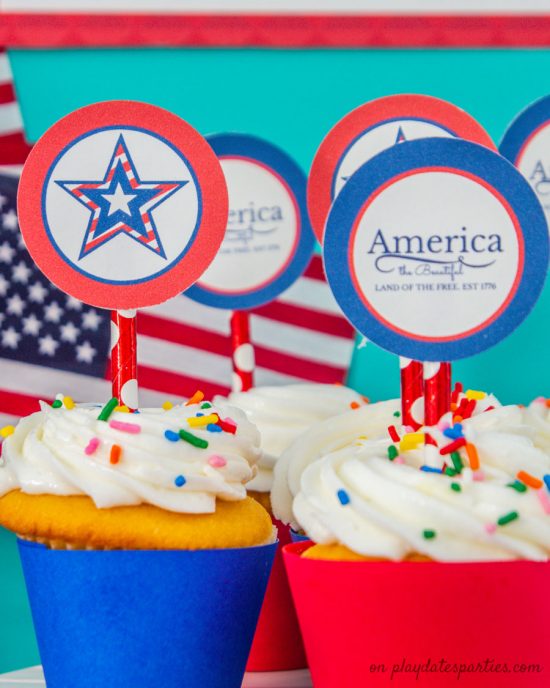 Independence Day Party Circles
Finally, you've got my favorite part of the whole pack…the party circles! Of course, the main theme "America the Beautiful" and "1776" are reflected in the circles, but I also included some fun stars too.
You can see here that I turned them into cupcake toppers. All you have to do for those is cut paper straws in half and tape them together.
But these could just as easily be used to create a garland for your backdrop, as tags for party favors, or even to decorate your party cups. The sky is the limit!
Make Your Independence Day Printables Look Their Best
Now, it's just the worst when you take the time to print and cut your party printables, but they end up looking bland or boring. Here are a few tips to make sure your printables look their best from the very beginning:
Start with the Right Paper
Don't use plain printer paper for these. They just won't look their best. If you want to see my favorite papers for party printables, check out this page.
Use the Proper Printer Settings
The type of printer you have matters less than the settings you use. Try to select your paper type, if possible and always set it to "Best" or "Photo" quality before printing.
Use the Right Cutting Tools
I spent way too many years disappointed in the look of my party printables because I cut everything with a pair of scissors. It doesn't seem like it should make a difference, but it really does.
These printables will look great if you cut them with a 2 inch hole punch and a straight edge paper trimmer. But if you really want to save yourself some time and make your projects look their best, you can cut the party circles and bunting with the Cricut Print and Cut friendly files.
(Unfortunately, the Cricut Print and Cut area is too small for the sign, but at least that's just four straight edges. )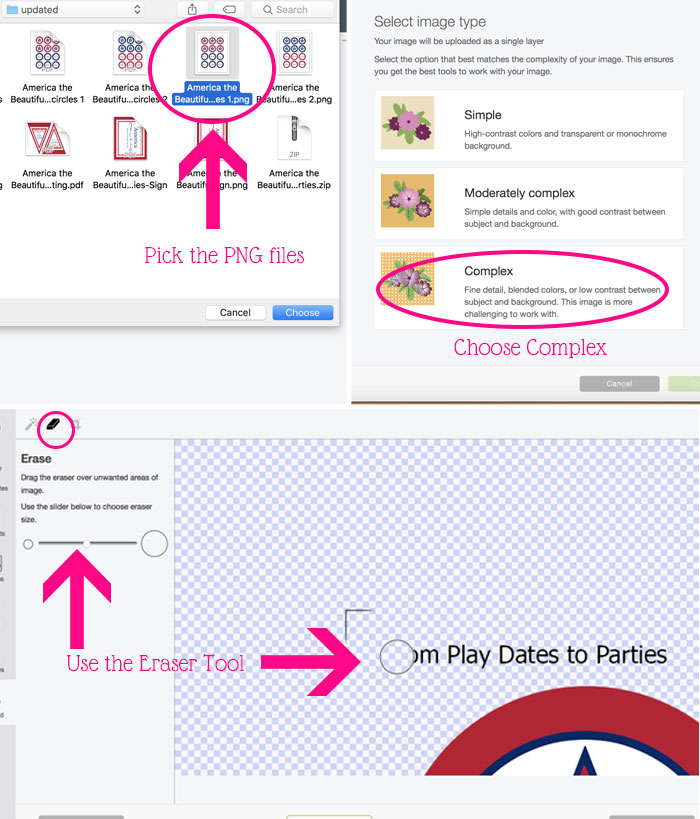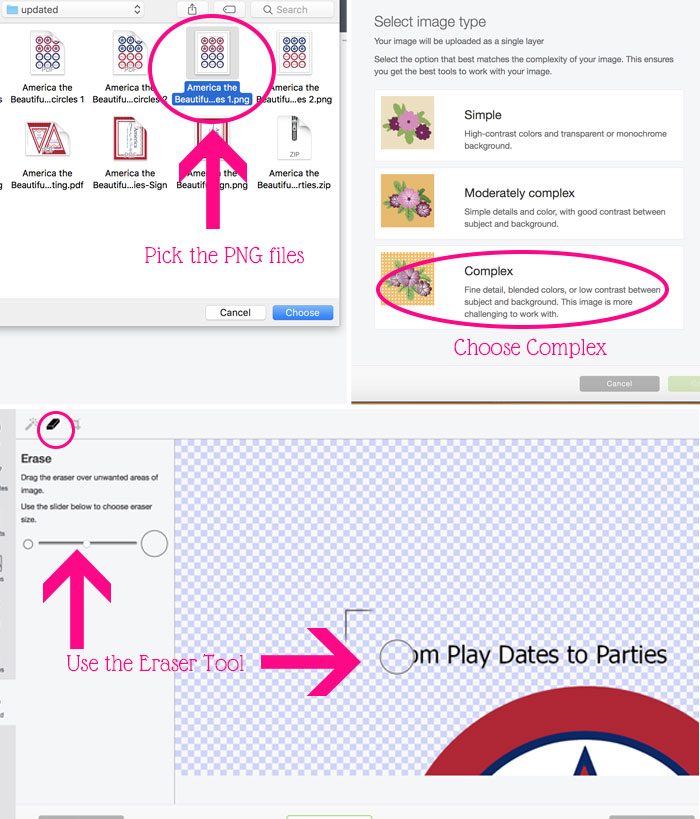 RELATED>>>>SEE ALL MY CRICUT PRINT AND CUT PROJECTS!
Here's how it works:
Upload the PNG files to Cricut Design Space.
When prompted, choose "Complex"
On the next screen, choose the eraser tool and erase all the copyright information on the document.
Do not erase the corner marks. You must keep at least two marks opposite each other on the diagonal (catty corner) to keep the sizing right.*
Continue through and save the document as a Print and Cut file.
When the file imports into your project, it will be way too big. Simply resize the short side to 6.75 inches and it should fit the sizing perfectly.
When you've imported the bunting, simply add ¼" holes to the top corners of the triangles and remember to Attach them to the bunting page. This way you won't have to manually punch holes in your banner.
Once that's done, just follow the standard Print and Cut instructions and you'll be ready to go.
*Note: I can't guarantee that the file will fit within the Cricut print and cut dimensions if the corners are erased. If you erase the entire box by accident, try uploading the file again. (Someday, I hope Cricut will import high-quality print files to upload at their intended size!)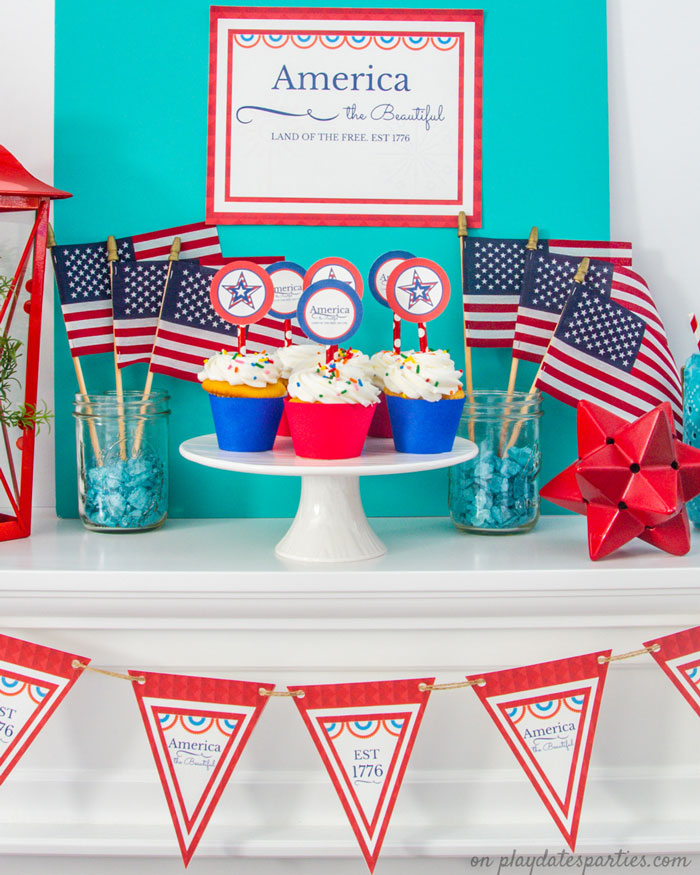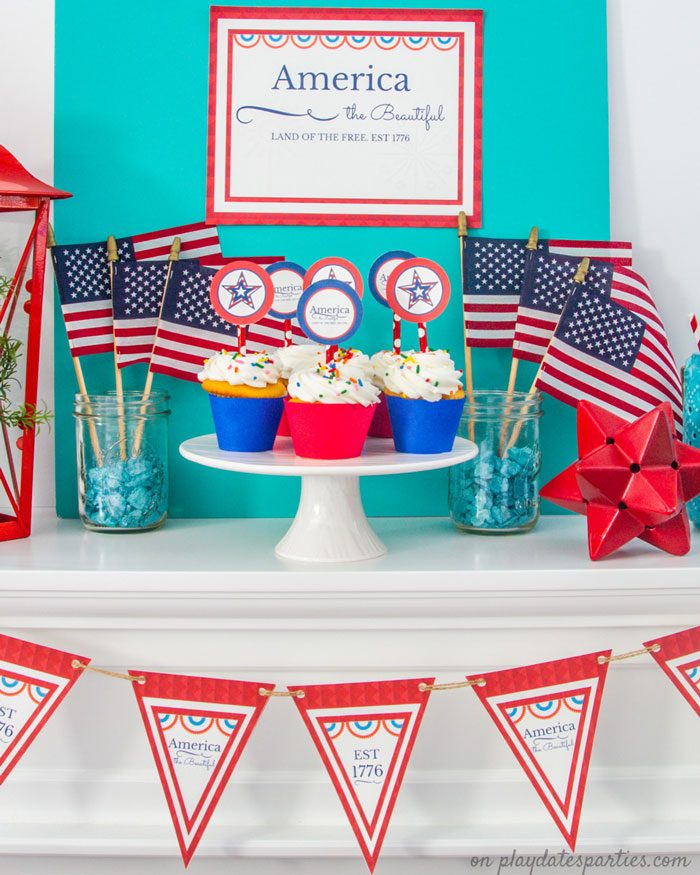 Get your Free Independence Day Printables Here
Even if you're not married to a history buff, these free Independence Day printables are sure to be a fun addition to your July 4th celebration.
And to make them even more fun, they're available FREE for subscribers. Just add your name and email address to the form below and I'll send them straight to your inbox.
Don't want to subscribe? They're also available for a small price in my shop.
Which is your favorite part of these Independence Day party printables?
How will you be using your party circles?
---