Like most toddlers, the Little One loves berries and other fruits. She often goes through phases when she LOVES bananas, and asks for them every morning for breakfast. Other times, I buy the bananas and they just sit and sit and sit. Finally, I got tired of wasting money and remembered that my father used to freeze overripe bananas until he had enough bananas (or time) to make a batch of tasty banana bread.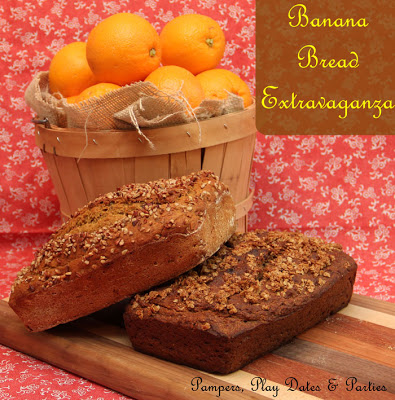 Freezing the bananas is great for banana bread for more reasons than just preserving them. It also softens them so much that by the time they defrost, there's really no need to mash. I typically just keep a gallon sized ziploc bag in our freezer and put the whole banana – peel and all- in it until I'm ready to bake. Just defrost your bananas for an hour or so (longer if you're defrosting a whole batch in the bag). It's true that they look disgusting and black, but it's a fantastic way to save up your bananas until you're ready for them!
Anyway, finally the other weekend I found myself a bag full of ripe bananas, and a desire to bake something comforting; so I got to work on two very different banana bread recipes.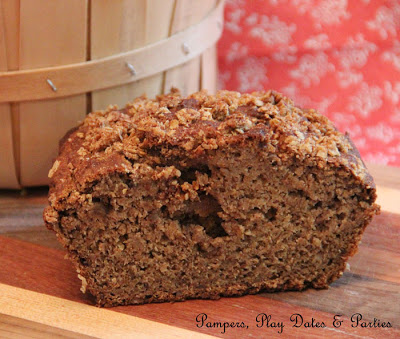 Sugar Free Banana Bread
In an attempt to get somewhat healthy, I made this Sugar Free Banana Date Bread from Wishful Chef. Clearly my loaf is denser than the one featured at the original post, but it is so moist and sweet (even without added sugar)!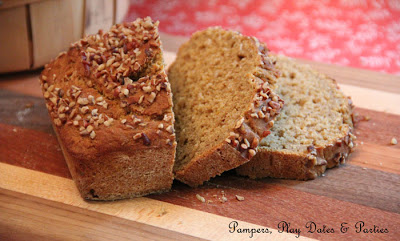 Autumn Spice Banana Bread
I also attempted to make an Orange Spice Banana Bread from A Full Measure of Happiness; but found I didn't have quite everything…so I changed things up a bit to create my own Autumn Spice Bread instead! Here are my changes:
– Use 1.5 bananas instead of the whole 2
– Add in about 1/4 cup pureed pumpkin
– I omitted the almond flour for all purpose flour
– Instead of orange extract, substitute Grand Marnier
– Add in a teaspoon of Pumpkin Pie Spice
I'll definitely be making this again, but it needs a bit more tweaking. I couldn't really taste the pumpkin as much as I'd like, and the moisture and sweetness paled compared to the sugar free bread. Whenever I get it right, I'll be sure to post the full recipe. For now, I'll just add a bit of homemade pumpkin butter, and all is good with the world!

Linky Party Love: