While everyone is busy posting Christmas ideas and decor (which I haven't yet had the chance to do because we were out of town until Monday afternoon), I'm still mulling over Thanksgiving feasts.  T's class had their own Thanksgiving feast, and I was responsible for bringing the macaroni and cheese.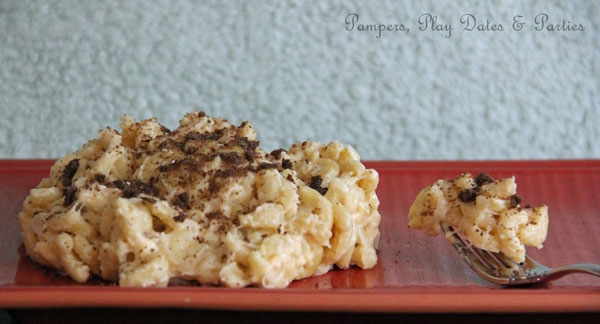 Now, I could have gone with the good old boxed standby-who doesn't love Kraft Mac 'n Cheese?  But when it's for a special occasion, I always feel a need to make something special.  So I of course checked out my Pinterest boards and found this recipe from White on Rice.  I remember seeing this recipe a while back, and being intrigued by the process.  What makes it different?  Instead of boiling the macaroni, it is slow cooked in your milk.  Soaking up the water from the milk makes a flavorful and creamy pasta.
I opted to use a combination of italian blend cheeses in addition to sharp cheddar.  The combination was okay, but I prefer a sharper flavor.  For breadcrumbs, I toasted up some multigrain rolls and crumbled them on top which added a nice crunch.
In the end, I can tell you that the large pan I sent to the school came back completely clean – so apparently several people approved!  I'm still on the lookout for a great homemade Macaroni & Cheese recipe, so feel free to make your suggestions in the comments section!
Subscribe via
Bloglovin, Facebook, and Twitter
to get more updates!