I mentioned earlier this week that I actually helped put together two different parties last December…merely days apart! Yesterday I shared pictures of the Cookies & Milk party we had for the little ones last Christmas. The next party was actually a birthday tea celebrating the 60th birthday of one of my husband's aunts. I still love the way the party came together, since it made good use of Christmas colors, without being overtly seasonal.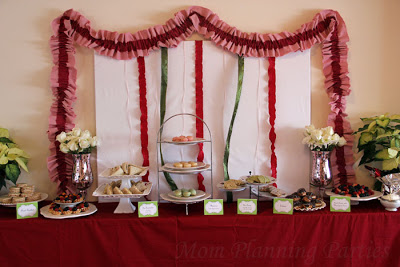 The buffet; filled with macarons, tea sandwiches, tea breads, eclairs, fruit tartlets, alfajores (a latin american treat), and berries with mascarpone cream.

Mmmmmm….Macarons!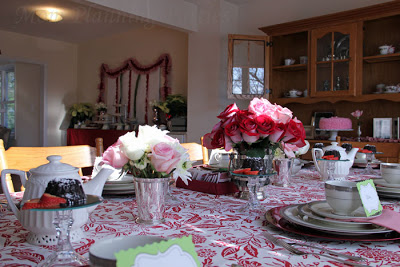 The dining table was set with fine china, fresh roses, and lots of pink and red!
The birthday cake was pretty in pink ruffles with pictures of the birthday girl from throughout her youth.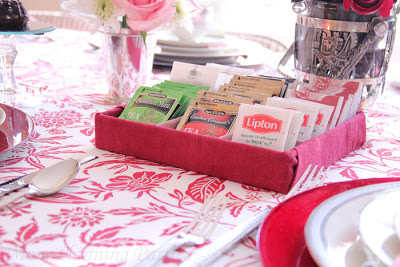 Instead of getting an expensive tea chest, use a fabric jewelry tray…this one was covered in leftover burlap that had been dyed red to match.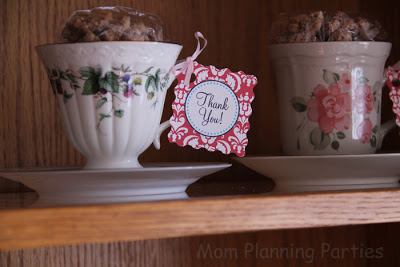 The guests each got to take home teacup favors filled with candied pecans.
To see even more pictures and details, check out the original post, here.
Sources:
Eclairs – The Cakery
Macarons – Patisserie Poupon
Alfajores – Mel Mellis:Sweet Treats
Tags, Labels & Place Cards – TomKat Studio