I don't know about your kids, but my 4-year-old is obsessed with anything related to Monsters Inc or Monsters University. It all started when she was two. Even though she was afraid of the first scene in Monster's Inc, she insisted on watching it over and over again until she was no longer afraid. Ever since then, it's the one movie she insists on watching all.the.time.
We now have a Mike Wazowski doll watching her closet every night, too. And when Monsters University came out in theaters, we knew that it was the perfect way  to take her to the theater for the first time.
If only I'd known about this obsession when I hosted the Halloween Harvest Bash for her classmates a couple years ago. Instead of scarecrows and fall leaves, it would have been full of fuzzy monsters and Monster's Inc. party decor. Thankfully, plenty of other people have thrown some fantastic Monsters Inc parties over the last few years. I think any of these ideas would be adorable for an October birthday party or classroom Halloween party, no?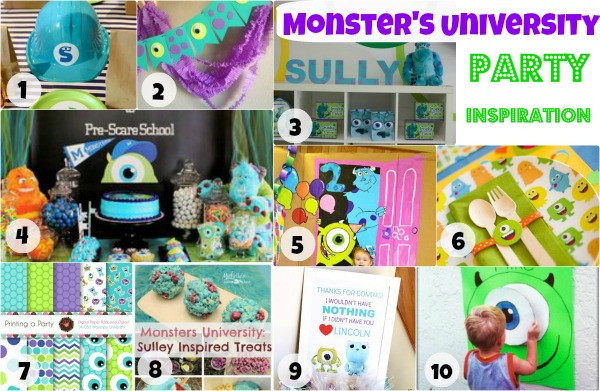 Monsters Inc Party Inspiration:
All this inspiration has me wanting to throw a Monsters Inc party sometime soon. I guess until we get the chance to throw our own Monsters Inc party, we'll just have to settle for watching the movie over and over and over again.
What is your kid's favorite movie of all time?
What would be your ultimate Halloween party theme?

Get More Halloween Inspiration:
[pt_view id="bf20dff9fq"]