I can still vividly recall my first ultrasound with T. Well, to clarify, I vividly recall a few key phrases that the doctor said when she finally came in after my first ultrasound with my first child.
"IUGR" (Intra-uterine growth restriction)
"monthly ultrasounds to check growth"
As most first-time parents would be, I was in a bit of shock. After a lot of research I found that having a bicornuate uterus isn't actually that uncommon. The easiest way to explain it is that there are two sides to my uterus that are only combined a little bit at the bottom; instead of the single, pear-shaped uterus most people think of. (Get more information about the condition here)
Thankfully my pregnancy progressed pretty normally. I got those monthly ultrasounds up until my 34th week, where it was confirmed that our baby girl was still breech (her specific type of breech position changed a couple of times, but I believe that she was footling breach at the time). During the consultation with the high-risk OB, I inquired about our birthing options. Her response was "If [much emphasis on that first word] I see in you four weeks, we'll discuss it then."
A week later, my water broke in the middle of the night and T was born by c-section the next morning, at 35 weeks gestation. Though she was one of the healthiest babies in the NICU, she spent an agonizing 3 weeks there due to continued bradycardia episodes, which we found was the result of infant GERD.

When I got pregnant with L, I was informed that due to my history of pre-term birth, I would need to start receiving alpha hydroxy progesterone (aka 17P) shots on a weekly basis from about week 16 to week 37.  And now that I'm pregnant with my third baby, I'm back to getting those weekly injections.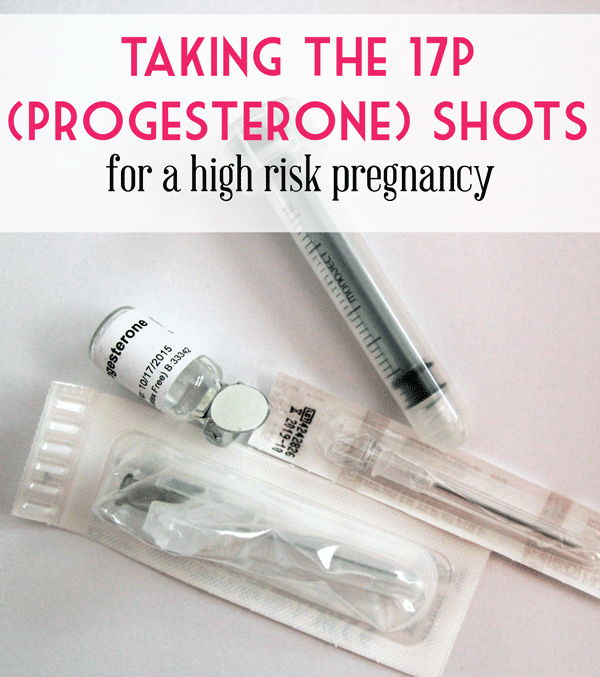 Back in 2012, I couldn't find much research about it; and even now the information is a bit spotty.  Even my nurse for this pregnancy has indicated that there still isn't a lot of information to help women who are proscribed this treatment. So I'm hoping the information here will help someone down the line. 


Effectiveness
While pregnant with L, I received my last injection within a day or two of the end of week 37. My understanding is that the progesterone injections help prevent pre-term labor for up to 10 days. Since 37 weeks is considered full-term, most OB's don't continue treatment after that point. As my current nurse explained "We give you the shot at 37 weeks, hoping that you last until 38."
When L was exactly 38 weeks gestational age, my water again broke in the middle of the night and I quickly went into labor. L was born around 5:00 that morning.  I'm 30 weeks along with my current pregnancy, and haven't had any signs of pre-term labor, so things are looking good for now.
Cost
I know that pricing for the 17P injections varies widely between insurance companies and individual plans. When I was pregnant with L, the injections were completely covered by insurance. We're now with a different insurance company through my husband's company. Since he works for a small company, the coverage is fairly limited.  As a result, we're paying a little more than $200 per injection; which will total a little over $2,000 by the end.
Administration
The injections are administered once per week, usually close to the hip, or the fatty area of the buttocks. During my second pregnancy, I was required to go to my doctor's office every week to get the injection, where I was also weighed and my vitals were taken. (I hated those weekly weigh-ins)
For this pregnancy, a nurse comes to my home each week. The medicine is shipped directly to my house, and the nurse checks my blood pressure, and asks a series of questions to verify that my pregnancy is going okay. 
When I got the nasty head cold, it was her consultation a few days before visiting my OB that convinced me to accept a prescription that was offered by my doctor. I found that I developed a relationship with both nurses that provide me the injections. They are there to help, and have genuinely cared about the health of my pregnancies.  And with T home for the summer, she gets to 'help' out by squeezing the air out of the blood pressure cuff, sterilizing the injection site and giving me a band-aid after the injection is done.

The progesterone is carried through a thick oil, which means big needles.  Any good nurse can reduce the pain associated with injections, and I've rarely felt more than a little pinch.  The hardest part is waiting those 45 seconds to 1 minute for all the fluid to be slowly injected.  
Side Effects
I have noticed a couple unfortunate side effects that have been the same with each pregnancy:
– Lumps or welts at the injection site (varies from the size of a lima bean to greater than a quarter)
– Irritation and significant itching around the injection site
Imagine getting a terrible mosquito bite, and the lump and itching lasts for about two weeks. That's pretty much what happens to me. My poor husband has had to deal with his wife scratching her own rear end on the regular for the past ten weeks. It's not pretty, but neither are these lumps. Still, it's better than a NICU stay.
Some advice I've read on dealing with these side effects are:
– Rub the injection site immediately after it's administered; trying to spread the medicine out as far as possible. 
– Ice the injection site before or immediately after it's administered
– Use benadryl cream on the injection site to reduce itching (this worked well during my second pregnancy)
I've noticed that the reactions are worse on the right side than the left.  My nurse has even commented that she's noticed women have a "preferred side", so don't be surprised if you find that one hip hurts longer than the other.  During my second pregnancy, the symptoms subsided after a few weeks.  I'm about 10 weeks into the treatment for this pregnancy, and still scratching away. The symptoms seem to be going away faster, but I still itch for a few days.
Most women won't be proscribed the 17P injections unless they have a history of pre-term labor/birth. I know that it's expensive and uncomfortable, but I keep thinking back to the emotional turmoil and $30k bill we saw for T's NICU stay. Knowing that I'm doing everything possible to avoid that again is worth 20 weeks of discomfort.