With three older cousins and three sets of grandparents, our kids have a ridiculous number of toys.  Which means that Christmas is always a challenge.  Here's a run-down of some of the favorites for our kids so far…and a few items we're planning to get the kids for Christmas this year.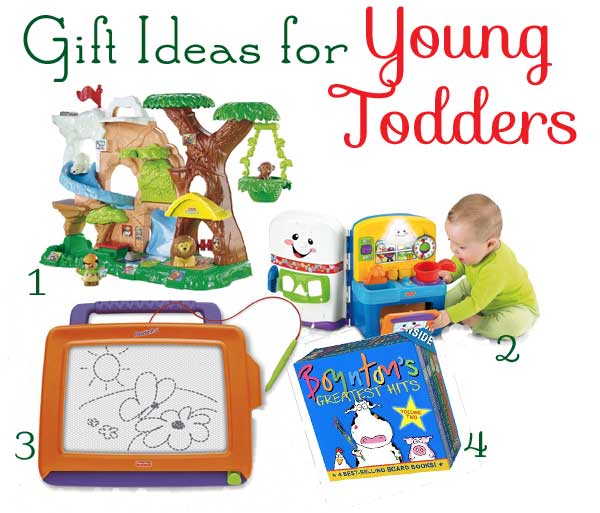 1.  Little People Zoo – This was a big hit at L's first birthday.  It has a platform to place each of the animals where it names the animal and actually makes the proper sounds too.  L also loves to make the animals go down the slide or push them in the little swing.  (Bonus, T also loves to play with it, which means I can get a good 10-15 minutes prepping for dinner before getting interrupted with L's persistent "Up! Up!"
2. Little Play Kitchen – This is about the smallest baby-safe play kitchen you can get.  L loves to paly with it to hear all the sounds and even pretends to mix up food for us to taste.
3.  Magnadoodle – L wants to do everything her sister does.  And since T now wants to spend time coloring almost every evening, L wants to join with her. Magnadoodles are great because I don't have to worry about how much crayon she's eating, and she gets to have fun scribbling away.
4. Sandra Boynton/Eric Carle Board Books – Bedtime is a favorite in our house because that's when we snuggle up with the kids and read a couple fun books.  Eirc Carle and Sandra Boynton books are always great starter series' for little ones with simple stories, fun pictures and lots of ways to keep things interactive.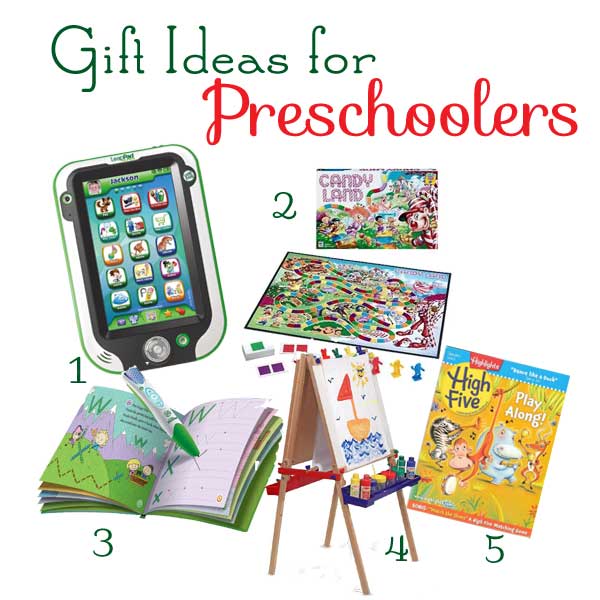 1.  Leap Pad – T has a LeapPad 2 and it's a staple in our house.  I love that it's more durable (and less expensive!) than an ipad; and there are tons of educational activities.  it gets regular rotation for quiet time, car trips and dinners out and was probably the biggest hit from Christmas last year.
2.  Board Games – When T started her new Pre-K class this year, all we heard for a week was "They have Candyland!"  It looks like family game night might be just on the horizon with this Christmas gift.
3.  Leap Reader – We love the LeapPad so much, and now T's quickly learning to read, so the Leap Reader seems like a natural transition for us.  We're hoping that it will also be a fun and educational toy that she'll enjoy using for quiet time and road trips.
4. Art Easel & Supplies – T is deep in a crafty phase right now.  So we're planning on getting her an easel and some simple art supplies for Christmas this year.  This easel from Melissa & Doug gets great reviews…but we're also considering a less expensive version from Ikea.
5. Highlights High Five Magazine – My parents got T a year-long subscription last Christmas, and she loves it.  The matching and searching games are good quiet activities fro church and dinner out, and we also get good one-on-one time reading the stories and playing the games together.
What are you giving your kids/nieces/nephews 
for Christmas this year?

Like what you see?  Don't forget to subscribe via Bloglovin', Facebook, or Twitter!