It's often hard to gauge what's appropriate for co-worker gifts.  Some years I've just brought in loads of homemade goodies and put them out for everyone to enjoy.  Other years we've just exchanged cards.  But my last office was a little different.  In that office, most people would purchase and wrap gifts for each person on their team.  I worked with a team of six – and by the way, they were mostly men.  On top of that maternity leave had the effect of cutting my annual income by 25%, so funds were tight.
After doing some searching, and a lot of thinking…I came up with the idea of making these BBQ boxes for everyone to take home and enjoy.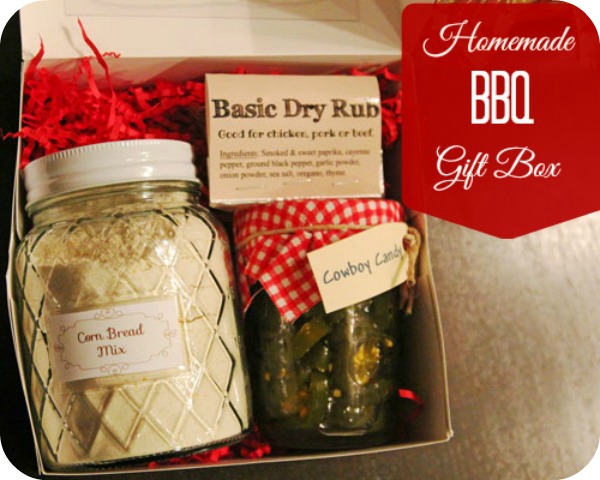 Let me tell you, these were so simple, but everybody loved them!  The kit was inspired by a combination of the post I pulled together about Stocking Stuffers for Men, and the adorable cupcake kits put together by Morgan at Pepper Design Blog.
The key to making the kits is to prepare the dry rub and the corn bread mix in bulk (recipes here and here) , and then pull it all together with containers just big enough for a single meal.

After a LOT of tap, tap, tapping to get the corn bread mix to settle, I was able to just barely fit a whole recipe's worth of corn bread mix into a pint sized mason jar and printed directions on mason jar labels made by Darling Doodles for Over the Big Moon (also found in my massive 100+ free Christmas printables roundup!).  Everyone got two tablespoons of dry rub in a small bag with a descriptive topper made by little 'ole me.  And of course, I included a jar of Cowboy Candy!
You could really take this kind of kit in any direction…a chili box could be fun with the Superbowl coming up in February:  make a chili mix with dried specialty peppers, replace the corn bread mix with just enough masa and a recipe to make a batch of homemade tortillas, add some chipotles and home canned tomatoes and you've got someone well on their way to an amazing meal!
What do you do for co-workers during the holidays?


Like what you see?  Don't forget to subscribe via Bloglovin', Facebook, or Twitter!