Even if you find out your baby's gender, this stunning gender neutral baby shower and gender reveal collection will make you second-guess blue and pink!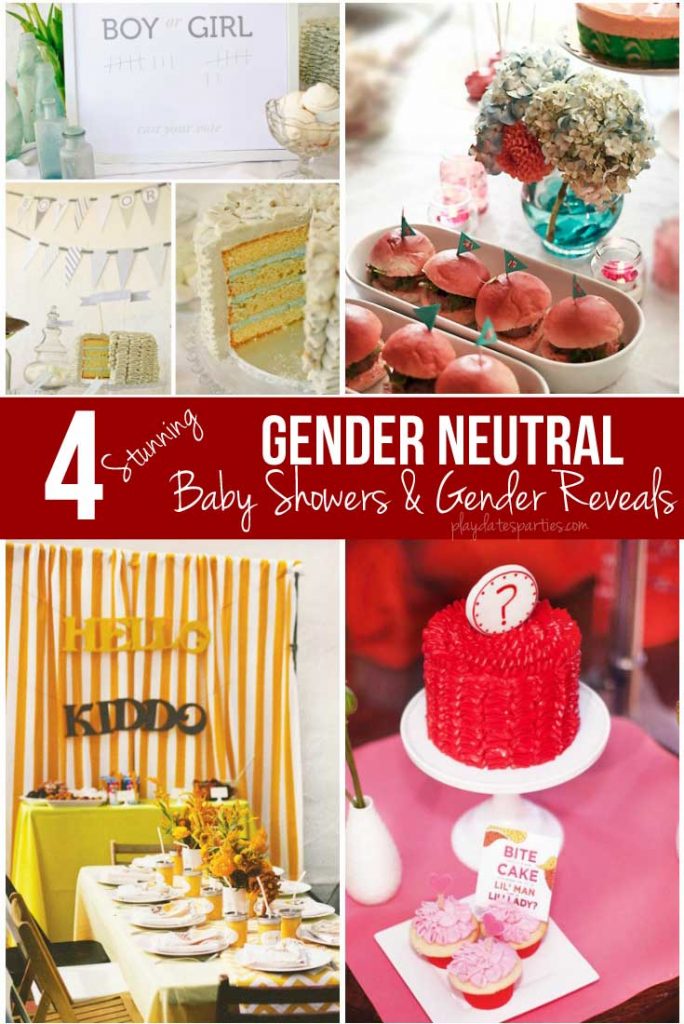 One of my co-workers is expecting his second-born not long after my due date. We've been debating the pros and cons of finding out the baby's gender before the delivery room. Being the impatient person I am, I tend to prefer knowing the gender of our baby in advance. (Plus, it makes an opportunity to have really fun gender reveals!) That, and after the drug-induced haze of my last delivery, I feel a need to be as prepared as possible.
But my co-worker definitely has me seeing the other side of the story too. There's something to be said for keeping the mystery and suspense around the birth of a new baby. Plus, all that creativity in creating gender reveals can go instead to finding new and exciting ways to keep things gender neutral.
These next four parties I've seen lately have taken the gender neutral baby showers and baby reveals to the next level, with gorgeous color schemes and decor fit for a little prince or princess!
A perfect example of creativity in color is this aqua and blue themed shower from Project Party Perfect. There are plenty of pretty details, such as the gorgeous hydrangeas; combined with masculine elements as well!
Although not a gender-reveal party, the whole "Hello Kiddo" theme could be easily adapted as such. Yellow is updated from soft tones to bright patterns. (from Jessie Haack, as featured on HWTM)
When it comes to gender reveal parties, I've seen bumblebee and duck themes…both of which play up on the gender-neutral yellow tones. I am crazy about the white/grey/black used in this party, which lets the blue frosting inside the cake be the true star of the party. (from The Pretty Blog)
Has anyone ever been to a baby shower where the primary color was red? It's a total departure from tradition, and it's fantastic. This party, also designed by Jessie Haack, is completely over the top, and wonderful. (as featured on HWTM)
Do you like to find out about the gender of your baby?
What's your favorite gender neutral baby shower theme?
Subscribe via
Bloglovin, Facebook, and Twitter
to get more updates!
Don't forget to check out these awesome posts:
[pt_view id="703d10feth"]