When we decided to do a sprinkle themed party for L, the first thing I thought of are those awesome sprinkles covered cakes that are all over Pinterest.  But I'd heard repeated stories about how hard it can be to get the sprinkles to stick to the frosting evenly all over the cake. 

Then I remembered another frosting technique I've seen all over blogland and just knew that they would work perfectly together to create a fantastic sprinkle-covered cake.  The best part is that this technique is super simple.  I mean really, really simple. 

Side Note:  I won't pretend that my cakes are the most beautiful.  I'm still working on getting nice flat, round cakes, so even though the the finished cake may not be Pinterest perfect, this technique is definitely worth trying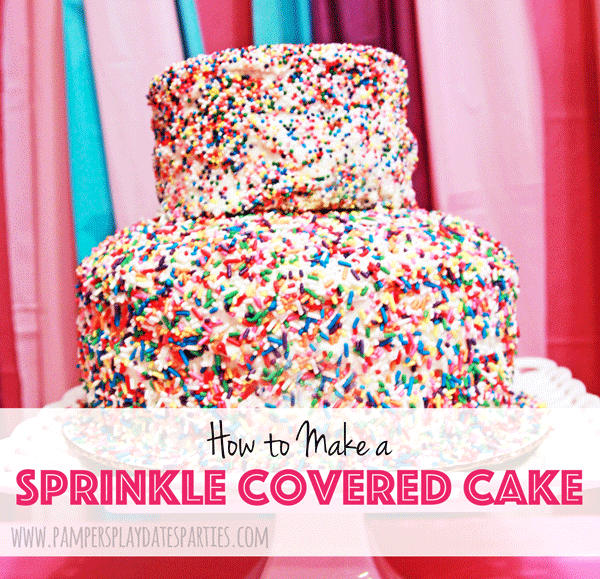 What you need:
Leveled and/or layered cake ready to frost 

Cake circle 

LOTS of sprinkles (my extra large cake used about a pound of sprinkles) 

Large jelly-roll or rimmed sheet pan 

Bowl to hold sprinkles 2 containers of store bought frosting or prepared buttercream in a microwave safe bowl 

Offset spatula
Technique
Prepare your cake on a cake circle with a crumb coat and let the crumb coat set in the refrigerator for a while. 

When the crumb coat has set, bring your cake out and put it in the jelly roll pan.  Let the cake sit for a few minutes.  You don't want the frosting to melt, but you don't want it to be so cold that the frosting hardens quickly.  (this may be experience talking….) 
Put your frosting in the microwave.  That's right, nuke that stuff.  I did a full container for about 30 seconds and it was pretty darn smooth.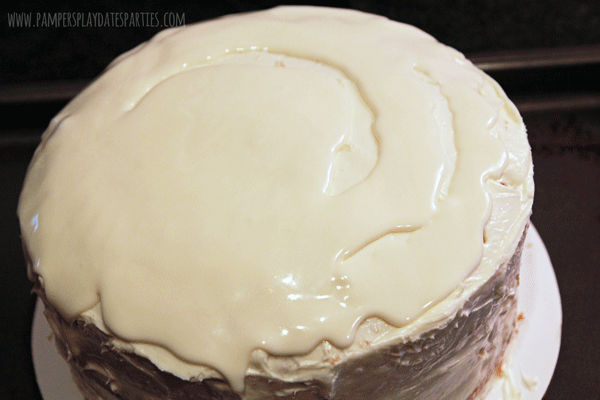 Drizzle the frosting on the top of your cake and let it run down the sides. (see a beautiful example from

Sweet C's Designs

) 

Use an offset spatula to smooth out the frosting as much as possible. (I still don't have that technique down yet, either)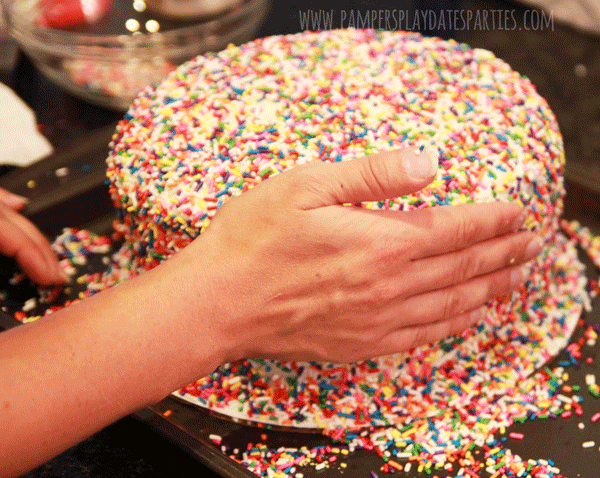 Working quickly, while the frosting is still quite wet and sticky, pour sprinkles on the top of the cake and then use a clean hand to gently push the sprinkles on the top and sides of the cake.  Collect the extra sprinkles in the jelly roll pan and reuse them to go over any bare spots.

Repeat until the cake is fully covered in sprinkle goodness!
Bonus Tip:  I originally intended to add a ribbon or some large gum balls at the seam between the two tiers of the cake.  If you want to have multiple layers, adding a candy or anything edible will really help to clean it up and make the cake look that much nicer.  (Unfortunately I ran out of time to do that last step – It would have made a huge difference)