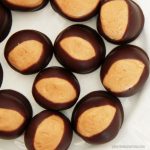 Buckeyes have been a family tradition since I was a child. Here, I share how we learned to make the perfect Buckeye ball recipe year after year.
In a stand mixer, cream together the butter, peanut butter, and vanilla extract. Slowly add powdered sugar until combined. You'll know it's mixed properly when the filling no longer sticks to the side of the bowl. Chill for at least 30 minutes.

When the mixture is firm, use a melon ball scoop to form balls about an inch in diameter. Place on a baking sheet covered with parchment or wax paper. Put back into the refrigerator until firm, approximately 20 to 30 minutes. Alternatively, place in the freezer for 10 minutes until firm.

Meanwhile, melt the chocolate chips in a double boiler. Using a toothpick, dip the hardened peanut butter balls about halfway in the chocolate mixture. Rock the peanut butter ball side to side to create an eye shape. Don't let the peanut butter balls get too warm, or they will fall off the toothpick when dipping.

Return dipped ball to a parchment covered sheet pan and gently use a clean finger to close the hole created by the toothpick.

Refrigerate until the chocolate has hardened, approximately 1 hour. These are best at room temperature, but should be stored in an airtight container in the refrigerator.
Don't get bogged down by the details with these candies. Just sneak a few tastes and adjust what's in the bowl until it makes you smile with delight. Then you'll know you got it right.