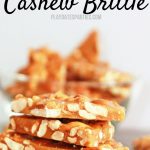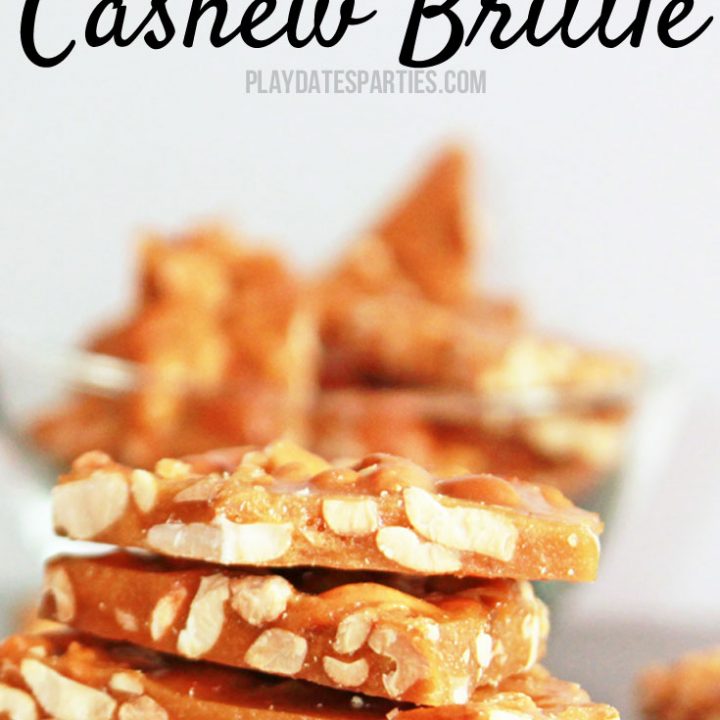 A twist on the classic peanut brittle, brown sugar cashew brittle is crunchy and sweet with a hint of toffee and vanilla.
1

C

dark brown sugar

1

C

white sugar

1

C

light corn syrup

1/2

C

water

1/4

C

butter

2.5

cups

roasted

salted cashews

1.5

tsp

baking soda

sifted

1

tsp

vanilla extract

extra butter for coating
Preheat oven to 250 degrees. Line a baking sheet with parchment paper. Butter the parchment paper to ensure the brittle doesn't stick. Prepare forks and/or silicone spatulas with cooking spray.

Spread the cashews on a second baking sheet and place in the oven during the next stages. (warming the nuts will keep the candy mixture from dropping too quickly when they're added)

Prepare a 3-quart saucepan by buttering the sides of the pan. Combine sugars, corn syrup, water and 1/4 cup butter in the saucepan. Stir over medium-high heat until mixture comes to a boil.

Reduce heat to medium-low. Continue cooking the candy until a candy thermometer reads 275 degrees, maintaining a boil during that time. Adjust heat as necessary to avoid burning the mixture. This step should take about 30 minutes

Remove cashews from oven and carefully stir in vanilla extract and cashews. Continue cooking, stirring frequently (to avoid burning the nuts) until a candy thermometer reads 295 degrees. This step should take another 15 to 20 minutes.

Remove from heat. Add baking soda, stirring constantly. Immediately pour onto parchment covered baking sheet, stretching as thin as possible with prepared forks or spatulas.

Cool completely on baking sheet before breaking into small pieces.