Stuck trying to come up with unique winter birthday party ideas? Here are 10 fantastic party themes and activities that kids of all ages will love!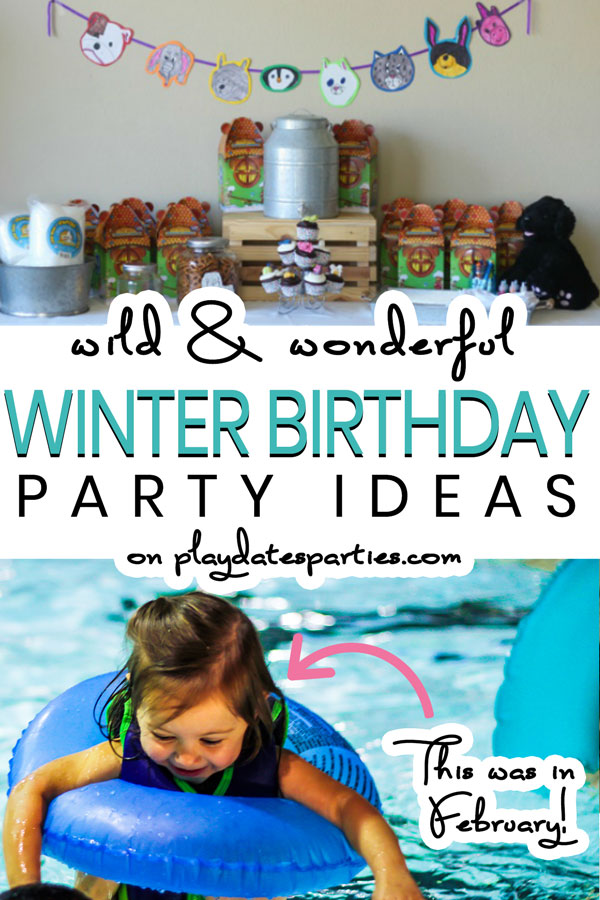 Parents of winter babies, I feel for you.
From figuring out what to do with a gaggle of kids indoors for a couple hours to praying that the weather doesn't keep guests away, it's a struggle to host birthday parties during the coldest months of the year!
Well, fear not. There are some birthday party themes that are actually perfect for wintertime. Take a look at these winter birthday party ideas that your kids will love…and they can all be held inside your own home!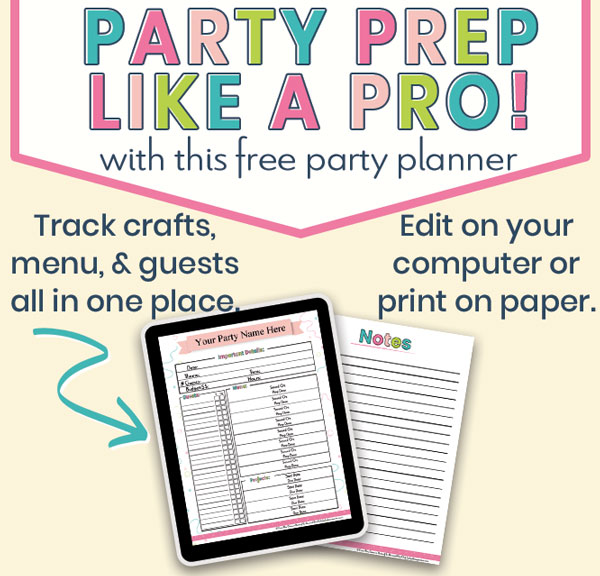 Make Life Easier
Start planning your parties like a pro with these FREE party planner sheets. Click the button below to get your planner sheets delivered straight to your inbox.
10 Winter Birthday Party Ideas They'll Love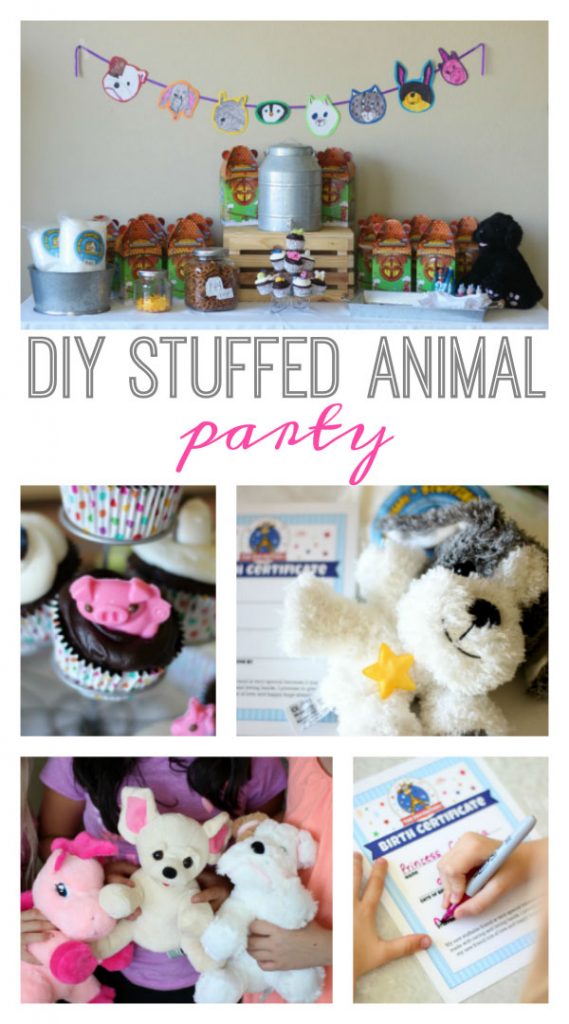 DIY Stuffed Animal Party
Build a Bear Parties are just the cutest, but they can get expensive fast! Thankfully, Brandy of Gluesticks Blog figured out an awesome tip to have just as much fun for a fraction of the cost with her DIY Stuffed Animals Party.
This party theme is perfect for little kids…right on down to the 3 year olds!
Indoor Camping Party
Camping may not be the first thing that pops into your mind when you're thinking about winter birthday party ideas, but just imagine how fun it would be for bigger kids.
You can turn your living room into a campground with teepees, plenty of faux greenery, and a fake fire pit. Make some amazing marshmallows, drink hot chocolate, and munch on camping themed snacks.
To make it even more memorable, close the curtains, turn down the lights, create a starry scene with a star light projector and have the kids tell scary stories around a fake indoor campfire (just add some twinkle lights, and it'll be a hit).
Talk about an amazing winter birthday party for children that will get them really excited for warmer weather to come!
RELATED>>>>See more fantastic DIY ideas for your own camping party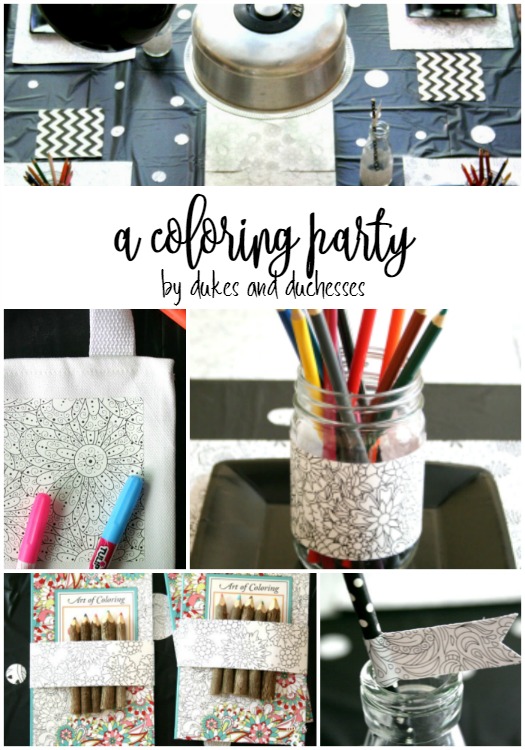 All Grown Up Coloring Themed Party
Have a daughter that loves to color? This coloring-themed party from Dukes & Duchesses is just adorable. She really took the time to think about the details…even down to the cupcake toppers (you really need to check those out!)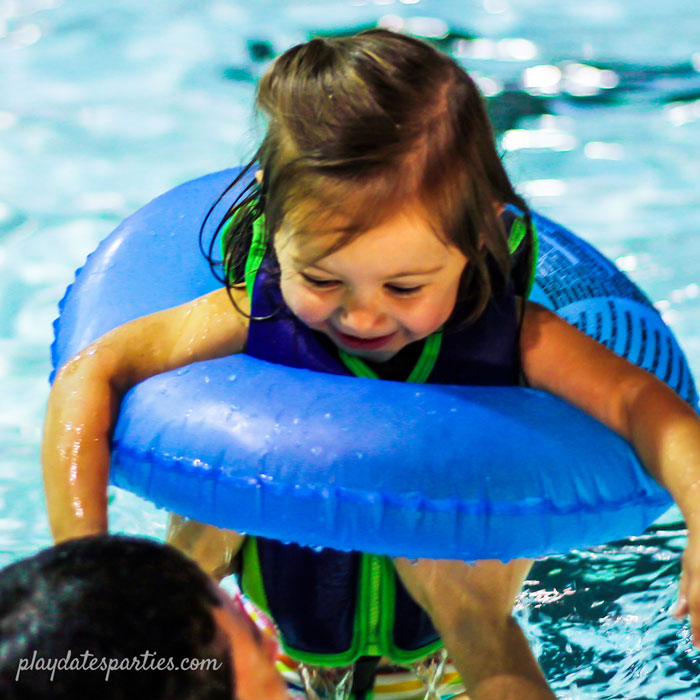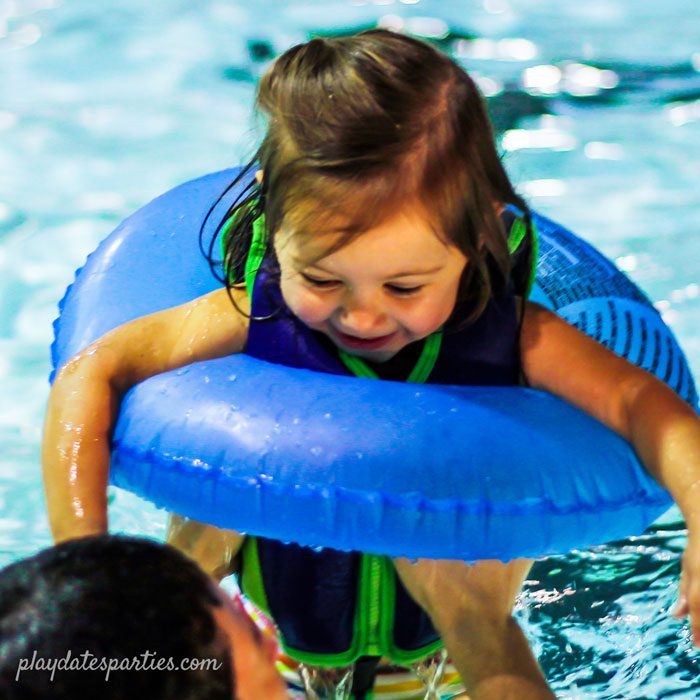 Indoor Pool Party
Thought pool parties were only an option in summer? Think again! This photo was taken from my niece's birthday party a few years ago…in mid-February. It was freezing cold outside and we were all enjoying a dip in the water.
What made it especially fantastic is that it was fun for all ages of kids, from the 3 year olds to the ten year olds.
I also love the way this 'Swimsuits and Snowballs" winter pool party combines the fun colors of pool parties with floating snowflakes. So simple and so adorable!
It's easier to host an indoor pool party than you realize. Here are a few easy options:
Indoor pool parties are less about decor and all about fun, so just remember to show up with some fun snacks, a few small and creative decorations, and an awesome party favor.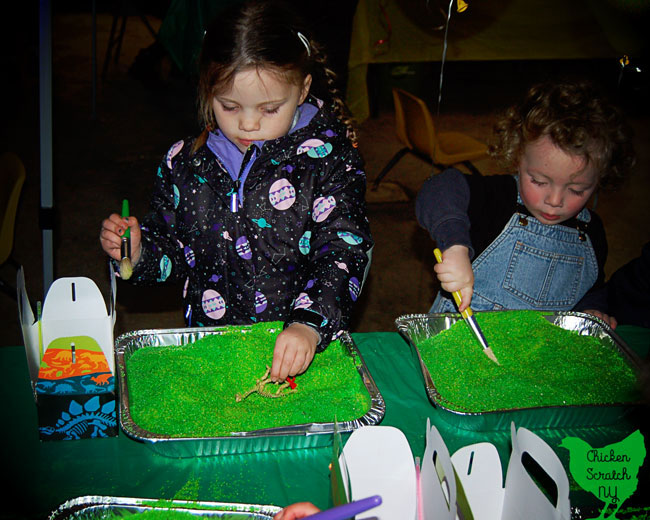 Dino Dig Party
I don't know any kid who wouldn't love to dig for dinosaurs, which makes this Dino Dig party from Chicken Scratch NY so ridiculously cute. Best of all, they held the dig activity in the garage, so no worrying about messing up the house!
(Don't forget to check out our ultimate guide to dinosaur birthday party ideas right here!)
Winter Olympics
This is probably the ultimate of all winter birthday party ideas for a bunch of kids with too much energy. (Hello boys!) And it doesn't have to be an olympics year to host a party with this theme, either.
Here are a few ideas for some indoor fun:
Sled Pulling relay: Attach some heavy twine to a laundry basket, and put the kids in teams of two. Set up a start line and a finish line and let them race to the end!
Snowball Fights: Grab some indoor snowballs (my kids LOVE these, and they're super soft) and put them in a bucket. Trust me, they'll get started even before you shout "Go!"
Minute to Win It Games. Play Party Plan has a fantastic list of minute to win it games that are fantastic for Winter Olympics themed parties.
Create an indoor skating rink by having the kids slide around on carpeted floor with wax paper under their feet, or socked feet on a wood floor.
One word of caution: Fake sensory snow is a ton of fun, but it can get messy fast. You've been warned.
RELATED>>>>Fun Shaving Cream Crafts to Do with Your Kids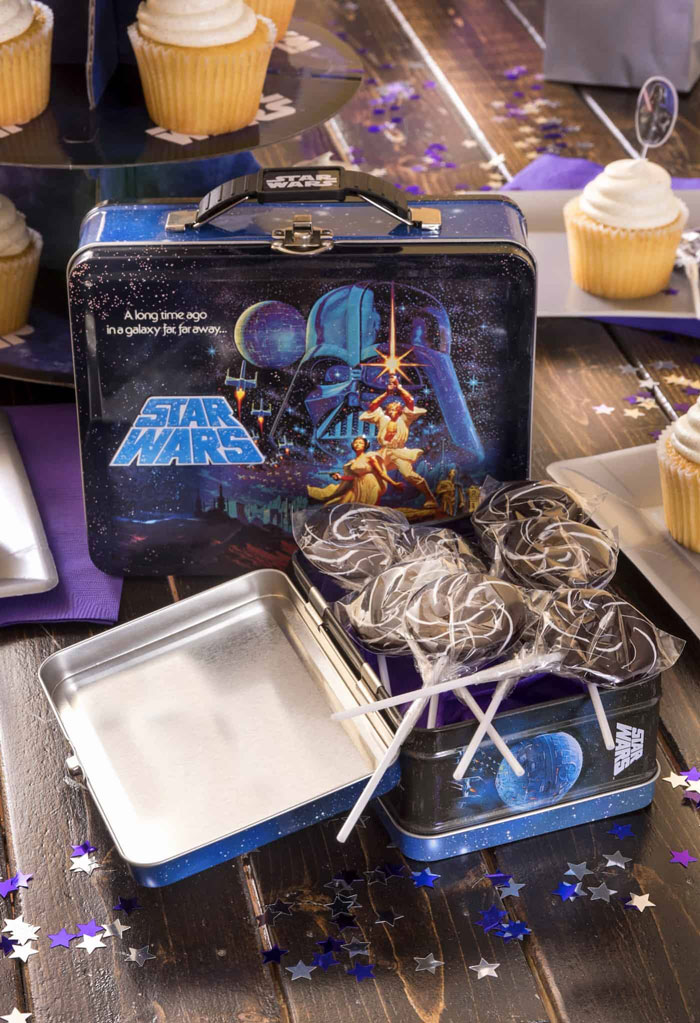 Star Wars Themed Party
Looking for another party idea for the boys? I haven't met a single one yet that doesn't love Star Wars.
But buying lots of licensed decorations for a popular party theme can get pricey fast. Amy from DIY Candy shows how to host a budget friendly Star Wars party with the cutest R2D2 cup crafts to go along with it.
Sleepover Themed Parties
Is your child begging to have sleepovers, but you're not really ready for it? Have sleepover themed party instead! Invite kids to come over for a late afternoon party wearing their pajamas and serve breakfast foods (or their look-alikes) for dinner.
One popular way to decorate for a sleepover themed party is to simply dress up your table as though it's a bed. Add a fake headboard against the wall and add pillows. Easy and cute!
Bonus: This is one party where I would have no problem letting the kids chill out in front of the TV with a movie and some popcorn. After all, that's a traditional sleepover activity, isn't it?
But that doesn't have to be the whole party. I love the ideas of letting the kids color in pillowcases with fabric markers and decorate flip flop 'slippers' as engaging activities that also double as party favors.
Spa Parties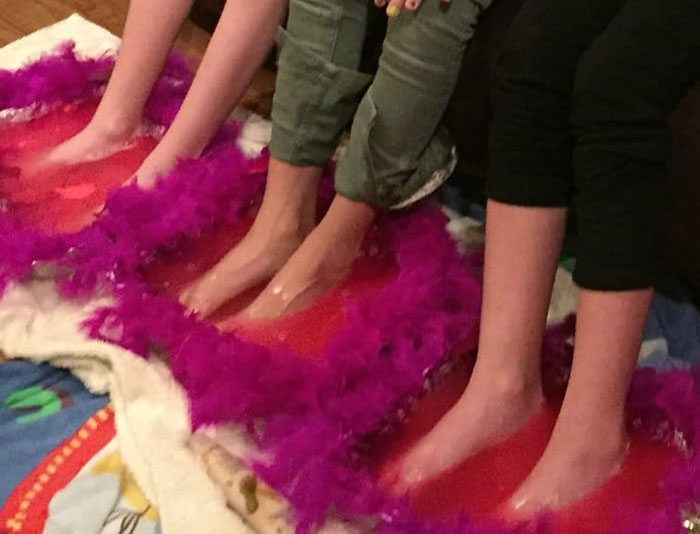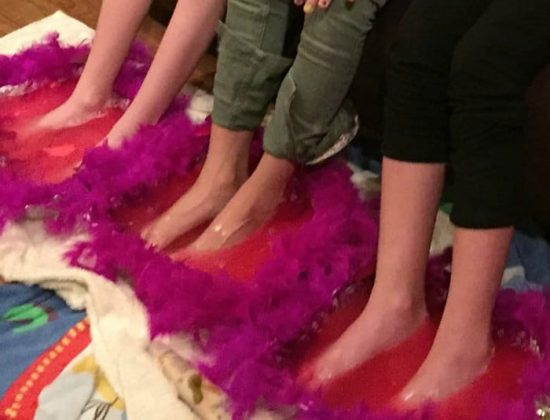 Spa Parties are always fun for girls, especially tween girls between 9 years old and 12 years old.
I'm especially in love with the way Sunflower Mom organized the timeline for this spa themed 10th birthday party.
Winter Wonderland Party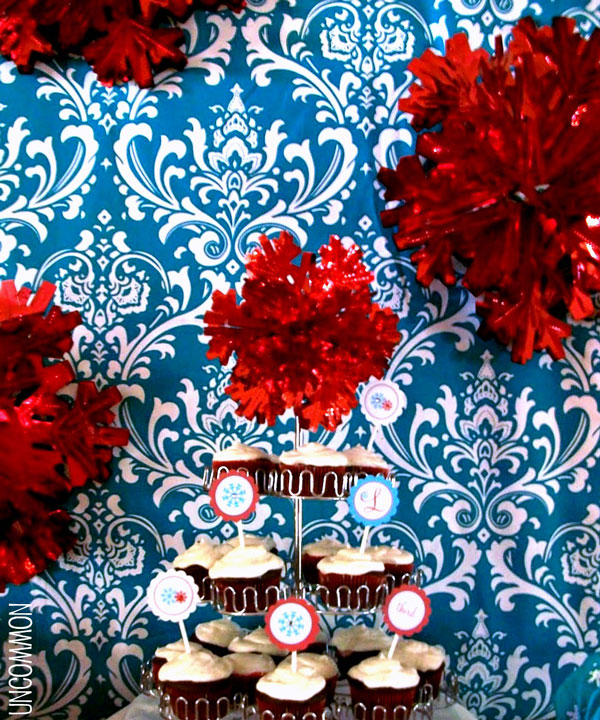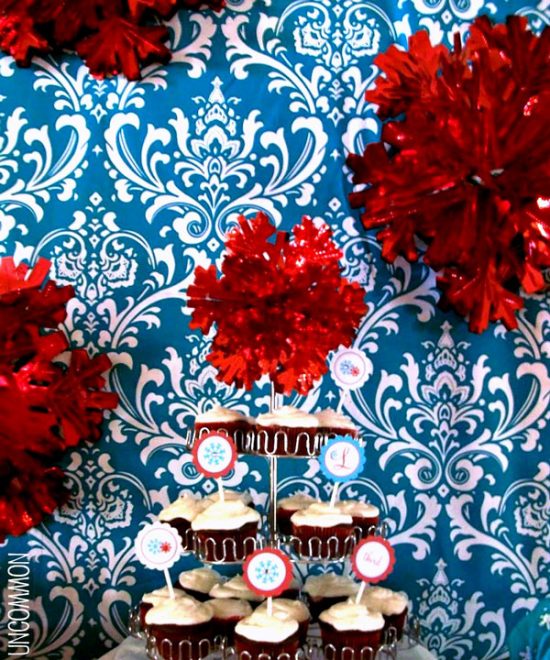 No list of winter themed birthdays would be complete without the classic Winter Wonderland theme. Take advantage of all the fun outside and bring it indoors with snow themed food and games. I just love this red and teal version from Uncommon Designs. The uncommon color scheme really pops! (See what I did there 😉 )
More Party Themes You'll Love
Now It's Your Turn
I can't guarantee that the weather will hold out for you, but with these 10 awesome winter birthday party ideas, you can definitely have a blast celebrating those special littles in your life.
Do your kids have winter birthdays?
Did I miss any winter birthday party ideas? Share them in the comments!
---