It's so hard to believe that March is almost over. When the year started, I promised to work toward feeling good in my own skin. Of course, we all start with the best intentions, don't we. I started the year excited to be able to finally sign E up for child care at the gym and got back on the treadmill and in a strength training class. But that all fell apart quickly.
The worst part is that breastfeeding messes up this whole calorie counting thing big time. With my first two pregnancies, breastfeeding helped me get back into decent shape by this point – regardless of what I ate. Back in January and February, I wanted to eat all the junk all the time, the numbers on the scale kept increasing, and my pants were getting uncomfortably tight. Even now, E still wants to eat every 3 hours or so, and also wakes up to nurse at night. I know that I need at least 1600 calories a day to maintain milk supply, but the calorie counting apps were all saying to eat around 1400 calories to lose half a pound a week. I went back and forth between feeling starved and eating whatever junk I could find.
Something drastic had to happen. I felt like I had no control over what I was eating. So I gave up junk food for Lent. All of it. No cookies, no crackers, no chips, no ice cream, no candies, no meal replacement bars, no junk food at all.
And for someone who loves sweets, that was a very difficult decision.

What Happened When I Gave Up Junk Food for Lent
The first few days weren't too bad. I missed the snacks, but stocked up on plenty of fruits and yogurt to keep cravings at bay. The scale didn't budge, but I felt confident in my decision.
The next week, I came down with the flu…along with everyone else in the family. For a couple days I could hardly eat, and then after that I didn't want anything but simple carbs because everything else just sounded too harsh on my stomach. Cereal became a staple. There was no exercise, but the scale was down five pounds. I waited anxiously, expecting the weight to come back.
By the last week in February I was pretty much recovered from the flu. That's when the cravings really kicked in. Every time I doled out a snack for my kids, I looked longingly at their stash. Goldfish never looked so good to me in my life. Fruit and greek yogurt lost their luster, and I started to nosh on things like buttered toast and dry cereal.
The cravings really kicked in by March 12th, when all I could think about was snacks. I even started feeling regret that I gave up junk food for Lent. If you look through my Facebook page's feed for March 7th through 14th, you'll see that it's full of decadent sweet treats. I even started daydreaming about what I could eat on Easter Day. And the scale was back up 2 pounds.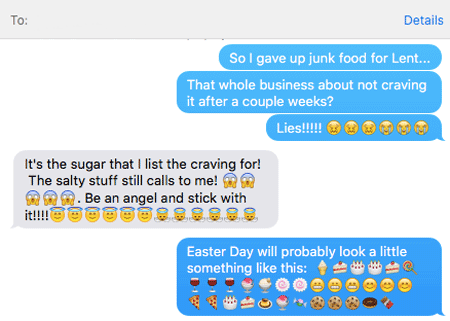 By the end of the 5th full week of Lent, I realized that even though I wasn't eating traditional junk food, I hadn't really done much to replace it with healthier options. Cereal became my new junk food. When we went grocery shopping that week, I was armed with a plan to get fruits that I knew I would enjoy, and with a plan to get more protein and water on a daily basis. By the end of the week I was back down those two pounds.
The sixth and final week, I finally started to feel some control. The cravings weren't gone, but I felt like I could actually manage it. On the day before Easter I was down nearly 10 pounds and lost 2 percent body fat.
On Easter Day, I indulged in a Cadbury Egg and a piece of cake. The next morning I felt sick to my stomach.
What I Learned by Giving Up Junk Food
While I knew before taking this challenge that I control everything that I choose to eat, it just didn't feel that way. Going through this exercise proved to me that I have the willpower to actually use that control.
I didn't experience the life-changing revelations that others might have going through this process. I never lost my cravings. When I had sweets on Sunday they still tasted wonderful.
My plans are to continue to restrict junk food for myself while occasionally enjoying a treat here and there. But you know how plans go. Check back again at the end of April for another healthy living update.
What would be the hardest thing for you to give up?
How do you combat cravings?
Note: I don't advocate using Lent as a way to lose weight. Because this isn't a religious blog, I didn't address my spiritual reasons for giving junk food up for Lent. If you would like to know more about that, please feel free to email me through the link on this page.
Linking up with the parties listed at the bottom of this page!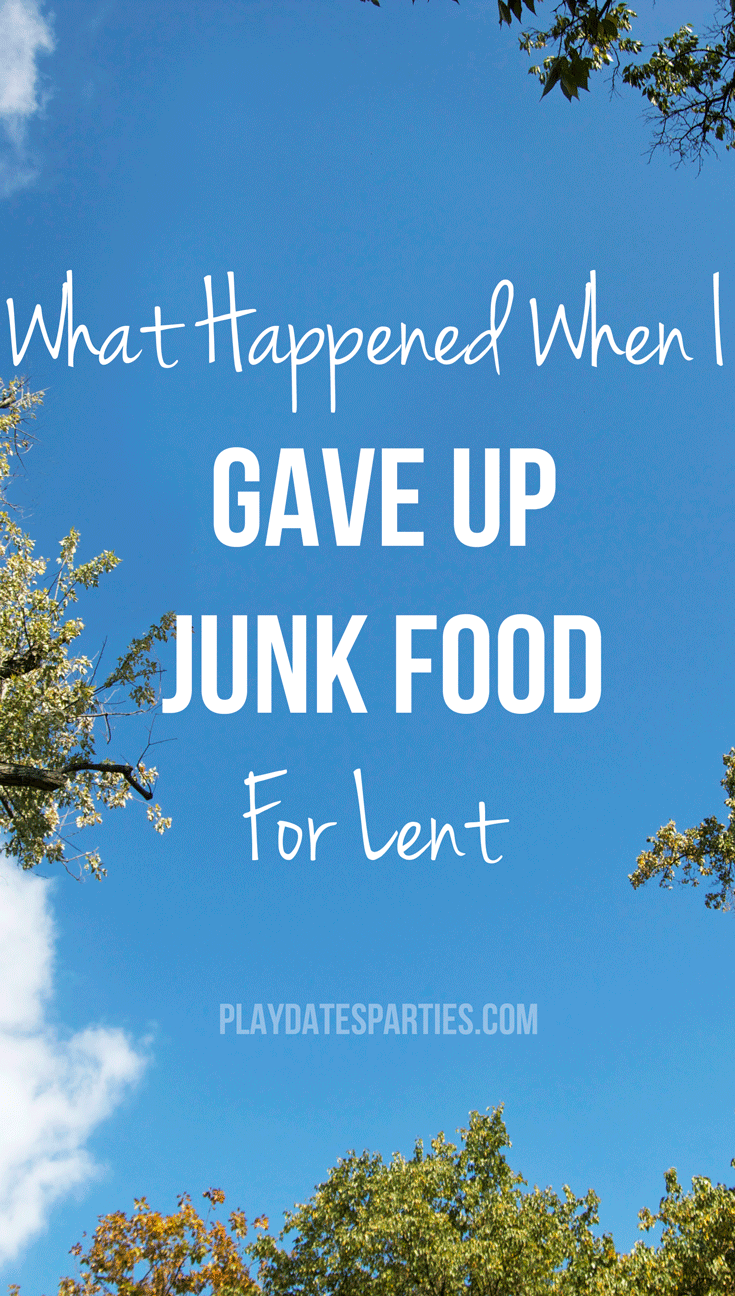 Subscribe via
Bloglovin, Facebook and Twitter
to get more updates!