When I told the Husband that I wanted to take apart an old book, the Husband kind of freaked. To him, books are almost sacred. They're something to be respected and cared for. But when I get an idea in my head, there's no point arguing with me.
Typically, picking crabs means tablecloths made of newspaper and/or plastic trash bags. And while those aren't bad, I needed something special. Something custom. Something wipeable.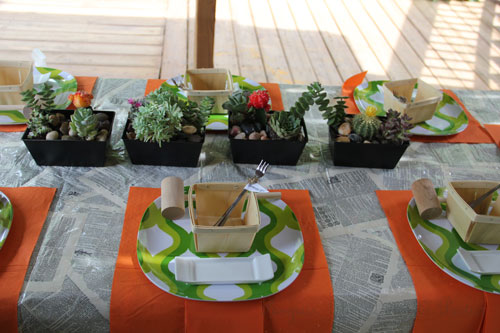 We needed something to withstand sharp shells, wooden mallets, and lots of abuse. And a toddler. Toddlers may just be more abusive than wooden mallets and crab shells.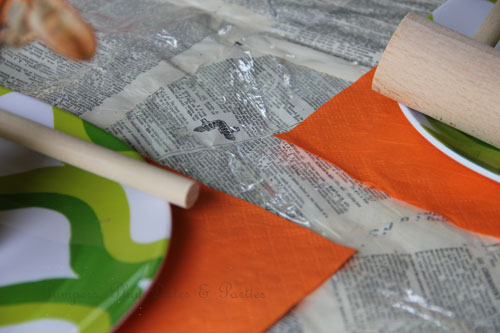 My solution was an old dictionary from Goodwill, a clear shower curtain, and LOTS of Mod Podge.
How to Make a Mess-Proof Book Page Tablecloth

 Materials:
Old Book with thin pages (I used a dictionary)
Clear Shower Curtian Liner
Clear-drying Mod Podge or spray adhesive (not pictured)
Foam brush or roller
Directions:
Rip apart your book. I didn't keep count, but assume this took at least 100 pages. Make sure you set aside a few of your favorite pages.
Lay out your shower curtain over a large table.  Arrange your favorite pages upside down in a random pattern on the curtain liner so that the side you want to eventually see is facing the curtain liner.
Using a foam brush or roller, apply mod podge to the curtain liner underneath and over top of the book page.  These are the pages that will be fully visible from the top.
Fill in the remaining space with additional book pages, using mod podge underneath and on top of each page. Start and stop in different areas, turning the pages to achieve a random pattern. Be patient, this takes a lot of time.
After the curtain is complete, you can add another layer of mod podge over to help seal the curtain.  (I didn't do this because of time constraints)
When everything is dry, turn your curtain over and enjoy!
We had a lot of fun reading different definitions from the tablecloth throughout the meal. It was definitely a conversation starter! The muck from all the crab shells cleaned off very easily, too.
It also works great as a backdrop…see?
The tablecloth seems to be pretty durable, too. A few of the pages are starting to peel off here and there, but it's held up pretty well considering it sat outside in the blistering sun and multiple rain storms. I hope sometime to try to make this tablecloth with spray adhesive instead of the mod podge. Hopefully that will go a bit faster.