Want to update your bookshelf decor without too much commitment? Make a reversible bookshelf backing that you can change at a moment's notice!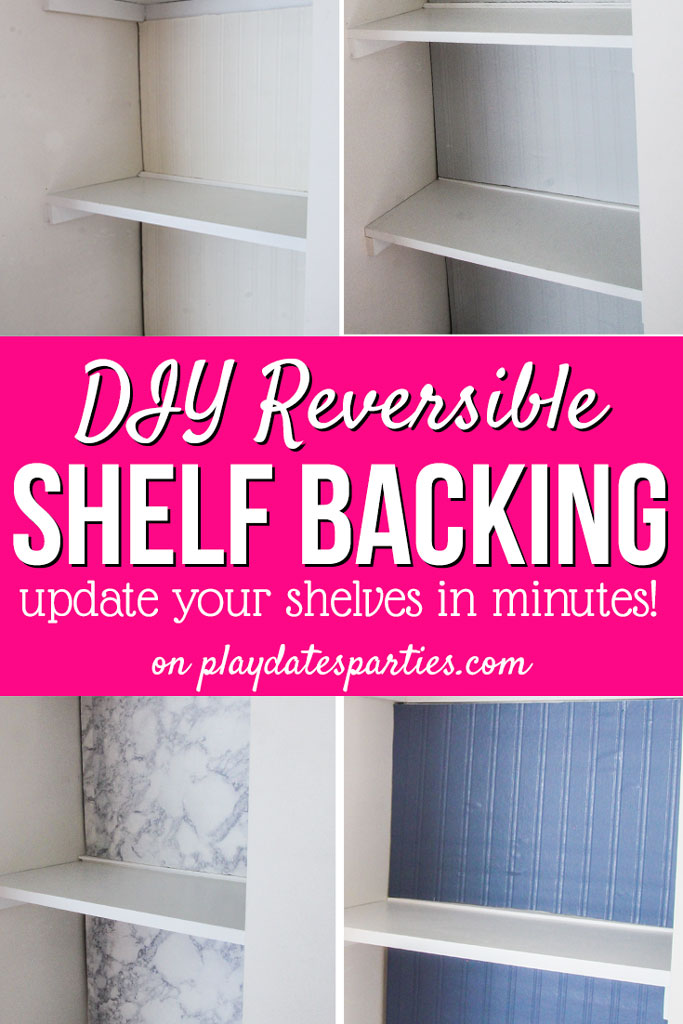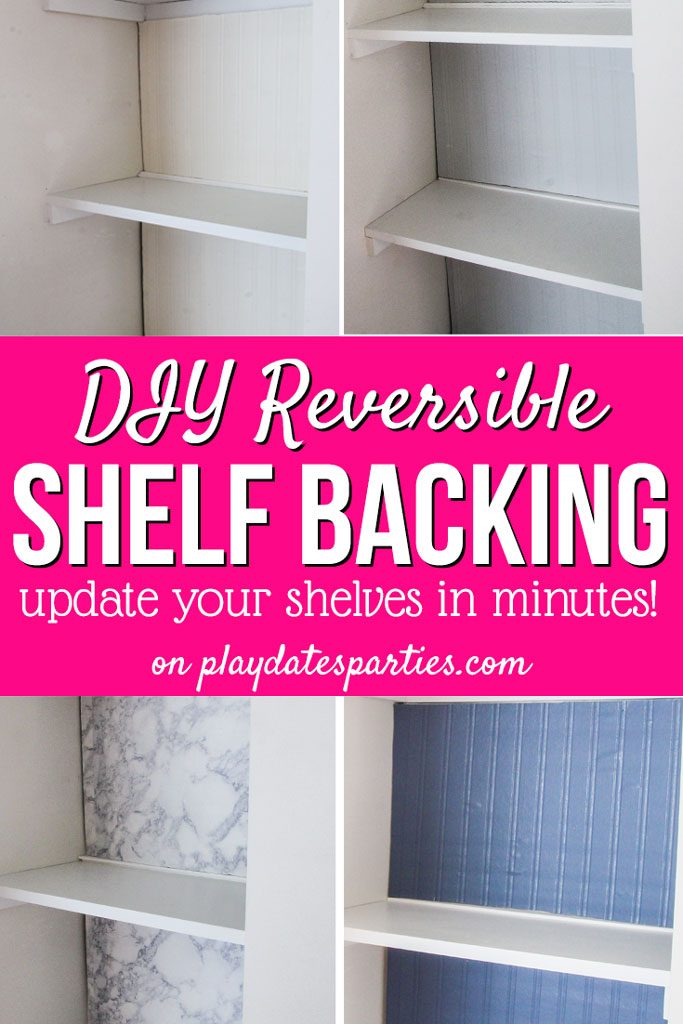 There's nothing quite like beautifully styled bookshelves. Add a colorful bookshelf backing behind all the books and decor and I'm in total heaving.
But one thing held me back from covering our bookcases over the years…I'm just too darn indecisive.
It's so hard to choose just one color or pattern to fit the space best. And once it's up, I know that it will stay up for months…even if I hate it.
So instead of doing something bold and fun, I did nothing.
How boring is that?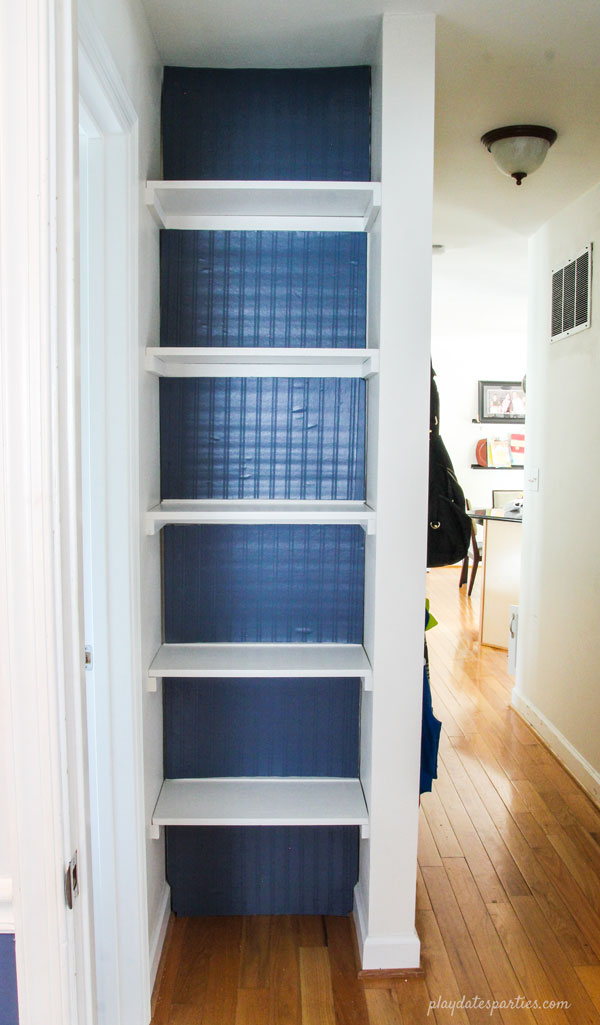 Today is the day that changed.
Well, I'm still indecisive. But instead of letting it paralyze my design decisions, I let it inspire me.
Now, instead of having just one fun backing for our open shelving, I have 4 DIY bookshelf backing options that I can put up at any time!
Admittedly, it was also a bit of a pain in the tush. But that's okay. I'm fine with a little bit of extra work up front if it means I can quickly and easily change things up in the future.
The short version is that I cut sheets of foam core to fit each opening and applied a covering to each side. I wish it was as easy as it sounds. Thankfully, I learned a few tricks along the way.
7 Tips for Making A Reversible Bookshelf Backing with Foam Core
Choosing a Bookshelf Backing Board Material
For this project, I used foam core, because it is lightweight and easy to cut. But be warned, not all foam core is created equal. I used boards from the dollar store and from Target. The Dollar store foam core was larger, which was better for fitting our space. But the Target foam core has thicker paper on the outside, which may help reduce warping (see below).
Also, the foam core makes the backing look cross-hatched in the photos…but it looks fine in person. Go figure!
If I had more evenly cut shelves, I would consider using something like quarter-inch plywood underlayment. It's solid, smooth, and thin enough to avoid taking up too much shelf space.
But our shelves aren't even remotely straight….
Take the time to Measure Twice, Cut Once.
I made these bookcase backings to fit our built-ins, but you could definitely use them for media centers, hutches, or store bought bookcases.
No matter what space you're updating, make sure you measure each opening carefully.
Our house is nearly 50 years old and there isn't a single plumb corner in the house. That means some boards were cut into near trapezoidal shapes to fit the back corners.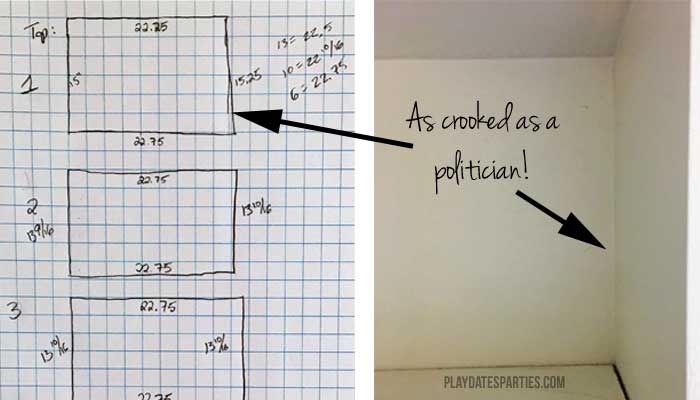 Use a sharp blade and a ruler.
Let's be honest, foam core is a pain to cut.
Do yourself a favor and use a fresh blade. It's also helpful to put a ruler or straight edge right next to your blade as you cut. This helps get the cleanest cut possible, which is important to keep the back looking as natural as possible.
Cut your boards 1/4-inch smaller than your opening.
You'll be tempted to make the boards fit as tight as possible. Learn from my experience…you don't want to do that.
If the foam core is too tight in the opening, it's extremely difficult to remove, and may even get ruined when you try to exchange it.
Instead, cut the foam core small enough to leave room for your fingers to push it in or out.
To help with this, I added a small strip of foam core as a 'seat' for the board to sit on. When I want to change the boards, I slip out the little shelf. Often, just pulling out that little piece of foam core makes the rest of the piece fall out easily. And I know that the right styling will hide that little strip.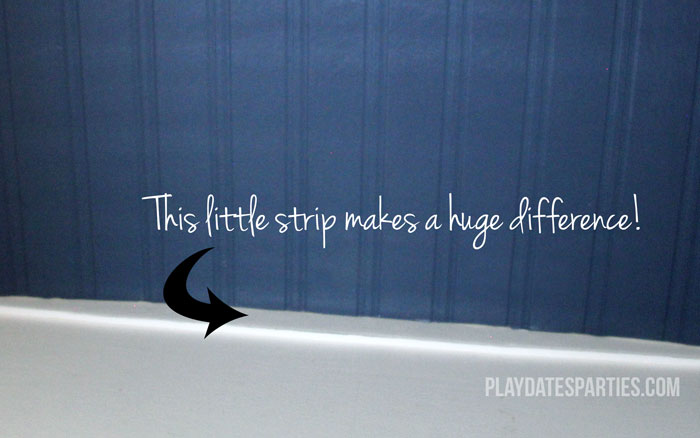 Be cautious with wet applications.
Wet foam core likes to curl up and warp if it gets wet all over. Or the paper cover on your board starts to bubble up if it's particularly wet in a spot or two.
I used paintable beadboard wallpaper for most of the reversible shelf backing (just like in my inspiration). In order to reduce the amount of warping, I placed heavy books on the boards as the wallpaper dried.
They still ended up a bit curved, but once paint fully cures, I'll weigh them down again for a few days to straighten them out.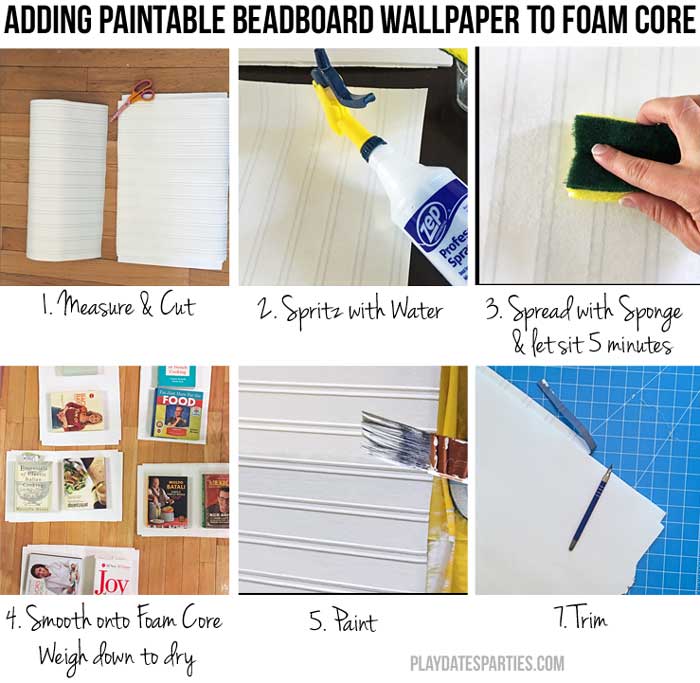 Use a sharpie to mark the sides of your boards.
If you have different sized openings like me, you'll need a way to keep track of which board goes where. A fine tip sharpie works perfectly along the edge to mark each board.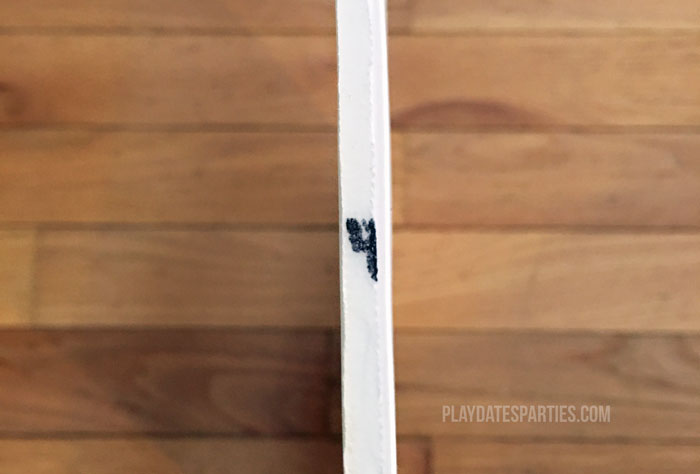 Have fun!
Just because I used wallpaper doesn't mean you have to. On one set I actually used some leftover marble contact paper. You could make boards with wrapping paper or fabric by using a light dusting of adhesive spray. The possibilities are endless…which is perfect if you're indecisive like me!
See the Entire Renovation:
Now It's Your Turn
Do you love the idea of bright, bold designs, but shy away from making the commitment? Then you definitely need to try making a reversible bookshelf backing. Following the tips above, you can create a set for each season or holiday, and can update your decor without spending hours.
Have you ever had indecisiveness hold you back?
What would you put on a a reversible shelf backing?
[pt_view id="501df700ea"]
Don't forget to share this post with your friends and family, and subscribe at YouTube, Facebook, and Instagram for more fun ideas and inspiration!

---
I want to extend many thanks to the readers who have enjoyed renovation and home DIY posts over the years. Unfortunately, in January 2018 I was diagnosed with Stage II breast cancer and had to stop doing home renovation posts due to treatment.
Since that time, my focus has been on making this website an amazing resource for the everyday mom's parties. Due to their popularity, the DIY posts and tutorials will remain on the website, but comments are now closed. Thank you again and I wish you the best in your DIY endeavors!