To say the Husband and I were a bit on edge over the summer is an understatement. It wasn't necessarily because we were both juggling jobs, the toddler, family commitments, his school, this blog and the monthly parties. It was because we weren't sure what was going to happen this fall. What am I talking about? Football, of course!
With the NFL Players strike going on for most of the spring and summer, it wasn't uncommon to find us talking about what the fall would be like without football. You see, the Husband is a die-hard Redskins fan. He let me know very early in our relationship that Sundays in the fall and winter are reserved not only for Church, but for football. This doesn't only mean one game…it usually means all three. So I embraced it, learned the sport and also learned to love it while I was at it. Most seasons, we're lucky enough to snag tickets to at least one game. (See how we tailgated last year!) This year, we're just happy to have an actual football season…so we're throwing a party, of course!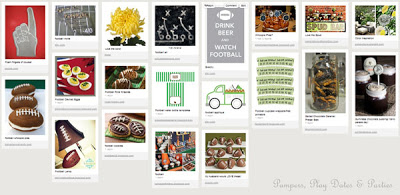 It's actually going to be super casual – just a few close friends and family. I won't be doing the same type of styling that I usually do, mostly because middle-aged men don't really care and I haven't had the time to do much. Seriously, I haven't done ANYTHING for this party yet. Usually I'm working weeks in advance…not this time. It will be almost entirely about using what I have available, eating good food and hoping for some good football. Of course, I've put together a Pinterest board with some inspiration. Who knows what will actually show up! Do you and your family follow NFL? How will you be celebrating the start of the season?